CARSON, Calif. – The MLS Cup final won't be played until Nov. 10 at a site to be determined, but Galaxy players beg to differ.
In their collective opinion, the final is a multi-game affair starting with Wednesday's match against the Colorado Rapids at Dick's Sporting Goods Park in Commerce City, Colo. (6 p.m., Spectrum SportsNet) and continuing until the regular-season finale on Sunday, Oct. 6 in Houston.
"It's going to be six more finals we have to play," midfielder Joe Corona said after training Monday. "Play them the best we can because we know a playoff spot is at stake.
"We have to take it one game at a time and give it our best shot."
The Western Conference standings, with the exception of front-running Los Angeles FC (63 points), looks like the survival of the fittest. Seattle is second with 46 points, followed by Minnesota (45 points), San Jose (44 points) and Real Salt Lake, Portland and FC Dallas each with 43.
The Galaxy, winless in their last four matches (0-2-2), are eighth with 42 points, but there's a problem with their current position – only the top seven teams from each conference qualify for the postseason. The Galaxy, Minnesota, San Jose, Real Salt Lake and Portland all have six games remaining while FC Dallas and Seattle have five.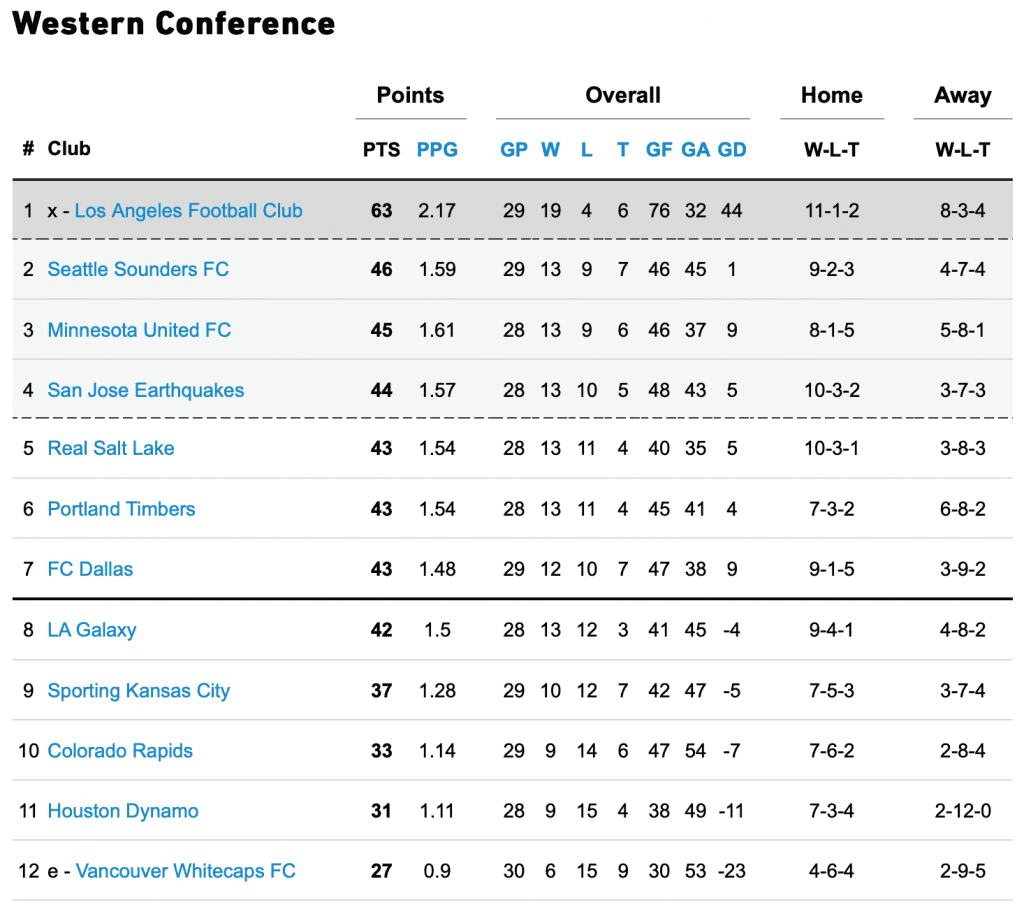 To say things are tight is putting it mildly. There's no reason for the Galaxy to panic, but things definitely are getting a bit antsy.
"The team is very confident," Corona said. "We know everyone is on the same page and we have all confidence in each other, and we're going to be OK."
Left-back Jorgen Skjelvik said the wild, wild West simply is a reflection of parity in Major League Soccer.
"That's what the league is all about," he said. "Every team can beat every team. That makes it tight."
Galaxy head coach Guillermo Barros Schelotto said the team must remember it faces a six-game challenge, although Wednesday's match certainly is a crucial one.
"It will be very important to beat Colorado in the next game," he admitted. "I think we need to think about six games, not just one. The first one is in Colorado, but we need to play well and get a good result."
What the Galaxy will be facing is a Rapids team that currently sits in 10th place in the West with 33 points. But Colorado has a new coach in Robin Fraser and a two-game winning streak that includes a 2-0 victory over Seattle on Sept. 7 at home. The Galaxy also haven't won at Dick's Sporting Goods Park since a 3-1 decision on Jun. 21, 2017.
And with the International break ending 24 hours before the match in Colorado, the Galaxy may also be playing shorthanded. Schelotto confirmed that Giancarlo Gonzalez already returned from his stint with Costa Rica, and that both Rolf Feltscher (Venezuela) and Uriel Antuna (Mexico) will fly to Denver for the match with the possibility of them being available.
That, more than likely, leaves Sebastian Lletget (USA) and Jonathan dos Santos (Mexico) out for the midweek match.
"It's going to be a tough game at altitude, it's just going to be a fight," Skjelvik said. "The team that fights the most and takes care of the ball is going to win.
"That's what we're looking for."
MAKING PROGRESS
Midfielder Roman Alessandrini, still recovering from meniscus root repair surgery in his left knee in late April, is getting closer to returning to the field.
Schelotto, in fact, will conduct an individual workout with the Frenchman on Friday to assess where he is in his rehabilitation and conceivably could give him some playing time against either Montreal on Sept. 21 or Real Salt four days later.
"He's doing well," Schelotto said of Alessandrini, who has been running off to the side since last week as he amps up his training. "I am thinking about him those two games.
"He's very motivated to play the last three or four games. He knows the team needs him."
The Galaxy, Schelotto pointed out, understandably will be cautious with Alessandrini, who has played in just five games this season (all starts) but hasn't been on the pitch since going 16 minutes in a 2-1 win over Houston on Apr. 19.
"We need to keep calm with him because we need him back," he said. "When he does come back, he has to be 100 percent."