Dave Romney will be headed to MLS expansion side, Nashville SC for a reported $225,000 in allocation money. Deal has been "done" for months.
CARSON, Calif. — Dave Romney won't be back for the 2020 season, Corner of the Galaxy can confirm. Romney will be traded to MLS expansion side Nashville SC once the trade window opens up after MLS Cup.
The Athletic's Paul Tenorio (Subscription Required) first reported the trade and indicated the Galaxy would receive $225,000 in allocation money in exchange for the 26-year-old defender.
Romney started 69 times for the Galaxy, with 57 of those games coming during the tumultuous 2017 and 2018 seasons. That's where the Galaxy lost a combined 30 games and conceded a franchise-worst 131 goals.
But despite the leaky nature of the defense, the Galaxy finished 25-25-19 in all games that the Irvine, CA native started, earning 19 shutouts in those starts and setting a 1.36 PPG average during his entire career.
Romney was a relative unknown until he landed at the Galaxy's USL club – LA Galaxy II. He signed a USL contract after four years of college soccer at the University of San Francisco, and in 2015, midway through the season, Galaxy Head Coach and General Manager Bruce Arena signed him to a senior team contract.
A versatile defender, Romney was capable of playing any position along the backline and throughout his five seasons with the club, would end up playing them all.
And while Romney was never an everyday starter under any coach he played – there were five (Bruce Arena, Curt Onalfo, Sigi Schmidt, Guillermo Barros Schelotto) – he was trusted with the most significant assignments of the season. With both Kinnear and Schelotto trusting him in the final games of the seasons in 2018 and 2019.
Another positive was Romney's ability to pair with Dan Steres, another Galaxy II teammate. Thereby making the pairing one of the more successful since the loss of AJ DeLaGarza and Omar Gonzalez — even if we acknowledge the fact that those positions have been a train-wreck ever since Arena's departure.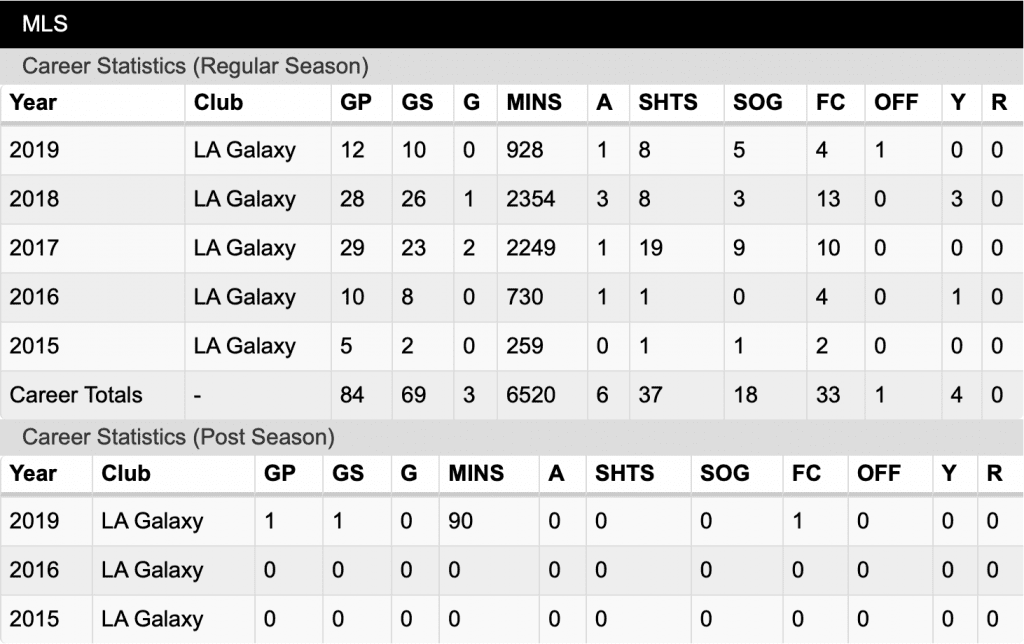 The Galaxy underutilized Romney. Much like the retiring Chris Pontius, there were plenty more opportunities to put him into the mix, especially as the Galaxy lacked defensive stability throughout the season.
CoG has learned that other teams were interested in Romney, and the market for the domestic defender was more robust than at first expected. There were rumors that the New England Revolution, now under the helm of former Galaxy boss Bruce Arena, might be interested as well.
As with most things in MLS, the wheels for the trade were set in motion months ago. But with rosters frozen and the trade window closed until after the MLS Cup, the official announcement won't be made until the league opens everything back up. 
The deal more than likely means Nashville will pass over the Galaxy when it comes to the Nov. 19 Expansion Draft that will see Inter Miami CF and Nashville select five players each from a pool of unprotected players across the league. But Miami could still pick from LA with each team allowed to lose one player in total. These types of deals are contractual, but merely handshake agreements — so really, anything could happen.
But in the end, the move should be seen as an upgrade for Nashville. They traded a relatively small sum for a versatile defender who has real league experience and the hunger to start.
The Galaxy, however, lost depth in this transaction. Because even if you assume that Romney wasn't a starter — a wrong assumption to begin with — he was more valuable than any other single player on defense because he could fill in at every position.
The Galaxy will surely look to retool a defense that finished tied for the fifth-worst goals-against total in the league (59). But with contracts in place for two of the newest signings on the backline — Diego Polenta and Giancarlo Gonzalez — a complete rebuild shouldn't be expected. But an incremental and complementary improvement is the least that's expected from Dennis te Kloese and Schelotto.
GALAXY NOTES:
The Galaxy are expected to hold Exit Interviews on Wednesday of this week (still not confirmed)
No roster decisions are likely until after MLS Cup (Nov. 10). That's when you can expect the Galaxy to announce options that have been picked up on players, options that weren't picked up, and players who are under contract or out of a contract.
CoG has learned that nothing seems to have been decided regarding the loan status of Mexican International, Uriel Antuna. Antuna, on loan from Manchester City, is wanted by a few clubs around the world. But reports of him returning to the Galaxy on loan seem a little bit premature.
Galaxy midfielder Chris Pontius announced his retirement last week.