CARSON, Calif. — The LA Galaxy now know how the 34-game MLS regular season will shape up in 2020 after the league and club announced the upcoming schedule today.
The Galaxy will start things on the road on leap day – February 29, 2020 – against the Houston Dynamo at BBVA Compass Stadium. The game will kick-off at 12:30 p.m PT and be broadcast nation-wide on Univision. Houston has had the Galaxy's number in recent memory, so playing them out of gates — and in colder weather — might be a welcomed change.
The Galaxy's home opener will take place the following weekend on Saturday, March 7, when the Vancouver Whitecaps come to Los Angeles for a game that kicks off at 7 p.m. PT and will likely be broadcast on Spectrum SportsNet (the Galaxy announce their local broadcasts at a different date).
The 2020 season will see two new teams added to the MLS roster, and the Galaxy will play both of them this season. They will visit Inter Miami on March 14 — a game that will be nationally broadcast on FOX with David Beckham's former club (Galaxy), playing the club he now owns (Inter Miami), in what will be Miami's home opener.
Nashville SC, and former Galaxy defender Dave Romney – will visit Dignity Health Sports Park on July 1 before hosting the Galaxy on September 26 in the second to last game of the 2020 season. Nashville joins MLS' Western Conference, and just like all conference opponents, the Galaxy will play them twice — once at home and once away.
However, new this year is the fact the unbalanced schedule has become even more lopsided. With additional teams in MLS, playing everyone at least once has now gone out the window. This season, the Galaxy will miss out on three Eastern Conference opponents — Columbus, Montreal, and New England. And every team in MLS will skip three out-of-conference opponents in 2020 likely meaning an end to an already diminished Supporters Shield — not that MLS is expected to kill the trophy or add one for each conference.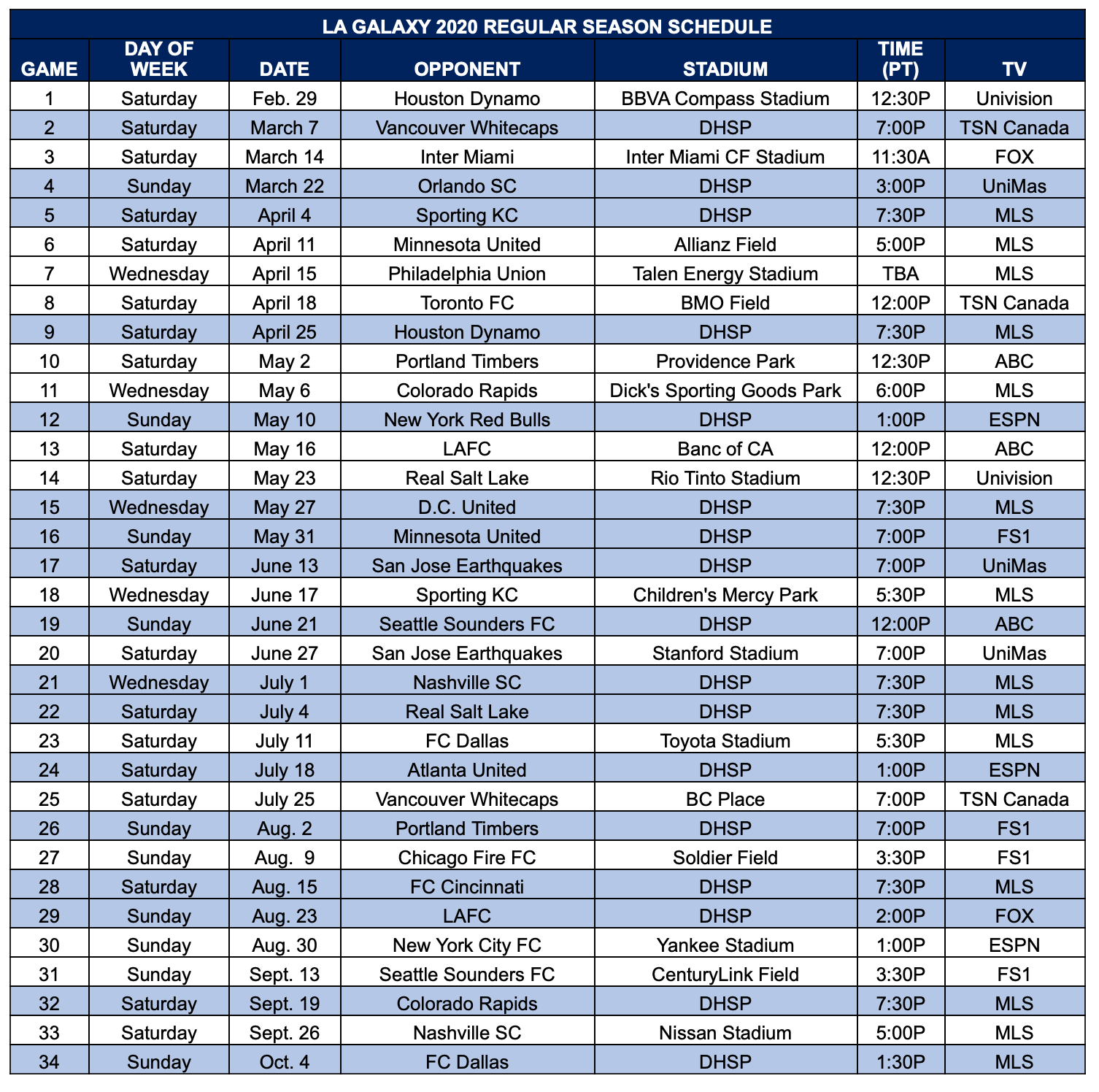 The ever-important rivalry dates with Los Angeles Football Club and the San Jose Earthquakes have also been set. The Galaxy will play at LAFC for their first meeting of the season — something that has never happened before (the Galaxy have hosted every first meeting of the year in the last two seasons). The May 16 match will kick off at noon PT at Banc of California Stadium and will be broadcast on the over-the-air network of ABC.
The return leg, played at DHSP on August 23, will also be over-the-air on FOX and will kick at 2 p.m. Both games have been optimized for nation-wide viewing with the early kick-off times and weekend dates. El Trafico was one of the most-watched and highest-rated games in all of MLS last year, and the league, the teams, and their broadcast partners are looking to cash in.
The Earthquakes will make their SoCal sojourn on June 13 as Luis Almeyda, and Guillermo Barros Schelotto continues their "rivalry" with two teams that have always been rivals. That game will be nationally televised on UniMas and kick at 7 p.m. PT.
But mark your calendars for the only must-attend away trip of the century, when the Galaxy go to the Bay Area and the cash-grab that is Standford Stadium, on Saturday, June 27. It's another 7 p.m. PT kick that will stay on UniMas and once-again be nationally televised. The weekend date is sure to drive up the traveling fans as the quest for 1,000 traveling Galaxy supporters kicks into high gear.
In total, the Galaxy will have 17 nationally televised games in 2020, leaving the other half of the season to struggle through on the remaining years of the Spectrum package.
As far as road trips go, The Galaxy's longest of the year will be three games in April, with all played within seven days of each other. April 11 at Minnesota United, April 15 at Philadelphia Union and April 18 at Toronto FC will be a tough stretch of games for GBS and the club to manage. But maybe this time rotating some minutes is the best solution.
The longest home stretch is also three games pinning the Galaxy to DHSP from May 27 to June 13 and hosting DC United, Minnesota, and San Jose.
The Galaxy will only play five midweek games in 2020, with all five being played on Wednesday (2 home, 2 away). That's a departure from years past when matches could be found on almost every day of the week.
The rest of the games are Saturday and Sunday affairs with 19 on Saturday (8 home, 11 away) and ten on Sunday (7 home, 3 away). The Galaxy's busiest month is May with seven games (3 home, 4 away), with April, July, and August all having five games being played — that doesn't count US Open Cup, or League's Cup games, and that could mean some congested scheduling ahead.
But the congestion in the schedule is readily apparent. The Galaxy will find themselves playing three games in a single week five times during the schedule, with two of those being Saturday/Wednesday/Saturday matchups. They'll do it once in April for their longest road trip, and then again from late June to early July.
But May is particularly rough, with seven games and six of them coming in three-game spans of Saturday/Wednesday/Sunday games. June also has a three-game run of Saturday/Wednesday/Sunday.
With dates spanning from February 29 to October 4, the league has its eyes on another early finish to the season with playoffs being bunched together in a similar fashion to 2019.
But there are still some massive issues to solve before the ball can be kicked at the end of February. The league needs to settle on a new Collective Bargaining Agreement with the players as the first step. With both sides still playing nice, it's unclear if a deal can be reached without a work stoppage. But if there is any delay in it's signing, it will put CONCACAF Champions League dates in immediate jeopardy and the start of the regular season in serious doubt. Then, all the nicely laid plans of the scheduling computer go out the window. That could mean abandoning some games or re-scheduling others as additional midweek games.
All of that uncertainty shouldn't keep you from planning out your travels for next season. And games in new MLS cities like Nashville and Miami should be fun additions to some already fun destinations.