The LA Galaxy made it to the Western Conference semi-finals in 2019. And after multiple years of not making the playoffs, they got exactly what they needed from this season — even if it fell short of the lofty expectations of Galaxy fans.
But with a year under Head Coach Guillermo Barros Schelotto and General Manager Dennis te Kloese, this offseason is looking to be one in which the two new guys can put their definitive stamp on this team.
Complicating matters is that a new Collective Bargaining Agreement needs to be introduced and signed by the players and MLS before the start of the 2020 season. This means the rules by which rosters are built, money changes hands, and even how teams travel, could affect the roster-building that is done in these early days.
So, just like before, we're bringing together all the important information that you need to know. We'll give you the results of each trade, transfer, and draft, and we'll do our best to keep you updated on credible and interesting rumors as they come in.
We've got it all for you right below. Don't forget to BOOKMARK THIS PAGE so that you can return to it regularly and pay attention to the date right below. That date will tell you when the tracker was last updated and what information was added.
THIS TRACKER WAS LAST UPDATED ON 2.21.20 AT 1:15 PM
2.25.2020 Update Roster with Gordon Wild signing
2.21.2020 Updated roster, and added new HG signings
2.14.2020 Updated Alan Franco Rumor
2.5.2020 Added Nick DePuy to the roster and signings area
1.31.2020 Added the loan of Jorgen Skjelvik
The following rumors have not been confirmed unless expressly stated that they have some substance to them. Some of these are ridiculous. We didn't make them up. Go yell at someone else!
Also, the star ranking is arbitrarily connected to how likely we feel the deal is, and whether or not we have some information on the subject.
CENTER BACK ALAN FRANCO TO THE GALAXY? ⭐️⭐️⭐️
UPDATED RUMOR (2.14.20): There are a lot of conflicting reports. So let's try and help them out. The Galaxy are absolutely interested in Franco. And the latest reports show a deal of about $4-million for a four-year contract that may have been rejected… or maybe not.
With Independiente's President saying the player won't be sold, you'd be right to close the door on this rumor. Except there's always more to this.
The player, apparently wants Independiente to take the deal. So that push means something.
And without getting into some serious detail, the exchange rate, Indpenediente's current standings, their play in the Copa Sudamericana will all make this decision for them.
The biggest hurdle, just like acquiring Javier Hernandez, is the other team's ability to replace the player. But should results not favor the Argentine club, they may be motivated to pull the trigger.
Three stars for the weekend. Where hopefully we'll hear more news.
UPDATED RUMOR (2.13.20): The Galaxy have apparently made an increased bid for Franco. And according to John Rojas — who used to sit next to me in the press box for Galaxy games and did a great job covering the Galaxy — that bid could be close to $4-million for 50% of the player's sell-on rights (it's a $3-million bid clear of taxes and fees).
That would mean Independiente is valuing Franco at roughly $6-million. Which may be a bit inflated, but certainly isn't outside the ballpark.
Rojas says that with the increased bid Independiente may hold Franco out of the Copa Sudamericana game that is being played tonight in Argentina (It didn't). Apparently, meetings between the two clubs are going on right now and a decision could be made in the next couple of days.
Nothing signals that the deal is close, but we're still watching. There are always twists and turns.
We're staying at three stars, but we really want to push this to four stars. It's that close to being something real.
ORIGINAL RUMOR (2.12.20): The Galaxy are continuing their drive for a center back. The latest rumor has them approaching 23-year-old Alan Franco from Argentina's Independiente. He's played 15 games for them this year after rising up through their system with Independiente II.
According to a source, an initial offer of $2-million was made for 60-percent of the rights to the player. That bid was rejected by Independiente in hopes of raising the price. Apparently the Galaxy have prepared another offer that would see the price raised to $2.5-million for just 50-percent of the sell-on rights. Which, Independiente are inclined to accept.
In MLS terms, in a two-year deal, the Galaxy could keep Franco as a DTAM player as long as the total spend (salary and transfer fee) doesn't breach the $3.225 – million level. So the roster mechanism to bring Franco onto the Galaxy seems to be in place.
But how much credence do we put into these reports? Especially when the numbers always seem to vary? Well, we're leaning into this one a bit. But a deal doesn't seem like it gets done today.
Three stars my friends. Go enjoy your humpday!
CENTER BACK JORDY DE WIJS TO THE GALAXY: ⭐️⭐️
ORIGINAL RUMOR (1.29.20): Dutch center back Jordy de Wijs is being linked to the LA Galaxy. The 25-year-old left-footed Dutchman is currently playing in the Championship with Hull City but had spent time with PSV Eindhoven in the Eredivisie (Netherlands).
With the Galaxy's move for Carlos Zambrano falling through, it seems that Galaxy General Manager Dennis te Kloese has a back-up plan and he may be tapping into connections from his homeland.
De Wijs is currently recovering from an injury and the article acknowledges that Hull may not even be interested. But if they are interested, the Galaxy want to move for the Dutch player immediately.
For Hull, he's played in 26 games this season with one goal.
The Galaxy are clearly looking for a value buy. With Jorgen Skjlevik's imminent departure (we'll keep saying it until it's not true) the Galaxy will need another borderline starter at defense. And with all the other positions showing some depth, and question marks around Giancarlo Gonzalez's ability to play better than last year, the Galaxy need another option.
We've got it at two stars until someone actually says "Hey, I know that name" to us.
CENTER BACK CARLOS ZAMBRANO TO THE LA GALAXY: ⭐️
UPDATED RUMOR: 1.21.20 — A lot can happen in a month, and in this case things didn't go the way the Galaxy wanted. It seems Zambrano is being courted by Boca Juniors and that means the Galaxy are walking away from what once were very real negotiations.
Back to the drawing board on defenders? The Galaxy were confident they had a good backup plan earlier this year, let's see what that plan entails.
Original Rumor: 12.26.19 — The LA Galaxy seem to have closed in on another defender. With Emiliano Insúa close to being signed, the Galaxy now look to have stolen Zambrano from the Seattle Sounders. The 30-year-old Peruvian international is currently playing with Ukrainian side Dynamo Kyiv but seems to be more than willing to make the jump to MLS.
Reports have the Galaxy making positive strides with the defender but nothing is done and it could all just fall apart.
Right now, however, we feel like this one is well on it's way to getting done. At the very least, it's being thoroughly negotiated.
CHILEAN NICOLÁS CASTILLO TO THE GALAXY: ⭐️⭐️⭐️
UPDATED RUMOR: 1.8.20 — There seemed to be some hope that América would want to get rid of Castillo for a relatively cheap price. However, if they don't make that assumption a reality, Castillo could be too expensive for the Galaxy. Nothing new to report, just a view that Castillo needs to be a relatively cheap option for the Galaxy if they want to move forward with that deal.
ORIGINAL RUMOR: 1.6.20 — Let's move back to the Galaxy's bread and butter. Let's talk about a 26-year-old South American who might be on a bit of a redemption path. Could the Galaxy want current América striker Nico Castillo? América might be willing to move him and because he's been seen as a flop, they might move him for cheap.
The LA VOX is tweeting that Castillo could be on the Galaxy's list — along with the New York Red Bulls and Miami.
Castillo has moved from Chile and Universidad Católica in Chile to Club Brugge (Belgium) and some loans to Pumas in Liga MX. Then out to Benefica in Premeira Liga, before coming back to América where he tallied at least 22 appearances with 9 goals.
Is this anything? It could be. This could be Dennis te Kloese going after a player who wants to prove something. And if that's the case, maybe a loan from América makes some sense.
The Galaxy need depth at striker because they have — checks notes — one currently listed on the roster. So Castillo could be coming to a place in need.
AND DENNIS TE KLOESE FOLLOWS HIM ON INSTAGRAM.
GARETH BALE BEING SOUGHT BY MIAMI AND LOS ANGELES: ⭐️⭐️
Updated Rumor: 1.8.20 — While there's nothing groundbreaking here, we just wanted to reiterate that the chances of this deal getting done this winter are slim. But be assured that there have been talks between the two parties. There is interest. There's definitely some motivation for him to be in LA.
Bale is a risk/reward signing. His injury history, and perhaps his motivation, are surely big questions. But a decision to sign him is easy. You do it. Could it turn out like the Steven Gerrard signing? ABSOLUTELY. But I've always argued that was an easy decision as well. You make the deal and hope you get it right.
In my opinion, this deal gets done. But it doesn't get done right now. Patience on this one. It's going to be around for a while.
Original Rumor: 1.6.20 — The LA Galaxy have been mentioned in a report that could have Real Madrid's Gareth Bale coming to SoCal. The report — from EldesMarquee — links Bale with both Inter Miami and the Galaxy. Going as far as to say they're the favorites.
However, a tweet from CBS Roger Gonzalez says that the report is false — and Roger is usually right on these things.
But before you stop reading in frustration, there are some reasons to believe that Bale could come to MLS. First is that China is implementing a salary cap for foreigners. And it's a significant change from when they just threw bags of money at everyone and anyone (Joke: CoG was offered $2-million a year to do our podcast from China. We didn't think we'd get any playing time). So Bale's big payday in China definitely throws that move into some chaos.
And with Real Madrid looking to replace some aging and expensive contracts, they could be looking to move more than just Bale. Even DC United is getting in on the Luca Modric action.
Want more? How about that the Galaxy have almost certainly had contact with his representatives before. This wouldn't be their first approach to the player and he's most certainly thought about coming to MLS in the past.
But Gale is 30-years-old. And getting one more big payday seems like the plan. Could the Galaxy provide that? Is it time to take off the training wheels? Would Uncle Phil splash the cash?
Bale is valued by TransferMarkt at €40-million. If that's true, the Galaxy and MLS won't be interested. But that's likely, not true. It's probably much less than that.
For now, we watch it. And for now, we're not holding our breath. Two stars.
DUTCH GOALKEEPER KENNETH VERMEER TO GALAXY: ⭐️
Updated Rumor: 1.13.20 — Well perhaps it was another club in LA? You know how this goes. Most people only know of one team in LA and it's the Galaxy. So all the rumors seem to point at the Galaxy. That must hurt someone's feelings. Oh well.
Original Rumor: 1.12.20 — There are some reports out of the Netherlands thatn 34-year-old goalkeeper, Kenneth Vermeer could be on his way to join the Galaxy.
He's currently playing for Feyenoord in Holland after a loan to Club Brugge in Belgium for the 2017/2018 season. He's played in 25 games so far this season and allowed 33 goals with six shutouts.
This is an interesting rumor. Because the Galaxy would clearly be using an international slot to sign Vermeer and because the Galaxy are already paying David Bingham $375,000 (in 2019). Bingham was part of a defense that gave up 59 goals last season, but I'm not sure many of those could be directly hung on his head. But certainly, there is massive room for improvement.
The international slot is harder to reconcile. The Galaxy have eight of eight spots currently being used. But two of those spots could be opened up by moving Skjelvik (transfer out) and Traore (Galaxy II). If Hernandez comes that eats up one of those slots. And if Zambrano comes in that's another. It's not a reason to completely dismiss the rumor, though. The Galaxy could always buy another INTL slot from a team that isn't going to use it. But we still need to watch that as a general rule for these deals.
One star for now. But the link to Dennis te Kloese's homeland certainly raises a Pato eyebrow!
WINGER RICARDO CENTURION LINKED TO GALAXY: ⭐️
ORIGINAL RUMOR; 11.27.19 — If he's Argentine, and knows Guillermo Barros Schelotto, you can expect him to be linked with the LA Galaxy. And for Argentine Ricardo Centurion, his name keeps popping up. Maybe that's a good thing, maybe that's not.
At 26 years old, Centurion is a talented winger. He helped his hometown club, Racing, to two Argentine titles, but then bounced around to multiple teams (Genoa in Italy, Sao Paulo in Brazil, and Boca Juniors in Argentina).
But Centurion comes with baggage. He's been accused of abusing his girlfriend while he was playing for Boca Juniors (under Schelotto) as outlined in this post from CheFutbol:
"Melisa Tozzi made a number of these allegations public when she appeared for an interview outlining the nature of both the psychological and physical acts Centurion made in their time together. She stated that Centurion repeatedly told her during fights that 'If she wasn't with him then she would be with nobody' while leaving her on numerous occasions with black eyes and unconscious.

"Inevitably claims that Tozzi is using this to create a celebrity status have been made however Centurion has been no stranger to acts of violence. Having already numerous police charges as well as photos of him holding a firearm, more recently a video emerged of 3 Boca Juniors players having to restrain Centurion in a hotel before the summer Superclasico in January."

CheFutbol — June 19th, 2017
His girlfriend mentions being unconscious, of being choked (previously translated as being hanged but corrected by a reader), and of having her teeth knocked out. This is not the guy you want on your team or even associated with your team.
Schelotto should probably stay away from the player as well. Giving soft statements on sexual and domestic violence in relation to Centurion in the past. And basically saying that what happens off the field is none of his business.
Centurion has also been embroiled in scandal outside of the domestic violence issues. He's posed with weapons on multiple occasions and fled the scene of a car crash — allegedly under the influence of alcohol.
This is a complicated move that brings all sorts of bad news to the Galaxy. A team with a solid reputation would be gambling on a guy with some serious baggage. Centurion wouldn't just be a role player, the Galaxy would expect him to be a star in Los Angeles.
Do the Galaxy really want to take that gamble? Does GBS really want to re-hash the statements he made in Argentina about domestic violence? There are plenty of footballers around the world. And in this #MeToo era, how could the Galaxy even entertain signing such a player?
MLS OPTION EXERCISE DEADLINE
MLS OPTION EXERCISE DEADLINE (NOV. 21 – COMPLETED)
MLS Clubs must notify the League Office in writing of players whose options they are exercising or declining.
The results of the deadline will be published below
| | |
| --- | --- |
| OPTIONS DECLINED | Diego Polenta (D), Favio Alvarez (M), Juninho (M), Joao Pedro (M), Tomas Hilliard-Arce (D), Servando Carrasco (M), Matt Lampson (GK), Hugo Arellano (D) |
| OPTIONS EXERCISED | Justin Vom Steeg (GK), Rolf Feltscher (D), Emil Cuello (M), and Cristian Pavon (F) |
| OUT OF CONTRACT | Romain Alessandrini (M), Daniel Steres (D), Zlatan Ibrahimovic (F), Bradford Jamieson IV (F) |
Additional notes:
Midfielder Uriel Antuna's loan has expired (He's not expected back)
Chris Pontius has retired from professional soccer
The club remains in negotiations with
CoG Analysis:
In MLS, the league and the teams do not disclose the length of contracts. So much of this is a guessing game. Jorgen Skjelvik seems to have signed a three-year contract (at the very least) and is technically under contract with the Galaxy for the 2020 season. However, that doesn't mean he'll be on the roster in 2020. And Dennis te Kloese said as much in his exit interviews.
A loan seems likely for Skjelvik, and if you remember our rumor about him going to Hammarby during the transfer window saga, then you may have some clue into where the Galaxy could move him.
Additionally, just because the Galaxy declined the option of any player, doesn't mean they won't be back. Rolf Feltscher was an example of that last year. His option was declined and he signed a new deal at a lower rate.
As far as the out of contract players, the Galaxy should bring back Daniel Steres (it happened) — that one seems like a lock. But Romain Alessandrini and Diego Polenta are harder cases. Alessandrini will need to swallow a pay cut and come back as a lower-level TAM player. I think that gets done, but it's going to be a hard pill for him to swallow.
Polenta is more interesting. He was hit and miss in 2019 and he doesn't come cheap. Are the Galaxy looking at bringing him back? We're not 100-percent sure they are. Or at least not at his current salary. That one is also up in the air.
The Galaxy definitely look to be parting ways with João Pedro, and Juninho. And Favio Alvarez didn't have his loan extended.
Big changes are coming to the Galaxy with just 15 players under contract. With MLS roster reaching up to 30, the club will look to fill those other 15 slots this offseason.
MLS EXPANSION DRAFT (NOV. 19 – COMPLETED)
Inter Miami CF and Nashville SC may select up to five players each from the eligible player list
The list of players eligible for selection in the 2019 MLS Expansion Draft will be released by MLS on Nov. 16 at 7 p.m. PT.
The LA Galaxy could have, at maximum, one player selected from their roster
MLS Expansion draft results, and a list of protected LA Galaxy players will be published below
NOTE: The LA Galaxy, with the trade of Dave Romney, look to have a handshake deal put in place that will see Nashville SC NOT SELECT a Galaxy player during the expansion draft. Inter Miami CF can still select someone from the Galaxy.
LA GALAXY PROTECTED LIST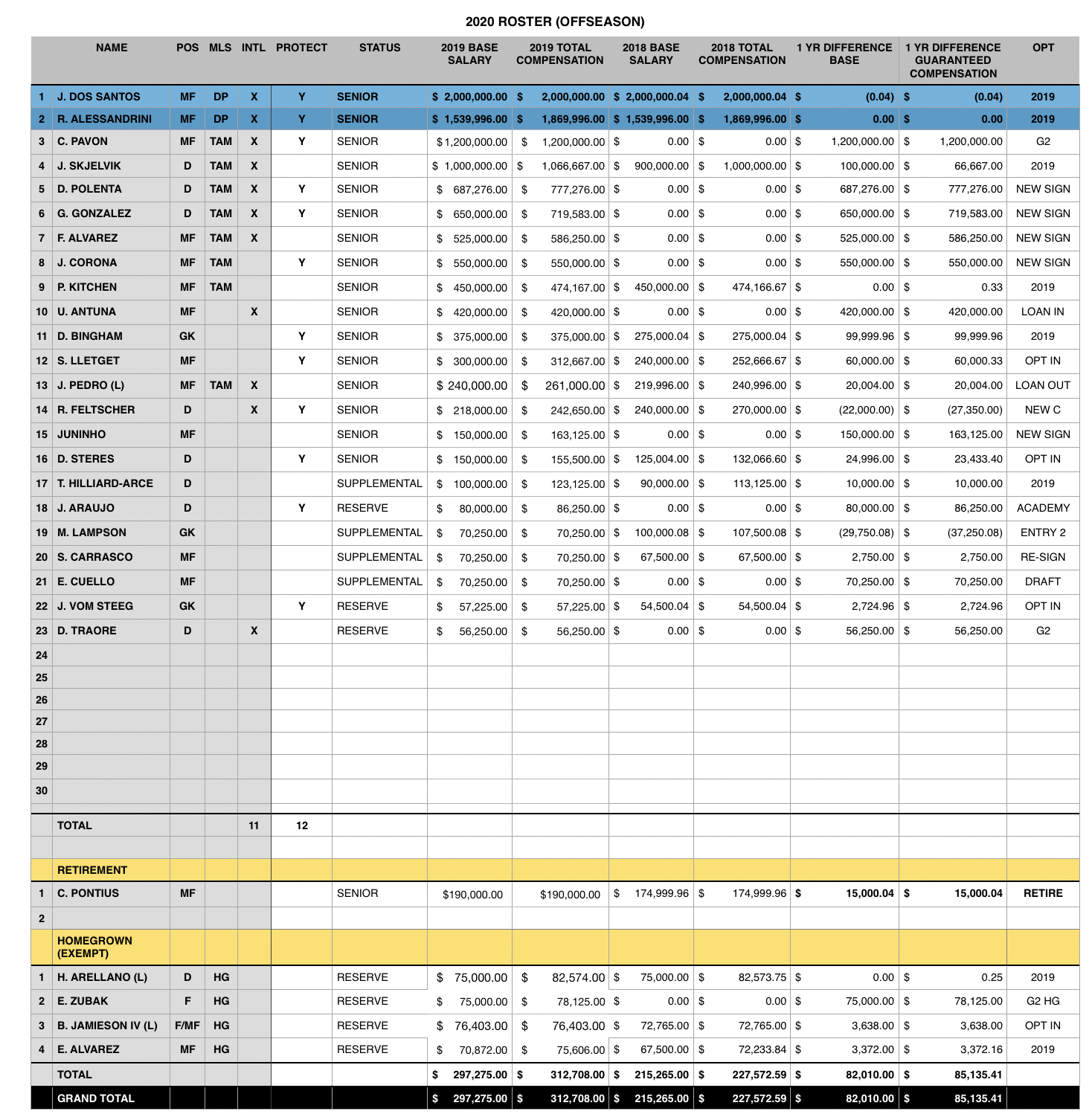 LA GALAXY UNPROTECTED LIST:
| NAME | NOTE |
| --- | --- |
| Favio Alvarez | Loan Ended |
| Uriel Antuna | Loan Ended - expected to be sold |
| Servando Carrasco | Retirement? |
| Emil Cuello | |
| Tomas Hilliard-Arce | |
| Zlatan Ibrahimovic | Will not return to MLS |
| Perry Kitchen | Galaxy are shopping him |
| Matt Lampson | |
| Joao Pedro | Out of Contract? |
| Juninho | Retirement? |
| Chris Pontius | Retired |
| Jorgen Skjelvik | Will not return |
| Diedie Traore | Reserve Roster - Low Risk |
COG ANALYSIS: The Expansion Draft rules state that the Galaxy can protect up to 12 players. This is one more than teams were able to protect in 2018 (EXPANSION DRAFT RULES). There is also a rule that mandates that teams with four or more international players protect at least three of those International players.
With those rules in place, the Galaxy made some very simple choices that only varies from our projected list by one player — Diedie Traore. The Galaxy chose to leave him unprotected, while we originally had him protected. The Galaxy decided to protect 3rd string goalkeeper Justin Vom Steeg instead.
The Galaxy left Zlatan Ibrahimovic and Chris Pontius unprotected in the expansion draft. Neither player will return in 2020. But their rights could be drafted by either of the expansion teams. It's a stupid thing, and neither team will pick them, but it's still something.
After looking at the Galaxy's available players, I don't see anyone picking any of the players they left unprotected. Perry Kitchen could be one of those players on the bubble. But his expensive contract, plus the fact the Galaxy are already shopping his contract around, mean he's unlikely to be selected by Miami.
NOTES: Designated Players are not exempt from the process and must be protected if teams wish to protect them. Players with a no-trade clause must be protected. To the best of our knowledge, we're only aware of one no-trade clause (Chris Pontius). But because of Pontius' retirement, this shouldn't affect anything.
2019 MLS EXPANSION DRAFT RESULTS:
| NO. | INTER MIAMI CF | TEAM FROM | NO. | NASHVILLE SC | TEAM FROM |
| --- | --- | --- | --- | --- | --- |
| 1. | Ben Sweat (D) | NYC | 1. | Abu Danladi (F) | MIN |
| 2. | Alvas Powell (D) | CIN | 2. | Zarek Valentin (D) | POR |
| 3. | Lee Nguyen (M) | LAFC | 3. | Jalil Anibaba (D) | NE |
| 4. | Luis Argudo (M) | CLB | 4. | Brandon Vazquez (F) | ATL |
| 5. | Bryan Meredith (GK) | SEA | 5. | Jimmy Medranda (M/D) | SKC |
No LA Galaxy players were selected in the MLS Expansion Draft. Several of Nashville's picks will most likely be traded.
2019 MLS WAIVER DRAFT (NOV. 25 – COMPLETED)
The End-of-Year Waivers process is conducted in reverse order of 2019 season finish, taking into account postseason performance. Per the Expansion Priority Draft, Nashville SC will have the 25th pick and Inter Miami CF will have the final selection in each round.
Eligible for selection are players who do not meet the minimum requirements for the Re-Entry Process or Free Agency.
You can find the complete list of players eligible for the Waiver Draft here.
Four LA Galaxy players will be available in the MLS Waiver Draft:
Favio Alvarez
Hugo Arellano
Tomas Hilliard-Arce
Bradford Jamieson IV
2019 MLS WAIVER DRAFT RESULTS:
| PLAYER SELECTED | TEAM FROM | TEAM TO | NOTES |
| --- | --- | --- | --- |
| Haris Medunjanin | Philadelphia Union | FC Cincinnati | |
| Jeff Caldwell | New York City FC | New England Revolution | |
| Greg Ranjitsingh | Orlando City SC | Minnesota United | |
| Danilo Acosta | Real Salt Lake | LA Galaxy | Was on loan to Orlando City starting in 2018 |
With the 17th pick in the 2019 MLS Waiver Draft, the LA Galaxy selected defender Danilo Acosta. Acosta is a 22-year-old defender who came up through the Real Salt Lake Academy system and signed a Homegrown contract with them in 2015. He has 37 appearances in MLS as both a member of Orlando City and RSL.
Acosta has made 16 appearances for the US U-20's and is a domestic player per MLS rules. He will not take up an international slot.
Acosta was born in San Pedro Sula, Honduras but considers his hometown, Sandy, Utah.
2019 MLS RE-ENTRY DRAFT STAGE 1 (NOV. 26 – COMPLETED)
The Re-Entry Process (Stage 1 and Stage 2) is conducted in reverse order of 2019 season finish, taking into account postseason performance. Per the Expansion Priority Draft, Nashville SC will have the 25th pick and Inter Miami CF will have the final selection in each round.
Eligible Players include:

Players who are at least 23 years old, have a minimum of three service years, and their contract options were not exercised by their clubs. These players will be available at their 2019 option salary.
Players who are at least 25 years old, have a minimum of four service years, are out of contract, and their clubs do not wish to re-sign them at their previous salary. These players are available for at least their 2019 salary.
Free Agents that choose to participate.
Only one LA Galaxy player is eligible for Stage 1 of the Re-Entry draft
MLS RE-ENTRY DRAFT STAGE 1 RESULTS:
| PLAYER SELECTED | TEAM FROM | TEAM TO |
| --- | --- | --- |
| MIKEY AMBROSE | ATLANTA UNITED | INTER MIAMI CF |
| ERIC MILLER | NEW YORK CITY FC | NASHVILLE SC |
| RICHARD SANCHEZ | CHICAGO FIRE FC | SPORTING KC |
| KENDAL MCINTOSH | PORTLAND TIMBERS | NEW YORK RED BULLS |
The LA Galaxy did not make a selection in Stage 1 of the MLS Re-Entry Draft. Stage 2 will take place on December 3.
2019 MLS RE-ENTRY DRAFT STAGE 2 (DEC. 3 – COMPLETED)
The Re-Entry Process, Stage 2 is conducted in the same format as Stage 1 and consists of MLS players who were not selected in Stage 1.
Not all unselected Stage 1 players will be available for selection as players may re-sign with their previous club between stages or may opt-out of the process.
2019 MLS RE-ENTRY DRAFT STAGE 2 RESULTS:
| PLAYER SELECTED | TEAM FROM | TEAM TO |
| --- | --- | --- |
| Saad Abdul-Salaam | Seattle Sounders | FC Cincinnati |
| Juan Agudelo | New England Revolution | Toronto FC |
Only two players were selected in the second stage of the Re-Entry draft. The LA Galaxy did not select anyone during the draft.
2019 FREE AGENCY LIST
MLS has a limited form of Free Agency. We'll provide a link to the full League Free Agency List (LIST HERE)
There are four Galaxy players that are listed on the Free Agency list
Servando Carrasco
Matt Lampson
Juninho
Chris Pontius (Retired)
2020 MLS SUPERDRAFT (JAN. 9 & 13 – COMPLETED)
MLS SuperDraft will take place on January 9 at 9 AM PT. It will be on a show that is jointly produced by MLS and ESPN. No central location. Draft rooms will be positioned at the home of clubs. Cameras will cover draft rooms and get player reactions.
Draft available on twitter.
For the Galaxy, they'll only have a single selection (as it stands right now) for the first two rounds of the draft. The Galaxy will have the 19th pick in the second round (45th pick overall).
Their natural selection in the first round was traded to Toronto FC on 4.11.19. That trade took place when the Galaxy moved up in the Allocation Order to sign defender Giancarlo Gonzalez.
| ROUND | PICK (ROUND) | PICK (OVERALL) | PLAYER | POSITION | PREVIOUS CLUB | NOTE |
| --- | --- | --- | --- | --- | --- | --- |
| 2 | 21 | 45 | TOM SMART | DEFENDER | UNIVERSITY OF AKRON | FROM BIRMINGHAM, ENGLAND |
| 3 | 19 | 71 | PASS | PASS | PASS | NATURAL SELECTION |
| 4 | 3 | 81 | PASS | PASS | PASS | ACQUIRED FROM FC CINCINNATI TRADE ON 12.12.19 |
| 4 | 19 | 97 | PASS | PASS | PASS | NATURAL SELECTION |
NEW SIGNINGS:
12.11.19 — LA Galaxy sign Free Agent Sacha Kljestan
12.31.19 — LA Galaxy sign Aleksander Katai to a TAM deal (ARTICLE)
1.2.20 — LA Galaxy sign defender Emiliano Insúa
1.8.20 — LA Galaxy sign defender Danilo Acosta
1.15.20 — LA Galaxy sign Goalkeeper Eric Lopez to Homegrown contract
1.21.20 — LA Galaxy sign Javier "Chicharito" Hernandez (ARTICLE)
2.5.20 — LA Galaxy sign defender Nick DePuy from Galaxy II
2.20.20 — LA Galaxy sign forward Cameron Dunbar to HG contract
2.21.20 — LA Galaxy sign midfielder Jonathan Perez to HG contract
2.25.20 — LA Galaxy sign forward Gordon Wild
RE-SIGNINGS:
11.19.19 — LA Galaxy sign midfielder Sebastian Lletget to a new multi-year deal using Targeted Allocation Money (ARTICLE)
12.12.19 — LA Galaxy re-sign defender Daniel Steres to a new multi-year contract
TRADE TRACKER:
11.12.19 — LA Galaxy trade defender Dave Romney to Nashville SC for $225,000 in General Allocation Money (ARTICLE)
12.12.19 — LA Galaxy acquire a 4th round SuperDraft pick from FC Cincinnati in exchange for the Homegrown right to Zico Bailey
LOAN TRACKER:
11.18.19 — Cristian Pavon has his loan extended. Will become a DP and occupy an international roster spot for the 2020 season (ARTICLE)
1.31.20 — LA Galaxy loan Jorgen Skjelvik to Odense Boldklub in Denmark for the remainder of their season (ARTICLE)
RETIREMENTS:
10.29.19 — LA Galaxy midfielder Chris Pontius announces his retirement from professional soccer
DEPARTURES:
11.13.19 — Zlatan Ibrahimovic has departed the LA Galaxy (ARTICLE)
11.21.19 — Diego Polenta departed the LA Galaxy (ARTICLE)
12.16.19 — Favio Alvarez joins Pumas in LigaMX
12.16.19 — Matt Lampson signs with Columbus Crew
1.20.20 — Romain Alessandrini announces departure (ARTICLE)
CURRENT ROSTER: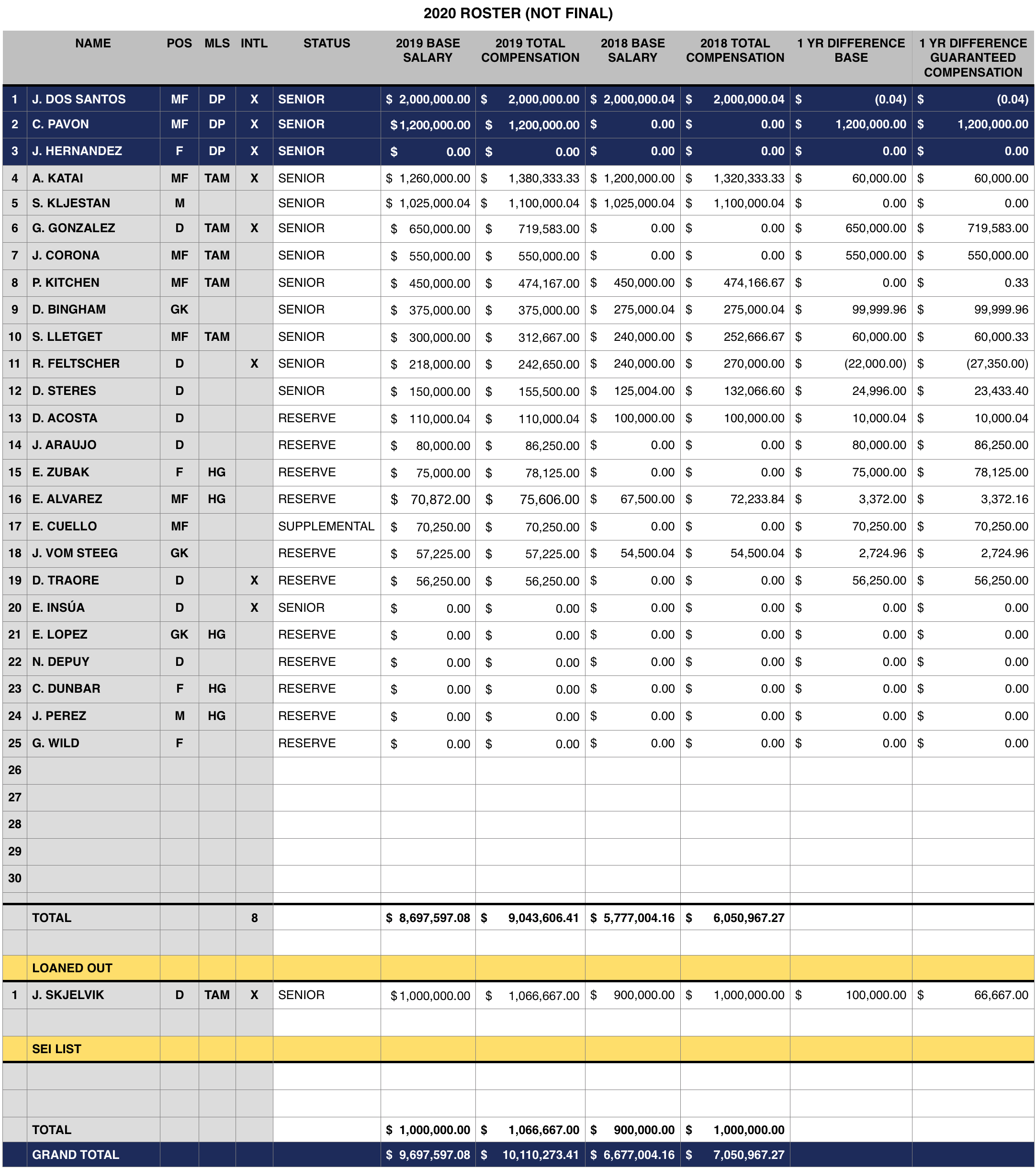 *Last updated on 2.25.20
JAVIER HERNANDEZ TO LA GALAXY: ✅
UPDATED RUMOR 1.17.20 — Grant Wahl and Sports Illustrated are reporting that Chicharito has signed a contract that will make him the highest-paid player in MLS. That probably puts the number at around $7 million.
As for is this deal actually done? No. But at this point, we're tired of splitting hairs. And if you're a Galaxy fan, and are excited about the signing, you can start to get that kit ready.
A source told me that all the movement in the deal is positive and that the expectation is that it gets done. This source also indicated that all parties are on the same page and there didn't seem to be any "road bumps" to getting this completed.
If you're asking me what that means, it means a 99-percent chance this clears. There are no obstacles besides signing, ITC, P-1 Visa, and MLS approval (they'll get it) to having him being placed on the roster. And while that's a list that is full of little pitfalls, it's pretty standard fare for the Galaxy.
Official announcements are still planned for next week (early next week) and that should include a new video of sorts, an airport arrival (get ready to meet Chicharito at the airport in some capacity), and a press conference.
And that all will need to be coordinated with the 1st media availability for the team in 2020.
All those dates could slide in one direction or the other and all "events" are subject to change depending on the player's schedule.
Hopefully, this means I can get some sleep, and that you can go about wondering when the Galaxy are going to fix their defense. Sound good?
Meantime, if you need us, we'll be on PlaneFinder trying to figure out which flight from Spain he'll be on. #ChicharitoWatch is a thing now — we're making it a thing.
UPDATED RUMOR 1.16.20 (Afternoon) — The picture that seems to be emerging from Spain is that Sevilla, who seemed to have already worked out a deal with the Galaxy, are now going back on that deal. Which is certainly interesting.
The Director of Football at Sevilla, Monchi, is well known for squeezing every last drop out of every transfer they bring in. Co-Host and LA Times Soccer Reporter Kevin Baxter says he's the Billy Bean of the soccer world — referring to the Oakland A's General Manager and the analytical tools he uses.
What we do know is that Chicharito did not train with Sevilla today and pictures are circulating showing that his name is not up in the locker room. Now, not knowing if his name was ever in the locker room isn't a place to start. But it seems likely that Sevilla plan on him leaving.
A source told me that despite all the rumors the club still seems to be prepared to announce Chicharito next week. But that's not saying there aren't real and serious problems.
Is this Sevilla trying to work every last cent out of the Galaxy? And with all the excitement, does another $500,000 or $1 million really make a difference?
Remember, this is a DP spot we're talking about. The only limitation is Uncle Phil's pocketbook!
Still five stars. Still expecting it to get done. Even if that means there's more than a little bit of drama left in this one.
UPDATED RUMOR 1.16.20 (Morning) — Remember when we told you that things weren't done? That nobody had signed anything? And that the deal isn't really done until it's signed?
Welcome to the Galaxy's worst nightmare.
The ever-trustworthy Roger Gonzalez (CBS Sports) and Jeff Carlisle (ESPN) are both hearing that nothing has been signed and there are definitely bumps in the road.
In fact, Gonzalez has gone as far as to say that the Galaxy are worried the deal could fall through.
Failing to land Chicharito at this point would be seen as a huge failure for the club. Even if they were to replace him with some other star around the world. And that's probably unfair, to the Galaxy. But with media across North America already writing their odes to how great the deal is for all parties, and especially MLS, you'd be putting the league and the team in a bad position if the deal doesn't close. Almost regardless of who was at fault for it falling through.
Sevilla, for their part, seems to have signed Chicharito's replacement. And that means the Mexican probably doesn't have a place to go back to. Plus, with a salary reportedly between $5 and $7 million he's getting paid a premium to be in MLS and with the Galaxy. He's not going to get that anywhere else.
The best move for all involved is to get this done. And if you're in Chacharito's camp, throwing everything into question just before it's ready to be announced could be a smart move to getting just a little bit more money. And why not?
But this deal is not done yet. And that won't happen until someone gets out the blue ink and signs on the line.
That means that any production the Galaxy had set in motion is probably hanging out in Spain twiddling their thumbs. And that also means the timeline for when this gets announced could be pushed back (if it doesn't fall apart completely).
Hang onto your hats, everyone. This just got very, very interesting.
UPDATED RUMOR 1.15.20 — You're not going to get your official announcement today. And you probably aren't going to get it this week, if we're being honest.
As we said below, the Galaxy and Chicharito are existing in space where everyone has agreed to agree, but nothing has been signed. Today it's likely that agents and lawyers are going over the contract to make sure everything lines up with what they agreed to. And it's likely that Chicharito is preparing his family for a trip to Los Angeles.
So expect a formal announcement sometime next week (subject to change).
Behind the scenes, the Galaxy are busy preparing for the latest "big name" announcement. When Ibrahimovic signed, they hired a real lion. When Pavon signed, it was a chamber orchestra. But there's been no word on what wild animals nor musical instruments might take center stage with Chicharito when he's unveiled as a Galaxy player.
These things are highly orchestrated. And for most signings on this level, you can expect the official announcement, an airport greeting, and a press conference. Nothing leads me to believe this will be any different.
So the chase for Chicharito is done. Now someone just has to sign on the dotted line!
Five Star Rumors! Fun, right?
UPDATED RUMOR 1.14.20 (5:08 PM) — We're now going to operate in a space somewhere between the deal still be negotiated and when it actually gets signed.
Many different outlets are reporting the deal is done and that's where we have to differentiate between "done" and done.
Sergio Dipp tweeted out the general understanding that agreement is in place. And you should trust him. But from my side of things, until there is ink on the line, it's not done. And I'm specifically being told that it's not done.
However, Galaxy fans should probably go to sleep with the understanding that Chicharito — barring any last-minute changes that send the deal sideways — will be on the LA Galaxy in 2020.
The Galaxy, currently have no plans to announce anything tomorrow as is being reported by some outlets, but again, that could change. We'll just hang in there for a bit.
And when the ink dries on the deal, I'll be here to tell you it's all done!
Five stars and inching towards that green check. We'll talk in the morning!
UPDATED RUMOR 1.14.20 (4:08 PM) — TUDN in Mexico is reporting the deal is now done. But before you go and order your Chicharito kit, we cannot confirm that.
Speaking with multiple sources within the organization, I can say the deal is STILL NOT DONE. Again, this doesn't mean anything to the overall health of the deal. Just that it's not across the line yet.
If I'm speculation, I'd say that there is a framework agreed to, but nobody has signed on any line and no deal is "Done" until that happens.
There is optimism and a near acceptance the deal will get done around the organization. But they're still going to take the cautious approach. I'm sure it would baffle most minds to find out the deals that were "done" that never got done!
Rumor stands at five stars and we're hoping it all closes as quickly as possible because I don't want to play with this anymore.
UPDATED RUMOR 1.14.20 — Could today be the day that this thing finally gets wrapped up? TUDN is reporting that there are just a few details remaining until this deal is finalized. And they're also reporting a transfer fee of $10-million and an annual salary of $7.2-million. If that number sounds familiar, that's because he'd basically be taking the same amount of money as Zlatan Ibrahimovic.
I'm sure that's an easy sell to AEG, but for my money, it seems to be on the high side. Especially when he's making under $4-million with Sevilla. But persuasion can always come in the form of dollars, and the Galaxy may have gone all-in to make sure he lands with them.
And it's probably no coincidence that it's more than Carlos Vela's $6.3-million (2019 numbers). Vela, by the way, had nothing but nice things to say about Chicharito at LAFC's first training of the year.
And for those of you playing the home game, the Galaxy HAVE NOT SIGNED HIM YET. CoG was able to confirm last night that nobody has signed on the dotted line, and nobody has crossed any "T's."
That doesn't mean anything either way. We have this at five stars and that's because we expect it to get done.
This is a risky signing, right along the lines of Zlatan Ibrahimovic, but this could really pay off for the Galaxy on both the footballing and marketing side of things.
The rumor stays at five stars.
UPDATED RUMOR 1.13.20 — Kevin Baxter launched a Sunday article that basically confirms most of the rumors we've been seeing. Dennis te Kloese acknowledged that the Galaxy are in the hunt and that they want Chicharito.
While there is still probably more distance between the two clubs and Chicharito than is widely reported, the Galaxy want to get this deal done.
So if we're grading the likelihood of this deal, we're above the 80-percent mark. That means 5-stars.
The bottom line is the deal could flop. This deal could be the best signing in the history of the club. Or it could land somewhere/anywhere in-between.
But the guy who is putting everything on the line is Dennis te Kloese. He's the guy with a long-running relationship with Hernandez, and he's likely the one who had to get GBS and AEG's buy off.
The money being mentioned ($10-million transfer fee and a salary in the $3-5 million) doesn't seem out of line. But without knowing the length of contract, it's hard to really judge that. I'd say a minimum of 3 years, max of 5 years for Hernadez (3 years seems more likely).
For marketability and playing reasons, this is a guy who checks a lot of boxes. LigaMX is the most-watched soccer league in North America. Diverting or adding some of those eyes to the Galaxy could be huge. Especially in Southern California.
Do the Galaxy have enough talent to make Chicharito effective? That's a question the Galaxy seem to have already answered. They think so.
Lot's of things could still fall apart. But this is reaching it's climax with the Galaxy supposedly in-country to talk to Chicharito today.
Enjoy the ride, everyone!
UPDATED RUMOR 1.11.20 — More news on this Saturday. Reports are circulating that the Galaxy and Sevilla have come to an agreement on terms for the transfer of Chicharito. That number could be as much or more than $10-million, or it could be a lot less. We really don't know.
But that clears another hurdle that the Galaxy had in their way to get Chicharito. The other was actually convincing him to come to MLS. Sevilla's reported admission that Hernandez isn't going to get any more playing time seems to have him ready to negotiate with the Galaxy and Dennis te Kloese.
Te Kloese has known Chicharito since their time at Chivas Guadalajara. Then there was all the time te Kloese and Hernadez spent with the Mexican National Team. They know each other well, and that bodes well for the Galaxy if they're trying to get this done.
If Chicharito wants to come to MLS, then the Galaxy seem to be offering him a place to do that.
Neither the registrations hurdle (can't play for three teams in the same season) nor the discovery right issues (Chicago seems to hold his rights) will get in the way of making this deal happen. The Galaxy will have answers for both of those.
The first answer comes with a loophole in the FIFA rules that allow for leagues with different seasons (MLS fits that bill) to let a player play for three teams in a year. And Chicago will probably be bought off with General Allocation Money.
All signs are pointing to this deal being done. I'm tempted to push this to five stars, but will hold off.
UPDATED RUMOR 1.10.20 — Let's keep this ball rolling. Tom Marshall over at ESPN translated an ESPN MX tweet that says that "for the first time" Chicharito is interested in coming to MLS and he realizes that he's not going to get playing time at Sevilla.
Sevilla has put the writing on the wall. This now would come down to the Galaxy satisfying Sevilla. And getting the number right for Chicharito's salary as well.
We're guessing but giving Sevilla a $9 to $10-million transfer fee should do the trick. That will give them a profit of between $1-2 million when buying him from West Ham this summer.
And salary-wise, anything from $3 to $5-million per year seems reasonable.
There now seems to be a pathway to success on this signing. And we're upping the star value to four stars as all the hurdles we mentioned below seem to have answers.
You may now discuss how he fits into the Galaxy's system and why that might not be the best answer.
UPDATED RUMOR 1.9.20 — A lot can happen in 24 hours. From our last update to this one you're going to notice quite a change in tone. And that's because there is absolutely a change in tone around the rumor.
As twitter rumors ran crazy yesterday with the Galaxy offering what was thought to be $10-million for Chicharito to Sevilla who just purchased him over the summer from West Ham, things stayed relatively quiet around the Galaxy.
But when a couple of reports already confirmed the signing, we reached out to the team.
"The LA Galaxy continue to look at a number of players to improve the team for 2020," a team official told me while also denying that any signing had taken place.
The statement is obviously vague. And it's vagueness it fails to exclude the chances that the Galaxy are on the hunt for Chicharito.
The ever-wonderful Tom Marshall also had some reporting to add to this situation.
Marshall says that Sevilla is "looking to bolster their attacking line further during the January transfer window," and that Chicharito "has been approached by some MLS clubs." But his wish is to remain in Europe, even in the face of even further restricted playing time.
The ESPN transfer blog continues to follow this move with a further update. Adding that Sergio Dip says that he spoke with Hernandez and that he wants to stay in Europe at this time. We discuss this a major hurdle to the deal getting done down below.
---
---
So let's make this simple — the LA Galaxy are interested in Chicharito. And without being able to verify if the numbers are correct, this likely makes him their number one target this Winter.
Possible Hurdles: With Chicharito only being with Sevilla for a few months, and with Sevilla's record of making money off their signings, the Galaxy will need to make the transfer worth Sevilla's time. Something that Baxter lays out very well in his tweet from last night.
The Galaxy will need to make sure Sevilla doesn't lose money on the transfer. Even breaking even might make some sense to Sevilla. So the target for the Galaxy should be $8.55-million. That's why the $10-million makes a lot of sense.
And with Marshall reporting that Chicharito wants to stay in Europe, the Galaxy will need to convince the 31-year-old striker that coming to LA is the best choice for him.
Also, Marshall is reporting multiple MLS teams are inquiring about Chicharito. If we know that one is the Galaxy, the other seems like it's probably Miami (that's a guess). So the Galaxy are going to have to out-maneuver the deep pockets of the Beckham fortune to secure him and tell him why Los Angeles is better than Miami (that shouldn't be that hard).
So there are a bunch of speed bumps to this signing. And we haven't even gotten into whether he fits into GBS' system, yet. Can he press? Can he lead from the front instead of just poaching goals? Do the Galaxy have enough offensive weapons in Pavon, Katai, Lletget, and others to make him an effective poacher?
It gets upped to 3 stars on our tracker. It should be at 4 stars but if we're being honest, the hurdles the Galaxy have to jump over mean that this is more of a long shot than it should be.
UPDATED RUMOR 1.8.20 — Chicharito is back on the Galaxy's timeline. That's after reports from Spain have the Galaxy offering $10-million for the services of the (former) Mexican International.
Herculez Gomez knows SoCal and the Latino community. If he says it's big, then it's big if it happens. I'm more lukewarm on the whole thing. Or maybe I've just been lulled into apathy after seeing this rumor for the 100th time.
But Kevin Baxter also has some quotes up his sleeve. Baxter talked with Dennis te Kloese recently where the te Kloese said that because of the timing with his transfer to Sevilla, the deal would be tough to get done.
Would Dennis have changed his mind in 24 hours? Would the door have opened that wide that quickly? Those are the questions we're all left to answer.
From my point of view, we've been there before with this rumor and everything I'm seeing right now doesn't leave me any closer to believing it's suddenly true this time.
We stay at two stars until further notice.
ORIGINAL RUMOR; 12.16.19 (9:45 AM) — Javier "Chicharito" Hernandez has been linked to MLS for years. The fact that he's 31 years old and not exactly featuring for LA Liga's Sevilla means that the Galaxy might actually have a chance at poaching him. Although Sevilla is expected to make the Galaxy pay a significant transfer fee if they want the former Mexican International.
There doesn't seem to be anything official with Hernandez, but when you can connect a bunch of dots, you can't simply write it off as a coincidence.
You can expect his name to be thrown around throughout the winter transfer window.
MIDFIELDER ALEKSANDAR KATAI TO THE LA GALAXY: ✅
ORIGINAL RUMOR: 12.29.19 — To say this all started with an Instagram rumor is a crazy thought. Dennis te Kloese follows former Chicago midfielder Aleksandar Katai and suddenly people think something is happening. Well, they were right. It's happening.
As reported by Kevin Baxter of the LA Times, the Galaxy will sign the 28-year-old midfielder likely with TAM money. Katai made $1.38-million in 2019 according to the MLS Players Union. So it's unlikely that he took either a giant pay cut or got a significant raise. Meaning he probably is keeping both his international tag and his TAM tag.
This move should bolster the Galaxy's attack, but it could also mean the end to Romain Alessandrini's time in LA — although that is far from official.
But what is certain is that the Galaxy already seem to be brushing up against their international slot limit of eight fairly early in the offseason. But with moves likely for Diedie Traore (back to Galaxy II) and Jorgen Skjelvik (out of the team), the Galaxy still have some wiggle room for a bit.
Katai has scored 18 goals in 62 career games in MLS. But scored just six last year in just over 2,100 minutes.
The only thing to clean up on this is what the Galaxy had to give to Chicago for the rights to talk with Katai. Because MLS is going to MLS hard — even with Chicago no longer interested in the player.
DEFENDER EMILIANO INSÚA TO GALAXY: ✅
ORIGINAL RUMOR; 12.20.19 — The LA Galaxy seem to have found their next left-back. With reports from TyC Sports placing the Galaxy's focus on a well-traveled Argentine defender Emiliano Insúa.
Insúa, who is currently playing for Bundesliga's Stuttgart, may have already sad goodbye to his fellow teammates via social media and reposted a teammates farewell that mentions the Galaxy.
The 30-year-old Argentine has played for Liverpool, Boca Juniors, Galatasaray (Loan), Sporting CP, Atletico Madrid, and Rayo Vallecano (loan), before ending up at Stuttgart in 2015.
According to the reports the defender has been signed to a one-year contract with the possibility of extending it another year — an MLS standard one year plus an option.
COG can confirm that, at the very least, there is interest from the Galaxy and that this deal seems well on its way to being completed.
The Galaxy are looking for a solid left-back replacement since Ashley Cole departed at the end of the season in 2018. But with Norwegian defender Jorgen Skjelvik still eating up $1-million a year, is Insúa really a replacement for him? Or do the Galaxy have plans for Skjelvik who has largely been regarded as a bust in MLS.
With the trade of Dave Romney, and outside of Skjlevik who's future with the Galaxy seems in real doubt (we don't expect him back for 2020), the Galaxy would only be left with 20-year-old Diedie Traore. Traore, while showing some signs of promise last year, is still a project and shouldn't be considered a starting option for the Galaxy in 2020. So Insúa's signing should fill a significant gap for the club.
There are, of course, questions about his age, his fitness, and his ability to bring the kind of defending Guillermo Barros Schelotto needs in his system. Can he cross the ball for a still unsigned striker? He's played in just six matches this season for Stuttgart so a change of pace may be welcomed.
For sure he's been a top-level defender for many years. And a trip to MLS may be the perfect way to wrap up a successful career.
Did we forget to mention that Dennis te Kloese follows him on Instagram? He does.
ZLATAN TO STAY IN LOS ANGELES: ☠️
Updated Rumor (11.13.19) — We told you not to look too far into the future on this one. And with the official confirmation that Ibrahimovic is leaving the Galaxy, we can put this one to bed. Goodnight sweet prince.
Original Rumor (11.12.19) — Reports are circulating that the LA Galaxy are back in the lead when it comes to retaining the services of the 38-year-old striker.
CoG has asked around about these rumors and the answers were pretty clear. The only person, at least at this point, that seems to understand what Zlatan Ibrahimovic wants is Zlatan.
So for now, at least, we're not going out on any limb about this rumor.
URIEL ANTUNA TO LIGA MX: ✅
Updated Rumor 11.18.19 — The LA Galaxy left Uriel Antuna off their protected list (as expected) for the Expansion Draft. This is just another signal that Antuna is gone.
The rumblings we have been hearing seem like only a matter of time as Manchester City looks to cash in on Antuna's MLS and International success from the 2019 season.
Original Rumor 10.25.19 — An ESPN report has pegged Chivas Guadalajara as the likely destination for 22-year-old Uriel Antuna. Antuna, who is on loan from English Premier League side Manchester City, is an up-and-coming Mexican star that has impressed on the international stage this year and City may be looking to cash out.
Rumors have pegged the offer at $11-million with the Galaxy having the ability to match any offer that is put forward for the purchase of the player.
But Dennis te Kloese, in exit interviews, has expressed doubts the Galaxy would be able to hold onto the speedy midfielder.
This rumor seems to be based in reality, and for that reason, we've pegged it at ⭐️⭐️⭐️. However, if you're asking what the likelihood of him not returning to the Galaxy in general is, we'd add another star.
With restrictions on MLS and the amount of money the Galaxy can spend, the amount of money being talked about seems too steep a cost. Afterall, Antuna is not a DP worthy player in MLS. Maybe that needs to change?
EDINSON CAVANI TO LA GALAXY: ☠️
UPDATED RUMOR; 12.23.19: Quietly, over the past month, the Galaxy have seemed to distance themselves from this rumor. It was always contingent on PSG wanting to part with Cavani for free, and the player wanting to come to MLS. It was a reach, for sure. So today's report that has him signing a three-year deal with Atletico Madrid seems fitting.
The best perspective on this is that it's not always about getting the guy right now. It's about getting your name in front of the guy to see if he'll eventually have more interest down the road. It worked that way with David Beckham, and it worked that way with Zlatan Ibrahimovic.
So perhaps this ends up being a deal this summer. Or next summer. Or the winter after that.
UPDATED RUMOR; 11.14.19 (9:55 AM): More fuel to this fire? Sky Sports in Italy is reporting that Galaxy reps have flown to Paris to meet with PSG about signing Cavani.
As we said below, he fits what GBS is trying to do, is a big footballing name — although my Mom has no idea who he is, so clearly not a home run — and would probably love LA. Which is probably why he also would probably love Miami.
Side Note: People like to pretend Miami is equivalent to Los Angeles. It's not. No one who has ever lived in both places would make that statement.
We're upgrading to two stars. BECAUSE WE FEEL LIKE IT AND IT MAKES US FEEL NICE.
Original Rumor; 11.14.19 (7:45 AM): Would PSG be willing to give up striker Edinson Cavani? The answer seems to be yes. But David Beckham and Inter Miami might have something to say about that.
Reports have been swirling since August that the 32-year-old Uruguayan could be coming to MLS from Ligue 1 side Paris Saint-Germain. But that location, until now, has always seemed to be Miami.
But whether people are connecting dots or just making stuff up, Cavani is now being linked as a possible replacement to Zlatan Ibrahimovic.
The fun part is that Cavani would definitely be a fit for GBS and DTK. He's South American, mobile, and would have a lot of success playing against MLS defenses. But linking him to the Galaxy, at least at this point, is a stretch!
One star. We reserve the right to re-visit this as we see fit.