CARSON, Calif. — When Rolf Feltscher posted from Naples, Italy, on his Instagram account on Sunday, it raised more than a few questions. Especially for a player who should have been available the day before in a preseason loss to Toronto FC but was ruled out due to an injury.
But according to the Galaxy, the 29-year-old Venezuelan national was there to take care of some immigration paperwork. And while it was initially assumed that Feltscher was renewing his work visa, COG was able to confirm that Feltscher would actually be receiving his Green Card.
Feltscher, who was paid just shy of $250,000 in 2019 (Per the MLSPA), occupied one of eight international slots heading into the Galaxy preseason. But with the acquisition of his Green Card, he would vacate that international slot and be counted as a domestic player, per MLS rules.
This helps the Galaxy by not using a valuable international slot on Feltscher, and it helps Feltscher by making him much more valuable to an MLS roster. In fact, Feltscher goes from being an expensive piece because of his international status to a good deal for a domestic defender.
In this case, the Galaxy are manipulating the right MLS rules, and it really should pay off for the club this season. This is especially true with the MLS transfer window still open (closes on May 5) and rumors of an International center-back that bombard social media every couple hours.
ACOSTA OUT WITH ACL INJURY
While it was good news for Feltscher, the story isn't nearly as good for defender Danilo Acosta. Acosta was injured in the first half of the Galaxy's preseason scrimmage on Saturday when he took an awkward step while attacking up the left side of the field.
He stayed down for a few minutes but eventually went to the sideline with a member of the Galaxy's training staff before returning to the game.
Acosta made it to halftime and even returned to the field in the second half, but was subbed out for Emil Cuello in the 50th-minute.
Acosta took to Instagram on Monday night, saying, "Today I received bad news that I wouldn't wish upon anyone… I am disappointed to say that I suffered an ACL injury this past weekend and will be missing out on the sport I love the most. Everything happens for a reason, but I will come back even stronger than ever!🙏🏾💪🏾💙🤍💛"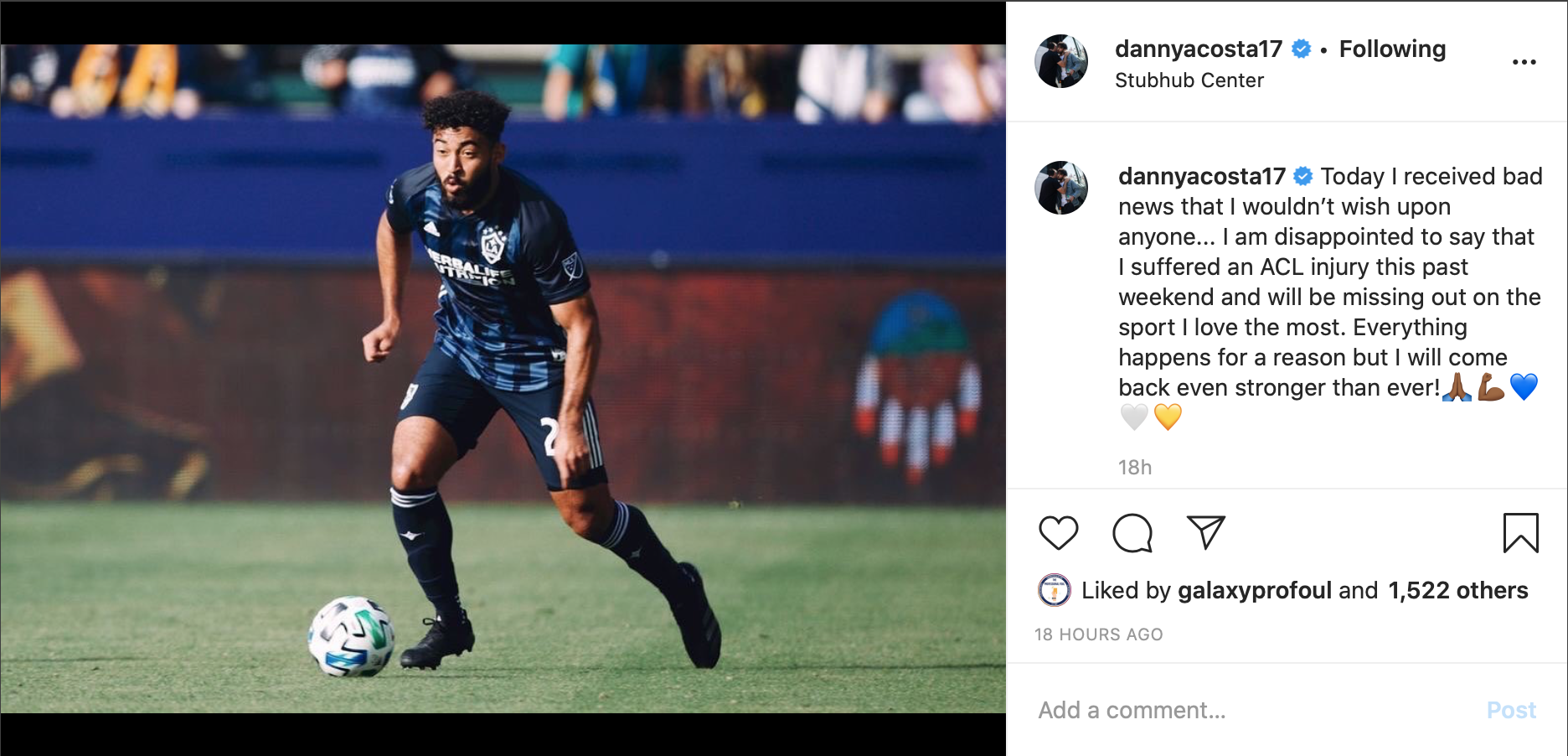 ACL injuries typically have a recovery time of between six to nine months – with six months the expected time to return to training and another month or more to regain form and fitness.
Making $110,000 in 2019 (Per the MLSPA), it's unclear whether Acosta would be eligible for the Season-Ending Injury list (he did sign a contract with the Galaxy this offseason) or if he would simply be replaced without a hit to the salary cap.
What is certain is that Acosta was a valuable depth piece behind likely-starter Emiliano Insúa. And with Insúa's absence from training due to an injury, that depth is already being tested. When Acosta exited the game on Saturday, Cuello replaced him. Cuello is a midfielder. Diedie Traroe could also be the replacement there. But the Galaxy told CoG that Traore was also dealing with a few bumps and bruises.
The preseason is always rife with small injuries and knocks, but the addition of Acosta in the offseason was seen as a sign the Galaxy were finally stacking the defense deep. With his injury, those questions remain.