We take a look at the top 16 teams of all time and YOU decide which one was best!
With MLS on hold, until the United States gets a better hold of the coronavirus pandemic, we're left without sports, and specifically soccer, for awhile.
This extension gives all members of the LA Galaxy family some more time to find ways to fill the soccer void that was left since the Covid-19 pandemic began to spread globally.
One way that we can pass the time is by looking back on the Galaxy's 25 year history and think about some of the best teams to ever don the Galaxy crest.
As a five-time MLS Cup champion franchise, there will likely be a lot of debate about which team is truly deserving of the title, Best LA Galaxy team EVER.
In order to keep the bracket clean, we took the top 16 teams, seeded based on their average points per game (PPG). In the instance that there was a tie in average PPG, the most recent LA Galaxy team was given the higher seed (Hello recency bias!).
The PPG system is not perfect as it skews more heavily in favor of the teams that played in the MLS shootout era, but in the end we felt like the teams selected represented the best Galaxy teams in history.
So let's get down to business, we will start with the first half of the Round of 16 where YOU get to decide which LA Galaxy teams come out victorious.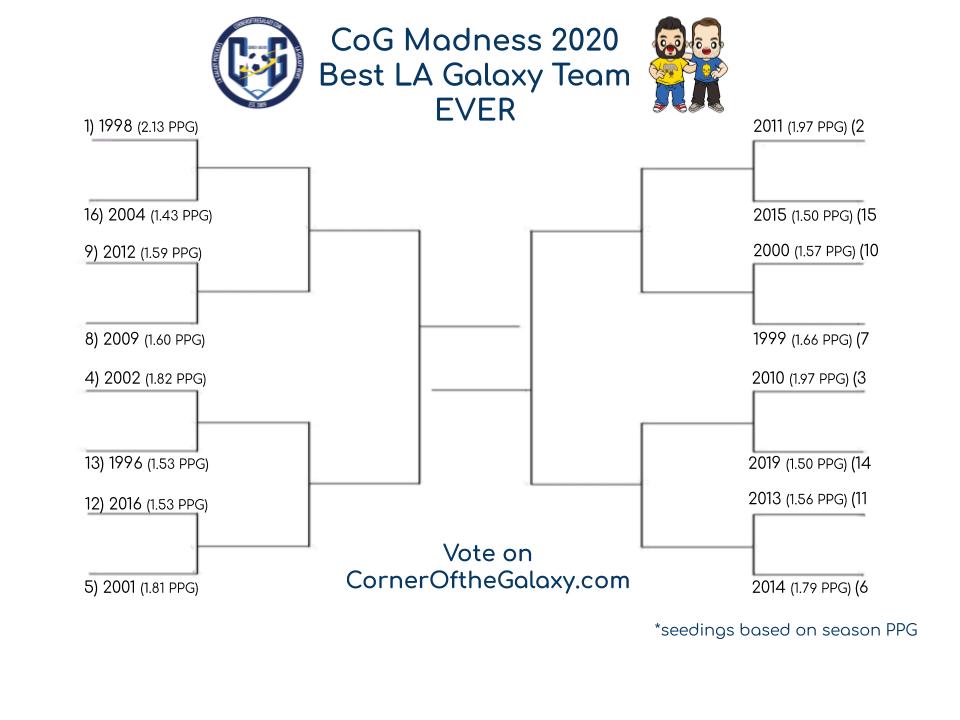 1) 1998 (2.13 PPG) v 16) 2004 (1.43 PPG)
1998
Regardless of how skewed you think the numbers are, this 1998 LA Galaxy team was stacked from top to bottom,
This team only lost 6 games and it was no surprise when you see a staunch defense with legendary names like Hartman, Calichman, Caliguiri, Fraser, and Vanney.
Throw in an attack force with Cobi Jones leading all scorers with 19 goals and support from Welton, Mauricio Cienfuegos, Carlos Hermosillo, and a young Clint Mathis, it's going to be hard imagining this team losing.
2004
There are many memorable LA Galaxy players featured on this roster, including Carlos Ruiz, Chris Albright, and Jovan Kirovski.
While the individual talent may be there, it doesn't feel like this roster catches any particular player in their prime, which is the case against it.
[yop_poll id="6″]
2) 2011 (1.97 PPG) v 15) 2015 (1.50 PPG)
2011
This 2011 squad is the highest seeded MLS Cup Champion and will be a heavy favorite in the bracket.
This was the beginning of a dynasty that saw Bruce Arena lead teams to win three MLS Cup championships in four season.
Landon Donovan lead this team in goals while David Beckham led this team in assists.
Throw in the addition of threats like Mike Magee and Robbie Keane and this is a team that no defense was looking forward to facing.
Speaking of defense, this squad had a great mix of veteran presence and young talent on the back line with names like Berhalter, Dunivant, Gonzalez, Franklin, and DeLaGarza.
I see this team making a deep run.
2015
The 2015 LA Galaxy team is one that on paper looked to get stronger with mid-season acquisitions like Steven Gerrard and Giovani Dos Santos, but they were never able to establish consistency.
Finishing fifth in the Western Conference coupled with an early playoff exit makes me believe that the 2015 team is just lucky to be here.
[yop_poll id="2″]
3) 2010 (1.97 PPG) v 14) 2019 (1.50 PPG)
2010
Perhaps the best LA Galaxy team to not win MLS Cup, the 2010 team was dominant in the regular season finishing first in the Western Conference.
Edson Buddle and Landon Donovan had one of their best seasons during a World Cup year that saw them also earn success with the US Men's National team in South Africa.
It is possible that fatigue from the World Cup from the internationals, coupled with minimal appearances from David Beckham factored into why this team couldn't cross the finish line as champions.
2019
This could be the first matchup that we see a possible upset as the 2010 team comes up against a Zlatan Ibrahimovic led 2019 squad.
Sure, this LA Galaxy team was wildly inconsistent finishing with a 16-15-3 record , landing them in fifth place in the Western Conference.
But do you really want to bet against the Zlatan, who scored a team record 30 goals in 2019?
So which 2019 LA Galaxy team do you expect to show up? The dominant force that saw them make LAFC shake in their boots during the regular season El Tráfico's or well, you know, the other one…
[yop_poll id="3″]
4) 2002 (1.82) v 13) 1996 (1.53 PPG)
2002
This 2002 team will forever go down in history as the first team to bring home a MLS Cup to Los Angeles.
Long time veterans like Cobi Jones, Mauricio Cienfuegos finally got their rings on the feet of a 24 goal season from Carlos "El Pescaditio" Ruiz in addition to that now famous golden goal.
Other key contributors to the success of this 2002 team included Kevin Hartman, Ezra Hendrickson, Alexi Lalas, Sasha Victorine, and Pete Vagenas.
With names like that in the roster, this 2002 squad could be a dark horse candidate to win the best ever moniker.
1996
The original 1996 team makes the list with a number 13 seeding even though this was a team that finished first in the Western Conference and made it to a MLS Cup final in its inaugural season.
Eduardo "El Tanque" Hurtado led the team in goals (netting 21) and was a force to be reckoned with.
The duo of Cienfuegos and Jones provided support to El Tanque and ended up becoming a consistent force in the LA Galaxy midfield for almost a decade.
The wild card in this match could be the dynamic goalkeeper, Jorge Campos, because you never knew what he was going to do darting out of his own 18-yard box.
Can Andrew Shue provide some Hollywood magic to help the 96ers pull off the upset?
[yop_poll id="4″]
That concludes our first set of matches for CoG Madness 2020! Come back soon to vote on the next group of Round of 16 matchups.