This certainly isn't the way we wanted to spend the start of the season. But the new reality, at least over the next eight weeks or so, is that we must amend our daily routines and adjust to a temporary normal.
Below, we're going to keep you updated on the latest news from the league, and the LA Galaxy, on the coronavirus (COVID-19).
We will update this tracker when information is released. If you have any news you'd like to add to the tracker reach out to us on social media!
This page was last updated on April 19, 2020:
6.2.20 — Various updates around the restart to the league.
5.19.20 — MLS updates on All-Star Game, Campeones Cup, and Leagues Cup
5.14.20 — MLS extends small group and Team Training Moratorium
5.1.20 — MLS Authorizes Individual Training
4.28.20 — MLS Transfer Window paused
4.15.20 — MLS PR updates on league re-start
4.3.20 — Galaxy update, MLS extends the training moratorium
3.25.20 — MLS extends the training moratorium
3.20.20 — MLS extends the training moratorium
CURRENT DATE FOR RESTARTING THE LEAGUE: EARLY JUNE
---
UPDATE JUNE 2, 2020 – 9:20 AM
In the last 48 hours Major League Soccer and the MLSPA have seemingly been involved in many different ups and downs all leading to a now Wednesday lockout deadline at 12PM Eastern Time.
On Sunday, the MLSPA had voted, approved, and submitted a counter offer to the owners and MLS. They countered with a 7.5-percent wage cut across the entire player pool and reduced team and individual bonuses. The players also agreed to delaying the start of the new CBA until 2021 while adding a year to the termination date (2025). All-in-all, the concessions amounted to over $100-million.
MLS responded by threatening to lockout the players on Tuesday, June 2, at 12PM. As reported above, that deadline has been extended by another 24 hours.
Some major sticking points included TV revenue sharing as expressed in the CBA talks earlier this year and the Force majeure clause that was tied to attendance.
The owners wanted to be able to tie the clause to a 25% drop in attendance across just five teams as a way to drop the CBA — their fears of the second round of coronavirus shutdowns and more disrupted play at the front of their minds.
But the lockout threat came with a PR hit. A league that was looking to position itself as financially stable, when teams and leagues around the world struggled through a global pandemic, suddenly looked greedy, out of touch, and overbearing. All of those things are probably still true, but only on rare occasions did the optics fit that narrative.
Late on Monday night, after we got done recording our podcast (LISTEN HERE) the lockdown threat was extended. And now there seems to be real progress. MLS has dropped its requirement to tie force majeure to attendance. Possibly because owners have control over attendance. It was an indefensible position.
Reports now have the league responding to the MLSPA by noon on Tuesday. That would then give the players about 24 hours to digest, vote, and respond. It's a tight timeline. But everything seems workable at this point.
The only remaining step is to announce and agreement, lock in the start of the Orlando tournament and get the league back to playing.
And the LA Galaxy, along with other pro sports in the LA area, have also proposed a return to in-market games (at Dignity Health Sports Park) in August of 2020. I wouldn't expect fans to be able to attend in 2020, but I wouldn't totally rule it out anymore either.
The pessimism of the last 24 hours seems to be giving way to optimism about soccer coming back. And that's good news.
Now, if only I could say the same thing about the rest of the country.
UPDATE MAY 19, 2020 – 2:00 PM
MLS went through the motions today to officially cancel the 2020 All-Star Game, and the 2020 versions of the Campeones Cup and Leagues Cup.
The All-Star game, which was to be held in Los Angeles at Banc of California Stadium on July 29, will now be rescheduled for 2021 at the same venue. The other two competitions will simply pick up in 2021 with no winners crowned in 2020. The LA Galaxy were scheduled to compete in the second year of the Leagues Cup this year.
The announcements should come as no surprise to those that have been closely following the league as it attempts to navigate its way through the global pandemic.
But while most cancelations come with a negative connotation, these should come with a positive. MLS seems to be clearing its schedule for a return to action. And by throwing out dates that have no competitive league reasoning, they'll fill those vacancies with league games — in theory.
With a proposal launched over the last few weeks, MLS is attempting to get all 26 teams to Orlando to participate in a tournament of sorts that would see the league take over a Walt Disney World Resort and play at ESPN's Wide World of Sports Complex starting in early June and lasting until the end of July.
And with restrictions on pro sports being eased across the country, it now seems likely there will be a league, and games (without fans in attendance) in 2020. Even California Governor Gavin Newsom recently gave the green light for a restart to sports in his state.
So if all goes the way MLS would like, they've opened up a bunch of competitive dates to play league games on. And with an early June target, an announcement on what MLS plans to do could come quickly.
---
UPDATE MAY 14, 2020 – 6:45 PM
Major League Soccer has extended its training moratorium on small group and team training. The extension differs slightly from the previous ones after the league authorized Individual Player Workouts at team facilities with a multitude of restrictions.
The Galaxy held their first day of individual training on Thursday, for players to make their way through the rigorous set of safety procedures for their nearly 60-minute workout.
MLS also moved the moratorium to the first day of June while proposing to the players and MLSPA (MLS players union) that they'd like to get all 26 teams in Florida for up to ten weeks for a tournament. That would include a four-week training schedule that would gradually ramp-up to full team training for the last two weeks of the month followed by a five-game round-robin style bracket that would kick off through July.
The players have yet to publicly respond to the proposal.
---
UPDATE MAY 1, 2020 – 11:30 AM
In a press release today, Major League Soccer authorized outdoor, individual training at team-controlled facilities. The authorization comes with a ton of caveats and makes MLS clubs submit a detail Health and Safety Plan that is approved by local officials and experts before being sent to the league office.
It's a small step towards soccer coming back. But it's also a step that can easily be undone if not handled with care.
You can read our full article HERE.
---
UPDATE APRIL 28, 2020 – 11:47 AM
It's quietly been happening since Major League Soccer paused play, but the transfer window is on indefinite hold.
In an article on MLSSoccer.com posted this morning, the league quietly acknowledged that their transfer window, open until May 5, was actually on hold.
And that effectively means that no trades or transfers can be registered through MLS until they lift that suspension.
The admission comes with just seven days left in the league's primary transfer window, but it should come as no surprise. With league and team finances in a questionable state, MLS has decided to just take a break for a moment and freeze everything.
But with a secondary transfer window scheduled to open on July 7, and with FIFA and leagues around the world apparently married to the transfer window dates regardless of play, MLS may not have the luxury of pausing come summer time.
LA Galaxy General Manager, Dennis te Kloese, appearing on our podcast on Monday night, even hinted at the possibility of a third transfer window. Although to be fair, it seemed more like a suggestion someone had made, rather than a major change to the world transfer market.
Te Kloese also said that evaluating the values of players is also difficult at this time and that he'd heard of rumors of a players transfer offer being reduced by 70% because of the pandemic.
This should make for a cautious, but interesting transfer window this summer. And the determining factor could be the financial health of the clubs making and receiving the offers.
---
UPDATE APRIL 14, 2020 – 7:30 AM
It wasn't a surprising announcement, but the communication coming out of Major League Soccer on Tuesday is that they don't know when the league might restart. Just that restarting on May 10, is "extremely unlikely."
And while the May 10 date always seemed like a pipe dream, the fact that no date was even put forward isn't a great look for anyone hoping MLS would suddenly find its way forward.
As it stands right now, the training moratorium will last through April 24. But even that is likely to be extended while the league says things like closed-door games, tournaments, and possible shift to a more European-based schedule.
If MLS can find a way to become stronger out of this, they're probably going to do it. But it the league and it's owners are already expecting to lose hundreds of millions of dollars during the stoppage.
There still seems to be some hope, at least internally, that the Galaxy could still see a 34-game season, but as the league release states, having a 34-game season is quickly going out the window.
And as soon as anyone makes an official announcement that the full season isn't going to get played, or announces that games will be closed-door affairs, then season ticket holders and that stream of revenue will need to be reexamined as well.
Real Salt Lake was the first team to furlough employees, but they're not going to be the last as MLS has to hit the pause button on their 25th season.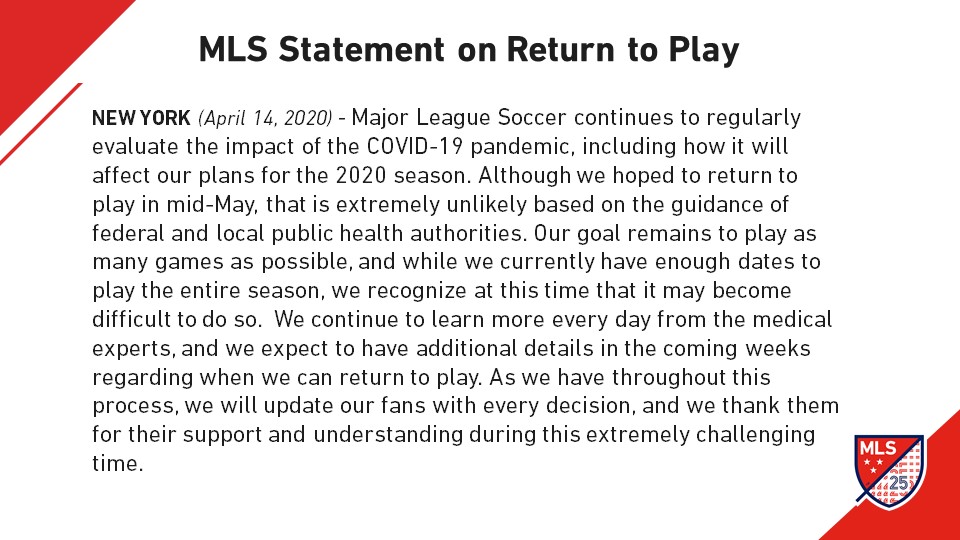 ---
UPDATE APRIL 2, 2020 – 5:04 PM
In what is becoming a weekly ritual, Major League Soccer has extended the training moratorium for the fourth consecutive week. While completely unsurprising, this moratorium has a little more life to it. With MLS pushing out the date until April 24 and falling away from weekly extensions for now.
The only change in language for this press release, however, was a clarification that "MLS training facilities remain closed to all players and staff with the exception of players requiring medical treatment or rehabilitation, under the direction of the team medical staff, that cannot be performed from the safety of their residence."
On the Galaxy front, the club has confirmed that no one associated – players, coaches, staff – have tested positive for the coronavirus. Dignity Health Sports Park remains largely shuttered except for an occasional player coming in for treatment as needed. But most have the choice of getting physical therapy or treatment at home and have chosen that route.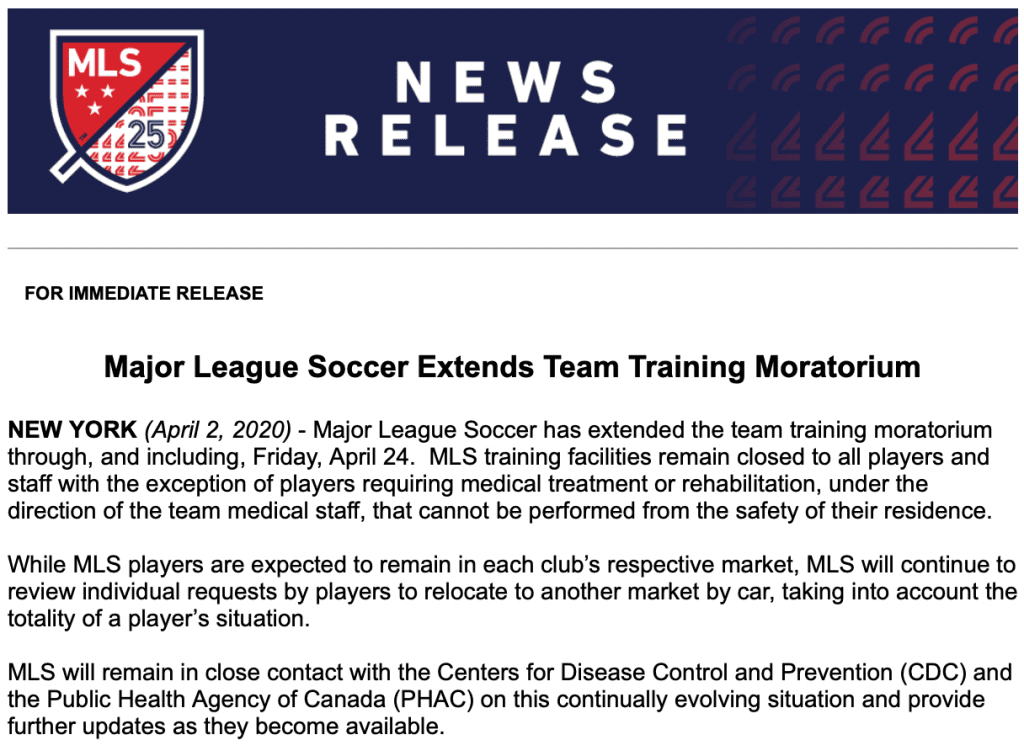 ---
UPDATE: MARCH 25, 2020 – 7:30 AM
Major League Soccer has once again extended its training moratorium. And once again, they've extended it for an additional week. This time taking the pause up to, and through, April 3.
However, the league is making a small concession on a topic that has sparked some debate. And that's to allow some players to leave their team's respective home market, to be able to travel – by car – to their actual homes.
These requests are being made on a case-by-case basis and depend on the player's individual circumstances.
There are no clear indicators within the league – or outside of it, for that matter – that anything is going to change over the next couple of weeks. So expect more of these extensions every week for the foreseeable future.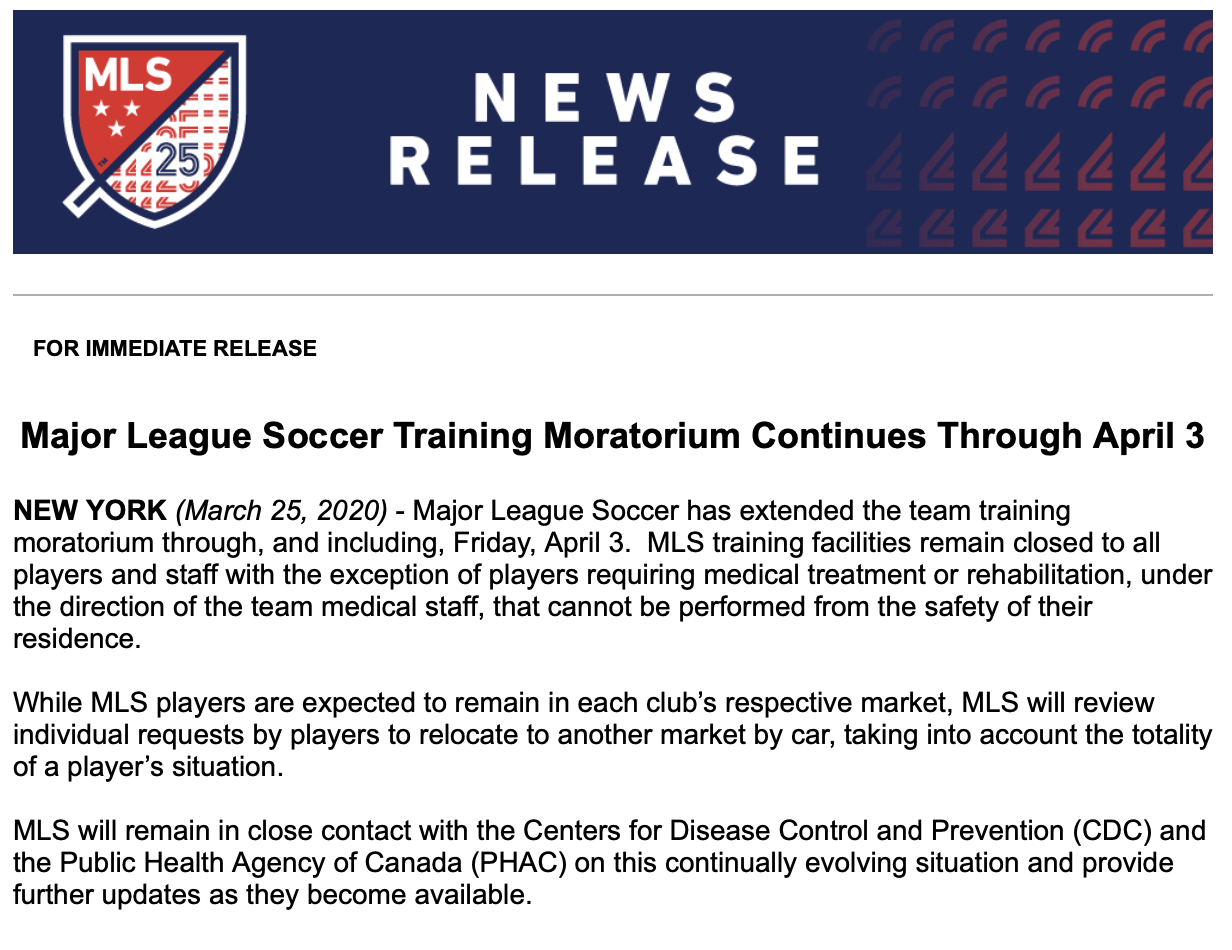 ---
UPDATE: MARCH 20, 2020 – 12:30 PM
MLS extended its training moratorium today, through and including March 27. The original moratorium was set to expire tonight at midnight.
This will continue to keep players from training together and keep them in their respective markets (The LA Area) for at least another week.
That means that all LA Galaxy players will stay at home, practice social distancing, and await word on when they'll finally be invited back to the stadium.
We fully expect this to be extended next Friday as well. That's how this thing is going to roll for the next few weeks.
And while New York, Washington, and California are getting the brunt of it now, this moratorium is unlikely to be lifted anytime soon. MLS will need to wait for the entire country to be safer than it is now.
The lifting of this restriction, sometime in the future, is a great indicator of when the league is will be attempting to restart.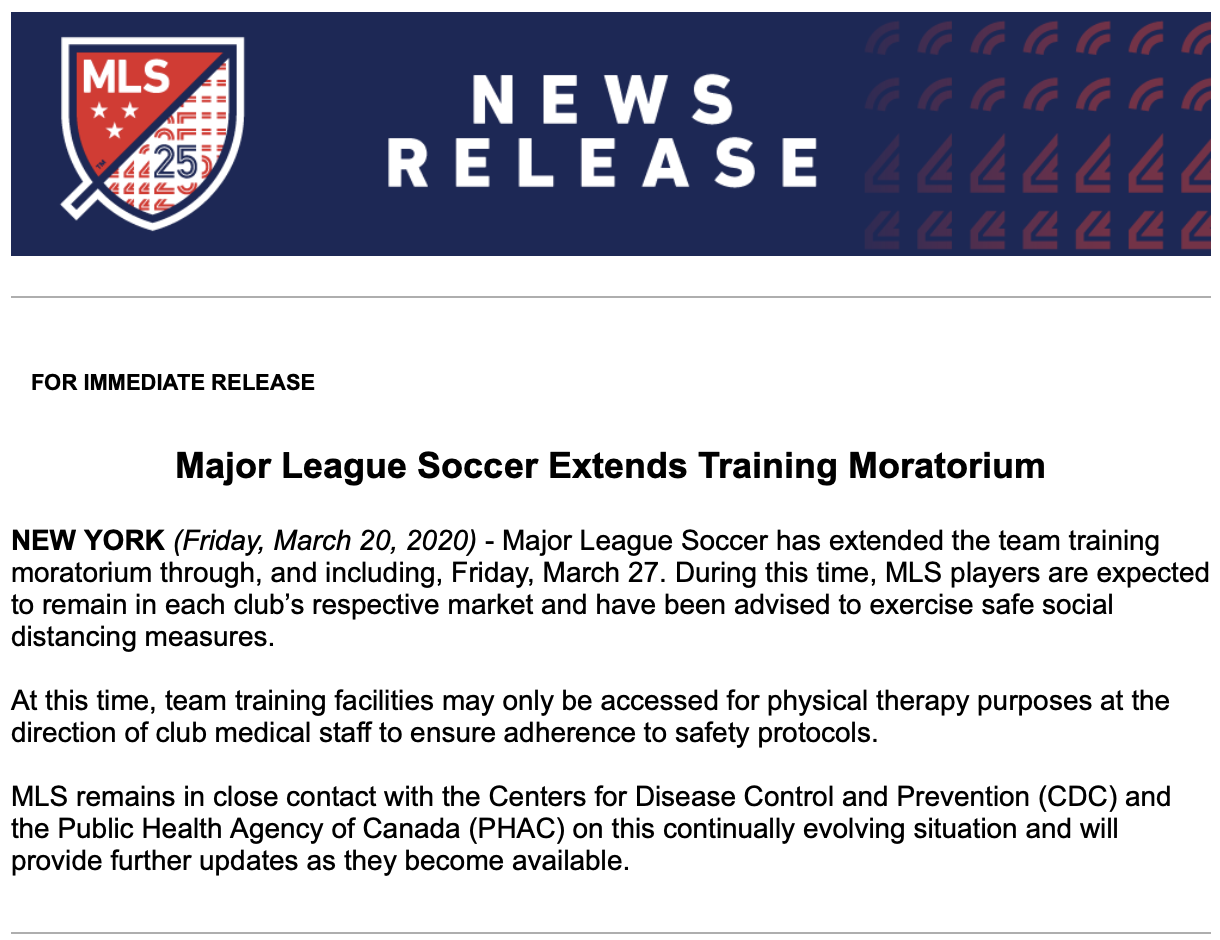 ---
UPDATE: MARCH 19, 2020 – 3:02 PM
The LA Galaxy released a letter from President Chris Klein. Klein doesn't mention any new information, but Galaxy continue to try and manage the relationship with the fans — as they should.
Klein calls the COVID-19 pandemic "unique circumstances" and thanks everyone for their "continued support and loyalty"
---
UPDATE: MARCH 19, 2020 – 8:01 AM
The League has been pushed back further with the MLS announcement that they are following the CDC guidelines. The new target date for the restart of the league is May 10.
The CDC guidelines currently restrict gatherings of 50 people or more and suggest the use of social distancing – keeping six feet between you and the next person. Something that is impossible to do in a stadium setting.
The postponement means the Galaxy will need to make up nine games during a stretch that could now run until the end of the year. Those nine games now represent more than 25-percent of the season that will need to be rescheduled.
MLS acknowledges that MLS Cup may need to be played in December once again, after adjusting their playoff schedule and format last season to finish in early November.
The Galaxy will need to make up games against Miami, Orlando, Kansas City, Minnesota, Philadelphia, Toronto, Houston, Portland, and Colorado.
As things stand right now, they would reopen their season on Sunday, May 10, by hosting the New York RedBulls — although any speculation on when or who they would play, at this point, is more of a guess than a certainty. And does this even allow for training to restart? There are still a lot of questions.
May is the Galaxy's busiest month with seven games on the schedule. Should the season slip much further, there probably isn't going to be a way to make up all the games the league needs to in order to play a full 34-game season and still have it finish by December.
We speculated that there was room for some make-up games towards the end of the season and originally pointed at the lack of midweek games after the early summer as a sign the league was preparing for a work stoppage when the outcome of the CBA was unknown.
Now, those empty midweek slots could be filled up in order to still play a full season — but just barely.
This extended postponement also means that any other competitions – League's Cup and US Open Cup – could be canceled for this season. That's just a guess at this point but it seems more and more likely with each passing day.
For now, the eight-week push should be a sign that things aren't going to quickly get better.
---
UPDATE: MARCH 15, 2020 – 1:45 PM
MLS extends the training moratorium until at least Friday, March 20th.
This means that players cannot be at the facility and should stay home, in their local markets, until further notice.
MLS is working on a way to safely get access to training facilities for players. But nothing has been decided or confirmed.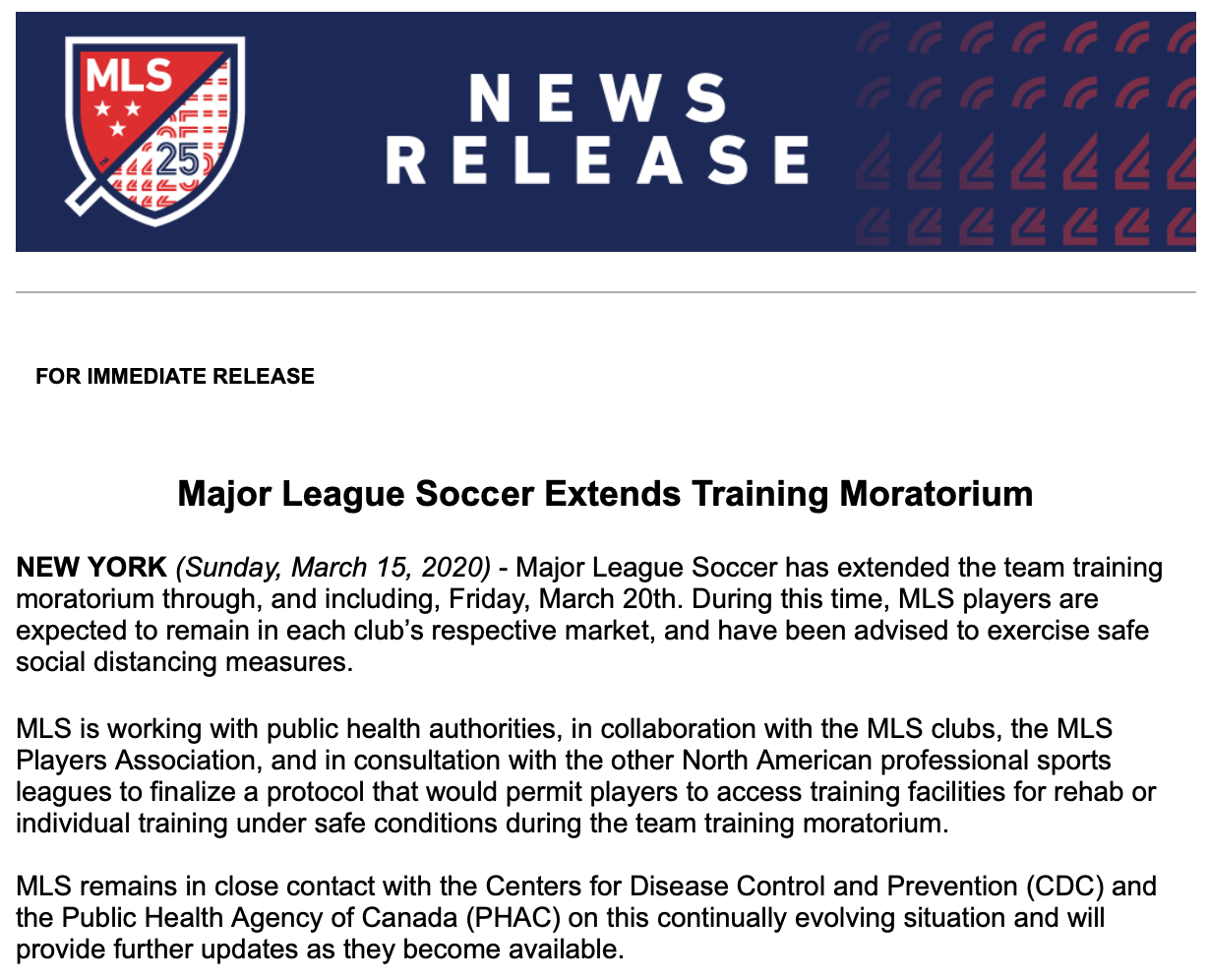 ---
UPDATE: MARCH 12, 2020 -12:47 PM
A press release from Dignity Health Sports Park reiterates the 30-day suspension of Major League Soccer and confirms the postponement of all activities at DHSP through the end of March.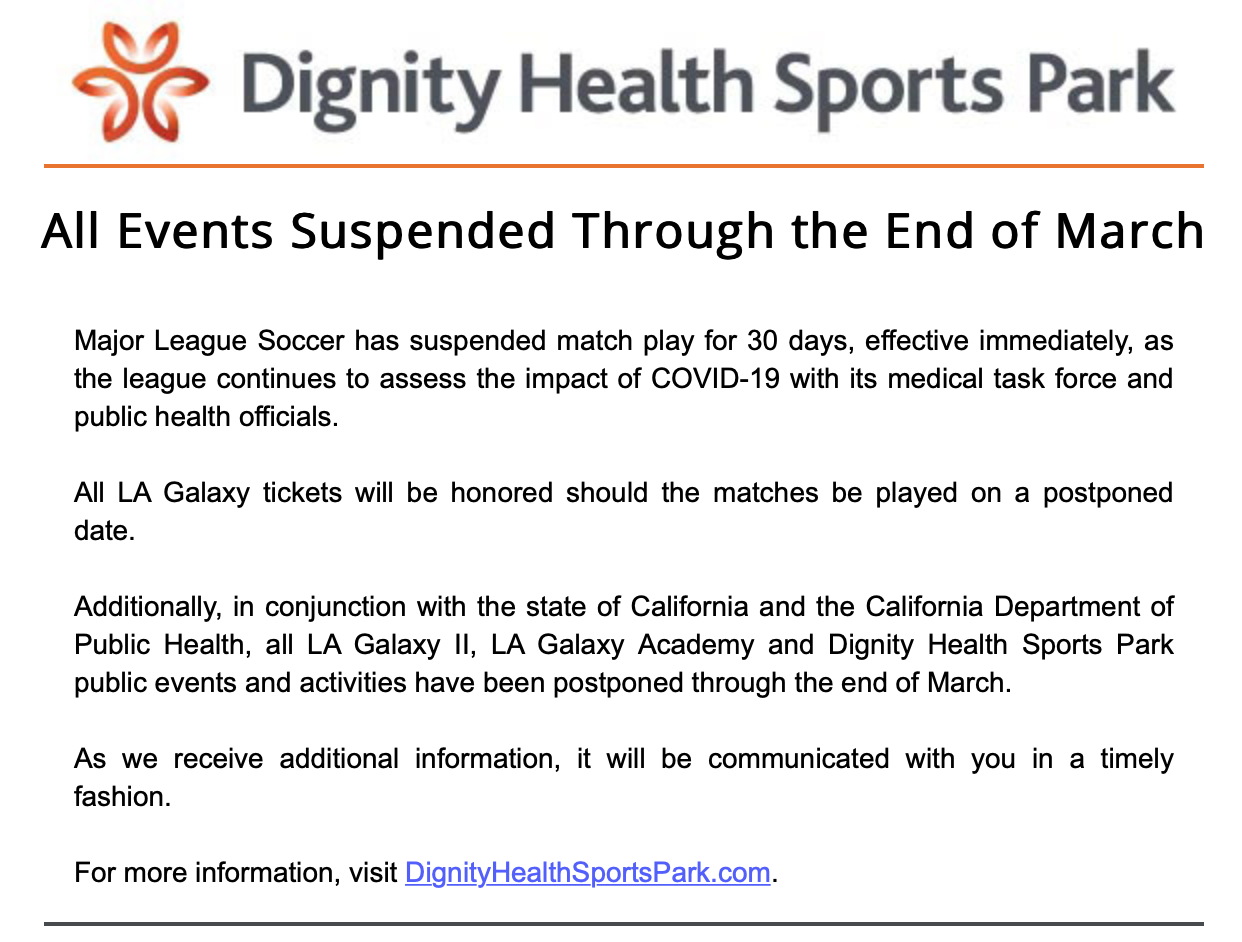 ---
UPDATE: MARCH 12, 2020 – 9:58 PM
The LA Galaxy have added their press release to a growing pile of press releases on this day.
The Galaxy confirm that the season has been suspended for 30 days and also add that all tickets will be honored when they play those rescheduled games.
This press release also says that all events at Dignity Health Sports Park have been postponed and that includes all games for LA Galaxy II and any academy games.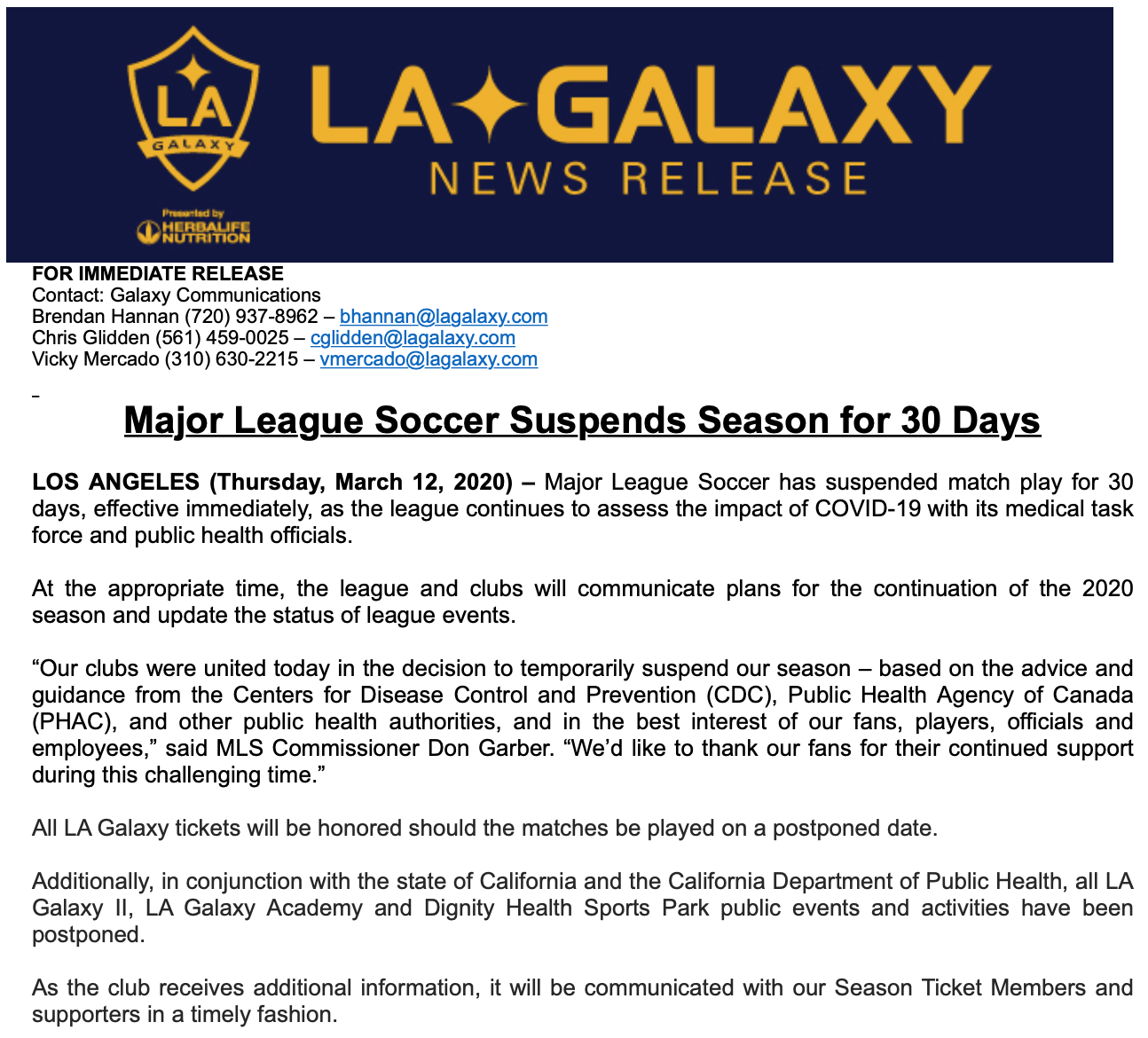 ---
UPDATE: MARCH 12, 2020 – 8:42 AM
Less than 24 hours from their previous update, and just hours before the Galaxy would have departed on a charter flight for Miami, MLS suspends the season for 30 days.
The suspension comes on the heels of the NBA suspending it's season when one, then two players from the Utah Jazz test positive for COVID-19.
All other Major Leagues follow suit.
The suspension means that three Galaxy games are postponed, with the likelihood of games not returning for the weekend of April 11th more and more likely.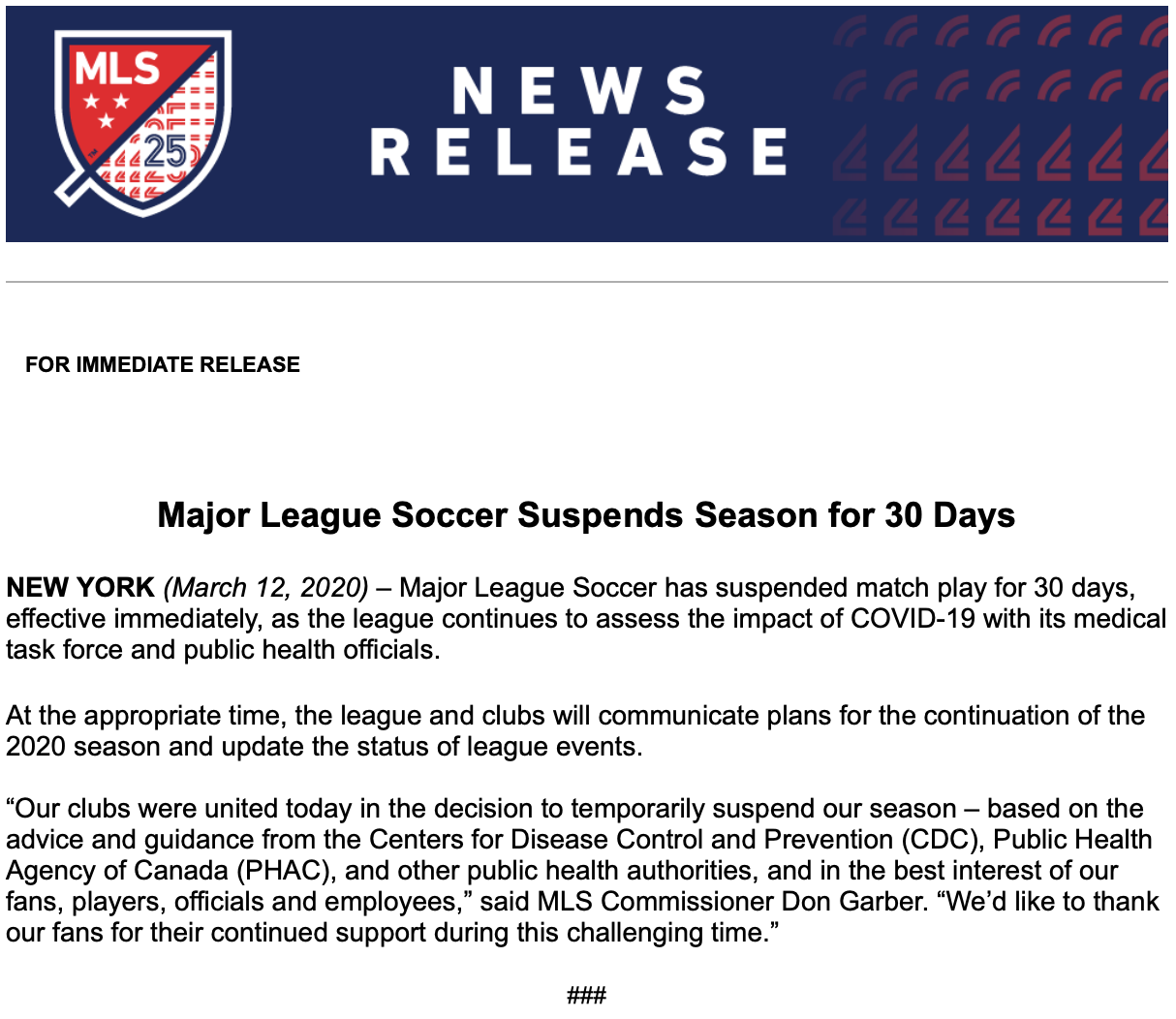 ---
UPDATE: MARCH 11, 2020 – 2:48 PM
MLS releases a statement about precautions being taken to protect players and to mandate charter flights for the foreseeable future. The restrictions also include a locker room ban for reporters.
These restrictions never go into place.