CARSON, Calif. — Aleksandar Katai is in a lot of trouble because of some horribly racist social media posts. But it wasn't his social media account that is coming under fire. No, it's Katai's wife, Tea Katai, who drew the attention of the LA Galaxy and their fans on Wednesday morning.
In an account that is attributed to his wife, tea_katai, she was caught commenting on the viral video of a New York Police Department SUV — with lights blaring — that was pushing its way through a crowd of protesters nearly running some of them over.
Her comment, "Ma pobij govna bre!" which Google translates into "Kill the shit" in Serbian, and her applause of the NYPD in the following story, has touched off a firestorm in the racially charged atmosphere following the police killing of George Floyd.
In another story, she makes fun of the Black Lives Matter movement by quoting a picture with "Black Nikes Matter."
All derogatory posts have since been deleted. But the questions the Galaxy must ask themselves get bigger every minute.
For their part, the Galaxy learned of the social media posts early on Wednesday morning but finally released a statement on Wednesday evening. They said that the club "strongly condemned the social posts and requested their immediate removal. The LA Galaxy stands firmly against racism of any kind, including that which suggests violence or seeks to demean the efforts of those in pursuit of racial equality.
"The LA Galaxy stand with communities of color," the statement continued, "and especially the Black community, in the protests and fight against systemic racism, social inequality, bigotry, and violence."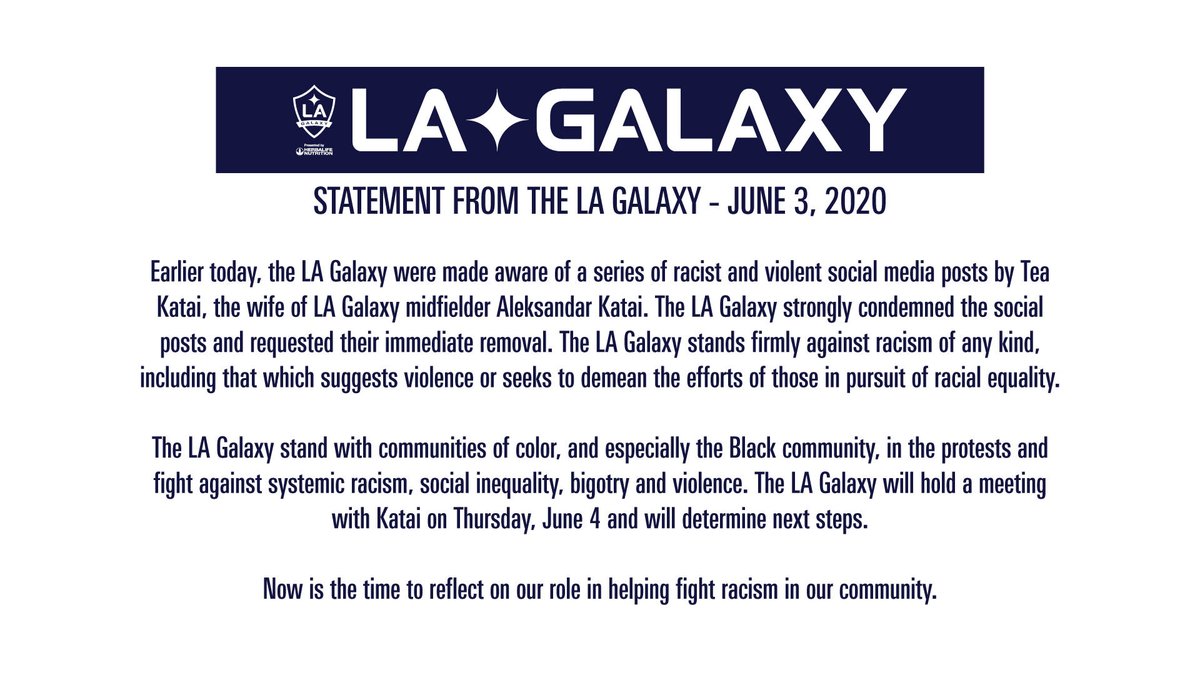 Katai released his own statement on social media. Saying "The posts made by my wife, Tea Katai, on her social media platforms were unacceptable. These views are not ones that I share and are not tolerated in my family.
"Racism, particularly toward the black community, is not only prevalent in the United States and Europe, but across the globe. I strongly condemn white supremacy, racism and violence towards people of color. Black lives matter.
"This is a mistake from my family and I take full responsibility. I will ensure that my family and I take the necessary actions to learn, understand, listen and support the black community. I understand that it will take time to earn back the support of the people of Los Angeles. I am committed to putting in the necessary work to learn from these mistakes and be a better ally and advocate for equality going forward.
"I am sorry for the pain these posts have caused the LA Galaxy family, and all allies in the fight against racism."
The club has scheduled a meeting with Katai today amid calls from fans to terminate the player's contract with the Galaxy.
But that simple solution, to a problem that will grow bigger by the hour, doesn't account for the many legal issues involved.
After all, it's unlikely that any player contract includes a section about detrimental social media posts made by the significant other of a player. And therefore, it probably limits the Galaxy's punitive action against him.
The Galaxy could buy out Katai's contract — they're allowed one buyout per year — but because of the timing, with the league already underway, they're unlikely to see cap relief for the purchase. Although special exceptions can always be made by the league.
And while the total number of years is unknown for Katai's contract, if it turns out to be a two or three-year contract, the club could be laying a significant amount of money. All while enduring a global pandemic that will see the league write off a $1-Billion loss — according to MLS Commissioner Don Garber.
And if the player is terminated, you can bet that the MLSPA would vigorously defend him. No union wants to see a player fired for the words of another person — even a player's wife.
But fans seem to have already made up their minds. Feeling that, as twitter user, @rcoop21 says, "Racism isn't tolerated in his family, yet he married a racist."
And "… the fact that she posted those statements means they ARE tolerated in your family," as @Rtzcrs0 states.
Additionally, they are questioning whether his statement even remotely reflects his actual views or was written by him.
"I've heard this dude talk. This was not written by him," said @parker_mark.
The Galaxy have a decision to make. They've long-branded themselves as a team based on racial and social tolerance.
But they've contradicted themselves before. They once acquired Colin Clark from the Houston Dynamo. Clark was punished by the league for calling a ball kid a derogatory term. All while touting their inclusiveness by embracing Robbie Rogers as the first openly gay player in professional sports.
General Manager Dennis te Kloese will have the final say, but Galaxy President Chris Klein and the entire communications team will likely have to determine what damage this could do to the trust and inclusiveness of the fanbase and what that means in June of 2020.