What do GBS and DTK have in store for the secondary transfer window? We're tracking the most plausible of rumors.
COG STUDIOS, Calif. — Entering an uncertain transfer market thrown into chaos by a global pandemic, the LA Galaxy need to improve in almost every area on the field after a disappointing MLS is Back tournament.
There has been no replacement for Aleksandar Katai, no backup to Javier "Chicharito" Hernandez, and no defensive reinforcements despite the Galaxy struggling at the beginning of the year.
But what will the Galaxy prioritize? And who will be the first player into the squad when the summer transfer window opens on August 12?
Below, you'll find our rumor tracker. Ranked with stars for no particular reason, we'll give you our best guess (sometimes with inside knowledge) about who is on the Galaxy's radar and what likelihood we give to their possible signing.
With the world constantly putting the Galaxy name in every MLS rumor, we'll do our best to cut through the absurd and land in the possible.
THIS TRACKER WAS LAST UPDATED ON AUGUST 21, 2020
8.21.2020 – added the Higuain rumor to text. Updated chart.
8.20.2020 – Updated the Klinsmann rumor
8.19.2020 – Updated González signing, added Klinsmann rumor
⭐️ = COLD
⭐️⭐️ = NOT AS COLD
⭐️⭐️⭐️ = WARM
⭐️⭐️⭐️⭐️ = HOT
⭐️⭐️⭐️⭐️⭐️ = REALLY HOT
| NAME | AGE | POS | CURRENT CLUB | RUMOR RANKING | NOTES |
| --- | --- | --- | --- | --- | --- |
| Gonzalo Higuain | 32 | F | JUVENTUS | ⭐️⭐️⭐️ | 8.21.20 -- His release from Juventus shows the Galaxy a path forward (read below) |
| Jordy de Wijs | 25 | CB | HULL CITY | ⭐️⭐️⭐️ | 8.10.20 -- Hull not willing to let him leave yet. Relegated to League 1. (Read Below) |
| Lionel Messi | 33 | MF | BARCELONA | ⭐️ | 8.25.20 -- Messi has told Barcelona he's out. MLS and others have been noted as a possibility. |
| Mario Balotelli | 30 | F | BRESCIA | ⭐️ | 8.24.20 -- There have been some links to the Galaxy. Though, nothing CoG can confirm |
| Augustin Almendra | 20 | CAM | BOCA JUNIORS | ⭐️ | 8.10.20 -- Highly prized youngster without much of a track record. Would need on a loan deal. Other MLS teams interested. (Read Below) |
| Javier Pastore | 31 | CAM | AS ROMA | ⭐️ | 8.3.20 -- With no DP spots Galaxy would have to work a loan deal. His Roma contract doesn't expire until 2023. (No article) |
| Cristiano Ronaldo | 35 | F | JUVENTUS | ⭐️ | 8.10.20 -- For years he's been linked to LA. Is now the time with Juventus out of the CL? (No Article) |
| Luis Suarez | 33 | F | BARCELONA | ? | 8.24.20 -- Barcelona have told the player he's not in their plans. No link to the Galaxy |
| Guillermo Barros Schelotto | 47 | HEAD COACH | LA GALAXY | 💀 | 8.10.20 -- GBS said that he wanted to stay with the Galaxy because he has a contract with the Galaxy. |
| Jonathan Klinsmann | 23 | GK | FREE | ✅🖋 | 8.20.20 -- LA Galaxy have announced his signing. |
| Yony González | 26 | MF | BENEFICA | ✅🖋 | 8.19.20 -- LA Galaxy have announced the signing. |
GONZALO HIGUAIN TO THE LA GALAXY: ⭐️⭐️⭐️
ORIGINAL STORY (8.21.20) — We hesitated to put this rumor on the tracker just because a lot of things would have to happen to make this viable. Well according to reports, Juventus have terminated the contract of Gonzalo Higuain. He is now a free agent and has been linked to the LA Galaxy prior to this development.
Juventus is currently negotiating with Higuain to determine the size of the payout. And that's important to the Galaxy. With one year still left on his contract, Higuain is owed a significant amount of money. And however much he gets from Juve can go to offset how much he'd need from a team like the Galaxy.
The Galaxy have no DP slots open, so Higuain would have to come on a TAM deal similar to how Nigel De Jong and Ashley Cole arrived in LA. If they could work that out, the Galaxy could add Higuain to their roster and worry about where the DP slot was going to come from in 2021.
With Cristian Pavon's likely departure at the end of the year, there is a slot open. But if the Galaxy wanted to get really creative, and try to purchase Pavon (for well under the $20M Boca wants) they might also try extending Jonathan dos Santos' contract but lowering the price and spreading out the payments to TAM the Mexican international.
That would allow the Galaxy to keep everyone and Higuain. It's a stretch and we know it. And the likelihood of pulling it all off is slim. Especially with other MLS teams likely in the hunt. But if GBS and DTK can convince Higuain of the Galaxy's talent (another stretch right now), this could get done.
Higuain is 32 years old and a talented player, even if his recent form has dipped at Juventus. The Galaxy need another striker to pair with or backup Javier Hernandez as recent injuries have shown. But letting Chicharito be the poacher he is and also bringing in a proven goalscorer could be the answer to the Galaxy's offensive missteps.
This rumor jumps to ⭐️⭐️⭐️'s now that there seems to be a path forward. It's just not an easy path.
And then there's this report from Roger Gonzalez.
GUILLERMO BARROS SCHELOTTO TO ECUADOR NATIONAL TEAM: ⭐️⭐️
ORIGINAL STORY (8.10.20) — Reports are starting to surface about Galaxy Head Coach Guillermo Barros Schelotto going to coach the Ecuadorian National Team. And while details of this potential move are sparse, it isn't completely out of left field.
GBS is under pressure at the Galaxy after going winless in his first five games and looking flummoxed while on the sidelines of the MLS is Back Tournament. The Galaxy sit in last place in the Western Conference.
But it's also possible the Galaxy coach turned them down.
This is one of the rumors that you wouldn't be surprised if it was true. If GBS were to leave, then he certainly would have reasons, and if he wants to stay, well then he wants to right the ship.
DEFENDER JORDY DE WIJS TO GALAXY: ⭐️⭐️⭐️
UPDATE (8.10.2020) — As is ever the case when rumors surround the Galaxy, there's a hiccup to defender Jordy de Wijs coming to LA. It seems that Hull City aren't really that interested in allowing the defender to transfer out.
The recently relegated club could sell de Wijs at a profit after they picked him up for just shy of $500,000 two years ago. But instead, they seem keen on keeping the dutch defender as they attempt to make it back from the third tier of English football.
This one isn't over yet, so we're not going to touch the star rating. Expect this to get interesting over the next couple of weeks.
ORIGINAL STORY (8.7.2020) — In somewhat of a circular fashion, the LA Galaxy are once again in pursuit of Hull City defender Jordy de Wijs. The 25-year-old center back is making a decision about coming to MLS after Hull was relegated from the English Championship (the second tier of English football) to League 1 (the third tier of English football).
According to transfer market, de Wijs was purchased for $470,000 during the 2018/2019 season. He's been ranked as the second best player on Hull and ranked among the top 200 best players in the Championship. SOFIFA has de Wijs as a 72 rating. That compares with Dan Steres who holds a 68 and Giancarlo Gonzalez who holds a 73 rating.
He made 35 appearances with Hull in the 2019/2020 season with two goals, one assist, and eight yellow cards.
As of right now, de Wijs is still under contract with Hull and could demand a transfer fee if the Galaxy wanted to add him to their roster. But some players have a relegation clause in their contract that allow them to become free agents if the team is relegated, and that could be the case for de Wijs. Plus, Hull may look to offload him quickly in order to save money for a club that finds itself in the third tier of English football with the wages of a second tier team.
If none of this is enough to get you interested, Dennis te Kloese does follow de Wijs on instagram.
This has all the makings of a realistic transfer. And if this deal gets done, perhaps the Alan Franco deal can finally be put to bed.
BOCA JUNIORS MIDFIELDER AUGUSTIN ALMENDRA TO GALAXY: ⭐️
UPDATED STORY (8.10.20) — According to some reports, Almendra has tested positive for COVID-19. There's been no update on his condition and whether or not he's asymptomatic.
In reality, barring any severe response to the virus, this wouldn't do much to stop a transfer into MLS. He'd more than likely be required to test negative over three or four tests and a couple of weeks.
At this point, the entire rumor seems to be a bit of stretch. So let's not let the pandemic get in the way of a good story.
ORIGINAL STORY (8.6.20) — Stop me if you've heard this one. The LA Galaxy are interested in a Boca Juniors player. Seriously?
With Guillermo Barros Schelotto's link to Argentina and his former team as both a player and a coach, it's not surprise that the Galaxy would be looking to mine the Argentine giants. But at this point, it's almost too predictable that the Galaxy want a Boca player.
But central midfielder Augustin Almendra might be a player to go after if they wanted an up-and-coming attacking talent. At just 20 years old, Almendra is an interesting but expensive choice for a team that has three designated players. And while one can certainly argue that Cristian Pavon's tenure in a Galaxy kit is coming to an end (Pavon isn't expected to stay past December as Boca recall his loan) would spending $20-million on a young CAM the way to go?
The Galaxy are in need of a central attacking midfield as Sebastian Llegett's recent performance show. But with no way to add him directly to the roster, this one seems far fetched. Not to mention that Inter Miami seem poised to add him to their roster.
Almendra had just six appearances for Boca in the 2019/2020 season with just one goal and no assists, according to Transfermarkt. And with limited chances to show his stuff, the Galaxy and any other team would be taking a gamble on the talented player.
But both clubs have a way into the 20-year-old's heart if they want him. Either could sign him to a loan that keeps him as a TAM player and then hold him until next season as MLS' under 22 Designated Player rule takes hold. And while we don't much about this new rule just yet, don't be surprised if other teams are already planning that grab. Couple that with Pavon's likely departure and the Galaxy could be owners of a young DP with high expectations.
An outright purchase doesn't make any sense. But as we've seen before with Pavon, a loan with a purchase agreement can do wonders to keeping a player below certain thresholds.
But as it is, we're not holding our collective breath. Things are weird on the transfer market, but I'm not sure they're getting a $20-million player for next to nothing weird. Unless this is 2019 all over again? It's not, we checked.
MIDFIELDER YONY GONZALEZ TO LA GALAXY: ✅
UPDATED STORY (8.19.20) — The LA Galaxy have announced the signing of Yony Gonzalez
ORIGINAL STORY (8.14.20) — Midfielder Yony González is very nearly an LA Galaxy player. The 26-year-old Colombian is set to join the club on a loan deal with an option to buy, according to multiple reports.
CoG can also confirm these reports according to multiple sources.
González, who has been on loan in Brazil to Corinthians after being acquired on a free transfer by Benefica in January of 2020. With the global pandemic halting the league in Brazil, his time there hasn't been much to write home about.
He's a speedy, quick, right-winger and should be capable of filling the spot left by Aleksandar Katai. He seems to enjoy cutting inside and looks comfortable with both feet.
González seems capable of going one-on-one with defenders and can trackback to win the ball as well. In the offensive zone, he's a high-risk high-reward type of player who will open up space when he's successful, but turn the ball over when he fails. But his work rate seems capable of handling the up and back responsibilities that GBS demands.
We'd expect an announcement about him in the coming week. But his exact timetable are unknown as the Galaxy will have to sort through visa and travel restrictions only made more onerous by the global pandemic.
JONATHAN KLINSMANN TO GALAXY: ✅
UPDATED STORY (8.20.20) — The LA Galaxy have officially announced the signing of Jonathan Klinsmann.
ORIGINAL STORY (8.19.20) — The Athletic broke the news that the LA Galaxy have reached an agreement with 23-year-old goalkeeper Jonathan Klinsmann (PAYWALL). Klinsmann, who is the son of German-great Jurgen Klinsmann (and former USMNT Coach) was out of contract after leaving Swiss Club FC St. Gallen. He didn't appear in any games for St. Gallen.
But Galaxy fans most remember Jonathan Klinsmann for a tweet he put out just moments after his father, then the USMNT Coach, cut Galaxy Legend Landon Donovan from the 2014 US World Cup team. The tweet seemed to mock Donovan for missing out on a trip to Brazil for the World Cup Finals.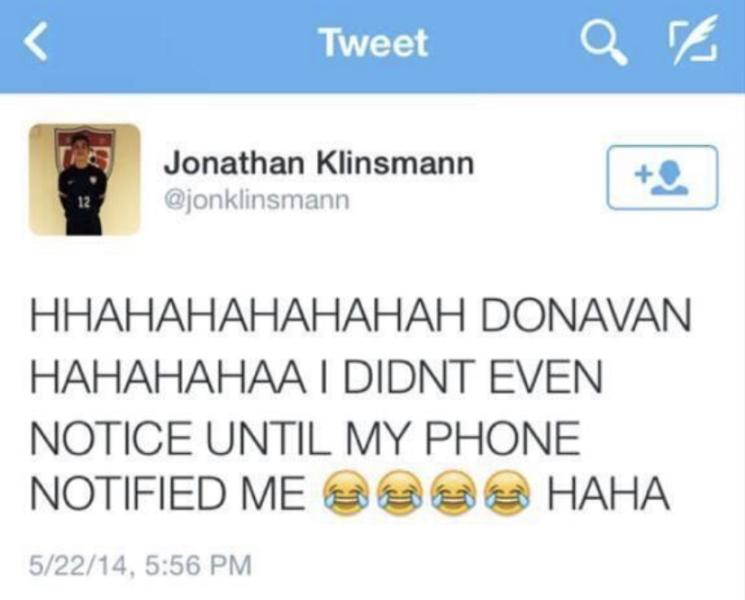 CoG can confirm the reports with a likely announcement of his signing coming on Thursday. Klinsmann has already been spotted at DHSP and is probably already training with the senior team.
Klinsmann will be the fourth goalkeeper on the roster.