Played without fans, and in the hottest part of the day, the LA Galaxy beat LAFC 2-0 for the first road win and first shutout of the heated rivalry.
Nothing makes sense in a rivalry game. No matter how many times we've seen the results push the outer reaches of believability, they are seldom predictable and almost always fly in the face of conventional wisdom.
So as the winless LA Galaxy entered Banc of California Stadium in 93°F heat on Saturday afternoon, in a stadium filled with tarps but no fans, no one could quite imagine they'd be walking out with the series' first shutout, and their first win at the home of Los Angeles Football Club.
But to be blunt, the Galaxy were the better team through the entire match, and unlike previous matches, when they smacked LAFC across the face with two well-worked and well-timed goals, there was little to no response.
Galaxy Head Coach Guillermo Barros Schelotto was still short-handed when he put out a starting lineup that included Ethan Zubak at the striker position. However, he found Jonathan dos Santos on the bench and fellow Designated Player Javier "Chicharito" out while recovering from a calf strain. Sasha Kljestan, Pipo Gonzalez, and new signing, Jonathan Klinsmann (goalkeeper), were also on the bench.
Dan Steres paired together with youngster Nick DePuy at center back in a repeat backline from the Galaxy's draw with Houston in Orlando. And Perry Kitchen matched with Joe Corona and Sebastian Lletget as Julian Araujo and Cristian Pavon started opposite each other in the midfield.
Zubak, making just his second start of his MLS career, would score his first MLS goal in the 26th-minute. Lletget would take the corner short to Pavon. His quick pass found Araujo, who would loop a right-footed, outward swinging cross to one of four unmarked Galaxy players. From there, Zubak only had to jump past one LAFC defender for the opening goal.
The goal would push back against an LAFC team who was trying to build momentum but was second best to almost every ball on the night. And who lacked any energy or ideas to get past a tenacious Galaxy defense.
The Galaxy would sit back and absorb pressure with Kitchen and DePuy upping the physicality factor and who would continuously disrupt dangerous chances that LAFC tried to force through the middle. DePuy would put reigning MVP Carlos Vela on the turf multiple times while Kitchen and LAFC midfield Mark Antony Kaye battled and scraped through numerous challenges.
The defense, with Feltscher and Insua on the wings, refused to let LAFC cut inside. And when they did, Steres or DePuy would be there to clean up the challenge.
"We worked during the week with the defenders, about how we need to defend when playing against [Carlos] Vela, [Brian] Rodriguez and [Diego] Rossi," Schelotto told reporters after the game. "We know we need to be strong in the one-on-ones, and even then, we needed to keep working all together in the same line. Because when Rolf [Feltscher] and [Emiliano] Insua were going wide with Rodriguez, Vela or Rossi, someone had to cover their back, and all the central defenders had to cover their back, and the other right or left-backs, depending on where the play was, had to cover too.
"We were really good on the backline, including the midfield line, as we worked together."
It was a masterclass in counter-attacking football that had, at its core, the defense and the midfield. And it didn't rely on forcing the ball up the wings and sending in endless crosses.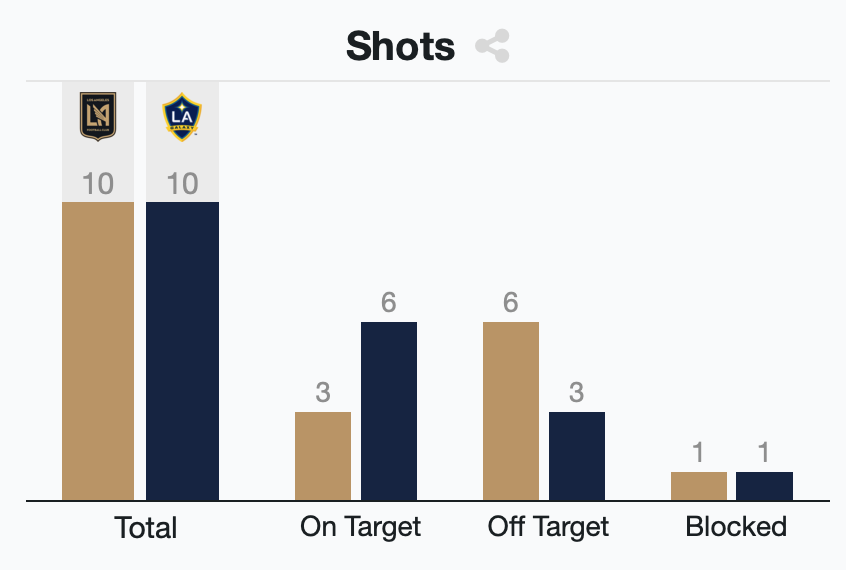 All of that would come together when it led to the Galaxy's best attacking move of the season.
The ball broke out to Pavon at midfield, who penetrated forward before finding Zubak with his back to goal. Zubak's quick give-and-go opened up space for the Galaxy's only Designated Player on the field at the time, and he accelerated into that space.
At the top of the box, Pavon pushed the ball to Araujo, who was closing toward the right side of goal. And while Zubak ran to the far post and Pavon crashed toward the near, Araujo put a cross behind the attacking line and found a late run from Sebastian Lletget who fired past Kenneth Vermeer in the 54th-minute.
It was Lletget's first goal of the season and his 15th of his career. And it marked the second assists of the game for Pavon and Araujo.
"Going into this game, I was really emphasizing that we need to be organized," Lletget explained. "Just moving forward, in general, we need to be organized as a team, more disciplined and end up doing less running but more efficient running. And I think we showed that today."
In total, the Galaxy would lose the possession battle 60-40, would have fewer passes than LAFC, hold less passing accuracy and would be out-crossed — something that never happens — 22 to nine.
But where it counted, the Galaxy put their stamp on the game. They had more shots on target (6 to 3), more duels won (63 to 52) and had more tackles than their rivals.
And when applying the eye test, it wasn't even a fair fight. The Galaxy were just better at almost every position than LAFC. And any excuses that LAFC want to throw out about the start time, the heat, or their black uniforms go out the window when you realize there were two teams on the field each playing in identical conditions — one of them showed up for the resumption of the regular season, and one did not.
This win papers over a lot of cracks in the Galaxy's foundation. But because it was an organized, solidly thought-out and executed game plan, it also provides some hope that this Galaxy team just figured out how to play together.
And while they have little time to savor the victory — they host the Defending Champion Seattle Sounders on Wednesday night at DHSP — they did put everything together for 90 minutes on Saturday. And that's enough for right now.
"It was a hot day, and it was tough for both teams, but I thought we performed the best," Lletget said. "We knocked them off their high horse. I know they did what they did in Orlando to us, but we have to focus on now, and hopefully, we shut them up a little bit."