LA Galaxy Interim Head Coach Dominic Kinnear sees his final chance to impress the club's leadership, go sideways in a loss to the Vancouver Whitecaps.
If it was his final interview for the big job, LA Galaxy Interim Head Coach Dominic Kinnear might want to ask the club for a do-over. The 53-year-old former USMNT player saw his side fall to the Vancouver Whitecaps on Sunday afternoon by a final score of 3-0 in a game that was played at Portland's Providence Park because of the ongoing global pandemic.
While the scoreline seems lopsided, there was no shortage of support for Kinnear, who now has a record of 4-3-1 all-time with the Galaxy in the interim role. That includes a 3-2-1 stint in 2018 after the Galaxy parted ways with then-head coach Sigi Schmid and a 1-1-1 record in three games, in a single week, after the firing of Guillermo Barros Schelotto.
Playing the game without Sebastian Lletget and Jonathan dos Santos — who both departed for international matches for the United States and Mexico respectively — Kinnear chose 18-year-old Efrain Alvarez to slot into the central attacking midfielder role and dropped Joe Corona back into the starting lineup as well.
The Galaxy applied all the early pressure and looked to be well on their way to a self-esteem boosting final game of the season. And having been eliminated from the playoffs the week before, it was really the only thing they had to fight for.
But the Whitecaps had other plans. Lucas Cavallini would beat Dan Steres to a header in the center of the box in the 24th-minute, and Vancouver would rarely look back.
Especially after Galaxy defender, Julian Araujo received his second red card of the season for a bad tackle on Cristián Guitiérrez. Araujo kept his cleats exposed as he attacked through the ball and directly onto Guitierrez's shin. It was the kind of foul that looked worse in slow motion and was allowed in the game not that many years ago but is clearly a red card now.
Kinnear had little argument.
The ejection in the 41st minute was followed two minutes later by the first of two Freddy Montero goals the Vancouver striker netted. He scored his first just before the half and again in stoppage time just before the final whistle.
And while the Galaxy looked much better in the second half, thanks in part to Javier "Chicharito" Hernandez's halftime substitution and veteran Sacha Kljestan's relentless play, it wasn't a good performance by anyone standards.
Alvarez looked to be playing at game speed, which was a real improvement over the player that started this year, often looking out-paced and out-muscled. And while his physicality steel needs work, his ability to seek out the proper pass gives the Galaxy midfielder something to work on.
But outside of Kljestan hitting the crossbar and Galaxy midfielder Cristian Pavon's relentless attacking in what should be his final game with LA (his loan officially ends after this season, and he's expected to report back to Argentina and Boca Juniors unless a new bid is submitted), the club had nearly no chances at getting back into the game. Like most of 2020, the finishing lacked, the creativity was sporadic, and the defending was always ready to wilt from a challenge.
"It was disappointing for sure," Galaxy midfielder Perry Kitchen told reporters after the game. "Obviously, the goals are pretty soft overall.
"We talked about how they like to cross the ball early, and we didn't do well with those," he continued. "Obviously, the red card makes it very difficult for us but saying that, I thought the second half we probably deserved a little more. We had some good chances, we defended well, we showed a little bit of character in tough circumstances — unfortunate to give one up there at the death, but I thought we should have had one to make it an interesting game."
Kljestan, at 35-years-old, had the bigger picture in mind.
"I'm just really disappointed with not making the playoffs. That's always the goal at the beginning of every season," he said.
"Obviously, this was a weird year with COVID and everything that's happened, things that have gone on in our country and around the world. So, it seems like the season went by really fast. It seems like this year has gone by really fast, so I don't think I've had time to look back on the entire season as a whole yet. Obviously, it's a big disappointment not making the playoffs, that part is a fact, I think, for everybody that has been involved.
"We just haven't had a lot of success this year, so it's disappointing."
But when asked about Kinnear and the coaching he's done in the final week of the season, the players seemed to align on what makes him a logical choice — even if the results on the field didn't translate to success for the club.
"I think the guys respond very well to how Dom (Kinnear) wants to set up the team," Kitchen, who seemed to perform well in Kinnear setups, explained. "I think he seriously has to be considered for the role. He's a great coach, he's a great guy. Again, that's up to the leadership, but he definitely had control of the locker room, and the guys respect him very much so."
Goalkeeper David Bingham, who played for Kinnear during his seven years with the San Jose Earthquakes (2014-2017), was also all-in on Kinnear getting the upgraded title.
"100-percent, I think," he said. "Obviously, I played with him before in San Jose, so I have the benefit of knowing what it's like under him.
"But at the end of the day, when the LA Galaxy were at their peak, they had an American coach that had fairly simple tactics, and then they put a team on the field that was competitive and were able to bring home championships. And when you try and replicate that model, I think Dom fits that mold better than anyone.
"I believe he's in the top three for most wins in MLS history (top four now that Bob Bradley won over the weekend) and he knows what it takes to win in this league. And if you gave him the Galaxy with the resources that the Galaxy have, I think there's no limit to what he can do with it."
But it was more than just giving Kinnear the nod. Bingham went on to provide insights into why he'd be a good coach for the club. And may have also signaled why the club may have struggled under Schelotto.
"I think he kind of speaks the player's language. He knows what buttons to push at the right times. And Dom holds every player to the same accountability.
"When you look at how other coaches coach and some players have different levels of accountability, it never really works throughout the team. Some players feel gypped or whatnot. Dom holds everyone accountable — it doesn't matter if you're a DP making $10-million or if you're a minimum (salary) guy. He doesn't care. He holds a standard across the board. And players respect that. And I think you can just see how the attitude switched when he came in, just the respect he demands, and he simplifies the game for you, and then you play better."
The Galaxy finished tenth of 12 teams in the Western Conference and just 20th of 26 teams in the entire league. And after missing the playoffs in three of the last four years, the club is having another identity crisis. One that was only put on pause for two years with the help of superstar Zlatan Ibrahimovic.
Galaxy General Manager Deniss te Kloese told CoG that he'd spoken to no one about the club's vacant position yet and that looking within the organization could be a possibility. But Kinnear has been there before. Apparently considered for the job after Schmid left the club in 2018, but instead remained an assistant coach under Schelotto when that decision was made.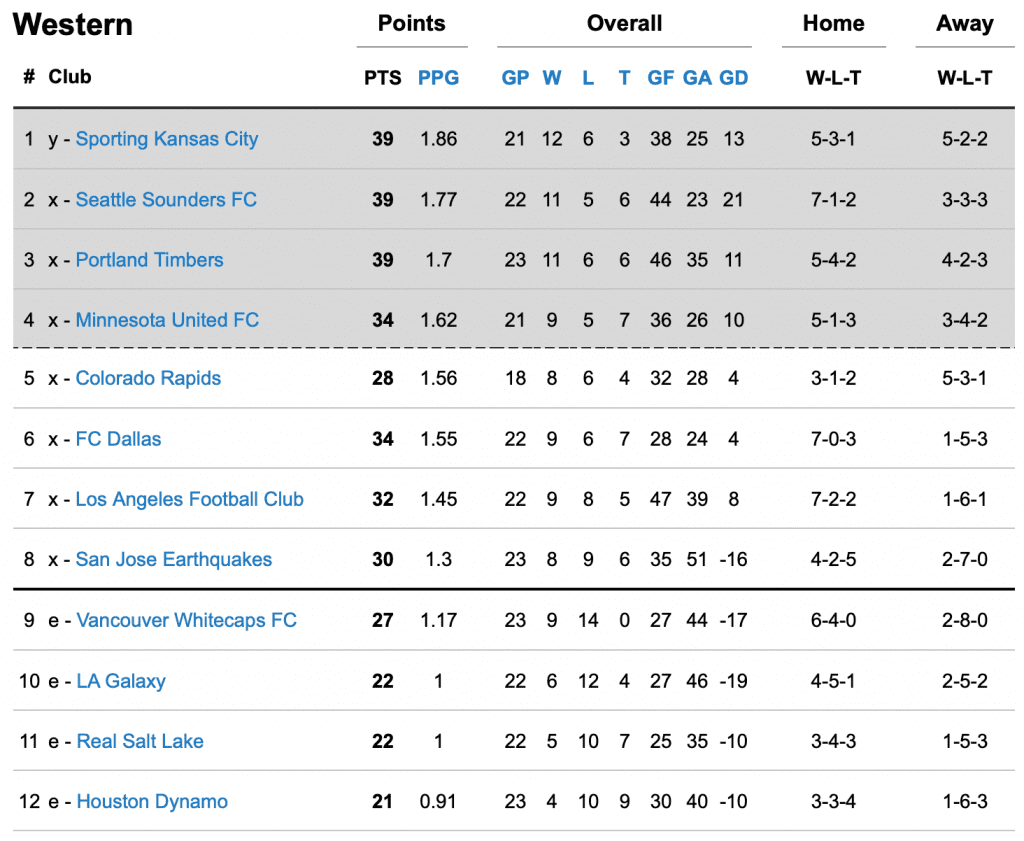 But he's not the sexy choice. And the Galaxy, long known for making the splashy acquisition when it comes to players and coaches, might think their organization is simply too big for someone of Kinnear's fame — a thought process that brought Ruud Gullit, Steven Gerrard, Giovanni dos Santos, Zlatan Ibrahimovic, David Beckham, Robbie Keane, Ashley Cole, and Javier "Chicharito" Hernandez to the club. And a thought process that has missed more than hit in recent years.
Now, with a disappointing season finally at a close, it's tough to pull anything positive from the year. And Kinnear agrees it was not their best. But someone has to coach this team next season, and it seems likely, it could be someone who is already doing the job and already has the Dignity Health Sports Park parking spot.
"The league is evolving as we know," Kinnear said about the steps the Galaxy needed to take to be competitive next year. "I think the players that are here have to hold themselves to a very high standard, which I think they do. But I think when you look back at the season, for the group that comes back, it has to be understood that what has happened this year is well below standard. This team should not be below the playoff line even when MLS is adding teams to the playoff picture. Everyone should be disappointed.
"If anybody walks away and thinks the season was a good one for them, I think they'd be mistaken. And then it's important for us as a group, for the technical staff, to look at the roster and try to improve upon that… There need to be improvements in a lot of positions.
"But for us to be fighting for a playoff spot, for the LA Galaxy to be fighting for a playoff spot late in the year, for me, is not the story that should be told."