After a year of disappointments and busts, LA Galaxy President Chris Klein and General Manager Dennis te Kloese make their case for how to fix a broken team.
LA Galaxy President Chris Klein and General Manager Dennis te Kloese vowed to "evaluate everything" as the franchise embarks on what could be an overhaul of epic proportions.
The five-time MLS Cup champions are coming off a season in which their latest high-priced designated player, Javier "Chicharito" Hernandez, was an unequivocal bust with only two goals, they trailed only the San Jose Earthquakes in goals allowed, and head coach Guillermo Barros Schelotto was fired with three games remaining in the regular season. Now they'll be seeking their fourth head coach since Bruce Arena left in November, 2016 to take over the U.S. men's national team.
These clearly are not the best of times for the so-called flagship of Major League Soccer, but Klein and te Kloese insist they'll do everything they can to resurrect a once-proud franchise that has a won-loss record of 69-74-49 since their last MLS Cup in 2014.
"A crucial off-season," said Klein, who signed a five-year extension following the 2017 season and has been the object of fans' venom for the team's poor play. "We're spending a lot of time evaluating … evaluating everything. And that starts with me and certainly I hold my hand up and take responsibility, not only for the results that are not up to our standards for this year but for the last couple of years.
"I know when we look at this, the responsibility does not fall on a coach. We all have responsibility in this. In saying that, I am confident and hopeful for our future.
"I've been with this club for 13 years," he went on, "and I know what it stands for."
It recently has stood for inept play, to put it mildly. It had an embarrassing 8-18-8 record in 2017 and in some ways outdid itself this season, when it finished 6-12-4 and at one point sat at the bottom of the Western Conference. Schelotto and his staff were dismissed and holdover Dominic Kinnear coached them to a 1-1-1 record in the last three games.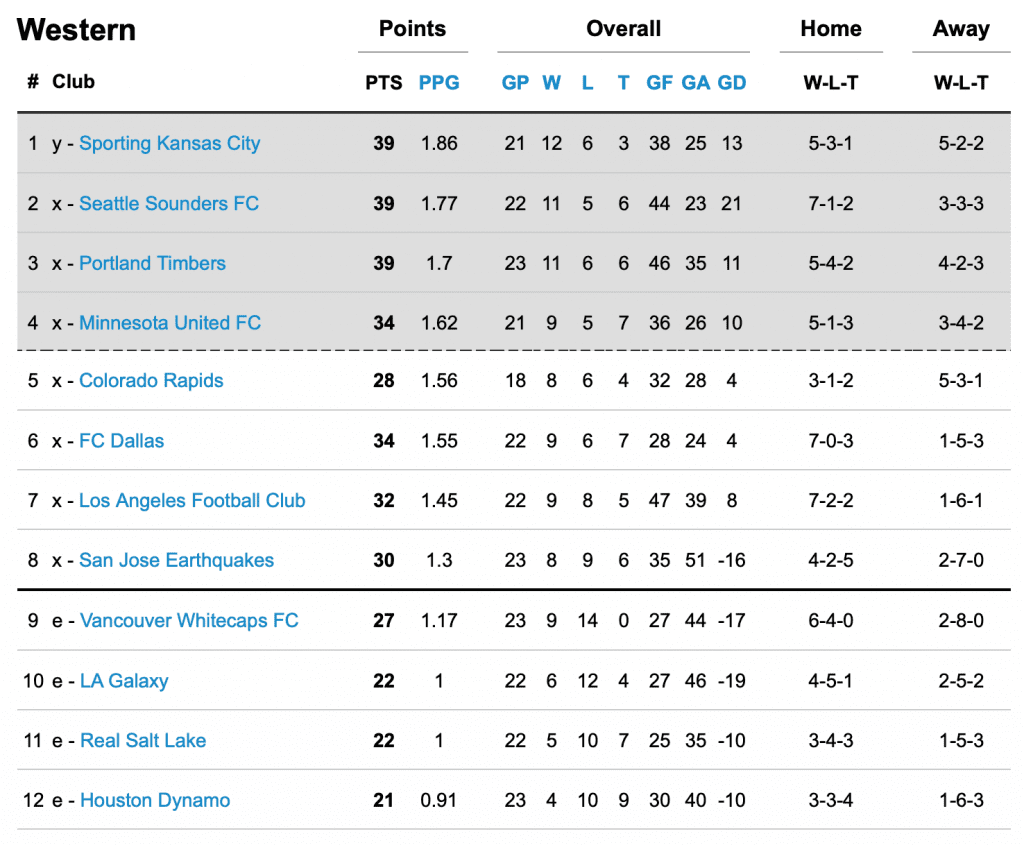 Te Kloese went out of his way to thank Kinnear's contributions and intimated the two-time MLS Cup winner would be among candidates for the permanent head coaching position.
"It wouldn't be fair of me to say he would not be taken into account," te Kloese said of the upcoming search, of which he added there is no timeline. "Obviously he's taken into account. He's one of the winningest coaches in the league, but we have to take a step in a calm way to sit down and hear his part of the story.
"But we're very grateful to him taking the lead in the last few games."
Klein said te Kloese has done a "very good job" at laying a foundation for improvement and added the club's ongoing struggles have troubled him on a daily basis.
"I wake up every day trying to make our club better," he said. "Even moments we've had success, I spend time thinking how can we improve. And in moments when we're in the valley. That doesn't change how I work, how I think and how I approach the responsibility that I've been given at this club.
"It's daily, and it's not just because of where we are. It's just how I am. I think of the effort and responsibility that is demanded of me. This club has given so much to the community of LA and our supporters, and they've given back.
"We have the responsibility now to put a team and a product on the field that represents that. It's something we work very hard at."
Te Kloese said the club will not take the obvious route toward regaining its stature in MLS.
"The easiest thing is just to keep changing," he said. "You can bring in a new coach, you can bring in a ton of new players, you can bring in a new general manager. You can do whatever you want. You can overhaul the entire academy again. I don't think that's the solution.
"You can win, you can lose and you can tie games. In the end you need something to fall back on when things go a little bit sour."
Regarding Hernandez, arguably the club's biggest disappointment in a season filled with them, Klein said he was confident he would regain the form that made him the all-time leading scorer on Mexico's national team.
"It's been a difficult year for Javier," Klein acknowledged. "I spent a while with Javier a couple of weeks ago where we sat down and he very passionately laid out where he is. I'll leave that to him to speak more, but it was a position of responsibility and commitment to the club, and most of all commitment to his team and the fans.
"We saw glimpses of that over the last few games. Again, it didn't impact on our season, but it certainly gives hope for what he can provide for us going forward. With his history, he is a very good player and he can score goals and be successful. We look forward to him regaining that form."
Another ongoing issue is that of Cristian Pavon, just named the Galaxy's Player of the Year. Te Kloese said he was hopeful Pavon, whose loan from Boca Juniors was up at the end of this season, would remain in Los Angeles.
"I must say Cristian's intentions are very solid on staying here," te Kloese said. "I think it speaks for itself that the club is happy with his performance. I also must say when the deal was done and he ended up playing the last part of last season and this entire season, the transfer market and everything around the international market has changed dramatically.
"Hopefully we'll find a good solution in the upcoming weeks."
Klein said the club needs to return to the winning culture Arena established when he arrived on the scene in 2008 and went on to win MLS Cups in 2011, 2012 and 2014.
"When you have a coach that has been here for so long and when that coach is Bruce Arena," Klein said, "he establishes that culture. The culture of the LA Galaxy, even when I looked at it from the outside, was always something I looked up to.
"And having seen it first-hand on the inside, I believe it's something that needs to return to this club."
FULL PRESS CONFERENCE: