Kevin Cabral will face a lot of pressure as he steps into the shoes of one of the best wingers the Galaxy has ever seen.
CARSON, Calif. — The LA Galaxy have completed the signing of 21-year-old Kevin Cabral as a Young Designated Player, Corner of the Galaxy has learned. The young Frenchman will join the Galaxy after playing in France's Ligue 2 with Valenciennes, with whom he scored three goals in his last four games. An announcement is expected later today (the Galaxy made the signing official at 9 AM on Thursday morning).
According to sources, the left-winger will sign a five-year contract (with an additional option year) and occupy one of the club's three designated players slots. His addition means the Galaxy will be passing on Cristian Pavon, who is facing sexual assault charges in Argentina.
"Kévin is a young and dynamic player who will give us versatility in the attack," said Galaxy General Manager Dennis te Kloese. "He is an emerging talent and has shown to be a bright prospect in France. At 21 years of age, he will continue to grow and develop as a player within our club. Kévin was scouted by LA Galaxy Head Coach Greg Vanney and we are excited that such a young talent has chosen the Galaxy as the next destination in his career. We look forward to welcoming him to Los Angeles and for his contributions as a member of our organization."
Cabral was born in Paris, France, and spent time at the famed Academy of Paris St. Germain. He joined Valencciennes' 'B' side in July of 2017 before being promoted to their senior squad in February of 2019. He's played a total of 32 matches in Ligue 2 and Coupe de France games with 10 goals and five assists. He has a twin brother Remi, who is playing with the Valenciennes 'B' team.
Cabral is a speedy winger who routinely beats players who have steps on him and can play across any attacking positions on the front line. Galaxy head coach Greg Vanney more than likely will use him on the left side. That's where the right-footed Cabral can make a real impact cutting inside and opening up space across the attacking zone.
---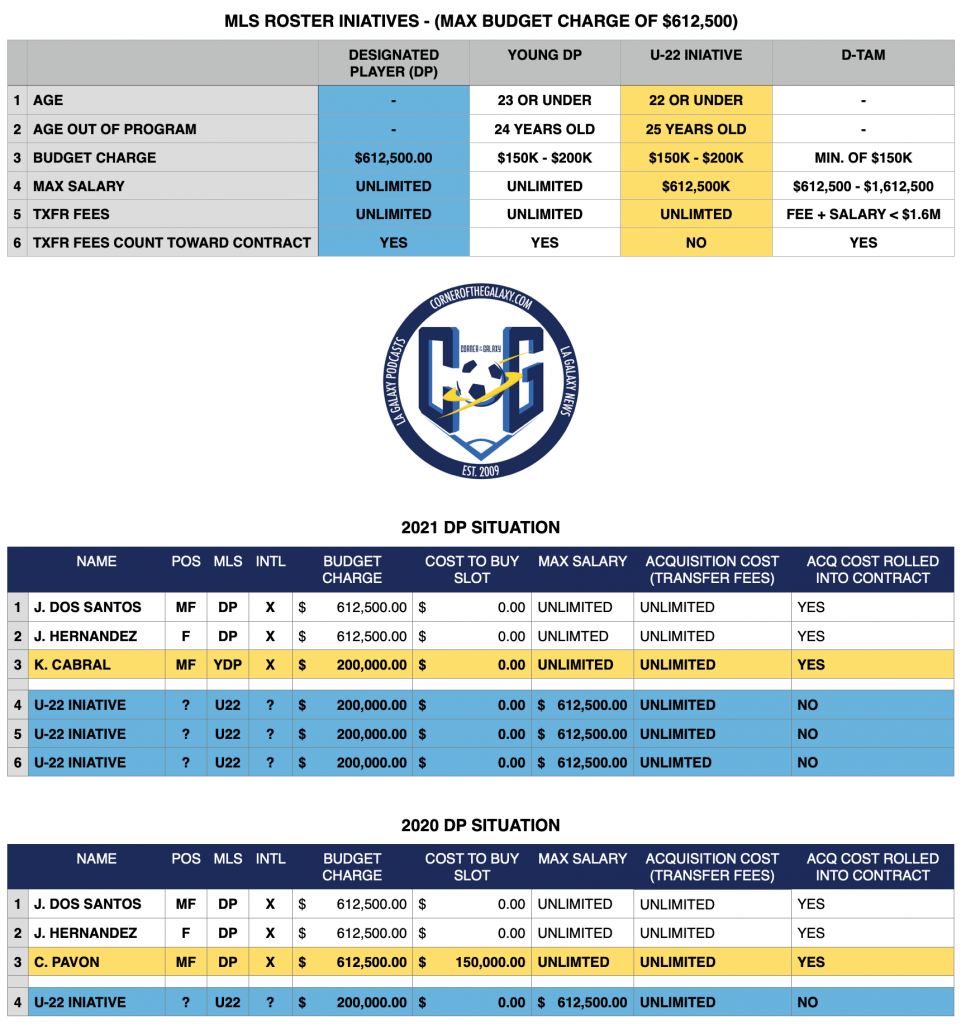 ---
He takes quick technical touches when he's in trouble, shifts his balance well, and appears to have good vision for throwing off defenders and creating attacking space. His creativity, besides his speed, is his best asset but he sometimes can run out of ideas the closer he gets to the end line.
The 21-year-old should have qualified for the U-22 Initiative that MLS is placing into circulation for 2021. It allows players who are 22 or younger to have a reduced salary cap hit under $200,000 and be signed with unlimited acquisition fees. But it comes with a maximum salary of $612,500, the league's maximum budget charge. A Galaxy source confirmed Cabral's salary exceeds that ceiling, which means he needed to be signed as a Young DP instead.
Cabral's slot will cost the Galaxy just $200,000 instead of the standard designated player cost of $612,500 against the salary cap. The Galaxy also will not have to pay a $150,000 charge to purchase the third DP slot — as league rules require — saving the club more than $560,000 in MLS fees.
The Galaxy also will be eligible to sign more than one U-22 Initiative player. With the third DP spot occupied by a Young DP, the Galaxy believe they can sign up to three U-22 Initiative players. If the third DP slot was occupied as a regular DP slot, then the Galaxy would be limited to just one.
A source said the Galaxy were excited about this possibility and indicated it benefited from making Cabral a Young DP.
The Galaxy, as previously reported by L'Equipe and MLS' Tom Bogert, will be paying Valenciennes more than $5 million in a transfer fee, a large amount that becomes more palatable over the life of the contract.
But when he takes the field for the Galaxy in the coming weeks, he'll do so knowing any designated player tag comes with pressure. And when one considers he's technically replacing Pavon — all 10 goals, three assists, and 22 games started — Cabral has a lot of offense to make up for.
---
MORE DETAILS:
Cabral is still in France awaiting his P-1 Visa. Once he gets that he'll be able to travel to the United States where he'll then have to go through Covid-19 quarantine procedures.
The LA Galaxy will pay FC Cincinnati $250,000 and a 2022 first-round MLS SuperDraft Pick
Additionally, for every year the Galaxy make the playoffs, for the entire length of the contract, the Galaxy will pay FC Cincinnati $50,000 with a cap of $100,000