After experiencing the highs of back-to-back wins to start the season, the LA Galaxy now must face the reality that they're still a work in progress.
The LA Galaxy were always going to be a work in progress to start the 2021 season. But after two wins to start the year, there was hope the Galaxy had quickly summited Greg Vanney's learning curve and were well on their way to being back as the five-time MLS Cup Champions.
But if the Galaxy were indeed returning to past glory, somebody forgot to tell the Seattle Sounders. And their 3-0 win over the Galaxy on Sunday evening at Lumen Field in front of 7,148 fans showed just how good the Sounders still are — and have been for several years — and how much further the Galaxy have to climb to compete with the top teams in Major League Soccer.
"[My] initial thoughts on the game? I own a lot of how we set up in the game," Vanney told reporters after making several adjustments to the Galaxy's starting lineup. "I wanted us to get a hold of the ball a little bit more.
"We had guys in decent spots, but we didn't keep the ball. We didn't get the ball switched from one side to the other as quickly as we would have liked. We turned it over too much, and then we were exposed. We were too far apart from each other defensively. Our backline wasn't so much connected with our midfield."
Vanney's changes included Oneil Fisher getting the start at right-back against his former team, with Julian Araujo shifted into the midfield on the right-wing. Efrain Alvarez, who made his 11th MLS start in the last three years, slotted into the center for Adam Saldaña, who had just one training session last week as he recovered from an unknown injury or knock.
Derrick Williams made his MLS debut at center back for Nick DePuy but was removed at halftime after picking up a knock during the match.
The changes Vanney implemented showed minimum impact on the field and led to both goals Seattle scored in the first half and ultimately led to the change of all three in the second half.
Seattle's Brad Smith was able to round Fisher on the first attempt in the 20th minute, and his cutback pass found Raul Ruidiaz drifting into space at the penalty spot for the easy finish. Both Williams and Villafaña tracked Ruidiaz's run into the box, but neither stopped when he did, leaving the Seattle man wide open for the opening goal, and Fisher was left chasing Smith for most of the first half.
Three minutes later, Smith would again factor into the scoring. This time cleaning up a bouncing ball that forced Galaxy goalkeeper Jonathan Bond to save it once and then was smashed home between Araujo, Fisher, and Dan Steres for Seattle's second goal. It was a bit of a scrambling play for the Galaxy, who got players back but allowed Seattle to build up on the outside. This time Jorge Villafaña was the guy chasing a ball in behind.
Seattle's final tally would come in the third minute of stoppage time as Ruidiaz would finish a breakaway opportunity that saw both Araujo and Nick DePuy get caught forward. It was a consolation goal that means very little to the game, but that shows a bit better on the box score.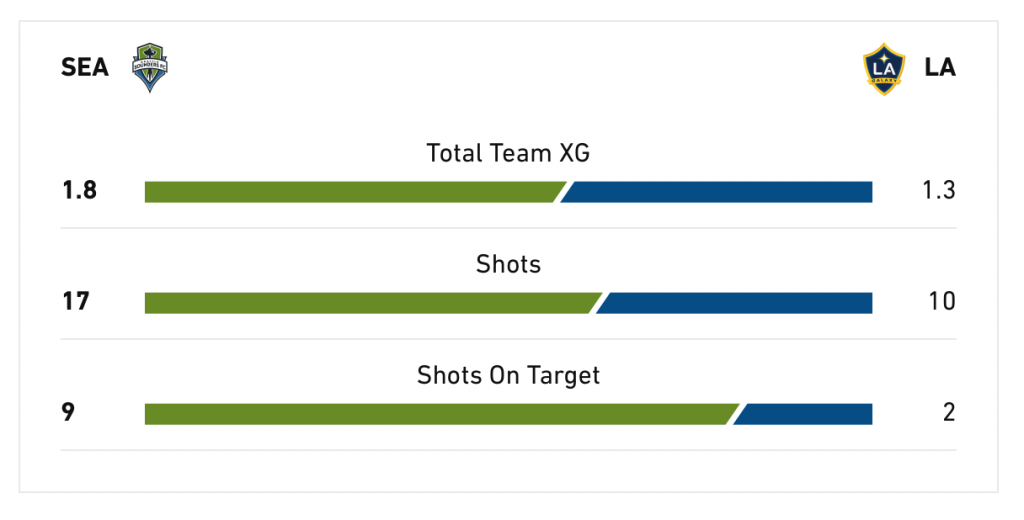 All goals were scored in transition, and all goals exposed a Galaxy side that was slow to react to dangerous, quick attacking play, and that showed a disconnect between the midfield and the defense.
"The easy short answer is no; we are not where we want to be defensively," Vanney said when asked about the progress of his defense.
"Again, not collectively. But defending is a lot of different things. Again, today, losing too many balls between the lines, not advancing our attacks deep enough into the opposition's half. When you lose balls between your lines, then you tend to put your group into a little bit more pressure in transition play. We did that tonight.
"Also, defensively, again, I've said this, we have to get better about recognizing what is more dangerous than something else. Sometimes we go stepping out and trying to defend things that are less dangerous than the space that we are leaving, and it exposes us. That's something we have to get way better at."
And for a Galaxy defense that has now given up seven goals in the first three games of the season, it's a worrying trend.
But it's also a defense that is probably far from complete.
The Galaxy signed 24-year-old Séga Coulibaly to compete for the starting job at center-back last week, and Williams has just 45-minutes of MLS playing time. With the additions of Villafaña and Fisher, and playing Araujo out of position as the Galaxy await the arrival of Kevin Cabral (21-year-old Young Designated Player from France), there may have been one too many variables for the Galaxy to handle and variable that should settle down as the players arrive in the team.
Vanney admits as much.
"I continue to learn about them every day and things that I would definitely not do again as we went through this experience. And a lot of things that as a group that we have to, just behaviors and things that we are not recognizing, not reading, that we as a group need to be better at to protect ourselves specifically but also to be able to unbalance teams and to hurt them more.
"We didn't hurt them enough," he emphasized.
Specifically, Seattle's backline did a great job limiting the Galaxy's most potent offensive weapon from the first two games. With Javier "Chicharito" Hernandez seeing little of the ball in dangerous spaces and only getting a single shot off all night, the Galaxy were starving for offense.
Ethan Zubak came into the game in the second half and helped lead the Galaxy to their most dangerous spell of the match. A good 15-20 minutes of sustained pressure coming out of halftime that probably should have resulted in at least one goal.
If there are some positives, it's that the Galaxy looked good in possession and ended up winning the possession battle (53.2% to 46.8%), and at times found players in dangerous spaces against a stout Sounders side.
Alvarez and Samuel Grandsir combined on an excellent chance in the first half that the Frenchman should have finished past Seattle Goalkeeper Stefan Frei.
But Grandsir looked gassed by the 60th-minute and is still very much a question mark in terms of his production for the Galaxy. He's found himself in the right spots but has missed on passes or shots he should be making and is still in that fuzzy area where adjustment to MLS is expected, but his time is running out.
But the lack of width for LA, their lack of speed going forward, and the inability to break Chicharito free didn't get the answers everyone was looking for. And being outshot 17 to 10 didn't help either, with Bond making six saves on a night where things might have been worse.
"Today we struggled a little bit, as I said, with the wide spaces, the relationship between our full backs, and our wide players struggled a lot today in managing the wide spaces," Vanney said. "Ultimately, they are a team that loves to whip balls in and cut balls back and get to the end lines, and we did a poor job of managing that today, which is something we have to get better at."
The Galaxy now hope they can regroup in time for a rivalry matchup with LAFC on Saturday (5 PM on FOX). And that any knocks and injuries sustained in Seattle will be well forgotten by kick-off this weekend.
The club will also need to readjust their confidence level. Losses can teach you a lot about a team, but they can also affect the delicate psyche of a group of individuals trying to change the culture around them.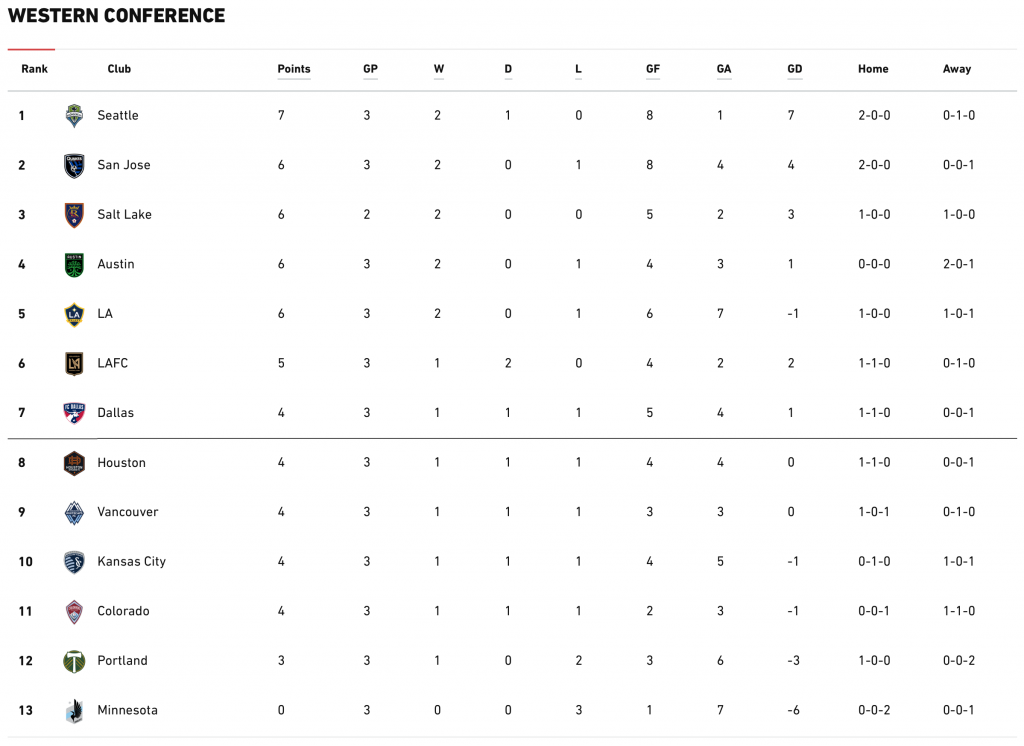 Vanney says that on the whole, this wasn't a move in the right direction.
"It's a step back from our game points and the confidence you get from every win. This is a bit of a reality check for all of us, for myself, for everybody,"
"They [Seattle] are still, for me, the standard of teams. Between their experiences they have done as a group for the last five years, they are still the standard. You can talk about any other team in the league. They are still the standard for what needs to be done…"
Kljestan had a different approach to the same question, however. But in reality, they said a lot of the same things.
"I don't know if it's a step backward. A loss was bound to happen at some point, and typically you learn a lot more about yourself in the difficult moments if you are willing to actually look in the mirror and take some things from it.
"Like I said earlier, I think we have to have a little bit more of an edge about us and be a little bit more competitive in duels and fifty fifties and things like that, and really letting the other team know that we are here to play. We lacked a little bit of that tonight, and we got punished during a few minutes in the first half where they put away two goals.
"Other than that, I think we just have to keep pushing this thing along and keep our focus on what we have been doing, the way we are trying to play, the way we are trying to control games with the ball. Just get better at all those things."
"I think we are better than what we showed today," Vanney closed with. "If we approach the game a little bit differently to start, and we are a little bit smarter about some of our decisions and some of those things, we are better than we are today. But it also showed us some things that we need to continue to improve on if we want to get to that level where we are competing to win championships."
HIGHLIGHTS
POST-GAME MEDIA CALL