EDITOR'S NOTE: Please be sure to read Part 1 (CLICK HERE) of this series from Ramiro. And we'd all like to thank him for digging up this information and sharing it with the rest of us!
DOES VANNEY HAVE A MERITOCRACY SYSTEM? DOES HE GIVE ACADEMY PLAYERS OPPORTUNITIES? DOES HE ROTATE/SUBSTITUTE? ARE INJURIES A CONCERN?
MERITOCRACY
Vanney appears to be assertive, fair, and impartial. Starters from a previous season were not necessarily starters the following season. Upon taking over TFC mid-season, he gave opportunities to relatively unknown players, such as Daniel Lovitz (21) and Warren Creavalle (22), and demoted established starters, such as Doneil Henry and Jermaine Defoe. Players like Alex Bono, Clint Irwin, Drew Moor, and Eriq Zavaleta – his own nephew – saw their roles diminish throughout Vanney's tenure. In addition, important players like Steven Beitashour, Laurent Ciman, Raheem Edwards, Robbie Findley, Nick Hagglund, Will Johnson, and Van der Wiel are just some names that he was not afraid to part with. In his first full season (2015), Vanney only brought back 47.47% of minutes played in the previous year, in 2016 it was 60.33%, in 2017 it was 82.01%, in 2018 it was 78.55%, in 2019 it was 59.82%, and in 2020 it was 55.58%.
---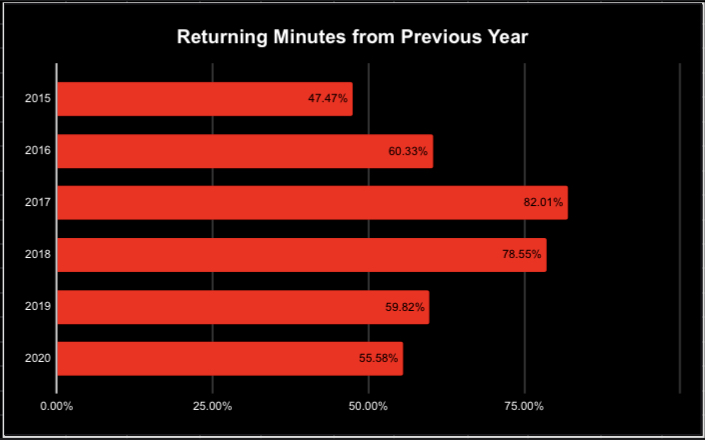 ---
For the Galaxy, players like Javier Hernandez, Giancarlo Gonzalez, Daniel Steres, Jonathan Dos Santos, Sebastian Lletget, Samuel Grandsir, and Kevin Cabral will have a lot of pressure on them to perform. Some are coming back from inconsistent play, injury, lack of play, or poor play, and others are unknowns. Vanney has a clear idea and identity of how he wants to build this team back to being a championship contender and works on a meritocracy system, whereby players are solely selected based on their ability.
HOMEGROWNS
From 2014-2020, Vanney has tried to incorporate more and more homegrowns in his teams. During that time, there have been 18 homegrowns that have played in Vanney's teams either by being called up directly from the academy or from the second team (TFC2), and today there are 10 homegrown players on TFC's roster. In that same time, Galaxy have had 12 homegrowns play with the first team, with 8 currently on the roster. Judging by the table below, it's fair to say that Vanney has given homegrowns more opportunities to prove themselves than the Galaxy have. More players have been promoted from their academy to the second team, and he has promoted more homegrowns from the second team to the first team. And in 2020, Vanney's homegrowns played 1,946 minutes (8.55% of total minutes) compared to Galaxy's 1,587 minutes (6.55% of total minutes). In the preseason alone, we have seen players like Jalen Neal (17), Jonathan Perez (18), Cameron Dunbar (18), and Adam Saldana (19) play and play well.
---
---
ROTATION/SUBSTITUTION
Last year was such a unique year in many ways, one of which was how congested the schedule was. Teams regularly played 3 games per week, traveled day-of on game days, and rarely practiced to avoid fatigue and injury. Canadian teams were forced to relocate in the United States, away from their families and friends, in order to complete their seasons. Essentially, teams played with two different squads for the weekend and mid-week games. Vanney and his staff did an amazing job of managing all this and his team finished 2nd in points per game, only 3 points behind Supporters' Shield-winners Philadelphia Union. In part, he was able to accomplish such a feat by rotating his squad and making many substitutions. His team finished with an average of 6.74 matches completed by his starting XI which ranked as the 4th least and an average of 4.26 of matches played by a substitute, which ranked as the 4th most. These numbers add up to a perfect 11.0 players because Vanney's 2020 team had 0 red cards. Only New York, Orlando, and Atlanta subbed more often than Vanney.
On the other hand, the Galaxy had an average of 7.27 matches completed by their starters, which ranked as the 5th most, and an average of 3.55 of matches played by a substitute, which ranked as the 5th least. These numbers don't add up to 11.0 because they had 6 expulsions throughout the season. Obviously, Guillermo Barros Schelotto's lack of rotation and substitution is well known to Galaxy fans and 2020 was no different.
---
---
In 2021, we will see a lot of the same in terms of schedule congestion to now go along with international and possible domestic tournament and game congestion (i.e. Gold Cup, US Open Cup, and World Cup Qualifying). Players such as Dos Santos, Lletget, Hernandez, and Carlos Harvey may be called up by their senior men's national teams throughout the season. One difference between the 2020 and 2021 versions of the LA Galaxy will be depth, but it comes at a price for them. With more signings coming in, this year's team will have a higher floor than last year. Players like Jonathan Klinsmann, Nick Depuy, Harvey, Kai Koreniuk, Dunbar, and Ethan Zubak who all saw minutes last year will be relied upon for depth. Vanney will again rely on rotation and use of substitutions to navigate this year's congested schedule.
INJURIES
We won't get into the science about injuries or the plethora of reasons for why they happen, but it is important to talk about how often players are absent due to injury. It's no secret that some of the Galaxy's past campaigns have been affected by injuries to some of their more important players, but this is not just an issue for LA. Here, we are comparing the number of games missed due to injury for both Toronto FC and the LA Galaxy from 2014-2020. In that span, Vanney's players have missed a total of 498 games due to injury, which averages out to 71.1 games per season. Important players, such as Jozy Altidore (39 games missed), Michael Bradley (21), and Sebastian Giovinco (17) have all missed a large number of games over their tenures under Vanney, including some very important MLS playoff games. And in the same timespan, LA Galaxy players have missed a total of 454 games due to injury, which averages out to 64.9 games per season. And for LA, highly-paid players like Romain Alessandrini (35 games missed), Giovanni Dos Santos (19), Robbie Keane (16), Jonathan Dos Santos (11), Steven Gerrard (10), and Zlatan Ibrahimovic (4) have all missed games for the blue, white, and gold.
---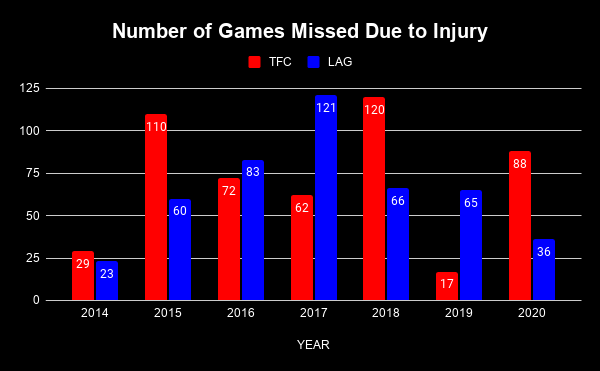 ---
For those concerned about the early Galaxy injuries, you may have been justified in looking at both Toronto's past under Vanney as well the Galaxy's own history with injuries. It is a legitimate concern to see and think about the Galaxy's past and then see that Toronto has been worse when it comes to the totals. No one knows what the future will actually hold for LA and injuries, but it will be something to carefully watch in a highly congested schedule with little-to-no room for training between games throughout the season.
GREG, THE BUILDER
Vanney's teams have had a distinct identity built on a culture of winning. And his 2020 team was no different. Using SmarterScout, Vanney's coaching profile conveys a very distinctive formation, style of play, and fun stats. At home, he preferred to line his team up in a 4-2-3-1 formation, with a very indirect and non-aerial – think tiki-taco – attacking style of play, did not pressing too high, and took about 13 seconds to recover possession in open play, getting better xG-wise as the game progressed and averaged 1.84 points per game.
Away, Vanney kept with his 4-2-3-1 formation, with a more direct yet non-aerial attacking style of play, again did not press high but allowed opponents to play out of the back a little more than at home and took about 15 seconds to recover possession in open play, regressed in their xG as the game progressed while also allowing their opponents to get better xG-wise, yet averaged 2.00 points per game. Overall, there is little to suggest Vanney has any effect on the xG per match, however, we are 77% confident that he has a -0.09 xGA effect per match, which indicates he is very good at properly setting up his defenses to reduce opponent chances and scoring.
Looking at the fullback touch heat maps, Vanney really likes to get his fullbacks very involved in the build-up (defensive third), positional attack (middle third), and final third attacking of the offense. Interestingly in the preseason, we have seen Jorge Villafana tuck in a lot in what is referred to as an inverted fullback when LA is in possession. You'll notice he plays as a quasi-holding midfielder, which allows one of the central midfielders – most often Dos Santos – to push up.
And looking at the winger/wide midfielder touch heat maps, we see that they are predominantly involved in the position attack and final third attack of the offense. What is interesting is how involved these players are in the center that divides the middle third from the attacking third of the field. Thus, his wingers or wide midfielders not only stretch defenses by staying wide but also by tucking in as what are known positionally as pocket wingers (centrally-playing wide players) to allow the fullbacks to then occupy the wide spaces.
---
---
There is a lot to be excited about this season and coach Greg Vanney has everything it takes to make this team successful. He has proven himself year after year in almost every facet of the game: from the monitoring and inclusion of academy and second-team players, and player development within the first team, to actually winning silverware. Vanney has stressed patience, indicating this will be a 3-4 year build, but winning is important along the way. So let's get back to our winning ways. G's up!
This was Part 2 of a two-part article series. You can read Part 1 here.
---
Sources: MLSsoccer.com, SmarterScout.com, TransferMarkt.com.