Sacha Kljestan's first-half penalty conversion isn't enough to keep the Seattle Sounders from manufacturing two goals in their first loss at home in 2021.
CARSON, Calif. — The LA Galaxy won't be happy with the way their Saturday night turned out. In a game where they were hardly pressured, they watched the Seattle Sounders manufactured two goals off of set-pieces in a 2-1 come-from-behind victory for the visitors.
In front of 23,165 for the first time in 469 days, the Galaxy started a veteran-heavy lineup that included Sebastian Lletget, Victor Vazquez, and Sacha Kljestan and featured debutant Sega Coulibaly on defense but struggled to get much out of the offense.
Vanney lined the team up in more of 4-4-2, which he stated afterward was actually more of a 4-2-2-2. Vanney said the idea was to try and make life more difficult for Seattle's centrebacks — a reaction to not causing them any problems in the previous match in Seattle.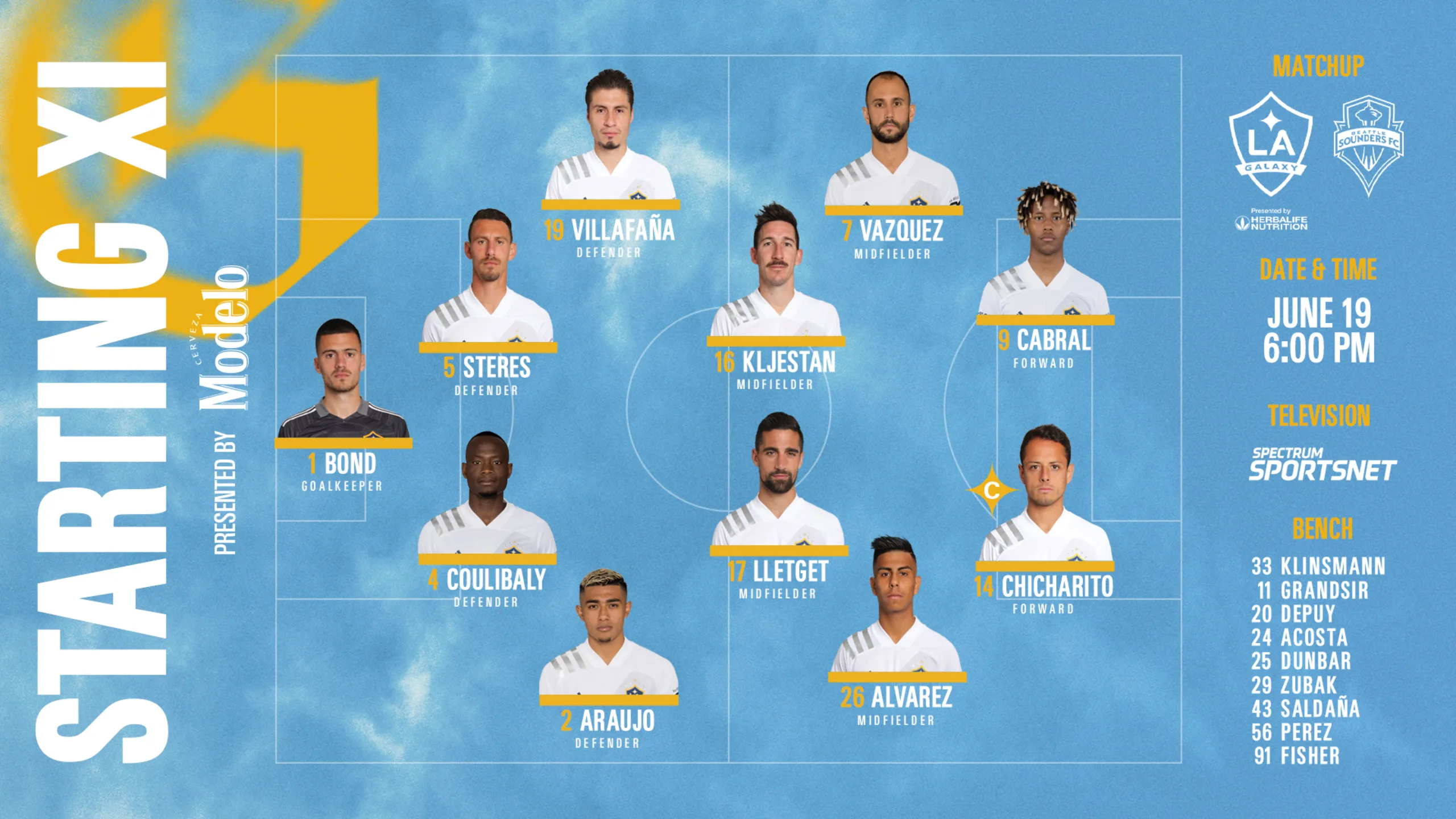 The Galaxy started brightly, with a bunch of forward momentum that eventually led to Javier "Chicharito" Hernandez being fouled inside the penalty box. The contact form Joao Paulo was obvious on replay, and obvious enough during the run of play that referee Drew Fisher pointed to the spot without any hesitation.
But after Chicharito drew the foul, he wasn't the one to take the kick — that was left to Sacha Kljestan, who buried the 21-minute shot past Stefan Cleveland for the first goal of the night.
"I asked Chicharito if he wanted to take it, and he just said that I could take it. You know he missed his last one. I was fully supportive of him taking the penalty again because he is our top scorer, and we want to keep him going. But he looked to me, and he gave me the ball, so I stepped up," Kljestan told reporters after the game.
But the half wouldn't end well for the Galaxy. In the 41st-minute, off a Sounders corner kick, Yeimar would get his head on Paulo's corner and nod it past Jonathan Bond. It was a goal that came from zero danger on the Galaxy's part and was created out of thin air by a Seattle side that ended up ceding possession by an almost 60 to 40 margin in the first half.
And while the Sounders certainly gained a little bit of momentum from that strike, the real dagger came just four minutes after halftime when Raul Ruidiaz — who tied Chicharito's league-leading goal scoring with the goal — scored on a rebound with one of Seattle's most dangerous moves.
Kellyn Rowe threw the ball in towards Brad Smith, and the ball bounced back out of the box toward Rowe again. Cristian Roldan backheeled his cross, and in the midst of a scrum, the ball was launched at Bond, who made the initial save but couldn't keep the second ball out of the back of the net.
Both goals came against the run of play, and gifting any such lead to a veteran team like Seattle means they're going to make you work hard to try and get that back.
But Kevin Cabral and Chicharito couldn't find themselves on the same page throughout the game, even as Chicharito and Araujo combined on the most dangerous chance on the night. In the 43-minute, Araujo made a 60-yard sprint with the ball, dragging Sounders defender Brad Smith out of position, going around him, and then firing a low cross to Hernandez, who scorched the ball off the outside of the post.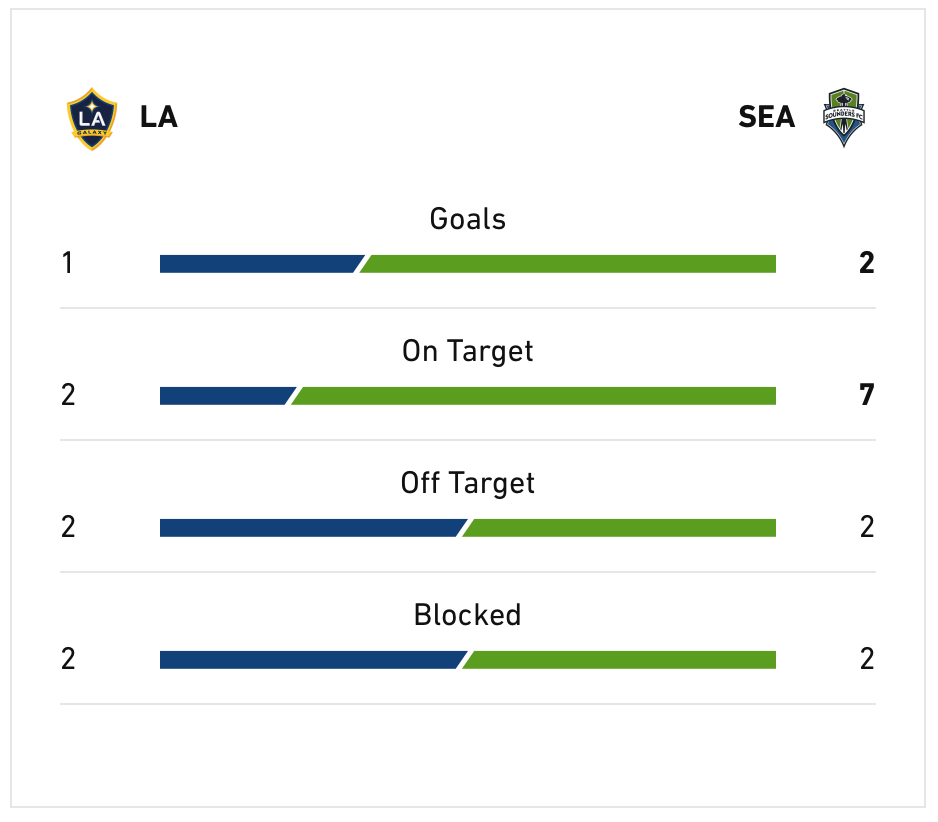 But the Galaxy's offense sputtered inside the final third. And Cabral seemed quiet and distant for most of the game, even while Vanney had him pegged as the second attacker next to Chicharito.
"He was playing as a forward," Vanney said. "We played more of a 4-2-2-2, and part of that is because they have three center backs, and we wanted our two forwards working against their three center backs to force their outside center backs to do some work. So they have to respect some runs to create some space for Victor [Vazquez] and Efrain [Alvarez] to be able to initiate our attacks and look for final passes. And to be fair, I thought in terms of being able to find those guys on the ball, we did a pretty good job.
"I think the coordination of the running off of Javier [Hernandez] and Kevin [Cabral] was not necessarily in sync. Their runs were not necessarily one in one out, and they weren't necessarily connected to each other. Which I think is a little bit of the frustration that they were having. It's just getting the timing of their runs and the connection of their runs down on the right page."
The eighth-minute injury to Dan Steres certainly didn't help things either. Nick DePuy was forced onto the field early in the first half after what Vanney suspected was a hamstring issue to Steres when he landed funny in a battle for a ball.
"I don't know yet the severity of it [the hamstring] or how long it might be, but at a time like this, with a lot of games back to back, it's not an injury that we were looking forward to.," he said after the game.
The Galaxy have plenty of positives, and with Araujo putting in another stellar performance, they're building on something that was very good at times. But it just wasn't good enough. The Galaxy are missing the last two passes, and their unpredictability is too predictable right now.
Chicharito didn't have a shot on goal in this contest — the Galaxy only had two, and one was a penalty kick — and he's now been held scoreless for the last three games. With Cabral's slow development, the Galaxy are hurting for some offense.
"I'm very disappointed, and we should all be," Chicharito told Spectrum SportsNet after the game. "But it doesn't matter what I am going to say because we lost in the end.
"I think we were a much better team. We had more chances, we controlled the game, but in just two or three set pieces — we saw the replay that [Jonathan] Bond saved that was a set-piece. The only thing we need to improve is experience. And experience comes with time, so we cannot improve that. There are a lot of players that they are playing their first, second, or third seasons in MLS, so we all need to grow. We all need to improve."
The Galaxy will next get a chance to improve as they go on the road to Sandy, Utah, where they'll face the Vancouver Whitecaps on Wednesday evening before making their way back to California for a Cali-Clasico at PayPal Park against the San Jose Earthquakes on the weekend.