The LA Galaxy got three goals to quickly put the game away from a playoff-eliminated Houston Dynamo side
It's been a while since the LA Galaxy had anything approaching an easy victory.
Add to it that they were playing a Houston Dynamo team they hadn't beaten on the road since October of 2016, were winners of just one of their last ten games, and the game had a kickoff temperature well above 80 degrees with more than 70-percent humidity, and it could easily be argued that things were stacked against the Galaxy.
But in Major League Soccer, anything can and will happen.
In MLS, teams trying to vault their way into the playoffs turn up the intensity down the stretch. In MLS, people propose during the game in Houston while a Galaxy player scores the final goal. In MLS, you have to be prepared for a Houston side that just played their best game of the year, even though that game also got them eliminated from the playoffs. There is no "easy" in MLS — until there is.
The Galaxy won 3-0 on Wednesday night in what can only be described as a comfortable win and one that almost approaches easy. And it's one of the few this season that can even be called that.
And while there may have been some nervy moments before the Galaxy finally found the first goal, it was comfortable and easy in the end.
"Three points," Galaxy head coach Greg Vanney said of his team's victory. "That's what we take (from the game)."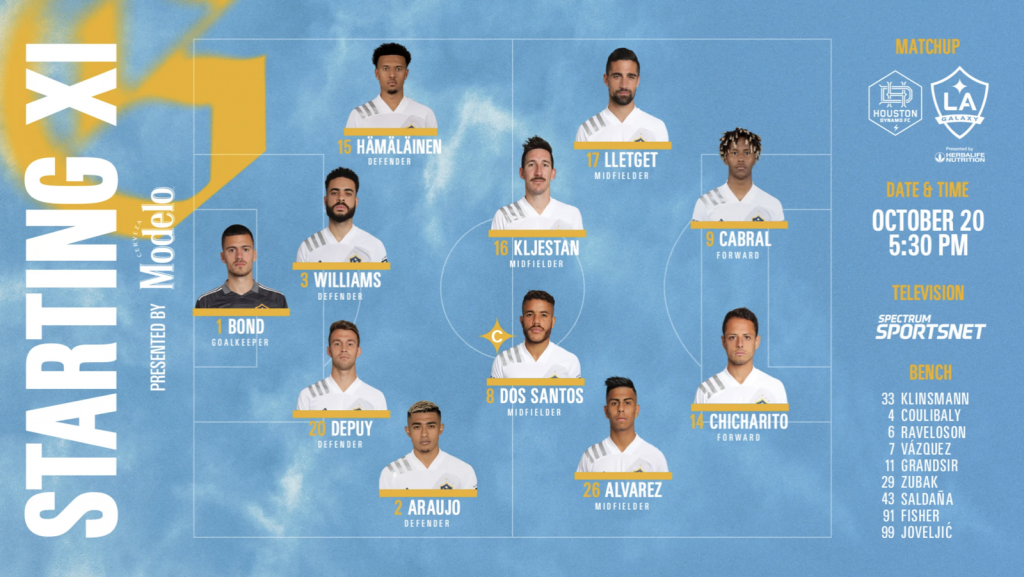 Midfielder Sacha Kljestan scored his second penalty kick goal in as many games. It took his 2021 total to five goals and came off a dangerous chance for the club – one of many in the first half – as midfielder Kevin Cabral cut through the center of the box.
Defender Maynor Figueroa got the ball off Cabral's foot, but his follow-through landed a two-footed tackle right on Cabral's ankle. Referee Rosendo Mendoza pointed to the spot immediately, and subsequent replays showed the force of the foul on Cabral.
Then Kljestan, who says he decides which way he's going on a penalty kick the morning of each game, slotted his shot to the right of goalkeeper Michael Nelson — matching the same side from Saturday's penalty kick — and watched it ripple into the back of the net in the 39th minute.
The Galaxy would double their lead one minute into first-half stoppage time when midfielder Efrain Alvarez crossed a dangerous ball in from the right side of the box as he moved toward the touchline. Zarek Valentin tried to track the cross as it screamed toward Nelson but ended up deflecting it into his own net.
The Galaxy took the 2-0 lead into halftime and then took only two minutes of the second half to find their third.
Cabral would be set up by a perfect through ball pass from Javier "Chicharito" Hernandez that started with some quick touches through midfield by Sebastian Lletget and Jonathan dos Santos. Cabral, played into the box by the pass, would then dribble into the box, slam on the brakes to let Griffin Dorsey slide by and then slam the shot to the near post for the final nail in Houston's coffin.
The Galaxy improved to 12-2-2 when they score the first goal in a game, took over fifth place in the Western Conference with Real Salt Lake idle, and scored more than two goals for just the third time in their last 15 games.
The win was also Vanney's 100th in Major League Soccer. Although, he's hoping that subsequent wins might offer a little more impact.
"If it was the one that clinched the playoffs and got us into kind of that next phase of things, I'd be happier," Vanney joked. "But we're still grinding away at that, and we're going to keep building. Hopefully, 101 or 102 will be the one that seals the deal for us in the playoffs."
The best news for the Galaxy is that they gathered six points with one more game left in the week. And with the third of three games coming up on Saturday against FC Dallas at Dignity Health Sports Park (7 PM, Unimás, TUDN), the Galaxy have a chance at their first nine-point week this season and their first three-game winning streak of 2021.
"I hope it plays out as a big thing," Vanney said. "We don't know until we get everybody turned around and see how guys are recovering and how they're dealing with things. But for sure, guys like Victor (Vazquez), and Ryan (Raveloson), and getting Jona (dos Santos) out early, and getting Javier (Hernandez) out early, and Derek (Williams) – who hasn't played a lot of minutes in this stretch – getting him out early… for sure those things are going to help us and help those guys to transition in a short rest to Saturday. So we'll see. We'll take inventory.
"In theory, I hope it really helps us," he continued, "and gives us a good foundation to build from on Saturday against Dallas, and from there, then we've got to perform, and we've got to do the right things. We've got to execute, and hopefully, we can do that."
The Galaxy will also have a chance to move into fourth place in the conference. If they can get three points from Dallas, and the Portland Timbers lose or draw, the Galaxy would move into a home playoff game position. A position they haven't occupied since they vacated it five weeks ago.
It's a stark turnaround for a Galaxy team that was winless in their last nine games before they played Portland on Saturday night. Now, to have a two-game winning streak — that could be three — almost seems greedy.