The LA Galaxy are keeping their eyes on the prize this Sunday, and that means taking care of business against Minnesota United
The MLS Cup playoffs officially don't begin until Saturday, Nov. 20, but Galaxy head coach Greg Vanney would beg to differ on the scheduling. As far as he's concerned, postseason play kicks off this weekend.
"This is essentially a playoff game," he told reporters Friday as he talked about Sunday's clash with Minnesota United at Dignity Health Sports Park (3 p.m., Fox Sports 1, Fox Deportes). "We've said that for several games, but this is a play-in, playoff game. If you lose, you're potentially done.
"That's the reality of it, which is a great experience for this group. And if you can do well, it's like the old play-in games in the past. Teams that won the play-in games you never really wanted to face them in the next game because they already had that emotion and experience under their belts."
The five-time Cup champions will be fighting for their playoff lives on Sunday when the maze, also known as the Western Conference, finally will show some sense of postseason order. Five teams will be battling for three playoff spots, and first place in the West is up for grabs among Seattle (17-8-8, 59 points), Sporting Kansas City (17-9-7, 58 points), and Colorado (16-70-10, 58 points).
The only team locked in place concerning the postseason is fourth-place Portland. Then there are fifth-place Minnesota (13-11-9, 48 points), sixth-place Vancouver (12-9-12, 48 points), seventh-place Galaxy (13-12-8, 47 points), eighth-place Real Salt Lake (13-14-6, 45 points), and ninth-place Los Angeles FC (12-12-9, 45 points).
Sunday's league schedule features the Galaxy at home to Minnesota, Seattle at Vancouver, Sporting Kansas City at home to Real Salt Lake, Colorado hosting LAFC, and Portland at home to Austin FC. All games will start at 3 p.m. Pacific time. The only games in the West that don't matter in deciding the conference's playoff participants are Portland-Austin and FC Dallas at San Jose.
For the Galaxy, here are the potential scenarios in which they can qualify for the playoffs:
Win and in. It's that simple.
The Galaxy draws or loses to Minnesota and Real Salt Lake draws or loses to Sporting Kansas City and LAFC draws or loses to Colorado.
A Galaxy draw with Minnesota and a Vancouver loss to Seattle and either an RSL draw or loss to SKC or an LAFC draw or loss to Colorado.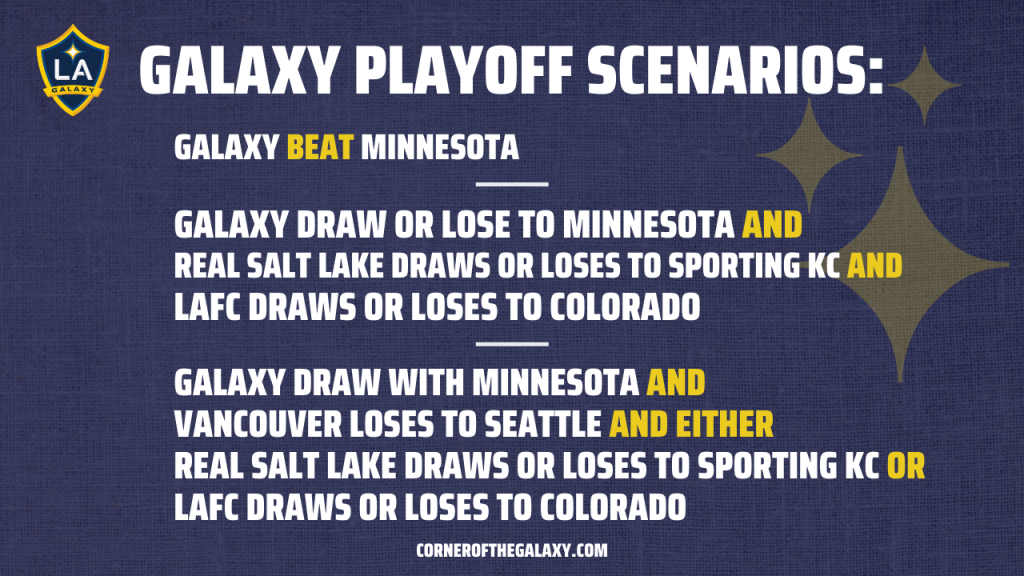 The Galaxy can finish as high as fifth or as low as ninth in the West.
"We were talking about that here yesterday," Vanney said about the West's jumbled playoff picture. "Just the amount of games that have something riding on them is really unique at this time of the year. First place is up for grabs, you have the final spots in our group especially that are up for grabs.
"Every game is meaningful in some way except for the Portland game and maybe the Dallas game. Every other game has something big riding on it and makes for a wild day. In some ways, I'm happy to be playing in it with something to play for, but as a spectator, there's a lot of things going on and makes for an exciting day even for MLS to keep track of everything.
"It should be a wild ride."
Sunday will mark the third time the Galaxy and Minnesota have played each other this season, with the Galaxy winning the first meeting 1-0 on Aug. 14 but losing the rematch 3-0 on Sept. 18. That one featured two goals by Argentinian Emanuel Reynoso.
"We did learn some things over the last game," Vanney said. "One basic one was don't let Reynoso get on his left foot. That's a simple one, right? Easier said than done because he's crafty and clever.
"Some of the formula for them is they're gonna be who they are, we gotta be who we are and see who's better at that."
Galaxy striker Javier "Chicharito" Hernandez said he's well aware of what is at stake Sunday.
"I know what it means, the game," he said. "I'm a human before a soccer athlete. I'm fine, I'm great, I'm happy and I know if we lost I'm going to be the worst player ever or it will be my fault. And if we win and I score the winning goal I'm going to be a hero … the savior of this club or whatever.
"I'm another person living his dreams, doing the best he can for the team and organization. Yeah, it's going to be a very important game, but it's the same as we played against Seattle. Same as we played Dallas, even though we played a very, very bad first half. Everything to gain for us, that's the way I see it, that's why that I play.
"Obviously I'm going to give everything to get those three points on Sunday because that's what I've been doing."