The LA Galaxy get mentioned in rumors every time someone wants to join MLS. We'll tell you what we know and whether you should believe it.
COG STUDIOS, Calif. — Welcome to the second season under head coach Greg Vanney, and the first without General Manager Dennis te Kloese.
Vanney has seemingly taken over all the responsibilities of putting talent on the field and he's being backed up on the contracts and scouting side of things by Galaxy President Chris Klein and Galaxy Technical Director Jovan Kirovski.

The Galaxy believe they have a core of players that were brought in over the last 12 months that they can build around in 2022 and that's what Vanney is attempting to do.
Below, you'll find our rumor tracker. Ranked with stars for no particular reason, we'll give you our best guess (sometimes with inside knowledge) about who is on the Galaxy's radar and what likelihood we give to their possible signing/trade/transfer.
With the world constantly putting the Galaxy name in every MLS rumor, we'll do our best to cut through the absurd and land in the possible.
---
THIS TRACKER WAS LAST UPDATED ON FEBRUARY 3, 2022
---
2.3.22 — Updated the Douglas Costa Rumor
1.31.22 — Added Douglas Costa to the tracker
⭐️ = COLD
⭐️⭐️ = NOT AS COLD
⭐️⭐️⭐️ = WARM
⭐️⭐️⭐️⭐️ = HOT
⭐️⭐️⭐️⭐️⭐️ = REALLY HOT
| | | | | |
| --- | --- | --- | --- | --- |
| NAME | AGE | POS | CURRENT CLUB | RUMOR RANKING |
| SEBASTIAN LLETGET | 29 | MF | NEW ENGLAND | ✅ |
| JONATHAN DOS SANTOS | 31 | MF | CLUB AMERICA | ✅ |
| SACHA KLJESTAN | 36 | MF | LA GALAXY | ✅ |
| MIKE MUNOZ | 38 | FO | TORONTO | ✅ |
| RAHEEM EDWARDS | 26 | MF | FA | ✅ |
| DOUGLAS COSTA | 31 | MF | GREMIO/JUVE | ⭐️⭐️⭐️⭐️⭐️ |
| CRISTIAN PAVON | 25 | MF | BOCA JUNIORS | ⭐️ |
| JAIRO HENRIQUEZ | 28 | MF | CD AGUÍLA | ⭐️⭐️⭐️ |
| VICTOR FELIPE MENDEZ | 22 | DM | UNIÓN ESPAÑOLA | ⭐️⭐️⭐️ |
| TYLER BOYD | 26 | MF | BESIKTAS | ⭐️⭐️ |
| ALBERT RUSNAK | 27 | CAM | RSL | ☠️ |
| PAUL ARRIOLA | 26 | MF | DC UNITED | ☠️ |
DOUGLAS COSTA TO THE LA GALAXY: ⭐️⭐️⭐️⭐️⭐️
RUMOR UPDATE (2.3.22) — Fabrizio Romano awoke this morning and chose violence! He announced that the deal with Douglas Coast and the LA Galaxy was complete and then added some intriguing details.
Romano said that a six-month loan deal was completed between the Galaxy and Juventus and then after that, the 31-year-old Costa would sign a two-year contract with the Galaxy.
We had heard rumors of a one-year contract and a one-year club option, and rumors of a loan deal as well. And Ramono's reporting doesn't contradict any of that. But as with any signing, the devil is in the details.
Prepare yourself for an awful lot of speculation and Costa's arrival on Sunday (per Romano).
The six-month loan deal would run out Costa's contract with Juventus which expires at the end of June. He would then be a free agent except that he's already signing a pre-contract with the Galaxy for when that loan and his contract expires.
The first-year contract could absolutely from July of 2022 to July of 2023 and then transition into either a guaranteed year or an option year as we've seen reported before.

How much the loan costs through the loan will absolutely dictate whether Costa is a DP or not. It's unlikely the loan is for free from Juventus. So it's going to cost the Galaxy money. If salary plus loan fee exceeds the $1.6M TAM ceiling, Costa would be a DP. But there are questions about whether the first 6 months – the loan portion – could be prorated over 12 months.

Then the same question would be asked about the contract for the remaining six months of the 2022 season.

Likely, these don't get to be double prorated and Costa will be a DP, as we've heard before.
This deal is headed to the finish line… we've been saying that for weeks. So soon we'll get to talk about the details behind all of this.
And no, Costa becoming a DP doesn't rule out Cristian Pavon. So don't ask me that question.
RUMOR UPDATE (1.31.22) — So we're a bit behind on getting this rumor onto the tracker. But we've been talking about it for weeks on the podcast, so everyone should be up to date.
But today we got two confirmations on the Galaxy's interest (again, not really news to those that have been following along) and it does go to confirming a rumor that we had told you a couple of weeks ago.
Costa, 31-years old and playing at recently relegated Gremio in Brazil, will be a designated player. Rumors have placed his wages at close to $5-million per year (unconfirmed) and there are even rumors that place the deal at only a single season.
Costa was in Brazil on loan from Juventus who own his contract through this summer (2022).
This deal has been plodding toward the finish line for some time, and with Costa supposedly finding a Galaxy kit and taking a picture with it (unconfirmed), it seems to be ready for ink.
COG THOUGHTS: There is no doubt about it that the former Juventus and Bayern player is the most talented Galaxy player on the roster. His technical skill and his ability to create makes him one of the most creative players in the league, but with questions around his motivation and his recent performances, the Galaxy are absolutely gambling big.
How big? As we've said on the podcast, people will and should lose their jobs if this doesn't work out.
CRISTIAN PAVON TO THE GALAXY (AGAIN): ⭐️
UPDATED RUMOR (1.31.22) — To catch up, the bust or boom market that was supposed to ferry Pavon into Europe or Liga MX hasn't materialized. It's likely that Pavon himself is shutting down any transfers so that he can go as a free agent signing this summer — when his contract with Boca expires.

That means that there is little time to make a deal with Boca and if it doesn't happen, then we'll start this all over again in the summer.
But as we've talked about on the podcast, there's this assumption that Pavon would want to come back to Los Angeles. After all, he was a league MVP candidate, seemed comfortable in the city and there's a rumor going around that he's had a pre-contract with the Galaxy (basically personal terms agreed to) since he left.
But we've also heard that simply assuming he wants to come back to the Galaxy isn't always true. After all, he was playing for GBS and had a good working relationship with Dennis te Kloese. Both of those guys are gone. So is the relationship still intact?
One source questioned whether Pavon would want to come back, and that same source indicated that the two sides don't have much of a relationship at this point.

Can things change? Absolutely. And could the Galaxy go after Pavon in the summer and get him for TAM money? Remember, he made just $1.2M in salary with the Galaxy. Even a raise could see him sit just underneath the TAM ceiling of $1.6M.
But we're less hopeful than most.
UPDATED RUMOR (12.14.21) — Here we are again. If you want to go back and read all the in-depth coverage we gave of Pavon's last appearance on the rumor tracker I've linked it here for you. So instead, we're going to focus on the updates we can provide.
Boca Juniors fan's social media accounts started reporting that the LA Galaxy were once again interested in the Argentine winger. COG CONFIRMED that the Galaxy were indeed interested but noted that the Galaxy will have a lot of competition for Pavon and he wouldn't come cheap even as his contract is set to expire in June of 2022.
The latest twist is that Pavon has been linked to a Spanish club with some reports (we don't know how credible) saying a deal is already completed for his transfer.
COG TAKE: The Galaxy were interested, but they may not have the stomach to really go after Pavon with the kind of money Boca wants. And going into something half-cocked doesn't seem like the way to land a big fish like Pavon. (Obviously, there's the legal battle that could also cause some issues for LA). This rumor is starting to feel like it's getting further away than closer.
WINGER TYLER BOYD COMING TO THE GALAXY: ⭐️⭐️
UPDATED RUMOR (12.15.21) — The LA Galaxy may have some interest in 26-year-old winger Tyler Boyd. Boyd, once a USMNT starter, is currently playing in Turkey with Caykur RIzespor in the Turkish Super Lig while out on loan from Besiktas.
He has 12 Super Lig Appearances with one assist and is averaging a little over 62 minutes per game.
Boyd would not take an international slot in MLS despite being born in New Zealand.
COG TAKE: It follows the pattern of wingers that the Galaxy seem to be approaching, but this rumor got cold almost as fast as it came about. For right now, the Galaxy are putting feelers out across the globe. This may have just been one feeler that didn't pan out. Could it happen? Yes. So it's reasonable!
WINGER JAIRO HENRÍQUEZ TO THE GALAXY: ⭐️⭐️⭐️
UPDATED RUMOR 12.15.21 — 28-year-old Salvadoran Jairo Henríquez has been garnering some press, lately. And whether that's because his agent is pushing the idea, or there is geniuine interest, we don't know.
What we can tell you is that he's a technical and quick winger seems to have a knack for distribution and likes to cut inside when given the chance.
He's played well in World Cup Qualifiers for El Salvador and could be the type of depth and spot starter the Galaxy are interested in.
After all, we've picked up on quite the pattern in the offseason and that pattern is wingers and defensive midfielders.
COG TAKE: Find me a good source… then maybe we'll believe this one. Three stars only because it's plausible. But I start at three stars with every rumor!
CHILEAN VICTOR FELIPE MENDEZ COMING TO LA: ⭐️⭐️⭐️
UPDATED RUMOR (12.15.21) — Another theme for the Galaxy this offseason has been defensive midfielders. And 22-year-old Victor Felipe Mendez is one of the more exciting prospects to hop onto the Galaxy hype train.
He's a Chilean National Team player who most recently played against Mexico in their friendly over the last couple of weeks and has been playing in Chile for Unión Española. At just 22, he would be a talented youngster who could develop into something special. But it's unlikely anyone sees him as a finished product.
With the Galaxy possibly going into a more two-striker set, the Galaxy might be looking into shifting Rayan Raveloson into a box-to-box midfielder. If that happens, you'd need a solid defensive midfielder to pair him with. Mendez has a good work rate, is technical with his touches, and has a bit of that explosive speed that the Galaxy want.

Plus, at 22, he has plenty of legs to put in the work for 90 mins in the center of the field.
COG TAKE: This feels like something that should get done if the price is right. And it's just quiet enough that it might make some sense.
DEFENDER ERIQ ZAVALETA TO THE GALAXY: ⭐️⭐️
UPDATED RUMOR (12.15.21) — So here's the thing… Greg Vanney has a nephew. That nephew's name is Eriq Zavaleta. He's a 29-year-old center-back who was with Toronto from 2015 to 2021 and there's going to be a link to the Galaxy because, well he's Greg Vanney's nephew.
Also, with Dan Steres being traded to Houston, there is a backup center back spot available.
No one will be surprised when he signs for LA, but we're also not putting very much stock into the rumor at this point. We reserve the right to change our minds but that's where we stand on this right now.
GOG TAKE: Nah
SEBASTIAN LLETGET TO NEW ENGLAND: ✅
RUMOR UPDATE (12.16.21) — Official. The LA Galaxy have traded Sebastian Lletget to the New England Revolution for $1.3-million in General Allocation Money ($300K in 2022, $200K in 2023, $800k in performance-based incentives). ARTICLE HERE
RUMOR UPDATE (12.14.21) — The news has been headed this way for a while. First Steven Goff said that New England would be the likely place for 29-year-old Sebastian Lletget to land, and now Tom Bogert, after initially saying that it was a bit premature to write Lletget off to the Revolution, has confirmed that a "blockbuster" deal is in place for the midfielder to rejoin Bruce Arena.
Unlike the trades of this last weekend, the Galaxy are expected to come away with plenty of salary cap room cleared (close to $1-million for Lletget's salary) and some cash. But how much cash is still up in the air.
For now, Galaxy fans will wait to see what they'll get to spend on Lletget's replacement. And there's plenty of talk of a winger from DC United to keep everyone interested.
COG TAKE: If you were going to trade him, it makes sense to keep him in the Eastern Conference. And hopefully, that means the Galaxy will get a lot in return.
RAHEEM EDWARDS TO JOIN THE LA GALAXY: ✅
RUMOR (1.5.22) — The Athletic is reporting that 26-year-old midfielder, Raheem Edwards has signed with the LA Galaxy on a Free Agent deal. Subsequently, Tom Bogert confirmed the deal.
Edwards is a versatile winger who can play defense or as an attacking player and spent his 2021 season with LAFC. MLS even has him listed as a forward. He amassed 15 starts and 27 games played en route to nearly 1400 minutes with no goals and two assists in 2021.
He's knowns as a hard worker and can absolutely be a depth piece on a Galaxy team looking for multiple skillsets and the ability to backup many positions.
The Galaxy will be his sixth MLS team with stops along the way in Toronto – Greg Vanney is familiar with him – Chicago, Montreal, Minnesota, and the aforementioned LAFC.
The MLS Players Association listed his 2021 salary at $96,375.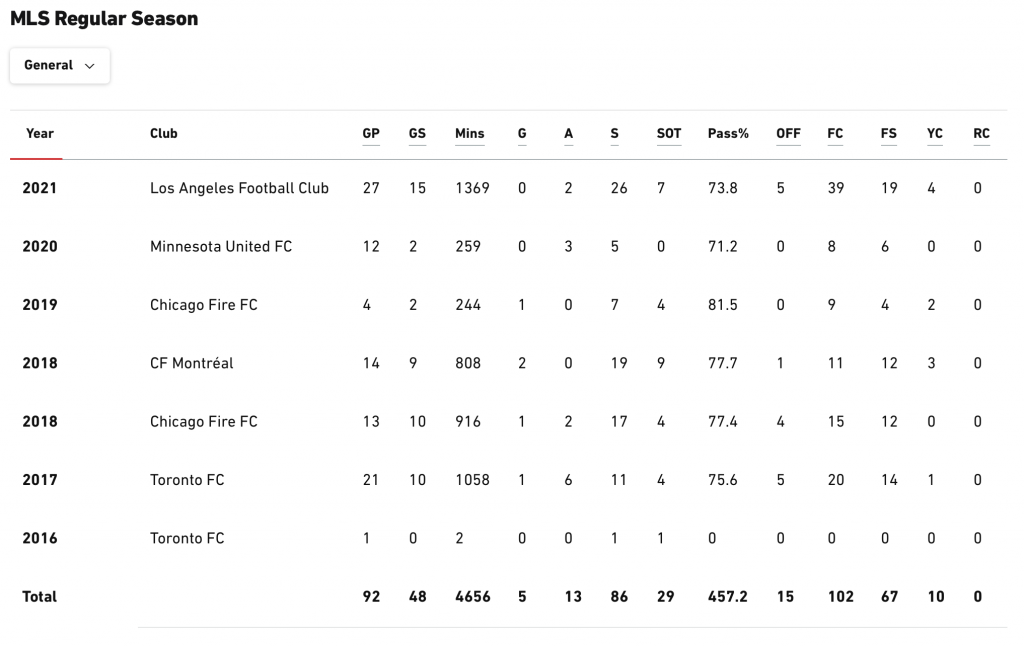 CENTRAL ATTACKING MIDFIELDER ALBERT RUSNAK TO GALAXY: ☠️
RUMOR UPDATE (1.5.22) — Did you enjoy that 15 minutes? Because it's over!
RUMOR (1.5.22) — Keith Costigan is reporting that Real Salt Lake Designated Player Albert Rusnak is headed to Los Angeles. The 27-year-old central attacking midfielder started every game of the season for RSL totaling 11 goals and 11 assists in 2021. That's over 3,000 minutes of playing time for the midfielder on a team that finished with the same number of points as the Galaxy.
Rusnak earned $2.3-million in Guaranteed Compensation and had a Base Salary of $2.1-million according to the MLS PLayers Association.
Could the Galaxy sign the Slovakian (who counts as a domestic player per Major League soccer) to a TAM deal? Or would he be the Galaxy's third Designated Player behind Javier "Chicharito" Hernandez and Kevin Cabral (Young DP)?
It's a position of need for the Galaxy who parted ways with veteran Sebastian Lletget to New England before the holiday break.
It would be an impressive get if the Galaxy can secure Rusnak who has been the epitome of consistency since joining the league and RSL in 2017.
He's scored 41 times, assisted 39 times, and has nearly 12,000 minutes in MLS play.
Based only on Keith's reporting, the Galaxy are right there with Rusnak. But I'm not fully on board just yet.
JONATHAN DOS SANTOS TO JOIN THE HOUSTON DYNAMO: ☠️
UPDATED RUMOR (12.15.21) — The LA Galaxy said goodbye to Jonathan dos Santos earlier this year when his contract was up and the Galaxy didn't have any interest in renewing it.
Dos Santos is a Free Agent throughout MLS right now, and there were plenty of rumors that he'd end up with the Houston Dynamo.
While we always assumed he'd just end up in Liga MX because of his familial relations in the country, Houston does make a lot of sense. They're a smaller market, close to Mexico (much like LA), and they'd be looking at a reduced cost for a 31-year-old midfielder who has trouble staying on the field.
COG TAKE: This makes sense, and we wouldn't be surprised to see it happen.
GALAXY INTERESTED IN DC UNITED'S PAUL ARRIOLA: ☠️
RUMOR UPDATE (12.15.21) — Galaxy have approached Paul Arriola, but to date, there is no offer. Update via U.S. Futbol Podcast.
RUMOR UPDATE (12.14.21) — CBS Sports' Roger Gonzalez added to the rumor mill on Tuesday afternoon when he said the LA Galaxy are chasing USMNT winger Paul Arriola.
Arriola is a 26-year-old winger who is currently playing for DC United. According to the MLSPA, he made just over $1-million in salary in 2021 and is coming off a season where he played 20 games and 1,365 minutes. He scored 6 times for DC and assisted on another 4 goals. In 2020 Arriola played just one game and suffered an ACL tear.
With Sebastian Lletget all but gone, the Galaxy seem to be zeroing in on winger replacements. Arriola could be one of those guys and is a product of the Galaxy Academy before he left for Tijuana and Liga MX.
He was born in Chula Vista, California. So perhaps the Galaxy see this as a homecoming opportunity?
COG TAKE: This is following the pattern of wingers the Galaxy have set for this offseason. Tyler Boyd and Cristian Pavon have all been linked with the Galaxy. But his salary is steep for a guy who is still a bit unknown after the injury. But 2021 showed similar assist and goal numbers to the rest of his career. Can the Galaxy be sure he's back?
MIKE MUNOZ TO REJOIN GALAXY IN ACADEMY AND GALAXY II ROLE: ✅
UPDATED RUMOR 12.15.21 — Mike Munoz is coming back to Los Angeles. The former LA Galaxy II coach who was let go in 2019 after new General Manager Dennis te Kloese took over, is coming back to the LA Galaxy organization. CoG can confirm that Munoz, who was working within the Toronto FC organization, will be back in the front office for the 2022 season.
Munoz will take over as Director of Development and Methodology while working closely with Greg Vanney on both Galaxy II and Galaxy Academy oversight.
In Lehman's terms, Munoz will now be like an Academy Director with the added oversight of Galaxy II. This will free up Vanney's time to focus on the senior team.
Contracts have been signed and we'd expect the Galaxy to make the announcement sometime before the start of the 2022 season.
COG TAKE: It's our rumors. It's our reporting. It's happening/it's happened
GALAXY AND SACHA KLJESTAN REACH A NEW CONTRACT: ✅
RUMOR UPDATE 12.15.21 — LA Galaxy announce a one-year deal for Sacha Kljestan for the 2022 season (ARTICLE).
RUMOR UPDATE 12.14.21 — CoG has learned that the LA Galaxy and 36-year-old Sacha Kljestan are closing in on a new contract. Kljestan played in 31 of the Galaxy's 34 matches in 2021 amassing just under 1,400 minutes while scoring five goals and assisting on four others.
The Galaxy clearly see his value with respect to what he can bring to the team both on and off the field. And both of those things will be important as Greg Vanney tries to build up a core of players.
Kljestan is the coach that plays on the field and the mentor that everyone needs in the locker room. If you want to talk about leadership? Then look no further than Kljestan.
COG TAKE: It's our rumors, our reporting. It's happening.