Efrain Alvarez and the LA Galaxy defense put on quite a show in front of the largest crowd in MLS history.
Under the biggest of stages and the brightest of lights, the LA Galaxy came out on top on Saturday evening.
Playing in Charlotte FC's first-ever home-opener and facing 74,479 rowdy North Carolinians — a new MLS record for attendance — the Galaxy were able to run away with their second consecutive 1-0 scoreline in a sometimes tense match that never seemed out of their control.
Efrain Alvarez scored a world-class left-footed curler in the 77th minute – just seven minutes after entering the game for midfielder Rayan Raveloson – and shushed a frustrated crowd that was ready to blow the lid off the sold-out Bank of America Stadium.
Given space on the left-hand side, Alvarez simply moved forward toward the top left of the penalty box and swung a shot toward the side netting of the far post. It had to be inch-perfect to beat Charlotte goalkeeper Kristijan Kajlina.
"It's not easy. Nothing in soccer is easy,"
he joked after the game. But even Alvarez had to acknowledge it was an audacious strike. "I just saw the opportunity, and I took it. It was a golazo. I even shocked myself."
Alvarez is known for meeting some of the biggest moments through his five years on the Senior team. He's had ridiculous goals against the Vancouver Whitecaps, a game-winner last season against Real Salt Lake, and now this Charlotte winner in front of a massive in-stadium and tv audience. Perhaps the biggest knock against the now 19-year-old is that his big moments are few and far between. There's never been a doubt he has the talent to do some absolutely incredible things. It's just, so far, usually few and far between.
Vanney takes the long view on Alvarez even if he admits that he performs best when space is already open for him.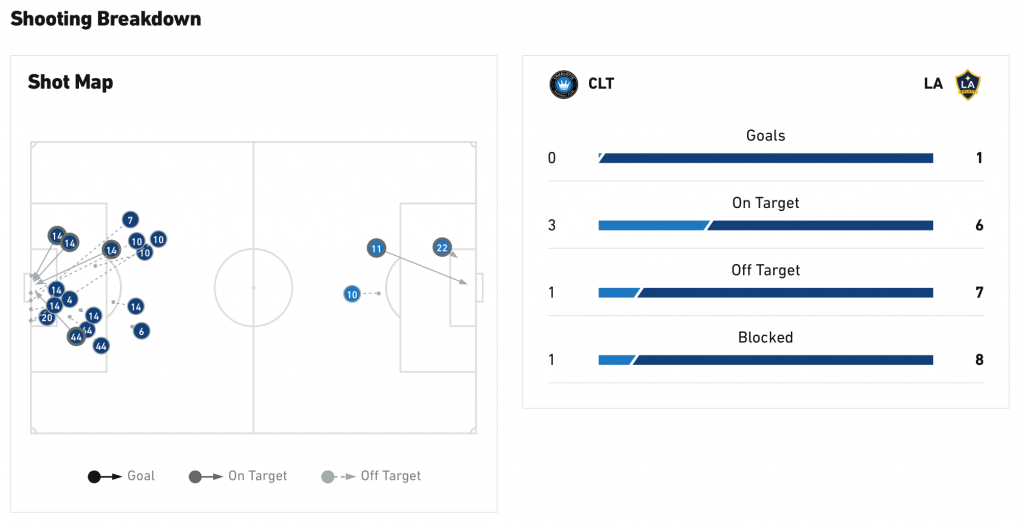 "He's a super talented player," he said from a stadium basement where the wifi was still a little glitchy from the large crowd. "There's no question. And his left foot is like a magician's wand. He's clever. He got into good spots. He played a couple of great balls — little balls back to the back post. One Javi [Javier Hernández] almost got on the end of to get a goal.
"But, his vision and his awareness, his eye for the pass… and on that particular situation, it was almost like a pass, cross, shot. He just kind of picked out the corner and floated it in there beautifully. And, it's no surprise, he's so talented that he can come in and make a difference, especially on the attacking side when he's able to get on the ball, and there's a little more space on the field for him to do his thing."
The Galaxy defense also put in another strong performance outside of their ability to shut down a record-breaking crowd. And after giving up 54 goals last year, they've yet to allow an opponent to score in 2022.
The last time the Galaxy started the season with back-to-back shutouts was in 2010. That's when the Galaxy started the season with three consecutive shutouts en route to a 12-game unbeaten streak (10-0-2) and eventually an MLS Supporters Shield.
And while the 2022 squad is far from approaching what was accomplished in 2010, it is an encouraging sign.
In particular, the pairing of Sega Coulibaly and Nick DePuy had another very good performance. With Coulibaly under constant pressure from the direct attack Charlotte would launch at the Galaxy, his height and physicality came into play throughout the 90 minutes. The night was almost without a blemish. Almost.
In stoppage time, a swinging right foot that meant to clear a ball out of danger, as a desperate Charlotte side pressed for the equalizer, whiffed on the attempt. The result was a close-range shot that was eventually blocked and turned away, but not until after Coulibaly was just a small tug away from gifting Charlotte a penalty kick.
All-in-all though. Vanney was impressed with the second game of team defense.
"And, you know, what comes from it is a group that's taken a lot of pride from these two shutouts. More than anything, they've taken pride in the shutouts," Vanney told the press after the game.
"And, I think, we have such a, in some ways, an attack heavy group of players and a team in some ways, that, when those guys are also taking pride in the team getting a shutout and helping to support the backline and the goalkeeper and the midfielders and everything else, then like I said before, we're going to be a good team. And there's a lot of pride in the locker room right now with those two shutouts. And I think, again, we'll continue to focus on that."
If the Galaxy defense can continue to make it easy on goalkeeper Jonathan Bond who only had to make three saves on the night, then they're going to be a much-improved side.
But Vanney was right on one thing, for sure. With an attack-heavy squad, the offense will surely come around. They outshot Charlotte 21 to five and felt mostly in control for the entire 90 minutes. But earlier goals should have put them even more in charge.
Misses from Kevin Cabral, Chicharito, and Douglas Costa all figured into the final scoreline. And with Chicharito taking a season-high seven shots, there's an expectation that eventually those are going to go in, even when he passes up a wide-open Cabral to take them.
"Some of this attacking stuff is going to start clicking. Douglas' [Costa] legs are getting under him even more and more. So, I think, again, some of the attacking stuff will continue to get sharper and sharper. We had some decent looks, which will support us not having to get a shutout every game, but if we can get 34 shutouts, I'll be happy with that as well."
Overall the Galaxy will be delighted with a difficult win in the most hostile of environments. And keeping the crowd out of that game will be something they'll need to learn from as they get ready to play two of their next three away from home and on plastic grass.
Charlotte, though will remain special. The Galaxy came in with a mind to wreck the good time of an entire state. And in keeping the home side off the board, they did it in the best way.
"I just felt like silencing everyone," Alvarez closed with. "It was something from our group that we wanted to shut down their party. And we did."