It wasn't a night for the offense, although the Galaxy put two balls into the back of the net on the road. But the defense is starting to shine.
If you watched Saturday's game between the LA Galaxy (4-2-1) and the Chicago Fire (2-1-4), we're sorry. A total lack of offense was highlighted when neither team registered a shot on goal during their 90-minute affair at Soldier Field in Chicago in front of a season-high 30,282 fans.
But in defense of the defenses, don't just write this game off. Especially when it comes to the Galaxy's defense – a much-maligned group over the last five years (and rightfully so), the Galaxy are slowly pulling together the makings of what could be a sea change for the club. In fact, they're bordering on a club that is going to rely on their defense to win them games, and in this case, secure road points in some difficult situations.
Kelvin Leerdam reprised his role – for the first half anyway – as a central defensive midfielder when Victor Vazquez picked up a grade-1 hamstring issue during training on Thursday. With Vazquez unavailable, and Mark Delgado returning from red card suspension, the Galaxy went extremely defensive in the first half with Leerdam, Delgado, and midfielder Rayan Raveloson. And because of that, the field, and the conditions, they struggled to maintain possession of the ball in the middle of the field.
Chicago was an aggressive pressing team once the Galaxy moved the ball upfield and those back-presses and traps caused a lot of problems for a side that was lacking creativity, and playmaking down the center of the field.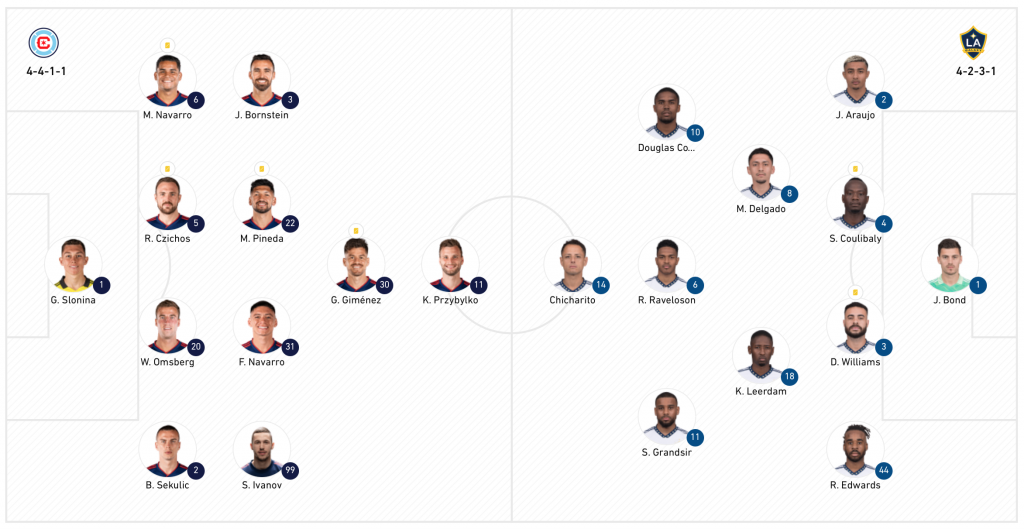 Javier "Chicharito" Hernandez got a couple of half-chances on the night but no one was really able to breakthrough. You might call his 47th-minute a chance. After all, he did put it in the back of the net. But he was ruled offside by the tightest of margins. Even VAR can't overturn something like that and the call on the field stood.
Costa too would score in the second half. A testament to the adjustments Vanney made at halftime – moved Leerdeam back to right-back and boosted defender Julian Araujo's position further up the field. But Costa would also find himself offside. Although this time the call on the field was onside, with VAR finding enough evidence from a steep angle to conclude he was ahead of the play.
"I thought we battled. It's a tough field, bordering on a pasture a little bit," Galaxy head coach Greg Vanney said after the draw. "Tough to play on. Narrow, 70 yards, really tight spaces. They're an aggressive pressing team once you play forward. So it was a tough game because it wasn't really conducive to playing fast for guys."
And while it's hard to imagine, Vanney calling Soldier Field a pasture is probably underselling it a bit. The grass was long, it was sticky, there were plenty of bare spots, and some of the holes were filled with sand. In fact, one person within the organization relayed that the field was so bad in one of the six-yard boxes that the groundcrew had recently relayed sod in the area. And in a Chicago Winter/Spring it's unlikely the sod had fully taken hold.
Add to it a typically windy day, temperatures that dipped below 40-degrees and it wasn't a comfortable night for LA.
But the Galaxy players were convinced they did well to earn a point on the night. And when considering all they were facing, it's probably best to not try and analyze this game to death. The Galaxy had a few offensive chances, and the defense stood strong for most of the night. The resulting scoreless draw is probably earned on both sides.
"I would say given the conditions of today, the field feel wasn't great. It was very bumpy. I feel like, including myself, a lot of guys were really, you know, the ball was bouncing everywhere, so we were really just trying to control the ball," Delgado told reporters after the game. "Not really trying to give the ball away, conditions were tough to play. Just to play and keep the ball on the ground just because it was bouncing all over the place. So, I mean, it was it was a tough day, tough conditions overall. We didn't have many shots on target or many chances. But you know, we did have that one chance that was called offside which was a great buildup play from the back, through the midfield, across the field, and then straight down the middle, right. But unfortunately, it was called offsides. So that shows that we can play, just given the conditions, it was pretty tough to play on the ground today."
And let's not beat around the bush, either. If it wasn't for Galaxy goalkeeper Jonathan Bond and his closing down of Chicago's Kacper Przybylko in the second half. With Przybylko on the breakaway and on his own into the box, Bond was able to cut down the angle on the Chicago striker and simply pick it up off his foot. No save registered. No shot registered. And Chicago's most promising attack simply died at the feet of their best striker.
But back to the defense. This 2022 LA Galaxy defense has given up just six goals in the first seven games. That ties them for second best in the Western Conference behind FC Dallas who has given up just four goals. And if you expand that search across the league, the Galaxy are have given up the third least amount of goals.
Vanney touched on the Galaxy's set-piece defense, an early-season problem that has seen them give up six of their seven goals this year, after the game. The Galaxy defended six corners and dealt with 22 crosses from the Fire. But few, if any, troubled LA.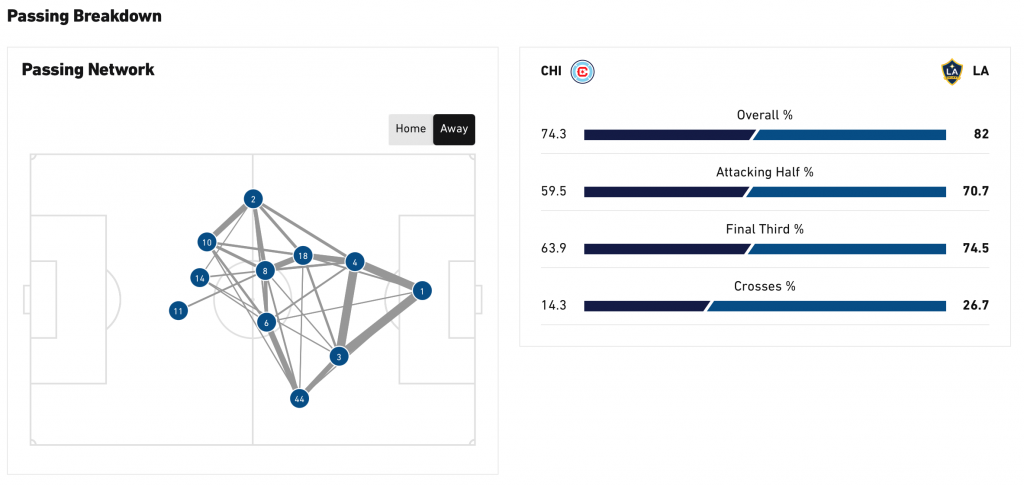 "I thought we did a good job in terms of the timing of our drops," Vanney said. "I thought our guys who are, you know, we have a bit of a hybrid setup with some zoning guys and some guys who are man-on-man, I think our guys that are man-on-man, were good and obstructing the runs and throwing off some of their timing. And our guys who were in the zones were attacking the ball.
"And you know, sometimes I feel like we get passive or even at the marking point we don't, we don't get a body on players," He continued. "And we allow them just to get to whatever spot. I think we're just more cohesive about everything that's going on. The guys who are marking are doing a better job. The guys in the zone are doing a better job when there are wide set pieces being whipped in. I think we've got a better sense of our responsibilities and roles and our timing has been better. And we've just managed things better. So yeah, it's a little bit of work, but a little bit of just concentration. And also just everybody has a little bit more attention to detail in those situations. And they're a big team. They've got some guys with some real size on their team, and we did a nice job of managing it."
But there is a different mindset to the Galaxy defense. One that may be encapsulated by seeing the drive and determination on set-pieces, but also on the team-first mentality that is so evident from the effort on the field and in comments from the players.
"I think from day one, the gaffer came in and said, 'look if you're not going to defend, you're not going to be in the team.' And he laid down that foundation early," Galaxy defender Derrick Williams said.
"I really felt like it was a massive incentive to everyone and because defenders, it's not just the backline, it's the whole team. You can't defend with just four or five players; you need a minimum of nine players in front of your defense. Sometimes you can get away with your striker not defending as much. And I felt like this year we've been a lot more connected front to back, good spacing, and people working hard to get across the pitch quickly. And the two center midfielders, do a great job, Mark [Delgado] and Rayan [Raveloson]. And yeah, it's been a lot better, and hopefully, it can continue."
The Galaxy will face off against another defensively-minded team next Saturday when Nashville rolls into town for the first time. But it's likely to be a prettier affair. And the field at Dignity Health Sports Park should, at the very least, be a step up from that "pasture."