CARSON, Calif. — LA Galaxy head coach Greg Vanney seemed optimistic when he was chased down following his press conference after the Galaxy's 2-0 win over Atlanta Unite on July 24th. Vanney was asked if the Galaxy still had another move to make after bringing in Urugauyan Gaston Brugman into the midfield.
"The league has different challenges sometimes," he said to CoG. "But yeah, we're still working on one. One more. Two would be something of an outside (chance). But For sure. We're trying to make them work. We'll see if we can get it done."
Well, the Galaxy got two deals done before the transfer deadline, with each being a significant piece of work. And each deal relies on the other to get an earth-shaking move — in theory, at least — across the line.
The Galaxy will add 22-year-old (he turns 23 on August 13) midfielder Riqui Puig to the roster after acquiring him on a free transfer from European giants Barcelona while also transferring out 25-yea-old midfielder Rayan Raveloson to Ligue 1 French side, Auxerre.
Raveloson was acquired on a free transfer from Ligue 2 French side Troyes at the beginning of last season. He'll return to France, a place he surely feels comfortable, and net the Galaxy at least $1.78-million in transfer fees, as first reported by the Athletic's Paul Tenorio. The Galaxy could receive upwards of $2-million should certain performance metrics be met, and they clear Raveloson's salary of $855,025 per year. This means the Galaxy rented Raveloson for 18 months and broke even on his costs.
"We are thankful and appreciative of Rayan's contributions to the LA Galaxy," said Vanney. "We wish him the best as he returns back to Ligue 1 for the next phase of his career."
But obviously, the big news here is Puig. He has 56 appearances for Barcelona's first team across multiple competitions, including 41 regular season appearances for the senior team. And at times throughout the last three years has been heralded as the next coming of Leonel Messi or Andrés Iniesta. But with most comparisons to the greats, he's fallen well short of those expectations and hasn't fit in with multiple coaches as Barcelona hemorrhages cash, negotiates salary concessions from its biggest players, and goes on a spending spree all at the same time.
"We are pleased to welcome Riqui to the LA Galaxy," Vanney gushed through a team press release. "Riqui is a very technical and well-educated player with incredible experiences for his age. He will fit seamlessly into our group and style of play."

Puig, is a diminutive central midfielder, who is quick and nimble on his feet, is an expert at back pressing an opponent when he feels a mistake coming, and can dribble and pass his way out of most pressure. At 5-foot-6 he tends to get run over when a more physical player comes around but is quick enough with his positioning that he usually draws the foul.
When watching him play, he tends to exploit space well and has a vision for passing that is usually equal to the level he had been playing at — one of the top teams in Europe. And if you watch him run – low to the ground, on balance, shifty but smooth — it's hard not to get the Messi comparisons. But they end with the running style. Puig is not Messi.
What he is, to be sure, is a major shift within Major League Soccer. There are plenty of players throughout the world that will never play for a team like Barcelona. In general, we'd say the top one percent of the top one percent. So his inability to get a foothold in at one of La Liga's top sides says relatively nothing of his talent. When told to go on loan or fight for his spot, he chose to fight for it and stay.
But with Barcelona looking to offload contracts, and Puig never quite fitting in, it's remarkable that the Galaxy were the team to capitalize on his misfortune. And if reports are to be believed, Victor Vazquez, a former La Masia graduate (Barcelona's famous academy), was helping to convince the young Spaniard to come to MLS.
The Galaxy will sign Puig using Targeted Allocation Money for 3.5 years. This keeps him in Galaxy colors through the 2025 season. Barcelona will retain a 50-percent sell-on right for any future transfers but will also retain the right to repurchase the player at any time. There's a good chance that Puig's 2022 salary was either bought down, or it was pro-rated to keep him at the TAM level. It's also likely that his salary will rise to above TAM level for next season. This means the Galaxy may have some choices to make in the offseason. Currently, Javier Hernandez, Douglas Costa, and Kevin Cabral occupy all three spots.
In theory, this type of move should be a large shift in what's expected from every MLS team. At one point, Transfermarkt listed his value at $27.7-million. That number is now at $7.7-million. But because of the Galaxy's inability to hit on big signings in the past (Steven Gerrard, Giovani dos Santos, Jonathan dos Santos, Kevin Cabral, Douglas Costa, Michael Ciani, Jorgen Skjelvik, Pipo Gonazlez, and others), no one is simply going to give them a free pass even when they may have taken one of the largest leaps forward in MLS since David Beckham came to the league.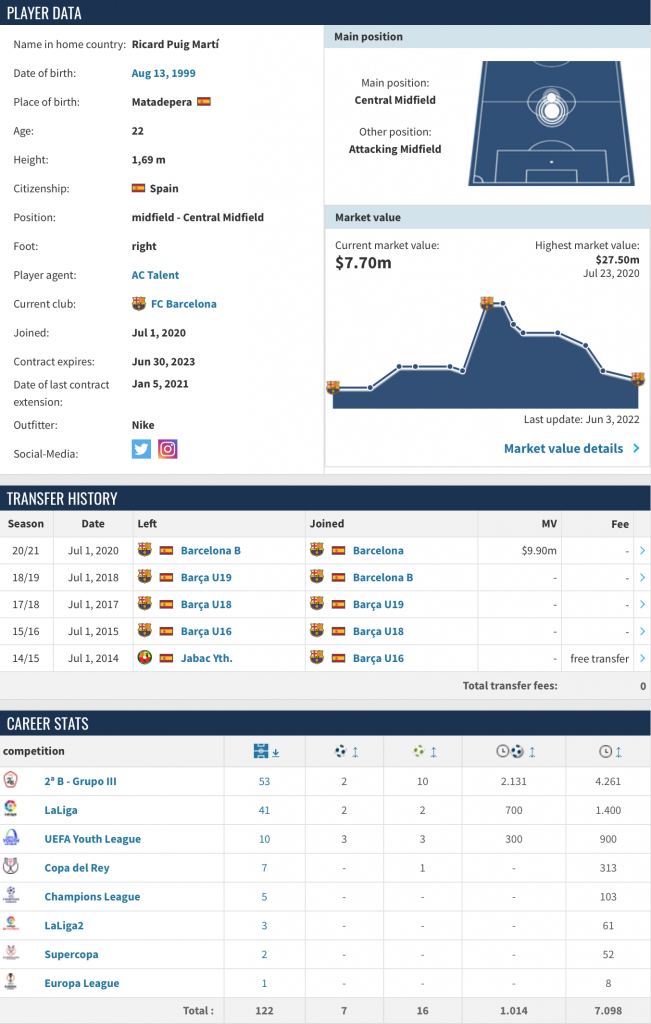 And if that feels like overstating the situation, think of this; if players in the early 20's suddenly see MLS as an alternative to riding the bench at the top teams in Europe, it would be a wildly dramatic shift that could open the league to millions of dollars of transfers and sales and pull it on par with some of the best leagues in the world. But that's only if this works out.
There are questions about Puig's attitude and whether or not he can see a move to Los Angeles as a chance to prove himself away from Camp Nou, or whether he'll see it as a demotion or a vacation. Chicharito and Vazquez should help in that situation. They're both proven professionals that are widely respected around the world.
And the rest will be up to Vanney. He'll need to find a way to settle Puig into the team while the Galaxy are outside the playoff picture looking in. And he won't have a lot of time to do it.