For LA Galaxy II it must've seemed like deja vu. Sacramento was on the receiving end of two penalty kicks (similar to Los Dos's defeat in the USL Playoffs last year to the same team) and a game-winning goal with almost no time remaining to give the USL side its first loss of the season.
"We just have to minimize those errors. Not put us in a situation where the ref is going to call penalty kicks."
—Curt Onalfo, LA Galaxy II Head Coach
"It seems like every time we play Sacramento we have two penalty kicks we have to deal with," LA Galaxy II Head Coach Curt Onalfo said after the game. "I thought, overall, when you have a young group you really have to concentrate on performance. And I was pleased with the performance."
Onalfo was right to be pleased. "Los Dos" came out with more energy than their visiting counterparts and found themselves up early after a set piece was converted into a goal by Daniel Steres. Midfielder Andre Auras served up the dead ball on an inch-perfect strike that found LA Galaxy II's captain for a searing header past Sacramento's goalkeeper, Patrick McLain.
Many people have commented on Auras' ability to take set pieces and I can confirm he manages great airtime with a powerful take that suits MLS more than USL. A rising star for sure, Auras made his presence felt in this game.
However, the 9th minute goal wouldn't hold up. In one of Sacramento's few successful forays into Galaxy II territory, Los Dos were caught with some poor defending and brought down Sacramento in the box. Sacramento Republic FC's Octavio Guzman buried the penalty and leveled the score.
"It's always a battle when we play each other – it's high intensity soccer. It is a rivalry but at the end of the day we all play the same game."
—Raul Mendiola, LA Galaxy II Midfielder
Just ten minutes later, LA Galaxy II once again found themselves in trouble when a second penalty kick was awarded to Sacramento. And while the first call was beyond question, the second looked much more dubious. It was Guzman again who finished it past Diop, who had no chance at either shot.
With very few dangerous chances, Sacramento took a 2-1 lead heading into the break.
In the second half Raul Mendiola began to take over the midfield for LA Galaxy II. Mendiola is quick on his feet and fast with his straight line speed. He went after the Sacramento defenders 1 v 1 with ease and was able to turn those chances into dangerous attempts by Los Dos.
In the 67th minute Raul made his way wide to the top right of the box after superb passing through the heart of the Sacramento defense. From there he launched a curling cross that kept the Sacramento 'keeper on his line and found the outstretched foot of Travis Bowen for the game tying goal. It was perfect execution by the pair and it was on par with any elite goal in soccer around the world.
"Raul is a very talented player and when he gets on the ball he's looking to take players on and make things happen," said Bowen after the game, "So I just wanted to get in a good spot and I believed that it would get there. In the end it was good play."
But once again, just as in the senior teams' game earlier in the day, the lead would not hold. Deep into the three minutes of stoppage LA Galaxy II defense broke down. Rodrigo Lopez found the ball in front of the net after a good passing sequence and nailed down the game winner.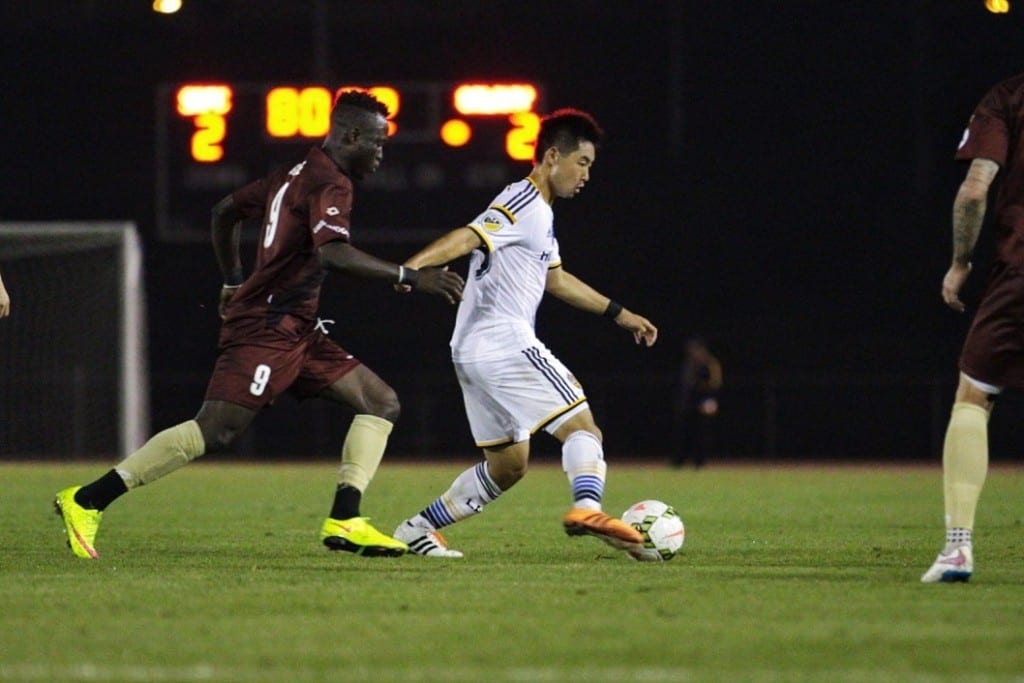 Onalfo was reflective on the loss saying "Obviously we made some errors and that cost us. You're playing against a very good, experienced team. You fight back – you scratch back – to get back to 2-2 and you just got to close out the game."
Mendiola also had nice things to say about the younger players on the pitch for Los Dos. "I'm proud of the young guys that came in. I think they brought in good energy. I still think we need to be sharper in front of goal." And while he had a stellar singular performance, Raul wouldn't talk about it. "I don't really think about that. I just want to win. I hate losing…"
"I thought we were the better team today. And that's going to show later in the year."
—Travis Bowen, LA Galaxy II Striker
For his part, Bowen closed out the day with simple words and a motto that Galaxy fans can have faith in. When asked about what LA Galaxy II would need to do to get better, Travis said "Just show up and work – show up and work."
LA Galaxy II will "show up and work" again on Thursday, April 2nd when they host Arizona United SC at the Track & Field Stadium, again. That game will begin at 7:30PM and tickets can be had for as low as $10.