Steven Gerrard walks onto the StubHub Center pitch for the first time in front of a sell-out crowd of 27,000.
Carson, CA – In front of a sellout crowd, Liverpool legend Steven Gerrard was unveiled as a member of the LA Galaxy. And while he can't officially join the roster until the transfer window opens on July 8th, he delivered some opening remarks to the LA faithful after being introduced by Galaxy President Chris Klein.
Just like a man who's accustomed to speaking to large crowds, he came off as down-to-earth and humble. He neither promised the world nor left the crowd wanting. He simply stated that he was ready to do his job and in the process he hoped "we can have some good times together."
"Thank you very much for a fantastic welcome. And thanks very much for making myself and my family feel at home here in LA. It feels great to be here. I'm excited and I can't wait to get me (sic) boots on and play in front of you guys. And hopefully we can have some good times together and it can be a successful future. Happy 4th of July and all the best."
—Steven Gerrard, LA Galaxy Midfielder
Luckily for Gerrard it's unlikely that this once injury-prone team will need him to be a hero. He'll simply have to help them continue to get better. As he spoke to the LA crowd the Galaxy had already scored twice and were leading 2-0 and would eventually double the score and blank Toronto FC by a score of 4-0.
But he will be expected to gel quickly with former Liverpool teammate and current Galaxy Captain Robbie Keane, as well as combine well with younger additions like Sebastian Lletget and Juninho. It's the latter of those two combinations that will be extremely important if the Galaxy are to continue this midseason surge of quality play at home.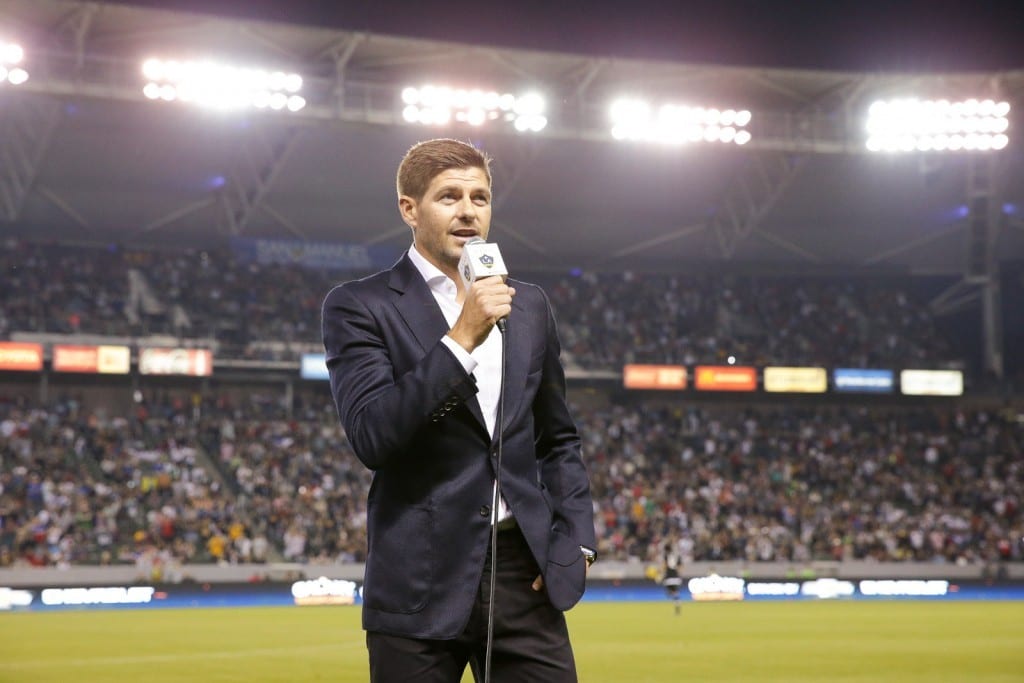 On the night, however, the atmosphere was more about celebration and less about tactics. This was a chance for fans of LA Galaxy to get acquainted with a man whom most had only seen on TV. It was chance to lay eyes upon a living Liverpool legend in hopes that he can bring a sixth star and championship to the club. And it was chance for Gerrard to start his LA career off on the right foot.
It's no surprise that the three supporters groups, Angel City Brigade, LA Riot Squad, and the Galaxians, all received pre-game beverage support from Mr. Gerrard. Estimated at about 1,500 total supporters combined, it's a good guess that just shy of one thousand frosty beers were delivered in a gesture of good will by Gerrard.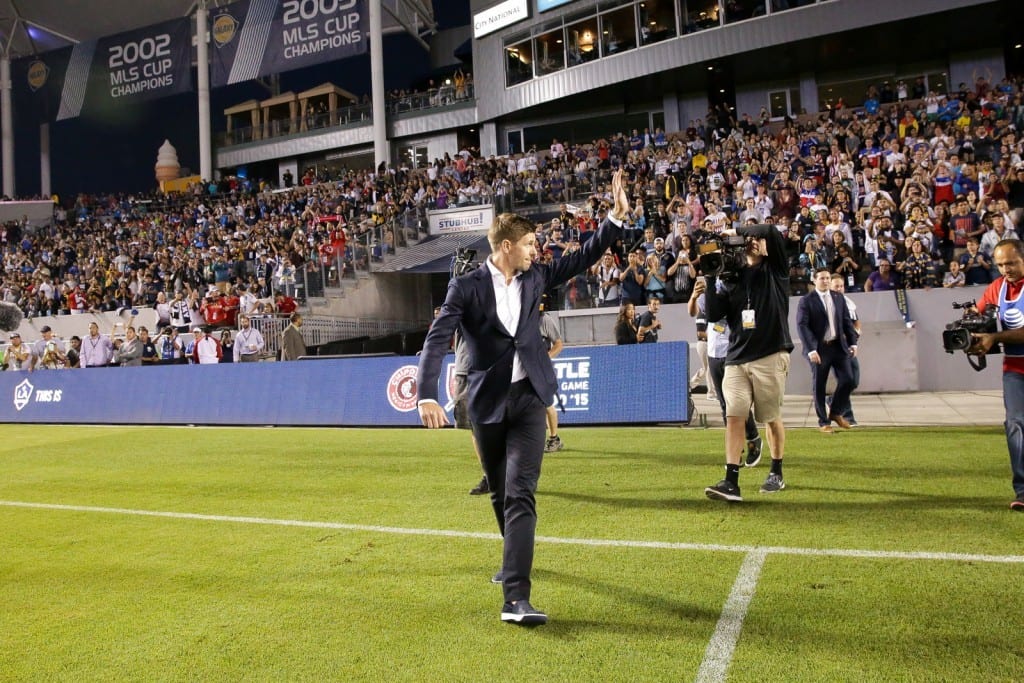 And while it's a symbol of goodwill we've seen before, Alan Gordon did the same when he was traded back from the San Jose Earthquakes, it's still a good step in the right direction. After all, this is the same group of fans that saw global superstar David Beckham arrive while always seeming to keep both the club and the fans at arms length distance until his last few years with the team.
While this will be no vacation for Gerrard, the travel and the summer time heat will take their toll, he seems like just the kind of man who enjoys a good challenge. And with his midseason arrival completed only by suiting up for team, he's well on his way to finding his transition into Major League Soccer nearly complete.
The LA Galaxy will next face off in a mid-season friendly against Club America in the International Champions Cup on July 11th at StubHub Center. Steven Gerrard will be available for selection during this game. His MLS debut will be July 17th against the San Jose Earthquakes.
Video (courtesy of LA Galaxy)