On Tuesday night, the Los Angeles Galaxy will take on Real Salt Lake in Utah for the quarterfinals match of the 2015 United State Open Cup. Midweek Open Cup games don't always summon enormous attention from MLS fans but there are several reasons to take note of this one.
One question was whether Steven Gerrard would be making the trek to Utah for an Open Cup game in light of the LA Galaxy's upcoming California Clásico match on Friday night against the San Jose Earthquakes.  On Monday afternoon, the LA Galaxy posted a photo on Twitter of StevieG and Robbie Keane on the tarmac preparing for the flight (it appears the Rolling Stones were generous enough to offer the team their private jet for the flight), which means that both DP's will be traveling to Salt Lake City for the quarterfinals match.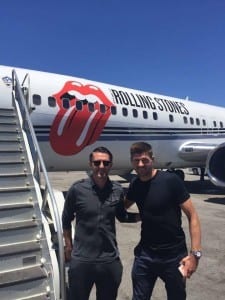 This will be the first opportunity RSL fans have to catch Gerrard's act in the flesh. For those who missed out on seeing Gerrard's debut for the LA Galaxy this past weekend in its "friendly" (I use that term oh so loosely) against Club America, Gerrard showed great promise, particularly given the incredibly short time frame he has had to adjust to his teammates. Gerrard showed off a bit of the pinpoint passing for which he is well known, won a few tackles and came quite close to opening his scoring account on his debut. Gerrard was totally nonplussed by Club America's incessant and chippy fouls and, though he does not yet appear fully match fit, certainly did not look like someone who hasn't played a game in two months. (As an aside, if you have not seen the goal scored by Keano during the Club America game, do yourself a favor and check the highlights HERE for the cheeky Irishman's Bergkamp-esque golazo.)
Even if Arena chooses to give Gerrard and Keane limited minutes for the Open Cup game given the quick turnaround before Friday's match, there is still plenty to keep an eye out for on Tuesday. Both the LA Galaxy and RSL are missing key players due to the Gold Cup: the LA Galaxy is missing three of its most critical components in Omar Gonzalez, Gyasi Zardes, and Jaime Penedo, while RSL is not only missing the heart of its team and its captain, Kyle Beckerman, but also Demar Phillips, Nick Rimando, Álvaro Saborío, and Elías Vásquez.
Consequently, a lot of the youngsters on both teams will be given minutes and likely be hoping to make the most of them. During the second half of the Club America "friendly" Arena threw on an entirely different outfield comprised almost totally of young players (Gordo captained the second half squad), and fans can expect to see a number of the kids get minutes on Tuesday. Sebastian Lletget, Ignacio Maganto, Oscar Sorto, Bradford Jamieson IV and Raúl Mendiola (who provided a great assist to Gordo for the gamewinner on Saturday night) will likely all travel to Utah for the midweek match while RSL can look forward to its own kids getting some action, including rookie Boyd Okwuonu and academy products Justen Glad and Jordan Allen.
If the LA Galaxy win on Tuesday, it will face either Sporting Kansas City or the Houston Dynamo in the Semi-Finals of the Open Cup, which will be played on August 11 or 12.
Tuesday night's game (7:00 PM) will be stream-able on the internet. You can watch the LA Galaxy take on RSL for the US Open Cup quarterfinals match by going to LAGalaxy.com or via the USSoccer Youtube channel.