"Is he the best in the world? He might not get the attention of [Lionel] Messi and Ronaldo but, yes, I think he just might be…He has great passing ability, can tackle and scores goals, but most importantly he gives the players around him confidence and belief. You can't learn that – players like him are just born with that presence."

"He made a lot of noise out there on the field but was quiet off it, meaning that he was someone down to earth and grounded away from the game who just said what needed to be said.  He preferred to do his talking on the field, using his voice, his combative spirit and above all his ability on the ball that could make the difference in a game."

-Zinedine Zidane on Steven Gerrard
Dear Liverpudlians:
When I arrived at the Stubby Friday night to watch my LA Galaxy take on the San Jose Earthquakes, conspicuous splashes of red in the crowd tipped me off to the fact that a small but vocal contingent of you Liverpool FC faithful had made the pilgrimage from Liverpool to Los Angeles to pay homage to your captain in his first MLS game.  Like a dad who drives his daughter and her date to prom, perhaps you just wanted to ensure us Angelenos are up to the task of faithfully serving as StevieG's custodian for the next few years.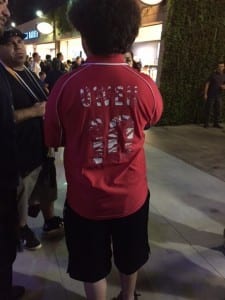 The StubHub Center was Awash with Liverpool Kits of All Eras
Based on the suspicious glances many Reds cast at the craft beer booths, the super-cheerful deejay announcing giveaways by the concession stands, and the food trucks selling everything from gourmet hot dogs to organic tamales, I dare say this was the first MLS game for those of you visiting "Amurikuh" to honor StevieG in his debut.  I can only imagine how strange the surroundings were to folks accustomed to Anfield, with its century of history and legendary Kop bound by brick and cinder.  Though I have come to love the Stubby's concrete palisades cast against a backdrop of palm trees, it certainly lacks the romance of an old football ground.
And the crowds themselves no doubt took you by surprise.  When I watch Premier League games on television, the vision of English fans, mostly men, mostly white, mostly middle-aged, clad almost uniformly in black and grey, is always an arresting one.  The demography of MLS fans skews younger, with more Latinos, more women, and more children.  Families comprise most MLS season ticket holders so it is common to see children, punch-drunk on root beer and Kettle-corn, scampering up and down the stands.
Indeed, when my brother and I got to our seats, there were two Reds sitting directly behind us, a woman and her (9-year-old, 10-year-old?) daughter.  Though at first taken aback by this StevieG devotee due to the barrage of curses she gleefully unleashed in the presence of her child, during the course of the game I found myself increasingly charmed by her presence.  Every time the Galaxy gained possession and turned to face the attacking third, she would promptly shout "Come on, lads!" just as I shouted, "Come on, guys!"  And when San Jose's players started going to the ground late in the game (sans fouls), her bellows of "Get yer fecking ass up, ye twat!" were accompanied by my Will Johnson-esque sarcastic clapping and derisive commentary that, "Dude, I think you're okay now."  It was heartening to see a woman with no ties to this country, league or team, singularly propelled by her devotion to StevieG to cheer full-throatedly for his new club.
Though this Red and I conveyed our enthusiasm differently, we clearly experienced the game in the same way, and I hope this fact allows you to return to the sceptred isle feeling satisfied that you are leaving StevieG in safe hands.  MLS fans appreciate that Europeans view our league with skepticism at best.  Whereas Bill Shankly spoke only partly in jest when he said that "Football is a matter of life and death, except more important," MLS fans enjoy the league as much for the opportunity it provides us to spend time with friends, family and community, as for the soccer itself: the atmosphere at MLS games is consequently a little boozy, a little silly, and quite upbeat.
From all appearances, StevieG appears to be settling in well and, with two decades of expectations as the hometown hero having been lifted from his shoulders, looks to be having some proper fun with the G's; he no doubt will relish the anonymity afforded by living in the U.S., whose media and fans neither deify nor vilify their footballers.  In turn, he will bring leadership to our team, impart wisdom to our youngsters, and hopefully land us some silverware as well.
So if you let us keep him for the next few years, we will promise to return him to you when he retires, no worse for the wear.  His hair will be sun-bleached and he'll be sporting a wicked tan, but he will still be the same StevieG who captured your hearts in Istanbul and skippered your club for a generation.
Deal?
-An LA Galaxy fan