"The truth is I think that this league (MLS) in a few years will be one of the most important in the world." Giovani Dos Santos
After his first LA Galaxy practice session this Tuesday and after an introduction from Congressman Xavier Becerra, Coach Bruce Arena asked the media to be a little patient with the LA Galaxy's newest DP and media sensation Giovani Dos Santos while he recovers from a left abductor injury that beset him towards the end of the Gold Cup. Moments later Arena promised that Giovani will indeed play in the CONCACAF Champions League match on Thursday, in some capacity.
After all, how could the LA Galaxy not debut their new #10 as quickly as possible? For a club that could really tap into their community market more than they do, Dos Santos is the trifecta. An under-30 player in his prime with years to play at his highest level. A Mexican National whose stellar appearances in the 2010 and 2014 World Cups guarantee he's got more than enough starpower to pull in new fans to fill more seats at Stub Hub. Moreover, his skill set from his international experience at seven clubs in nine years in Europe (Barcelona, Mallorca, Tottenham and Villareal to name some), tops off the list of assets he's bringing to LA Galaxy's lineup and bottom line.
"This is a big club. We have big players and I have come here to win, and I'm really excited to be here in Los Angeles. I'm very proud of being Mexican. It is going to be great to play here with my Mexican fans here in Los Angeles, and I hope I can represent very well my Mexican fans, all my Mexican people." – Giovani Dos Santos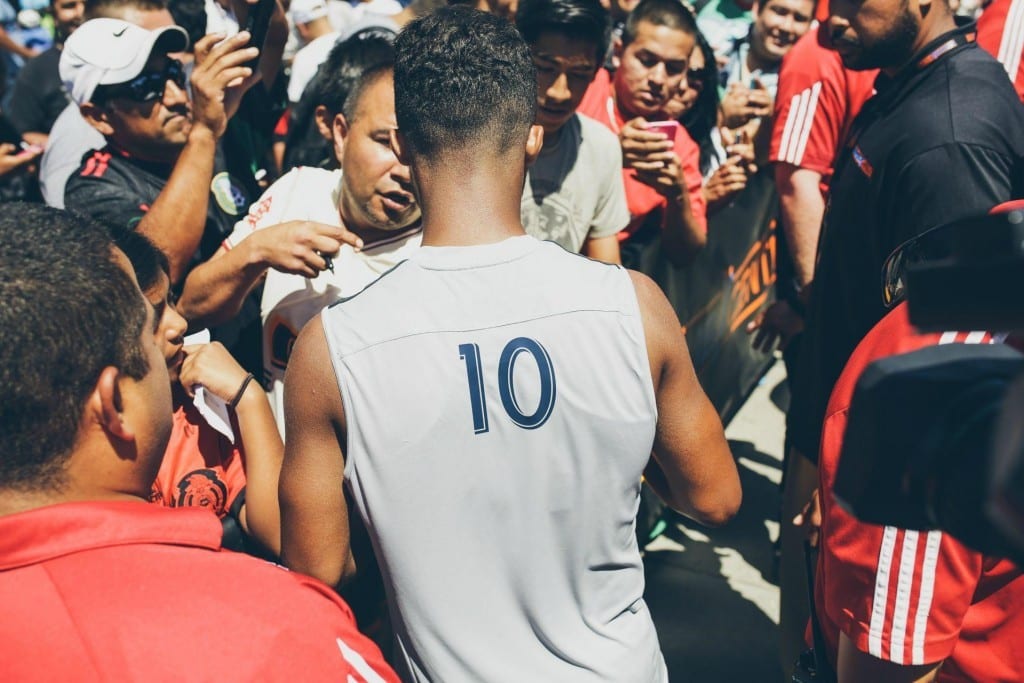 Latinos account for almost 50 percent of the Los Angeles population, and many are of Mexican descent. Bruce Arena and Chris Klein have a lot to be hopeful about, especially since the impassioned moblike crowds at Dos Santos' arrival in LA and first practice with the Galaxy are a positive early indication of what lies ahead. They're careful to promote the exposure Giovani Dos Santos will bring to Mexico, MLS and LA Galaxy. And Giovani may very well be the link that LA Galaxy needs to bridge to the Latino community, one which the new LAFC is already courting.
"I want him to be a great player for the LA Galaxy, for Mexico, but maybe not in October when they play in the Confederations Cup [playoff]," Arena jokingly remarked.
In case there's any doubt of where Giovani's frame of mind is right now, it's safe to assume he has a healthy confidence and eagerness to start playing.
"I have a lot of respect for [Landon Donovan] but I am Giovani dos Santos. I came here to work hard and win titles and do my own history at the club. Hopefully I can win a lot of titles and do a big history here." – Giovani Dos Santos
https://instagram.com/p/5-oaoYiBhw/?taken-by=oficialgio
When it comes to taking the #10 jersey or dealing with Twitter trolls, he takes it in stride and voices his opinion front and center. From his now infamous Miguel Herrera tweet, to his (accidental?) reference to Taylor Swift's Haters Gonna Hate… posing with a Gold Cup trophy, Dos Santos doesn't shy away from much, and he comes to LA with a purpose to win more trophies.
In reply to the criticism from some of his fans in Mexico who still see MLS as a step down, his reply echoes the sentiments of all recent MLS international player signings. "I honestly have been here two days training with my teammates and they have exquisite quality that any team could have in Europe. The truth is I think that this league in a few years will be one of the most important in the world." 
Dos Santos makes his U.S. debut against Central FC of Trinidad and Tobago in the CONCACAF Champions League this Thursday at 7pm PDT at the StubHub Center, along with his MLS debut scheduled to be versus Seattle Sounders on Sunday.