"There's no way that we step on the field with any fear on Friday." – Dominic Kinnear.
"It will be a big game. Obviously the rivalry is a big one. San Jose is on a roll as of late, so is the Galaxy." – Bruce Arena.
Two strikingly different mentalities between the men that lead the Cali Clasico teams reveal two very polar needs and aims.  Today, San Jose play home at Avaya Stadium and are angling for a run at that last precious playoff spot. They're just behind Seattle for the sixth slot in the Western Conference, and seven of their remaining nine regular season games will be played at home. I'm not a betting woman, but I like where things are heading for them — everyone loves an underdog story. Meanwhile, the MLS Cup darlings (I think we can all agree, LA are in this territory) are just growing stronger and more cohesive by the day. The defending champs hold the Number 1 spot in the Western Conference, and have yet to lose a match in August.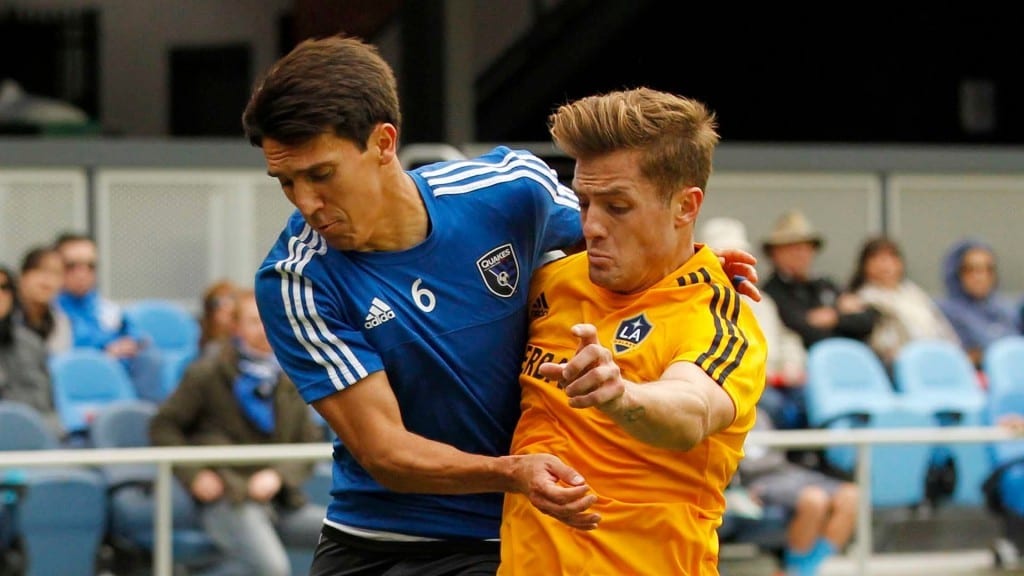 In its heyday, San Jose v.s. LA was highlighted by heart-stopping playoffs, historical comebacks, supporter club rivalries and the age-old North v.s. South melodrama all states have. I'm from NJ, and though I have no soccer team saga to discuss, that tension between the two poles is undeniably a core of my formative years. (We're not discussing which side I grew up in, but you can guess.) In California, the interplay of cultural distinctions, transportation differences, socioeconomic statuses, digitech vs Hollywood is rife with drama. And then, there's the soccer – players' dual loyalties, the inequity in spending, the differences in player development. Add to it, the currently overblown discussion about the disparity in the payroll of the two teams – $20 million for L.A. Galaxy vs. $4.8 for San Jose Earthquakes, and you have a formula for a revival of hostility. By the way, using a deep pockets argument as a scapegoat is fraught with fallacy. Eastern Conference leader D.C. United has a payroll of $4.2 million! The Vancouver Whitecaps, just a touch below the Galaxy now, are at $6.1 million.
If Alan Gordon is any indication, he gives his heart and soul no matter where he plays… but this is a discussion for a latter date in the near future (stay tuned). But, he can't deny, the Cali Clasico rivalry runs deep and strong. "This one is the best one for me. It's the most intense for me, It's two teams that have a long history and want to beat each other."
"It was the best of times, it was the worst of times, it was the age of wisdom, it was the age of foolishness, it was the epoch of belief, it was the epoch of incredulity, it was the season of Light, it was the season of Darkness, it was the spring of hope, it was the winter of despair, we had everything before us, we had nothing before us…" – A Tale of Two Cities
This Californian rivalry began almost two decades ago, in the days of the San Jose Clash, but it reached its peak from 2001-2005 around when SJ Earthquakes and LA Galaxy each won 2 MLS Cups within a 5-year period.
Dominic's role in one of the greatest rivalries in MLS history cannot be overstated. In 2001, as assistant coach to the original San Jose Earthquakes, Kinnear and Frank Yallop led their new team to the MLS Cup, and then managed a repeat feat in 2003. After Yallop moved to Canada as CNT coach, Kinnear began his 2-year stint as head coach of the Earthquakes, helping them lift the 2005 MLS Supporters' Shield. And then, it all fell apart. The Houston Dynamo was borne, and the rest was history. Albeit a complicated and now incestual one. I don't know how else to describe it. Kinnear's Dynamo won the 2006 and 2007 MLS Cups, led them to two more finals and seemed a fixture at the club, until October 2014, when he resigned and headed straight back to the arms of San Jose. "As I'm sad to leave, I'm also excited to be returning back to the Earthquakes," said Kinnear on a conference call with reporters. "It's very hard to leave Houston, but if I were to leave Houston, I'd only want to go to one place, and that's San Jose." 2014 was a rough year to be a Goonie. Last place in the Western Conference and plagued with injuries and international duty that left their lineup riddled with holes. They pinned their hopes on the return of their hopeful savior.
But 2015 could truly be Kinnear and the Earthquakes comeback season. San Jose (10-10-5, 35 points) are riding a three-game streak that put it back into the Western Conference playoff conversation. They're on a 284-minute scoreless streak too that could be worrisome for the Galaxy. The Quakes brought in forward Quincy Amarikwa in exchange for third center back Ty Harden and used an undisclosed portion of their funds from the Targeted Allocation Money mechanism to sign Panamanian midfielder Anibal Godoy. Neither have the star power of LA's Dos Santos or Gerrard, but it may really all boil down to which team is simply more confident and plays smarter to their strengths. "It doesn't matter with the payroll. I'd rather have 11 who are playing as one. That can go a long way in this league." – Chris Wondolowski. However, with five of the Quakes' nine highest-paid players being injured, including midfielder Matias Perez Garcia, San Jose fans have every reason to be concerned.
The hyper-rivalry extends to Bruce Arena too. A win tomorrow would mean he officially bests Dominic Kinnear's Houston Dynamo (and Steve Nicol's) regular season record of 112. Keane, the MLS Goal-King, rounds off an already hefty goal-scoring roster: Sebastian Lletget, who has seven goals and two assists in 13 appearances. Gyasi Zardes has six goals and three assists and Alan Gordon has five goals.
As the winners of four straight MLS games, LA is roaring for its third straight road victory and first MLS road victory against San Jose since June 2014. Chances are, they'll get that win, but wouldn't it be a delight to watch a David v.s. Goliath match tomorrow?