Most doubts about the efficacy of the 5-time MLS trophy winners were obliterated last night at the StubHub Center as LA climbed to the top of the standings and Supporters Shield race, beating out former front-runners FC Dallas 3-2. In front of a sold-out and edgy home crowd, LA Galaxy's A-team worked their magic and ended their 290 minute goal drought, scoring not just once, but twice, within the opening 15-minutes. Giovani Dos Santos and Robbie Keane scored in the first half before Gerrard tapped in LA's third goal.
In the 11th minute, Gio converted a cross from Gyasi Zardes off a beautiful sequence started by Robbie Rogers. Four minutes later, in another classy series of passes, Keane scored from the top of the penalty area off a slick touch from Dos Santos. Credit to Sebastian Lletget for pushing the ball through to Gio. Gerrard's masterful free kick rocket in the early minutes of the second half nearly hit the post. Keane, not one to miss any opportunity to score, hit the crossbar twice in the second half. Finally in the 57th minute, Gerrard tapped his second Galaxy goal in off FC Dallas' goalkepeer's rebound, making the scoring trio complete.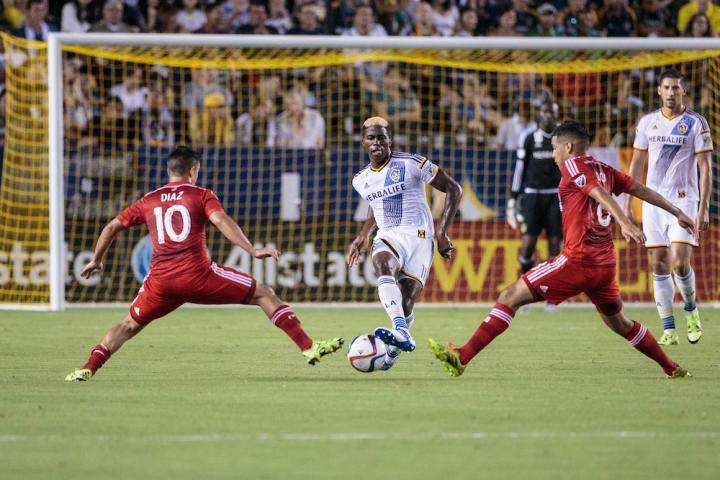 But FC Dallas refused to go quietly into the night. At the tail end of the first half Barrios scored a header over Donovan Ricketts, who seemed caught off-guard. A weak spot in LA's defense in the 86th minute allowed Harris to sneak between Gonzalez and Leonardo to net Dallas' second goal. It was a tense final 6 minutes till the clock ran out but LA held onto their 1-goal lead and took all 3 points, bringing them to a magical 50 and the top of the table. Savor the moment friends.
As Matthew Doyle points out, a more comfortable and conscientious midfield balance between Juninho and Gerrard made all the difference last night.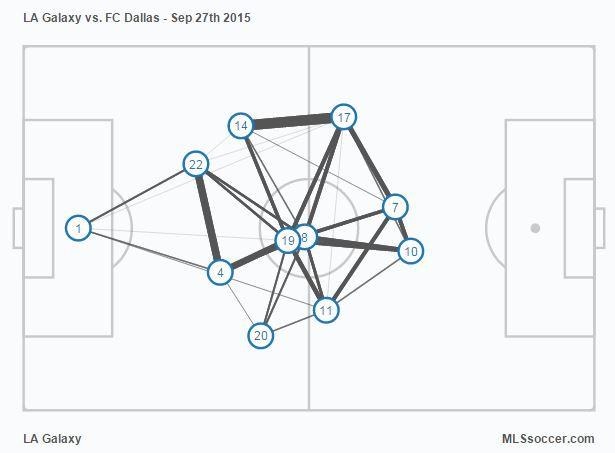 There's simply no comparison to their lackluster ability to pass to Keane last week. Last night they played as a team with conviction and chemistry. It wasn't the effect of the super blood moon, it was the result of 6 attempts at tinkering and bonding together, merging of styles of play and personalities on and likely off the field. In the end, as Bruce Arena pointed out, "We scored. There's been nothing wrong with us. I know you guys all look at the score line and lead off that. Our team has been scoring goals."
"We scored. There's been nothing wrong with us. I know you guys (reporters) all look at the score line and leave it at that. It's all a bunch of crap. Our team is going to score goals."
—Bruce Arena
Last night, Gerrard redeemed himself and set a new tone with Galaxy fans and his teammates. He played relatively as he has in years past with simple passing, straightforward thinking and accuracy. I still remember when Zinedine Zidane (a personal favorite) called Stevie G. "the best in the world" for his ability to attack defense with his trademark skillful dribbling and accurate passes that spread play.
"He has great passing ability, can tackle and scores goals, but most importantly he gives the players around him confidence and belief. You can't learn that – players like him are just born with that presence."
—Zidane, circa 2009
Hyperbole perhaps, as Zidane is prone to, but much of that spark remains and that is what the Galaxy are pinning their hopes for a continued run at the Cup and bursur on. That the investment of dollars and patience will eventually pan out. There's a huge away match coming, full of historic rivalry that makes every LA fan quiver with a little fear. When it comes down to the wire, sometimes fear is the best motivator.
"We want to win everything. It's the type of club that has high expectations and we've got the responsibility to deliver as many prizes as possible. You see our support tonight, it was fantastic once again, and it would be nice to reward [the fans] with a trophy, if not two, at the end of the season."
—Steven Gerrard.
The Galaxy play in Seattle next Sunday, while FC Dallas play against Houston in the last Texas derby of the season.