Can Dan Kennedy be the answer to the LA Galaxy's problems?
For a goalkeeper, there is no hiding place — Brad Friedel
As Dan Kennedy prepares to start for his former rival in his previous home stadium, the 33-year-old veteran MLS goalkeeper is eager for a fresh start on hallowed grounds where he spent 8 years with Chivas USA before they folded in 2014.
"It feels right. It feels like the right move, and I think I'm at a point in my career where I have a lot left," he told LAGalaxy.com. "I'm motivated and excited to make the most of this opportunity. It does feel like a full circle."
Earlier last week it was announced that LA Galaxy finally made their decision on a senior goalkeeper to take the place of Jaime Penedo (ending rumors of an awkward Penedo return) after the rushed mid-season replacement Ricketts failed to fit the bill needed to bolster LA's defense. Kennedy, after being sidelined by injury in August, similarly failed to fit the bill (literally) for FC Dallas's fiscal needs once 20-year-old Jesse Gonzales won over MLS hearts by taking Dallas to the Western Conference Finals. Although the 33-year old Kennedy was selected first overall by FC Dallas in the Chivas USA dispersal draft, at $70,000, Gonzales was a steal starter, and Kennedy's $233,000 salary was being wasted on the bench.
Kennedy made 16 appearances with a 1.19 GAA and 30 saves before injury brought it all to an end. In what appears like a gift to LA Galaxy who had run out of options for experienced goalkeepers, FC Dallas receveied two 2017 draft picks, one second round and one third round. Though far from his heydays in 2011, he's currently a step above Donovan Ricketts and has shown the ability, if under optimal conditions, to perform as well as Penedo's final series of matches for LA.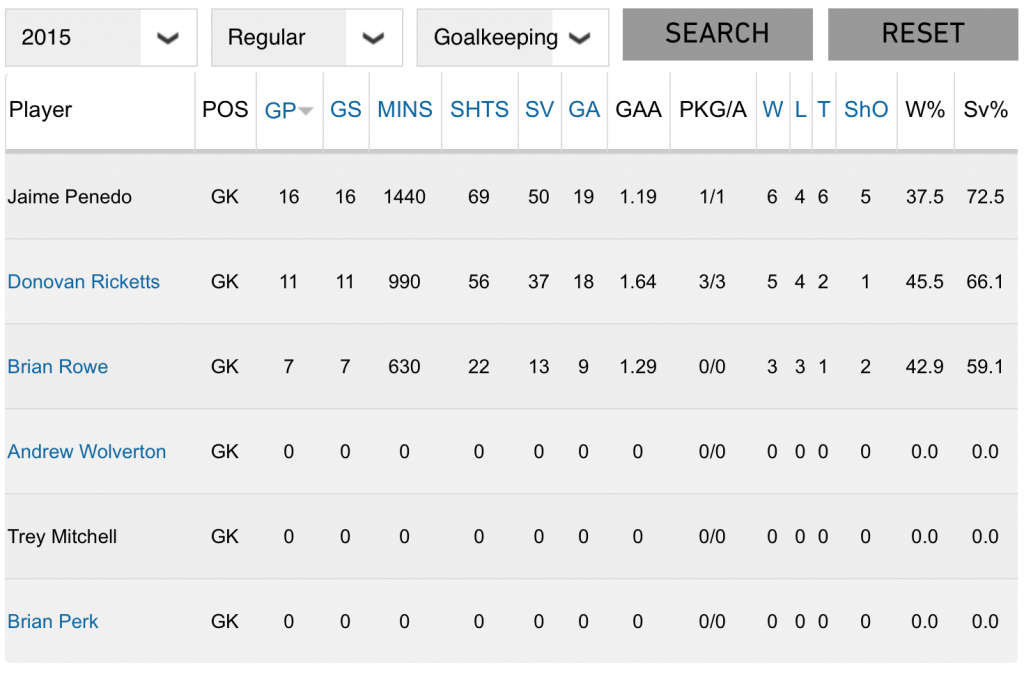 "It's a bit surreal," Kennedy told MLS.com "With Dallas, I kind of had a feeling that there may be an opportunity for me to leave, for the team to let me go. So we were just hopeful the Galaxy may be in need, and we just pursued all that right there once the season finished up. It all moved pretty quickly." 
Kennedy, born in Fullerton, California, became UC Santa Barbara's most successful goalkeeper, and entered his professional career with the Puerto Rico Islanders in 2005. He then played a season with Municipal Iquique in Chile before being transfered to Chivas USA where he accumulated record after record: their all-time leader in games played (144), games started (142), saves (451), shutouts (28), and minutes played (12,764). In his possible final return to his home, he is expected to continue that performance and help propel LA towards a sixth MLS Cup.
One of the many joys of what is often the least beloved and most overlooked position includes a plethora of attempts at analyzing what truly makes a goalkeeper great. Some of the best have tried objective analysis of the stats that exist to explain goals allowed and clean sheets, and though they are not to be discounted, they often belie the complexity of other real issues at play. Across leagues, goalkeepers have different conditions to deal with and styles of play. Within a league, goalkeepers still have huge disparities to contend with in a given season. Arguably, some goalkeepers have it easier than most (looking at you FC Barcelona). One of the factors most overlooked is actually something it seems Dan has an innate advantage over Jaime Penedo: the ability to contribute in ball possession and in accurate long passing, in order to overcome high-pressing opponents (hello Portland). "Dan's got a ton of strengths," Matt Reis tells SBI. "He's someone who's good with their feet, that we have confidence playing back to, to alleviate pressure."
All these factors, combined with the departure of LA Galaxy's backline fixture, Omar Gonzalez, make the case that LA will be mounting a new more assertive line of defense in the coming season.