LA Galaxy land free agent defender and midfielder, Jeff Larentowicz.
Carson, CA – With the transfer window open, the LA Galaxy have made their first ever free agent signing as 32 year old, central defender and midfielder, Jeff Larentowicz joined the club. Jeff is a veteran of 11 MLS seasons and has played with New England, Colorado (MLS Cup Win in 2010), and most recently, Chicago.
He's made over 300 Regular Season MLS appearances and 19 Post Season appearances while scoring 37 goals and tallying 18 assists during his career (Post Season 0 Goals, 1 Assist).
Larentowicz has three Caps with the US Mens National Team and has received multiple call-ups.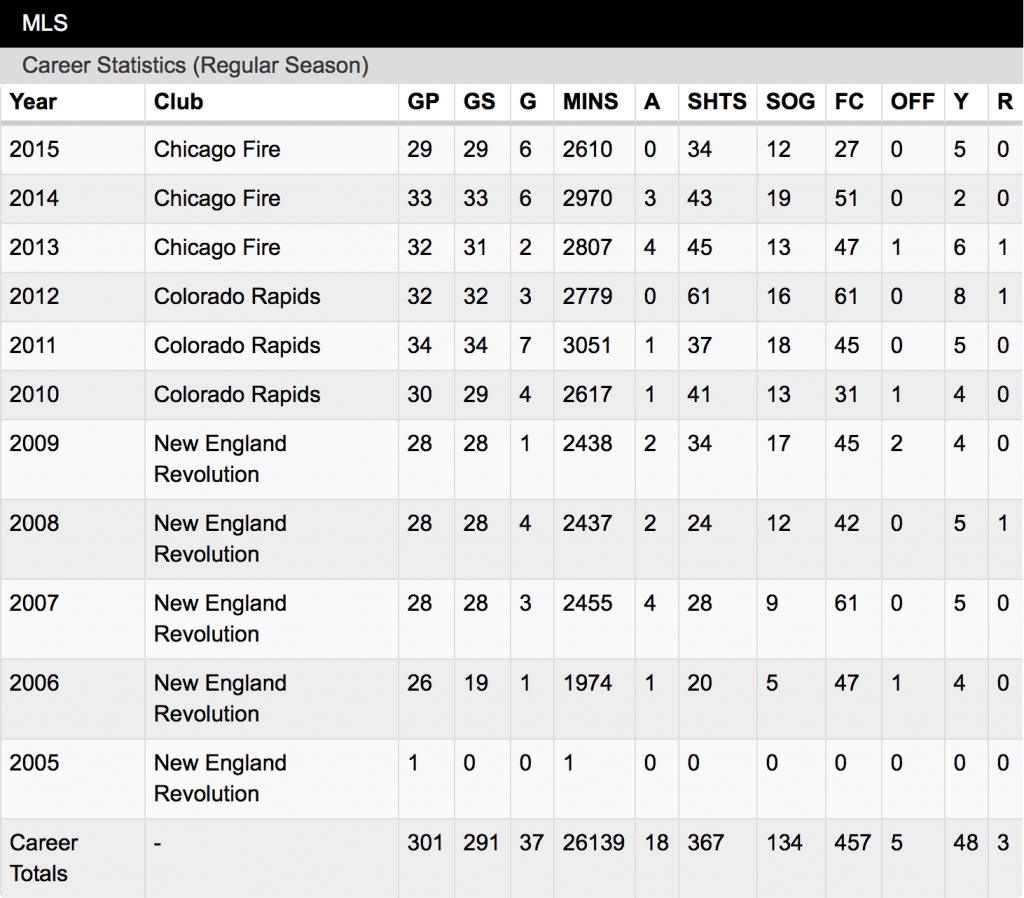 He' probably best knowns for his Central Midfield abilities and may be the answer to a defensive midfielder who can pair up with current LA Galaxy midfielder Steven Gerrard. But with Chicago, Larentowicz also transitioned into playing central defense, another position that might be up for some competition after the LA Galaxy transferred Omar Gonzalez to Pachuca.
"Jeff (Larentowicz) is an experienced and proven midfielder in our league. He gives our team another veteran presence on the field and in the locker room. We are excited to add Jeff to our roster and look forward to his contribution this season." Bruce Arena, LA Galaxy Head Coach and General Manager
Another interesting note is that his former Chicago Fire teammate and former LA Galaxy Legend, Mike Magee (also a Free Agent), is rumored to have interest in re-joining the LA Galaxy. Could this Chicago Fire tandem combine forces back in LA?
Now official. Mike Magee should be next for LA, followed by a defensive midfielder and that Ashley Cole guy: https://t.co/YP4nYwbLN6

— Ives Galarcep (@SoccerByIves) January 6, 2016
While this seems to be a solid signing for the LA Galaxy, questions about his ability to cover ground for a 35 year old Gerrard are bound to come up. However, Larentowicz played in 29 games last year (starting all of them) and playing all 90 minutes in each game. He averaged more than one shot per game – 34 shots in 26 games for a 1.17 shots per game average and scored 6 times.
Under current MLS Rules each team is allowed to sign a maximum of two free agents during any one season. This is the first year that the MLS CBA has allowed free agency and the first time the LA Galaxy have used that mechanism to secure a player.
Per MLS and club Policy, terms of the deal were not disclosed.