Carson, CA – Robbie Keane is out of surgery and is doing just fine. He posted a photo of the aftermath of a surgical procedure on his Instagram earlier today.
Officially the club has announced that he's expected to miss between 4-6 weeks and underwent "successful arthoscopic surgery on his right knee." Robbie Keane will definitely miss this weekend's match with Vancouver.
Last week Keane, who was on International duty with Ireland, was sent back to Los Angeles early without having trained or played in either of his National Team's friendlies.
His departure was marked by this quote from Republic of Ireland National Team Manager Martin O'Neill:
"He was concerned about it (his right knee) because he doesn't remember exactly what happened," O'Neill told reporters in Ireland's pre-match press conference. "It might have been a little bit of a knock and, of course, when that's not going away immediately, then you start getting a bit of a concern. He feels as if he might just get it scoped and have a little look around to see what it is. In this day and age, that doesn't take too long.

"I don't think he has got any real worries, but obviously, we will know when he goes back [to LA]." Via LAGalaxy.com and Reported by LA Galaxy  Insider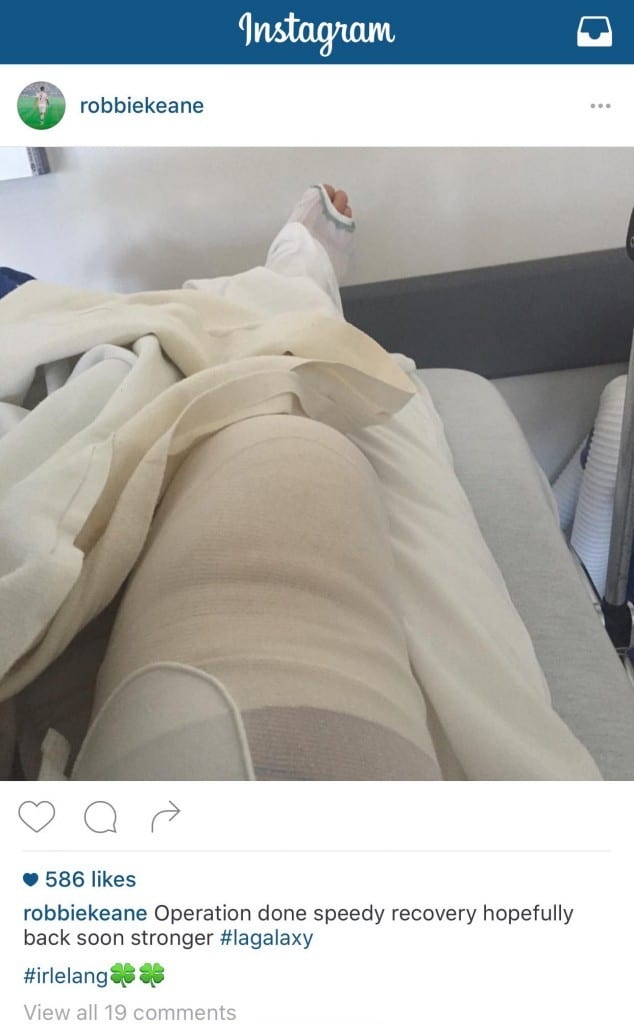 The LA Galaxy released the following official statement:
CARSON, Calif. (Thursday, March 31, 2016) – LA Galaxy forward Robbie Keane underwent successful arthoscopic surgery on his right knee Thursday afternoon in Los Angeles. The surgery was performed by Dr. Bert R. Mandelbaum at the Santa Monica Orthopedic and Sports Medicine Group and Kerlan-Jobe Institute at Cedars-Sinai. The Galaxy captain is expected to miss 4-6 weeks.

This season, the forward has appeared in three MLS matches, scoring two goals.
This would be the perfect time for some of the younger players. Jack McBean (LA Galaxy II), Ariel Lassiter, and Bradford Jamieson IV are all names that should be itching to make it onto the first team roster.
It should be noted that Ariel Lassiter did not dress for LA Galaxy II's win over St. Louis FC on Wednesday night. Having heard no issues of injuries with him it would seem probable that he'll be traveling with the team to Vancouver.
Robbie Keane joins fellow Designated Player Steven Gerrard (Left Calf Injury) in missing the Saturday matchup with Vancouver. Giovani dos Santos, the LA Galaxy's third Designated Player, is expected to be available for the first time since opening day where he was injured after just 45 minutes.
Is this a sign that the LA Galaxy's age is catching up to them? Only getting the players back from these injuries can prove or disprove that theory. But for now, the LA Galaxy will look to their deep bench and some of their younger players to carry them through.