OFFICIAL UPDATE: According to Galatasaray's official english language twitter account the club has signed former LA Galaxy midfielder Nigel De Jong. The deal, apparently, is for two years.
Welcome to Galatasaray, @NDJ_Official! pic.twitter.com/Zd8NKDrEZ1

— Galatasaray EN (@Galatasaray) August 31, 2016
CONFIRMED: Galatasaray have signed Nigel De Jong on a two-year contract from @LAGalaxy | https://t.co/W8VJnRdhEX pic.twitter.com/bOH4CjBB7K

— Galatasaray EN (@Galatasaray) August 31, 2016
According to Galatasaray's twitter account De Jong has said that "I'm very happy to be here. I could have been here last year but it didn't happen. There [sic] people here are great."
De Jong continued "I want to meet my teammates and start fighting for the championship as soon as possible."
And commenting upon his nickname, "I have a lot of nicknames. Pitfall, KingKong and so on. The fans can call me whatever they want as long as it isn't too crazy." And perhaps trying to sway his new fans in a certain direction Nigel said "My favourite nickname is KingKong."
You can find other tweets by going to Galatasaray's official twitter account.
Nigel De Jong: I know Galatasaray is trying to avoid a season like last. A huge club like Galatasaray should always be aiming for the title.

— Galatasaray EN (@Galatasaray) August 31, 2016
De Jong: Our coach and Wesley Sneijder will give me an advantage during the adaptation period. Our main goal is to become champions.

— Galatasaray EN (@Galatasaray) August 31, 2016
This looks like the end of the story. So as soon as the LA Galaxy launch their press release we'll be able to once again turn out attentions on the LA Galaxy and all of their issues entering the final 8 games of the season.
Nigel De Jong is in Turkey. Fans Greeted him at the airport and it looks like the deal could go through today.
Galatasaray fans greeted Nigel de Jong at the Ataturk airport in Istanbul in the early hours of the morning #Dejong https://t.co/2NWPfgOhK1

— Turkishsoccer.com (@turkishsoccer) August 31, 2016
Galatasaray'ın yeni transferi Nigel De Jong İstanbul'a geldi. pic.twitter.com/4Itcjf0IS9

— Spor Artı ⚽️ (@Spor_Art) August 31, 2016
And it looks like at least one LA Galaxy player is already saying his farewell. The injured Jelle Van Damme posted to his Instagram account a goodbye to the Dutchman. Van Damme says Nigel "Wish you all the best man! Gonna Miss ya…"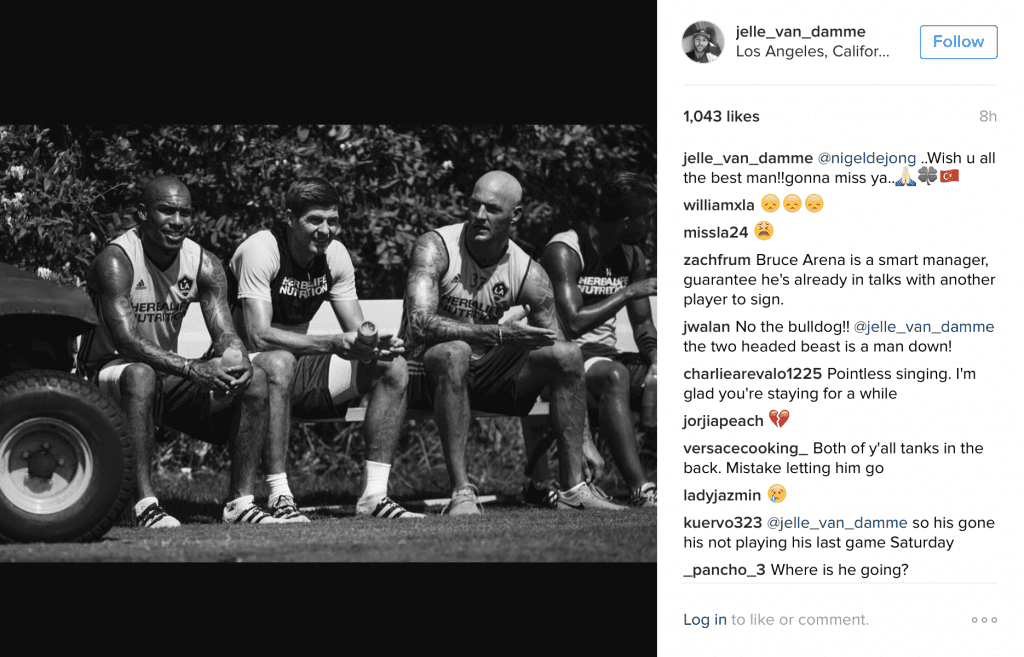 Small update. Kevin Baxter chimes back in about those salary numbers. Unsubstantiated. That's okay. We're still getting a feel for this.
Still reporting out #LAGalaxy De Jong saga. But I'm told now that the numbers being thrown out (2 years/$5.57 million) are unsubstantiated

— Kevin Baxter (@kbaxter11) August 30, 2016
Nigel De Jong is in Turkey and LA Galaxy Insider Adam Serrano has Bruce Arena's confirmation as such.
Arena told the Insider and a group of gathered reporters that "Nigel is pursuing an opportunity with our blessing. It either happens or it doesn't." Additionally Arena went on to say "We have the greatest respect for Nigel. He's been a terrific addition to our team. He's a great professional and a great teammate. When healthy and given a chance to play in this league, he's been good. His game against Vancouver was exceptional."
Bruce Arena confirms that Nigel de Jong is in Turkey finalizing a deal with Galatasaray https://t.co/Z7MfB9sKHA pic.twitter.com/cxdfikNwLN

— Adam Serrano (@LAGalaxyInsider) August 30, 2016
These quotes seem to indicate that it was De Jong who was seeking an opportunity elsewhere and that Arena doesn't really put a lot of weight on the whole deal. I would imagine that Galaxy fans would feel differently.
Arena then went on to tell LA Galaxy Insider and others that "We don't have an educated public to understand what he (De Jong) does, but he's been an important member of our team."
Kevin Baxter from the LA Times is reporting what could be the deals worth. Baxter reported on twitter that the dollar amount could be as much as $5.57 million and that MLS should be in line to capture some of that cash and therefore the LA Galaxy as well.
Take this FWIW but #LAGalaxy's Nigel de Jong expected in Istanbul Wed. Turkish source says salary is $5.57 million over 2 yrs

— Kevin Baxter (@kbaxter11) August 30, 2016
On that Nigel de Jong number, shud probably say "deal is reportedly worth $5.57 million" instead of salary. MLS will undoubtedly get some $$

— Kevin Baxter (@kbaxter11) August 30, 2016
All signs are pointing to Nigel De Jong signing with Galatasaray. So if you've got that Nigel De Jong Jersey, you'd better keep it. Probably a collectors item.
The LA Time's Kevin Baxter is reporting that it's "Possible" that Nigel De Jong will be boarding a plane to Turkey tonight. I would imagine this means that talks are progressing. Once again, this is real. And right now it looks likely to be completed before the transfer deadline.
More stuff! Using an open DP spot for Van Damme, I've been told, isn't likely. What IS possible is De Jong boarding flight to Turkey tonight

— Kevin Baxter (@kbaxter11) August 29, 2016
Original Story 8.29.2016 – 2:22 PM
LA Galaxy midfielder, Nigel De Jong, may be on his way to Turkish club Galatasaray if multiple media reports are to be believed. ESPN's Taylor Twellman reported on twitter that "LA Galaxy and Nigel De Jong are finalizing a move to Galatasaray before the window closes."
Hearing @LAGalaxy & Nigel De Jong are finalizing a move to @Galatasaray before the window closes. #MLS

— Taylor Twellman (@TaylorTwellman) August 29, 2016
One of the original reports, from AD Writer Maarten Wijffels stated that De Jong was already in Turkey for talks.
But LA Times' Kevin Baxter reported that while De Jong is still in Los Angeles, and not Turkey, as reported, that the "source confirms talks with Galatasaray are happening."
Here's what we know: #LAGalaxy's Nigel de Jong is still in LA not Istanbul as reported But source confirms talks w/Galatasaray are happening

— Kevin Baxter (@kbaxter11) August 29, 2016
Corner of the Galaxy reached out to the LA Galaxy to ask if rumors of Nigel De Jong's transfer were true. The Galaxy declined to comment.
Reached out to the #LAGalaxy regarding Nigel De Jong and his possible transfer to Galatasaray. Was told they have "No Comment" at this time.

— Corner Of The Galaxy (@GalaxyPodcast) August 29, 2016
It's important to note that international transfer window will be closing on Wednesday and that this deal is very much coming down to the wire. So if any roadblocks spring up there might not be time to correct them.
Nigel De Jong has appeared and started in 18 games in 2016 for the LA Galaxy. He's amassed over 1,550 minutes while scoring zero goals and receiving three yellow cards and one red card. He's been one of the most consistent performers for the team this year and has solidified the defense behind him and buoyed the midfield around him.
But it's probably not a stretch to say that his time with the Galaxy so far hasn't been perfect. He's been suspended multiple times for tough and ill advised tackles on opponents and hasn't had the offensive influence on the game the team was probably hoping for. But he's remained a key part of one of the best defenses in Major League Soccer in 2016 and that's one of the strong points to this team.
When De Jong was signed by the LA Galaxy his contract came with a possible Designated Player spot if he met a certain set of criteria. One of the requirements he had to meet was to play in a certain number of games. Kevin Baxter of the LA Times reported that this particular threshold was 23 games. With 8 games remaining it seemed more than likely De Jong would've been able to hit that number and claim his Designated Players spot and the payday that would accompany it.
But Designated Player (DP) spots are extremely valuable for MLS clubs. With a maximum of three spots it's up to each club to make the best of their use. The current LA Galaxy DP's – Robbie Keane, Steven Gerrard, and Giovani dos Santos – are struggling to influence the team as they should. And with that in mind it might be, with an eye to the future, Bruce Arena and the entire organization's best interest to cut ties with De Jong to free up that DP spot when/if Steven Gerrard decides to retire. Throw in that Robbie Keane is also playing out the remainder of his contract before it expires at the end of the 2016. It's not totally unreasonable to think that LA may be positioning themselves for a shopping spree in the winter transfer window. Or, on a slightly scarier note, the idea that Steven Gerrard might return.
But if Nigel De Jong does end up leaving the LA Galaxy, in the short term, it would be a huge blow to the title aspirations of a struggling team. While their results in August we're ugly, the defense usually kept them within striking distance (The LA Galaxy were within a goal in everyone of their August matches going 0-2-4 during that stretch). Without De Jong, and now an injured Jelle Van Damme (Out 2-3 weeks with and MCL Sprain), the LA Galaxy's defense will need to prove their toughness. Otherwise an ugly August could very well turn into a horrific September, a quiet October, and a November that is devoid of any playoff games.