The LA Galaxy have some serious decisions to make at the end of this season. But before we know exactly what this team will be dealing with upon its conclusion, General Manager Bruce Arena will need to make one of the most important decisions of his LA Galaxy career.
And this comes from a man who's had to pull the trigger on a bunch of unpopular deals since joining the club in 2008. Some of those controversial moves include trading Mike Magee for Robbie Rogers, transferring Omar Gonzalez and Juninho to Mexico in the off-season, allowing Sean Franklin to go to DC United in the re-entry draft, allowing Jaime Penedo to leave the club mid-season, and finally, the Nigel De Jong deal to Galatasaray earlier this year.
But do any of those compare to the question mark that currently sits on Arena's desk: Do you re-sign LA Galaxy Captain, Robbie Keane?
THE IMPACT OF ROBBIE KEANE
Do you remember when the LA Galaxy only had two MLS Cups? Robbie Keane does. Because he arrived with relatively mild fanfare in 2011, more than midway through the season, to join David Beckham and Landon Donovan on a march to an MLS Cup win – his first.
What followed were three titles in five and half seasons, for Robbie Keane. He's scored 92 goals in both the regular season and MLS Playoffs and amassed close to 13,000 total minutes (12,390 in Reg. Season and Playoffs).
In short, Robbie Keane has been the most successful international foreign player the LA Galaxy or the league has ever seen. He was quick to adjust to the rigors of Major League Soccer, and unlike a lot of foreign players, needed little or no time to make an impact on the field.
There is no denying that Robbie Keane has earned all of the money thrown his way as one of the three Designated Players Spots available to the LA Galaxy, and up until this year there was never a doubt as to whether LA should re-sign the Irishman.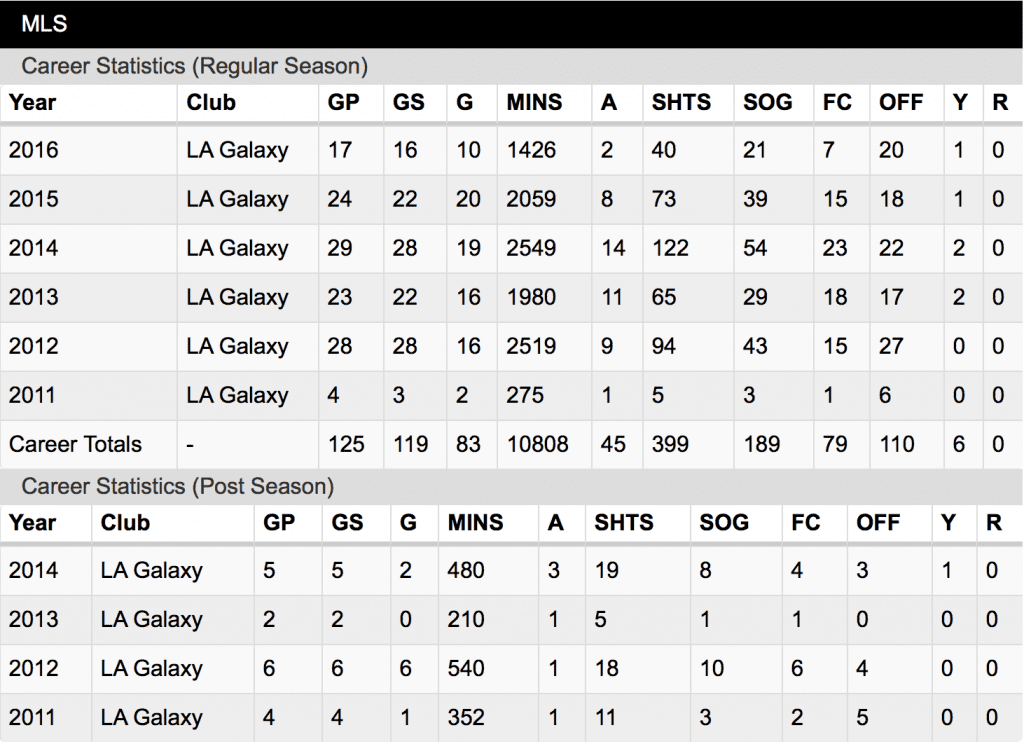 But at 36 years old, and having played in just 17 of 32 regular season games so far this year, it's safe to say, that age is catching up to him. If Keane's current pace of play is expected to continue over the remaining two games, he will post slightly over 1,500 minutes (a career low when being available for a full season) and will have his lowest goals total ever – just ten. And while ten might be a lot for some, when you consider his previous season low in goals is 16, you understand the trend.
Keane has been plagued by injuries and was absent with international absences. But even when he's close to healthy this season, something that hasn't happened for long stretches at a time, he's looked a step slower and a bit more disconnected. In other words, he's looked his age. And on a team with another Designated Player who is showing every sign that his career is coming to an end (Steven Gerrard), it's stymied the Galaxy's attack and it's search for consistency.
But what can you do for a man who's given you three Cups and made the LA Galaxy the model for every MLS franchise? One could understand the hesitation.
Do you reward a player with another year as a Designated Player because of all the things he's helped you accomplish? Does the team owe him that?
Or is it time for the LA Galaxy to thank Robbie Keane profusely, give him a plaque and eventually build him a statue? There's not doubt he goes down as an LA Galaxy Legend, but does that start now or at the end of next year?
MLS STRUCTURE HURTS THE GALAXY
Major League Soccer is relatively unique in the world of soccer. It operates under a very restrictive Salary Cap but allows a couple of different mechanism for teams to spend over that cap. And the Designated Player Rule is the ultimate in allowing teams to avoid placing an enormous salary onto their cap.
Because of this, each team is allowed to field three players who, for the most part, don't hit the salary cap. So you can pay someone like Steven Gerrard around $6 million dollars and have almost none of it affect the rest of your salaries.
This makes the Designated Player spot the most valuable salary cap tool a team has, and it also makes those three spots – the spots currently held by Robbie Keane, Steven Gerrard, and Giovani dos Santos – almost priceless.
Because there are only three places, you need production from every single one. You can't have a substitute who's a designated player. You want your DP's to be the one's influencing the team. Just look back at David Beckham, Landon Donovan, and Robbie Keane. A combo that led to an MLS Cup and the game-winning goal. Look at Toronto FC and Jozy Altidore, Michael Bradley and Sebastian Giovinco – production from every spot.
Meaning, that the money you pay Designated Players is worthless. It's the spot that's so valuable. Whether you pay someone like Giovan dos Santos $4.5 million dollars, or just above the maximum salary cap budget – around $500,000, the benefit comes from the ability to spend an unlimited amount of money for almost no salary cap hit.
A ROCK AND A HARD PLACE
The LA Galaxy can't afford to re-sign Robbie Keane to another Designated Player contract. And again, that has nothing to do with the actual money to be paid – AEG can afford it.
But Robbie Keane deserves to be paid. Somewhat similar to Lakers and Kobe Bryant, for all that Keane has done for the Galaxy he deserves the benefit of the doubt and one more million dollar contract.
But just like the Bryant deal completely tied the hands of the Lakers organization, a Keane DP contract would do the same. Not because of the money, but because of the loss of a spot. This is the only argument against keeping Robbie Keane. But it's the best one. And it's the right one for the LA Galaxy.
The structure of MLS rosters doesn't allow an aging European star to get that last contract. And it may even force Keane to another MLS club that is willing to pay the Irishman one more time on the gamble that he could still be productive. But for the Galaxy, that isn't an option.
With LAFC to join the league in 2018, LA needs to build solidly around a younger Designated Player like Giovani dos Santos. And for the most part this year, Keane and Dos Santos seem incapable of playing together. They're just too similar in positioning.
And while a non-DP contract is a possibility, again, the economics of a salary cap probably prevent that. Would Keane be willing to play for below or around the Maximum budgeted salary (around $457,500)? Because even if you look at using another one of the acronyms to pay down his salary, like General Allocation Money (GAM) or Targeted Allocation Money (TAM) you'd be doing so at the expense of trying to keep someone like Jelle Van Damme or providing a raise to a Sebastian Lletget. Would you do that for Robbie Keane? For a guy who's probably not going to be a starter for your team in 2017?
For their part, the LA Galaxy seem to be choosing to wait it out. And while that might upset someone like Robbie Keane, again, it's the right decision. Perhaps some MLS rule will change and allow the Galaxy to keep Keane and pay him what he deserves. But for now, waiting is the smartes answer, and if nothing changes all their options are still open.
It's both a tough decision and an easy decision when it comes to Robbie Keane and his contract. And while many people might see the LA Galaxy as being careless and callous with a player that is directly responsible for three of their five MLS Cups, it's a harsh reality of Major League Soccer. Tough decisions need to be made and Arena is the guy to make them. But it's an easy reminder as to what MLS faces when competing against the rest of the world, and it's why the three Designated Player spots are absolutely priceless.