The LA Galaxy (12-6-15) have underachieved this season. This really no argument here. Even while acknowledging that finishing third in the Western Conference is a great accomplishment, the talent on the field for LA should've seen greater heights. And while a result against FC Dallas will mean relatively little in terms of playoff seeding, it might mean something to slam the door on Dallas' hopes of completing the domestic double (winning the US Open Cup and the Supporters Shield in the same season).
FC Dallas (17-8-8) comes into this season finale needing either a win or a draw to lift some hardware at StubHub Center in front of LA's fans. And if Colorado loses to Houston at home, even a loss would do the trick. But Dallas will also be trying to cope with the loss of two key playmakers. Both Mauro Diaz and Kellyn Acosta picked up injuries in their 2-1 win over the Seattle Sounders last weekend and it is likely that neither will be available for their clash against LA. That leaves 18 assists on the sidelines and could see the young nucleus of FC Dallas struggle to cope.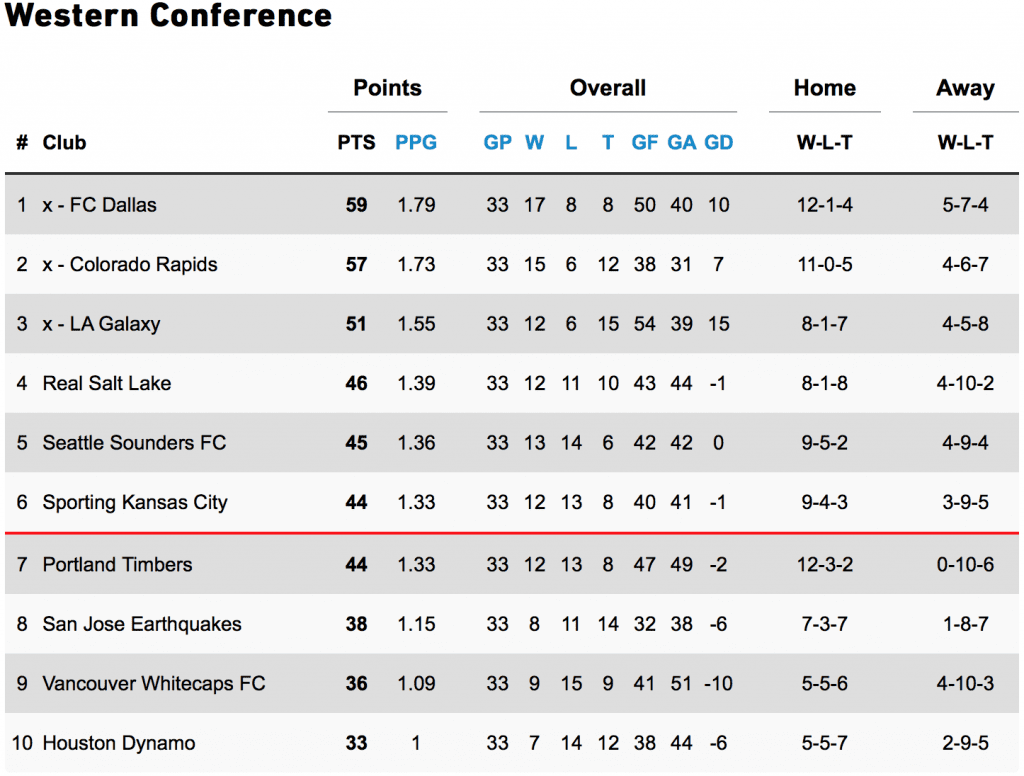 But the LA Galaxy are also in a position to see some major names sit out on Sunday. The Galaxy, with a guaranteed game midweek – the knockout round of the MLS Playoffs – might see some players rested for the final game of the regular season. Bruce Arena has already confirmed that squad rotation will be important so that fresh legs will be available for their playoff matchup. How much the starting lineup will be affected remains to be seen.
Robbie Keane and Steven Gerrard both participated in some fitness drills earlier this week but did not fully train with the squad. Their absences would seem to be likely for Sunday if the Galaxy really have high hopes of them starting midweek. Gyasi Zardes, still recovering from a broken foot, has also been training off to the side of practice and it's assumed that he still has some time before returning to the field.
So a starting lineup similar to last Sunday's win over the Houston Dynamo would seem to be the A-Team lineup for now. But with some older legs in the lineup like Landon Donovan and Alan Gordon, Arena and the LA Galaxy may elect to err on the side of caution and start others instead.
While the Galaxy cannot improve their playoff seeding with a victory nor hurt it with a loss they can effect some of the overall standings that might come into play if they were to make it to MLS Cup on December 10th. A win could see their record push past a couple of teams in the Eastern Conference and would increase their chances of hosting MLS Cup at StubHub Center if they were to navigate the labyrinth of mayhem that the Western Conference provides.
However, Bruce Arena is likely to press some of the younger legs into action for Sunday's tie. Names like Raul Mendiola, Ari Lassiter and perhaps ever Bradford Jamieson IV could see some playing time.
But you'd also expect some veteran names on defense to play this game. Jelle Van Damme, who was suspended last game because of yellow card accumulation should be fresh enough to handle two games 3 or 4 days apart. As should AJ DeLaGarza and possibly even Robbie Rogers.
In the midfield expect Sebastian Lletget to get some minutes but his partner could be Rafa Garcia instead of Jeff Larentowics or Baggio Husidic. And expect Giovan dos Santos to also make an appearance but perhaps be subbed off earlier than normal.
For the Galaxy and Bruce Arena, this game is more about preparing for a midweek playoff game and the rigors of the playoffs after that, than worrying about the result on Sunday. But similar to the LA Galaxy's lineup against FC Dallas in the US Open Cup Semi-Final, it should still be a competitive lineup that can beat a hurting FC Dallas team. And if that can happen, expect the whole team to receive a confidence boost that could serve the LA Galaxy well.
And avenging both those key losses to Dallas would also be a great way to end the season. For a team that has struggled in big games this year, perhaps keeping the league's best team away from some hardware is exactly the kind of motivation they need. After all, this team has not reached it's potential for more than twenty or thirty minutes in 2016. It would be impressive to knock off the MLS Cup favorites right before the playoffs.
This game will be televised nationally on FS1 and Fox Deportes. LA and FC Dallas will kick off at the exact same time as every other game in Major League Soccer – all 20 teams will play, with all 10 games played simultaneously. The Western Conference still has three playoff spots up for grabs and it should be an exciting finish to see who the Galaxy will face in their home knock-out round game (on either October 26 or October 27).