The LA Galaxy officially announced, what most of us had suspected for awhile. Dan Kennedy, who joined the LA Galaxy before the 2016 season, is retiring. Kennedy played 10 seasons in Major League Soccer and amassed over 163 appearances with three different clubs.
Bruce Arena brought Kennedy to the Galaxy from FC Dallas after Jaime Penedo left the club and Donovan Ricketts second term with the team, ended. Kennedy was expected to be the number one goalkeeper and was named the opening day starter, but was injured within the first 30-minutes of 2016.
He played a total of 115-minutes in 2016, for the Galaxy, making three appearances in two starts. But was ultimately overtaken for the starting and back-up roles by Brian Rowe and Clement Diop, respectively.
Kennedy's greatest successes came when he was the top 'keeper for, the now defunct, Chivas USA. During his seven years with Chivas, he made 144 appearances and was named to the 2012 All-Star team.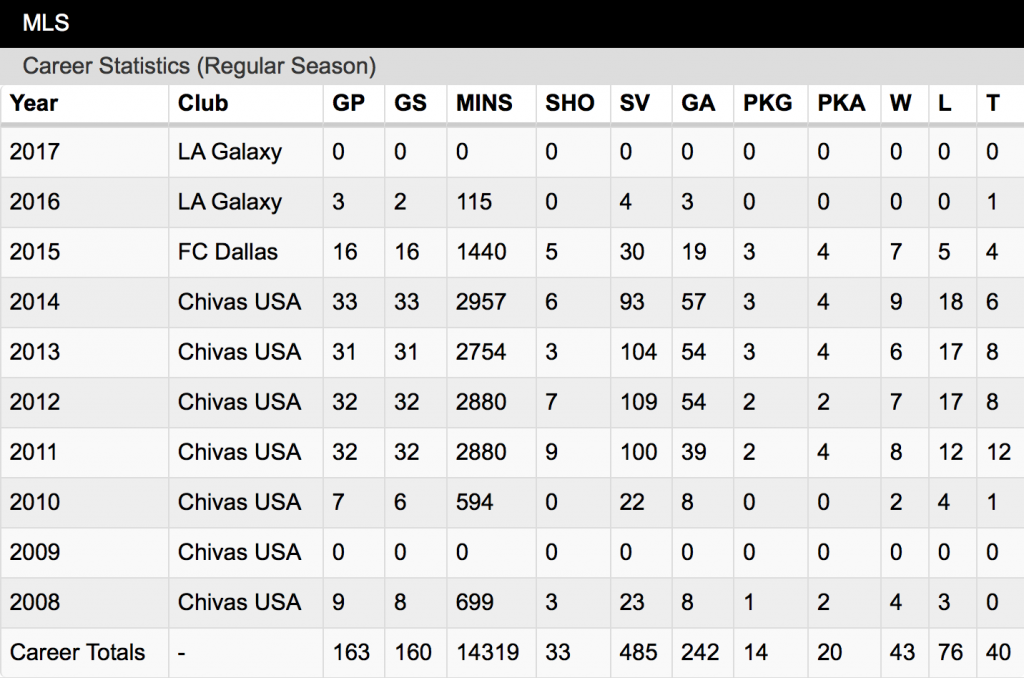 The Galaxy have retained Kennedy in a full-time front office role. He will work mainly in youth programming and development, but also have other functions with the club. He will also serve as the Galaxy English Radio Analyst and the LA Galaxy II broadcast analyst alongside Joe Tutino.
"I am incredibly grateful to have spent 10 years playing in Major League Soccer." Dan Kennedy
"I am incredibly grateful to have spent 10 years playing in Major League Soccer," said Kennedy. "There are countless people – my teammates, coaches, fans, and family – that have been deeply influential in my career and that have helped me forge some of the best memories of my life. I want to especially recognize my parents, my sister, my wife Stephanie and my son Archer, who have been unwavering with their support. I will walk away from my playing career proud of the time I spent in this league and how far it has come. I am excited to take this next step in my career with the LA Galaxy as I walk away from my time on the field."
From a budget and salary cap standpoint, according to an MLS representative, the Galaxy are likely to get full salary cap relief from Kennedy's contract. According to the MLS Players Union, Kennedy made $185,000  in base salary and $195,400 in guaranteed compensation. But the mechanism by which the Galaxy would get relief wasn't published.
Perhaps a structured buyout of the contract by MLS and the Galaxy makes this possible? But fans should probably keep a watchful eye open for an unaffiliated goalkeeper at the bottom of the Union's bi-annual salary release – much like Dan Gargan, Kennedy's name could be listed as being paid by MLS, but not associated with any club.
Realistically, for the Galaxy, Kennedy never really got the opportunity to start or be an integral part of this team. In some ways, developing Brian Rowe and Clement Diop is one of the best things that could have come from this situation. And Kennedy, for his part, has always been the consummate professional.
But with the official announcement, the Galaxy have tidied up a footnote that everyone assumed, but nobody knew for sure.