The LA Galaxy (2-3-0), arguably coming off their best performance of the year, in a win against a 10-man Montreal Impact, are taking their show and their confidence on the road, this weekend. On Saturday they'll travel to Florida to take on, second in the Eastern Conference, Orlando City SC (3-1-0). The game will be televised nationally on FOX and FOX Deportes (12 PM Pacific Time, with coverage likely to start at 11:30 AM).
ORLANDO CITY SC
Orlando is unbeaten at home this season and has quickly turned Orlando City Stadium – just opened this year (All Grass Field – 25,500 capacity) – into a fortress of sorts. They've scored four times in their new friendly confines and have allowed just one goal. Their only loss on the season was on the road to a talented Columbus Crew side (2-1 loss).
Their start may seem extra special as they've been without Brazilian playmaker Kaká since the opening game of the season, and have had to rely extra heavily on Cyle Larin. Larin has scored three times in 2017 and has done that while taking just nine shots.
In Orlando's last game, a 1-0 victory over the visiting New York Red Bulls, Midfielder Servando Carrasco, who subbed on for the injured Antonio Nocerino in the 17th-minute, got the game's only goal to propel Orlando to a fairly complete victory, even if the Red Bulls had a large edge in possession.
Another midfielder who will miss this game – assuming that Nocerino is still injured – will be Matias Peres Garcia (MPG), a dangerous playmaker in the middle for Orlando. The MLS Disciplinary Committee retroactively suspended MPG for an incident in the previous game.
This could open up a position for a newly signed midfielder, and former Real Salt Lake player, Luis Gil to make his first appearance for the club, after being reunited with Orlando Head Coach, Jason Kreis.
LA GALAXY
For the Galaxy, who may be the healthier of the two clubs, it's a chance to build off their 2-0 victory over Montreal and set themselves up for a string of three home games that are rapidly coming up.
The last time these two teams met, back in 2016, the Galaxy ran rampant over the visitors and scored four times while allowing just two goals. Giovani dos Santos scored twice in that game along with Alan Gordon and Robbie Keane. This was the game Landon Donovan made his first appearance for the Galaxy after coming out of retirement to help the team down the stretch.
Previously, the only other time Orlando and the Galaxy have faced-off was in Orlando's inaugural season. This was the infamous game that saw the defending champion Galaxy, lose 4-0. And it realistically spelled the end of an MLS career for Tommy Meyer who had one of the worst and unluckiest player performances in recent memory.
The real challenge for the Galaxy will be maintaining their form and energy after traveling the 2,200 miles from Los Angeles to Orlando. Traveling in Major League Soccer is never easy, and this is one of the longer trips the Galaxy will have to make. This is probably why Head Coach Curt Onalfo elected to travel on Thursday, instead of the normal, Friday departure. The Team will train in Orlando on Friday.
While lineups for the Galaxy have been relatively easy to predict, one position is giving everyone pause before firmly choosing one or the other. Onalfo hasn't started Brian Rowe in goal since opening day. And after a shaky performance against Vancouver, Clement Diop steadied himself in the shutout victory over Montreal. But if Onalfo, who has preached competition at the position, starts Rowe over Diop, I'm not sure anyone would be surprised. Although, at this point, Diop is quickly becoming the consensus number one 'keeper.
The Galaxy should be with their full compliment of players, minus Sebastian Lletget (4-6 months with a foot fracture), and Robbie Rogers (timetable unknown and is widely expected to retire).
Gyasi Zardes will be available for his second consecutive start and his third consecutive game. He's expected to play in front of Giovani dos Santos. Jermaine Jones and João Pedro should man the center of midfield with Emmanuel Boateng and Romain Alessandrini – scorer of three goals in his last two games – taking up the wings. They will be backstopped by Ashley Cole, Jelle Van Damme, Daniel Steres, and Nathan Smith on defense. With either Diop (likely), or Rowe (unlikely) in the net.
GIOVANI DOS SANTOS
All eyes should be looking toward Giovani dos Santos, however. In his first five games with the Galaxy this season, he's played in four games (came out injured after the first half of the second game) while amassing 315 total minutes. He has just one goal (a penalty kick in the 2-1 loss to FC Dallas), no assists and only three shots on goal. At times this season, he's looked lost and disconnected from the rest of the team, but did see a marked improvement in his overall performance in the game against Montreal. Dos Santos is looking to build off that performance and become the dominant force on the ball that the Galaxy expect him to be.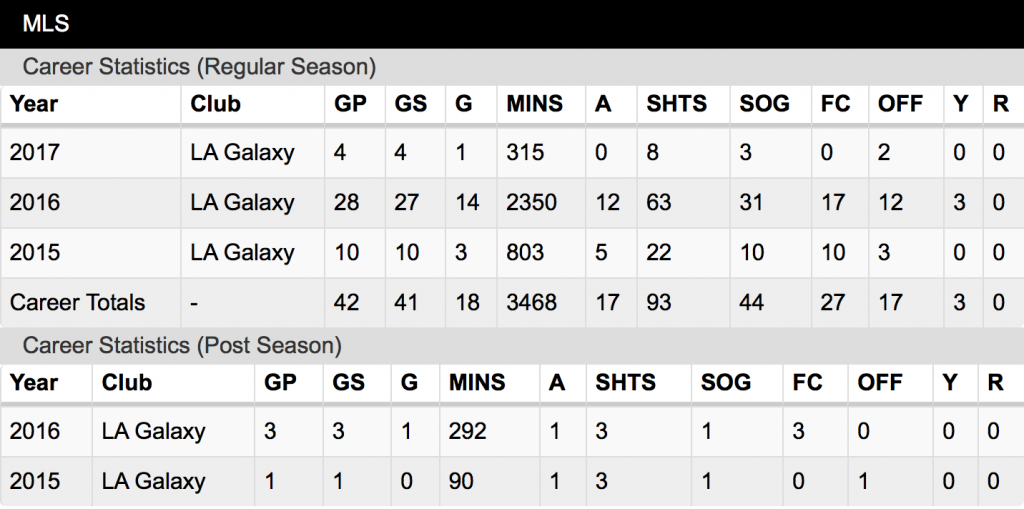 THE HOMESTAND
The Galaxy will return home after Saturday's travels and prepare for a three-game homestand that will see the defending MLS Cup Champion Seattle Sounders (1-1-3, 7th in the West) invade StubHub Center on Sunday, April 23, 2017. That game will be followed by matches against the Philadelphia Union (0-3-2, 11th in the East) on Saturday, April 29th and the Chicago Fire (2-1-2, 4th in the East) on Saturday, May 6th.
A positive result is important against Orlando this week. Carrying momentum will be key to coming back to the friendly faces of StubHub Center and getting maximum points out of a homestand that could see the Galaxy quickly ascend the table. And, perhaps more importantly, progress, that was made against Montreal, must be built upon while chemistry starts to take hold.
A point or three on the road against a talented Orlando squad would also ensure that the pressure that built so quickly before the win against Montreal stays at a manageable level. This early in the season, a negative result, like the one the Galaxy displayed in 2015 against this team, would be mentally devastating.