The LA Galaxy (2-5-1)are struggling to find any semblance of order to this 2017 season. Winners of just two of their first eight games, and just one of their first five home games, points and confidence have been hard to come by. And failing to beat the winless Philadelphia Union last week doesn't give the team a boost headed into Saturday's matchup with the Chicago Fire (3-3-2).
GALAXY CAN'T SCORE
Of particular concern for the Galaxy on Saturday night (7:30 PM, StubHub Center | TV: SpectrumSN & SpectrumDeportes) is that they haven't generated much offense this year. Romain Alessandrini leads the team with four goals and two assists, but no one else has stepped up to help out.
GAME INFO | 7:30 PM, StubHub Center | Saturday, May 6, 2017
TV INFO | SpectrumSN & SpectrumDeportes
The Galaxy haven't scored a goal since their April 15th loss to Orlando in the 83rd-minute. And they haven't scored a goal at home since a 74th-minute goal against Montreal. That makes a home scoreless streak of 196 minutes and an overall scoreless streak of 187 minutes. Something that is sure to catch the attention of fans when Saturday's game kicks off.
And that's not the only stat that is weighing heavily against the team. The Galaxy have been shutout three times this season — twice in the last two games — and are a full 12 goals behind the league-leading Portland Timbers (20 goals). The eight goals the Galaxy have scored — only one from a striker (Giovani dos Santos Penalty Conversion) — tie the team for the second fewest goals scored in the league with the Union. Only Colorado (5 goals) has fewer goals than the Galaxy.
Not to mention that the Galaxy are tied for the most losses (five), and third fewest wins (2) in the league. It's no surprise that they currently sit in the bottom third of the Supporters' Shield standings in 19th place out of 22 teams and sit second to last in the Western Conference.
CHICAGO FIRE
For the visiting Fire, they seem to be a bit of a work in progress. But with the in-season addition of German footballer Bastian Schweinsteiger, and the off-season additions of Dax McCarty, Nemanja Nikolic, and former Galaxy midfielder, Juninho, they seem to be working themselves into a more competitive side than they've been in quite some time.
The Fire currently sits in seventh place in the Eastern Conference and 12th overall with 11 points from eight games played.
Their leading scorer, Hungarian Nemanja Nikolic, who was another off-season addition by head coach Veljko Paunovic, has five goals on the season in just 12 shots on goal and has started every game. His pairing with Schweinsteiger, Juninho, and McCarty was once thought to be a nonstarter. But the Fire, despite losing their last two games, has been a dangerous and entertaining team with a talented trio in the center of the field and a real goal scoring threat at the top of the formation.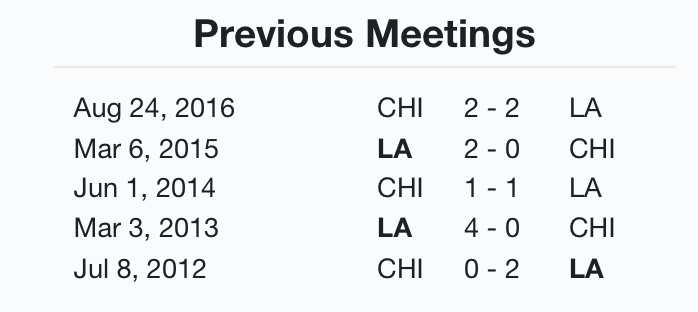 But they are winless on the road in 2017 and are finishing the third game of their three-game road trip. They've lost their previous two matches — a 3-1 loss at Toronto FC and a 2-1 loss at New York Red Bulls — having been outscored 5-2 during that time. And with only three wins on the season, they're clearly looking to pick up any points they can at StubHub Center.
MIDFIELD MATCHUP
This matchup sees the most interest in the midfield. The Galaxy changed their formation, against a hapless Union team, that dropped Baggio Husidic into a defensive midfielder role while Giovani dos Santos was supposed to take over as the lone striker. And while the Galaxy
And while the Galaxy were better defensively, getting their second shutout of the year, they were only moderately successful in creating offense. With Gyasi Zardes expected to be back on the field for this game, it's unlikely head coach Curt Onalfo will sacrifice any of his starters to employ the same method. Unless he wants to push Zardes back into a midfield position and bench Emmanuel Boateng. You could also make the same switch with Dos Santos dropping into the midfield and Zardes pushing up top.

But the bottom line is that Onalfo will have to find a balance between being dangerous on the offensive side and being stable defensively. And with the Fire likely to employ a similarly shaped formation (4-2-3-1) perhaps a like-for-like matchup is the best way to attack.
How the Galaxy chooses to line up for this match will determine the personnel more than injuries. Currently, only Robbie Rogers (Ankle Surgery) and Sebastian Lletget (foot surgery) will miss this game. Even Clement Diop, who has been out of the lineup since an injury he sustained in Orlando, should be available for the 18-man roster this time around. But Brian Rowe is still the expected starter.
Bradley Diallo, who came into the starting right back role for Nathan Smith last game, should be seeing another start as should most of the starters from last week. It's just the formation that will determine if the Galaxy go back to a midfield pairing of Jermaine Jones and João Pedro, or if Husidic and Pedro will be tasked with joining forces to allow Jones more room going forward.
GALAXY ARE SHORT ON TIME
Time is quickly running out for Onalfo, who has been criticized for having no game plan when the Galaxy were pummeled by Seattle and for losing the respect of the team — players were seen avoiding his handshakes coming off the field. Having earned just one point from the last two home games, and only four points from all home games this year, another loss of points to a frisky Fire team could see his coaching stint cut drastically short.
To make matters worse, should Onalfo survive on Saturday, the team will start a four-game road trip that will take them through the New York Red Bulls, expansion side Minnesota United, the San Jose Earthquakes, and DC United. Points are always difficult to come by on the road, but for an underperforming team that hasn't won on the east coast since 2012, one could understand the depths the Galaxy could plunge with four straight road games — two on the right coast.
The Galaxy front office has little time to correct issues, and with nearly 25 percent of the season already gone, they're running out of games to start climbing the table. And while this team hasn't been counted out of making something out of this season, anyone would be hard-pressed to find too many positives from their recent form.
A win against a visiting Fire team is nearly a must if the Galaxy are to hold any hope for the rest of the season. But for Onalfo and the Galaxy front office, winning at home might quiet their many detractors long enough to continue their youthful experiment.