In more bad news for the LA Galaxy, the club announced that starting goalkeeper Brian Rowe would miss 6-8 weeks with a groin injury. The injury, sustained while training on his own while the team was off earlier this week, is just another in a long list of freak-happenings for a Galaxy team that, to this point, hasn't been able to stay healthy.
Rowe, who's in his sixth season with the club, had started seven games recording one shutout and 17 saves. Unfortunately, his most recent games have also seen some of his best form – making miraculous saves in road victories over Minnesota United and the San Jose Earthquakes.
Rowe became the Galaxy's starter in 2016 when MLS veteran Dan Kennedy picked up a groin injury minutes into the opening game. He played in 31 games last year earning 9 shutouts and making 113 saves en route to a 1.06 goals against average (GAA).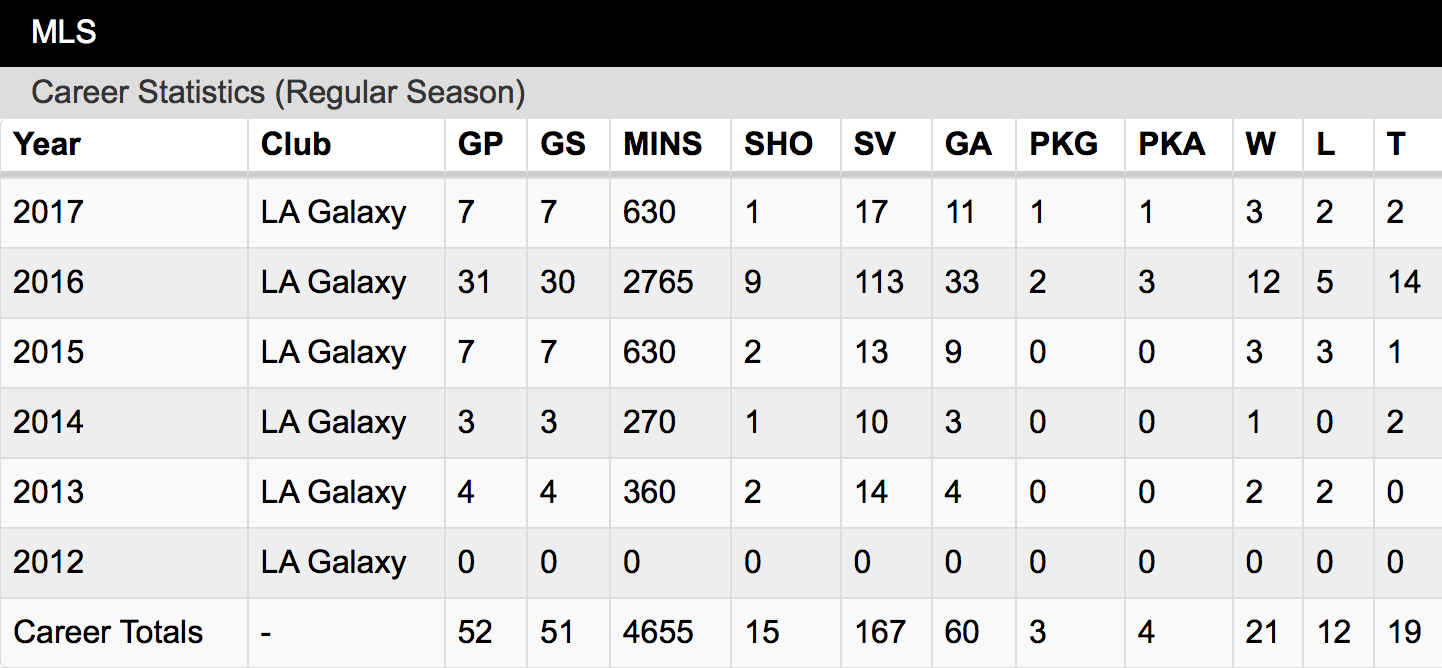 Earlier this year, Rowe was also held out for a number of games with a shoulder injury. One that saw backup, Clement Diop, get some time in goal.
Unfortunately for the Galaxy, Diop won't be an option for this weekend's game against DC United. Called up by the Senegal National Team, Diop won't return to Los Angeles until June 11th.
That means that Jon Kempin, the third-string goalkeeper who was acquired after being released by Sporting KC in the offseason, will make his Galaxy debut this weekend. Kempin has six career MLS Starts, with 585 minutes of play. He's made 11 saves while allowing 12 goals in those games.
Rowe's groing injury is just the latest in a long list of injuries for this 2017 Galaxy team. Robbie Rogers (Ankle Surgery), Sebastian Lletget (Broken Foot), Jermaine Jones (MCL), Baggio Husidic (Broken Leg), and Daniel Steres (Hamstring) are all long-term injuries that have taken and will take weeks more to recover from. Jones is the closest of those to returning and may be available for the game this weekend.
The Galaxy will travel to Washington D.C. today for their Saturday matchup and will then take part in an international break before playing in a US Open Cup game sometime during the week of June 12th. At this point, any days off for this team to relax and recover is a bonus. But eventually, this team will have to start getting healthy, right?
But eventually, this team will have to start getting healthy, right?