The LA Galaxy (5-5-2, 17 pts, 12 GP) will travel across the country, again, to take on struggling DC United (4-7-2, 14 pts, 13 GP) on Saturday in the fourth game of a four-game road trip. The Galaxy have been perfect on the trip so far, getting three wins in three games and capturing all nine points while outscoring opponents by a score of 9 – 4. The Galaxy are in sixth place in the Western Conference and sit 13th overall in the league. For the first time in 2017, they're above the red playoff line and actually have the fourth best points per game average in the West and are unbeaten in their last five games.
GAME INFO: Saturday, June 3, 2017 at 4 PM
TV INFO: SpectrumSN & SpectrumDeportes
DC is looking to get back to their winning ways at home after losing their last three games there without scoring a goal (outscored 6-0). In fact, United haven't won at RFK since April 8th of this year when they defeated NYCFC by a score of 2-1. United has only earned seven points from their first seven games at home and come back after a loss on the road to Orlando City (2-0).
United have been outscored 8-1 in the month of May with their only goal scored on a penalty kick that was later judged to have been simulation and got striker Jose Guillermo Ortiz suspended for one game and fined by the MLS Disciplinary Committee. That bogus goal was also their only points, and only victory, during the month of May.
In their last five meetings, the home team has been victorious four times with the lone anomaly coming in 2013 when the Galaxy and United played to a 2-2 draw in DC. Side Note: The last time the Galaxy scored at RFK Stadium was in that game in the 81st minute, when midfielder Michael Stephens put the ball in the back of the net. The Galaxy have outscored United 13 to 6 in the last five games and have a record of 3-1-1 during that same period.
Overall, these two MLS originals (both part of the 1996 season), have met 43 times, with the Galaxy compiling a 20-14-9 record and a 9-9-4 record on the road. But this will be the final meeting, after 22 games played between the two teams, at RFK Stadium. United is in the process of building it's very own soccer specific stadium and it's unlikely these two will get a chance to relive past glories in a Galaxy vs United MLS Cup.
The Galaxy will be without defender Daniel Steres who is out with a hamstring injury he suffered in the last game and also without starting goalkeeper Brian Rowe who was injured while training on his own earlier this week. Jermaine Jones, out since he injured his MCL just before halftime against the Chicago Fire, could be available to the Galaxy as he's recently come back to training.
Dave Romney is expected to reprise his role in the center of defense alongside captain, Jelle Van Damme, in place of Steres, while Jon Kempin should make his Galaxy debut in goal for Rowe. Clement Diop, the likely successor to Rowe is on international duty with Senegal and won't return to the States until June 11th.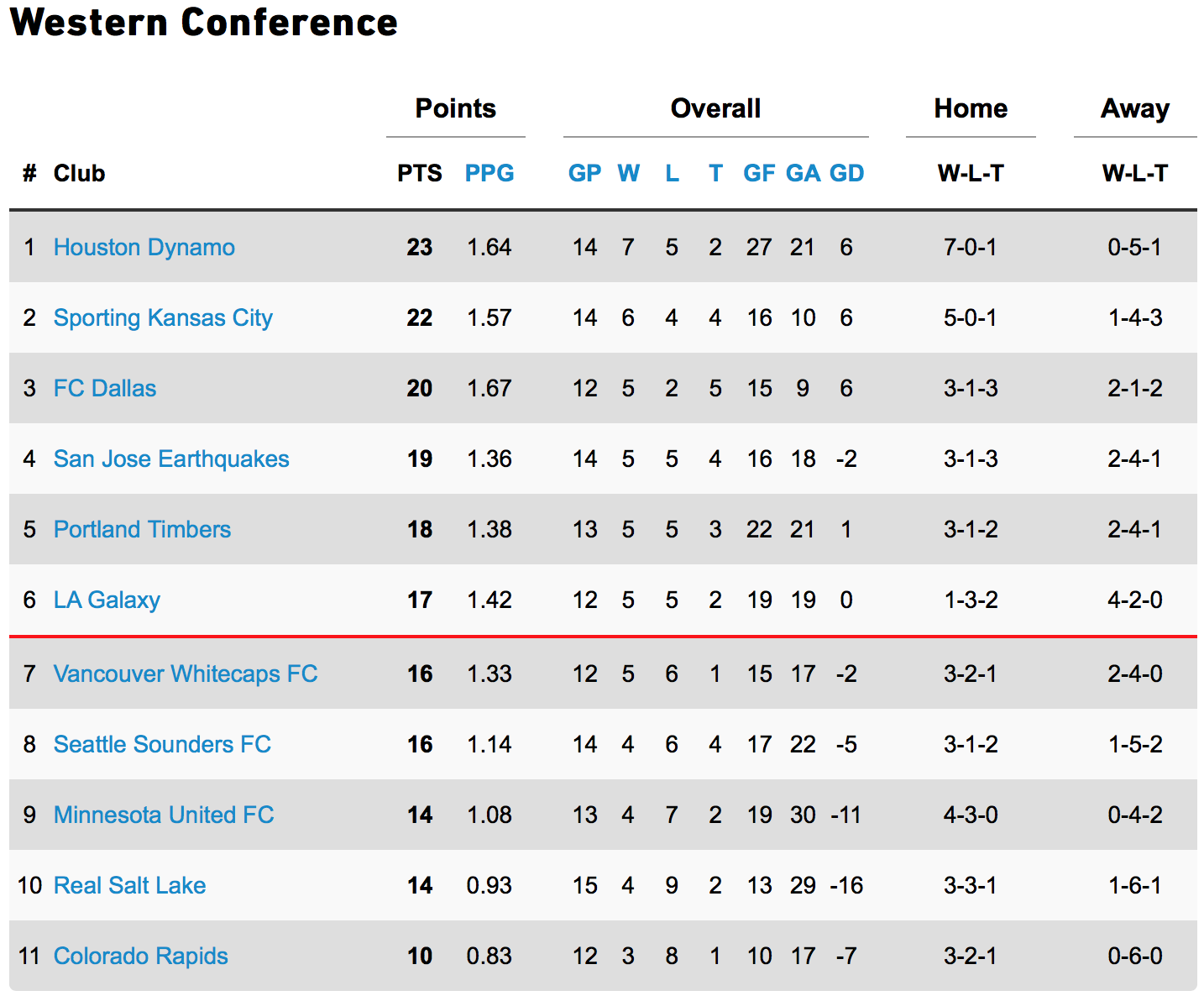 Romain Alessandrini, who is tied with Giovani dos Santos in the team lead for goals (6) and leads the team in assists (6), was held out of one day of training earlier this week as he recovered from a physically demanding game against San Jose. But he's expected to be available as is almost everyone else who isn't mending from a long term injury (Rogers, Rowe, Lletget, Steres).
Dos Santos is coming off of a multiple-goal game and has scored five goals in his last four. His partnership with Alessandrini continues to grow with both players combining masterfully on a 64th-minute goal that pulled the Galaxy away from the Earthquakes last weekend.
For their part, DC United is home to three former Galaxy favorites. Marcelo Sarvas, Sean Franklin, and Kofi Opare all call the Nation's Capital their home with all three players having seen significant time on the field with United. Only Franklin is not finding the field in the last four games thanks to a hamstring injury.
Kofi Opare – 7 GP, 504 minutes
Sean Franklin – 9 GP, 671 minutes
Marcelo Sarvas – 11 GP, 693 minutes
United is led in scoring by Luciano Acosta, who has three goals and is followed by Sebastien Le Toux with two goals. Lloyd Sam is their leading assist man with two but overall, they've struggled to create offense. They've scored just 10 goals this season and have allowed 21 for a -11 goal differential.
After this game, the Galaxy will finally earn some time off as they'll be observing the FIFA International break that won't see them play another game until the week of June 12th  – a US Open Cup matchup with LAFC affiliate, Orange County SC, that has yet to get a confirmed date or time.
With one final regular season game at RFK awaiting, what was once thought impossible could become a reality as a perfect four wins on the road could see the Galaxy climb the Western Conference standings again. For a team that had the slowest start through nine games in the last decade, they could, in fact, turn out to be perfectly adequate in 2017 and might even be ready to rectify their abysmal home record.
For now, the Galaxy need to just keep winning.