The LA Galaxy are back at home for a Saturday night matchup with Sporting KC. And while most teams might be ecstatic to be playing in their own stadium, the Galaxy's home record might lead you to believe they'd rather be on the road. Through 15-games the Galaxy are 5-2-1 away from Los Angeles and just 1-3-3 at home. That includes a last-minute draw with the Houston Dynamo last week that really should have ended up in a loss.
Overall the Galaxy are 6-5-4 (22 points) and in fifth place in the Western Conference (11th overall) headed into this weekend's match. The Galaxy have scored the ninth most goals in the league with 24 (Romain Alessandrini has been involved in 17 of those goals) and they're on an eight-game unbeaten streak (4-0-4) including a midweek win over the Colorado Rapids.
Their opponent, SKC are 7-4-6 (27 points) and are tops in the West, but have also played two more games than the Galaxy. They're coming off a scoreless draw to the San Jose Earthquakes over the weekend and were not one of the ten MLS teams to play a midweek game on Wednesday.
GAME INFO: Saturday, June 24th, 7:30 PM
TV INFO: SpectrumSN, SpectrumDeportes
SKC is sporting the best defense in the league and has conceded just 11 goals over their 17 games. That's half as many goals as the Galaxy have given up in their 15 games.
"I know they're a very good team. They don't concede a lot of goals," Galaxy head coach Curt Onalfo told reporters after training on Friday. "They've given up the fewest goals in MLS and they're the team in MLS that has possessed the ball the most. That lets you know that they're a very good team. But so are we."
The Galaxy will need to be a good team especially in midst of an extremely busy schedule with injuries still causing a major concern for the club. They play on Saturday at home in MLS play before playing a Wednesday game in the US Open Cup against Sacramento FC at the StubHub Center Track & Field Stadium. They'll then face off against the San Jose Earthquakes on July 1st before hosting Real Salt Lake on July 4th at home.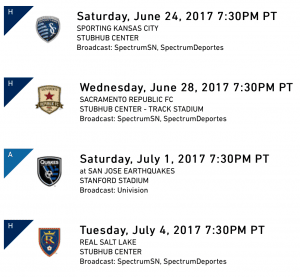 INJURIES AND ABSENCES
Raul Mendiola is expected to be available for selection after not being available for previous games. CoG was told there was no injury and that he just wasn't available.
Giovani dos Santos is still away on international duty with the Mexican National Team and probably won't return until the after the Galaxy's July 4th game with Real Salt Lake.
Jermaine Jones might finally be available after sustaining a Grade 2 MCL Tear/Sprain back on May 6th. It's been seven weeks since his injury and 35-year old midfielder still isn't back on the field. The club had originally quoted a 3-4 week recovery time for Jones but he's now approaching almost double that time.
"We need to talk to the training staff and make a decision how we utilize him or if we utilize him," Onalfo told reporters with regards to Jones.
But Jelle Van Damme isn't letting those injuries hijack the conversation: "If you see the injuries we have, and we had and still have, most of the guys are guys that normally should be starters… The young guys stepped up, did very well. So it's up to us to keep it going and try to stay in that positive moment – that positive flow. I think there was a bit of an issue or whatever that we didn't have enough players in the depth of the team. I think that everybody proved them wrong."
Will they continue to prove people wrong about how much depth this team has? This game might go a long way to making that argument. But it'll have to be another perfectly executed game plan that gets it done.
LINEUP CHOICES
The Galaxy, who started a club-record five Home Grown Players against the Rapids on Wednesday, might need to dig into that well again.
Jack McBean scored twice going 90-minutes for the club and did enough to reprise his starting role. It wouldn't be surprising to see him get the nod against SKC in hopes he'll continue his scoring.
But just as Onalfo waited until the second half to bring in Alessandrini, he might have to rotate more of the squad. Joáo Pedro seems a likely candidate as he's played only 36-minutes shy of every single game (15 games played, 15 starts). While he's young, at 23-years old, even the youngsters need a break on occasion.
Alessandrini should return to a starting role and don't be surprised if you see some of the guys who were instrumental in the Galaxy's midweek win (Jose Villarreal, Jaime Villarreal, and Bradford Jamieson IV) get some second half minutes.
Clement Diop will be the starter in goal until Brian Rowe recovers from injury. But to this point, that hasn't happened.
Ashley Cole, Van Damme, Dave Romney and Nate Smith should also be in their normal positions.
GETTING RESULTS AT HOME
But the Galaxy looks to be ready to break through at home. And despite the fact that they're playing the best team in the Western Conference, they're not really separated by that much from the visitors.
"I don't think we have to change that much. Just a different approach," Van Damme told reporters just after training had ended. "When we're home we have a big field so it depends on the other team and the way they play. So it's up to us to find the key to keep the ball, get some space in between the other team, and try to move the other team – let them run – and be dangerous.
"I think we need a big game tomorrow. Like I said before, it's time to put those results, as well, in our home games. We had a very good home record last season and the year before. So it's up to us to get that record back."
Van Damme is adamant the Galaxy can right the ship at home. And with all the momentum the youngsters were able to provide over the last 90-miutes, it's time for the entire club to feel positive in front of their home fans. "I have a feeling we have more and more fans coming out as well. So it's up to us to keep that going."