Carson, CA – The LA Galaxy lost another home game on Saturday night as two first half goals led Sporting KC to the victory. And while both of the goals they conceded were "soft," they're entering a dangerous position by not capturing home points and not understanding why they can't win in the tattered remains of fortress StubHub.
Clement Diop, much maligned for his decision making throughout his young career, made at least one giant mistake, and perhaps helped others to make a mistake on both goals.
The first mistake came in the 22nd-minute when Sporting's Roger Espinoza cut inside and from 30 yards out and launched a left-footed strike that should've squared Diop in the chest. But instead of attempting to catch the ball – perhaps because it was moving and he feared mishandling – went to punch it and nearly missed it entirely. The Ball found it's way into the back of the net and Sporting, despite not being particularly dangerous up until that point, had their opening goal.
And opening goals have been a problem for the Galaxy. They're now 2-6-2 when allowing the first goal. Meaning that in 10 of their first 16 games the Galaxy have played from behind. Most of those coming at home where their record is a dismal 1-4-3.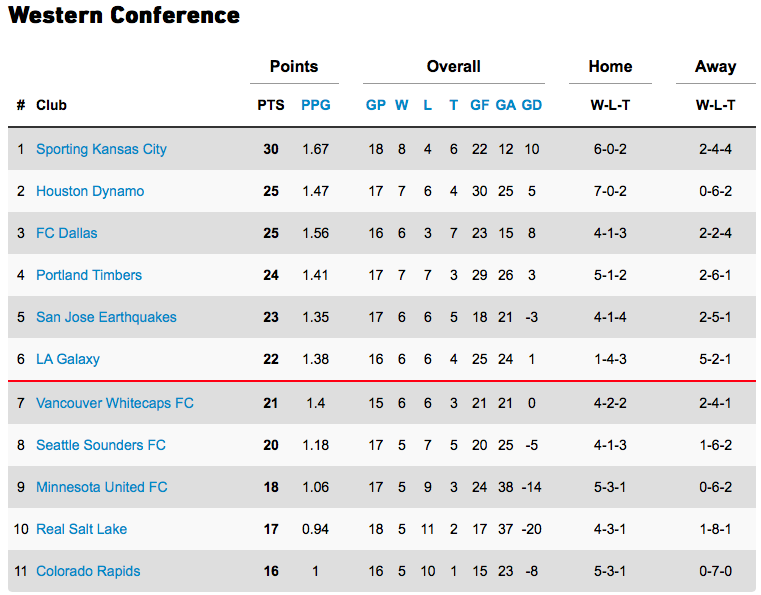 Diop's positioning would again be questioned when Ike Opara, Sporting's talented center back, hit a bicycle kick on a ball that was hopefully sent back into the box. The ball landed between three Galaxy defenders and Diop, none of which made a clean attempt on the ball. Diop came off his line and never got to the ball. Opara's finish was magical, but Galaxy head coach, Curt Onalfo, couldn't help but call both first half goals "soft."
Opara's finish was magical, but Galaxy head coach, Curt Onalfo, couldn't help but call both first half goals "soft."
Diop, speaking to reporters after the game made no excuses: "I made a mistake. I want to apologize to everyone tonight. I think even if we didn't play our best half, in the first half, I think tonight we lost because of me and I'm really sorry for the fans and for the coaches.
"I think for right now I'm at a place of my life and career where I don't perform well. I'm too inconsistent and I have to come back stronger to perform well because right now, it's unacceptable what I am doing."
And while it's admirable to see a player taking responsibility for his mistakes, fans must be wondering what that will do to his confidence. Especially with Brian Rowe (out with groin injury) not ready to return to goal yet.
But not everything should be laid at the feet – or hands – of Diop. Plenty of other players had other reasons for the flat first half performance against a well-rested team visiting team. And perhaps not everyone was on the same page as Onalfo.
"I think it was a little bit down to kind of not understanding the tactics," Ashley Cole confessed to reporters after the game. "And not going out and putting the game plan to fruition"
Dave Romney agreed: "We weren't really clear on what to do on our right side, I guess. It was definitely a different gameplan than we usually would have. They play a different style."
After the adjustments at halftime, the Galaxy played much better. Holding more possession and limiting Sporting to counterattacks instead of possession-based attacks as they did in the first half.
It was that constant pressure that saw Romney claw a goal back that seemed like it didn't want to go in the net. Several tense seconds passed as the ball hit the crossbar and then found it's way to Romney's head. Only to see Sporting goalkeeper Tim Melia get his hands to the header, but wasn't able to keep it from going over the line.
"That was just lucky — right place right time," Romney said of his positioning. "I was just going to make sure to stand in front of the goal just in case something happens."
The Galaxy have now played game four of 10 games over a span of 38 days. And when a team is averaging a game once every 3.8 days, the physicality of the league is eventually going to take its toll.
Onalfo, clearly thinking of trying to manage some minutes decided to rest João Pedro for the first 60 minutes of the game. But his substitution, as well as the additions of Jose Villarreal, and Bradford Jamieson IV, certainly helped fuel the attack. Although, many did question bringing Jack McBean off the field before Gyasi Zardes.
UPDATE: we do not have two Romain Alessandrini's

that would be unfair (but wow super handsome) pic.twitter.com/AWNuBpBaHS

— LA Galaxy (@LAGalaxy) June 25, 2017
Zardes continues to be a non-factor for the Galaxy and his inclusion in the starting lineup is being questioned regularly. Injury comeback or not, he simply is not doing anything to put his stamp on the game in any sort of positive way. Time is ticking on gifting him starts, and if not for a bunch of midfield injuries, perhaps he'd already be on the bench.
But tired legs of Zardes or anyone else are going to be a recurring theme. And all the players and Onalfo acknowledged the lack of rest and recuperation as of late.
"I think it showed in the first half. We were kind of second to everything, we were just a little bit off," Onalfo told reporters after the game.
The Galaxy will now have to regroup as they get ready for a US Open Cup game, in the round of sixteen on Wednesday night before traveling back up north to face the San Jose Earthquakes over the weekend.
Whether or not they can rebound from this game depends more on determination than physical readiness. The games will keep coming, and maybe that's the most important part – less time to reminisce and only time to play.
"I prefer it like this, to be honest." Van Damme explained about the rapid fire nature of the games. "I prefer it when the games following up each other very fast. You have less time to think and you can react faster after results like today."
SCORING SUMMARY:
SKC – Roger Espinoza (Assisted by Matt Besler) 22'
SKC – Ike Opara (Assisted by Gerso Fernandes) 35'
LA – Dave Romney 77'