Fresh off a late-game collapse to the San Jose Earthquakes, the LA Galaxy (6-7-4) will attempt to rebound with a Fourth of July matchup against Western Conference bottom dwellers, Real Salt Lake (5-12-2).
The Galaxy currently sits in sixth place in their conference with 22 points and have reached the midway point of the 2017 campaign with just a single win at home. Thus, giving LA the worst home record in the league – just 1-4-3 for six points.

Their last win at home came on Friday, April 7th, earlier this year against a 10-man Montreal Impact team. Meaning the Galaxy haven't won at StubHub Center for 87 days (88 if you take it to kick off of this game).
In their previous loss to the Earthquakes, the Galaxy were without 12 players (Brian Rowe, Sebastian Lletget, Robbie Rogers, Daniel Steres, Jermaine Jones, Baggio Husidic, Bradley Diallo, Ashley Cole, Romain Alessandrini; Suspension: Nathan Smith; International Duty: Gyasi Zardes, Giovani dos Santos). Although, there's a good chance that some of those injured players might be coming back for this game.
Names to look out for in the 18-man gameday roster are Jones, Alessandrini, Cole, and perhaps Diallo. But there's not guarantee at this point anyone dresses for anything. The Galaxy have been plagued with injuries and, until this point, players seem to be moving towards the injured list and not away from it.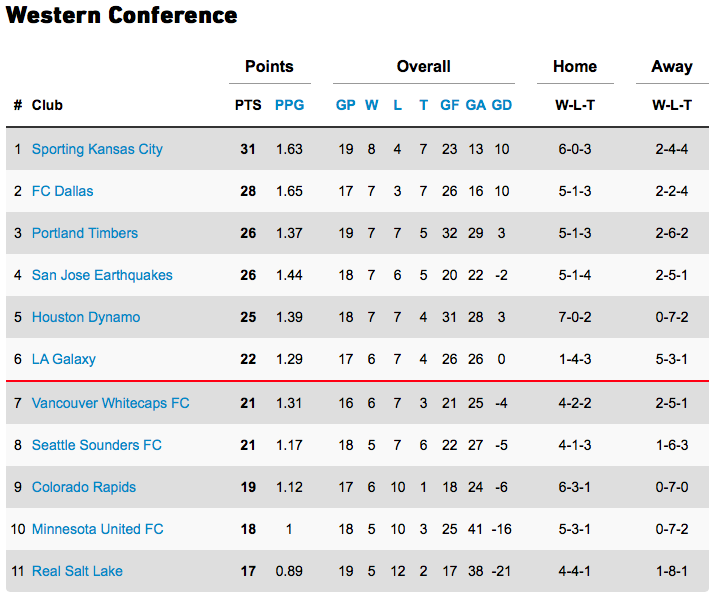 If there's been one positive from all of these injuries, its that the Galaxy have been giving a bunch of meaningful minutes to younger players. And some have responded. With Bradford Jamieson IV at the top of that heap, currently.
Against RSL, the Galaxy have an all-time record of 14-12-8 and a 10-6-1 record at home. The last time these two teams met, in Sandy, Utah earlier this year, Dave Romney and Emmanuel Boateng scored to offset a Yura Movsisyan first half goal. Kyle Beckerman received two first-half yellow cards in an exciting affair, that saw RSL finish with 10-men.
The Galaxy have come out victorious in three of the last five meetings between the clubs, and have a July 4th record of 12-5-4. Side Note: The Galaxy have hosted a game on July 4th every season the league has been in existence – 22 years and counting. 
This time around, the visitors are invading StubHub Center with new coach Mike Petke. Petke took over for Jeff Cassar after he was let go following the Galaxy's win over the club on March 18th. Petke is 35-28-19 while coaching in Major League Soccer. Petke is 5-10-1 since taking over as head coach for RSL.
RSL is coming off a 1-0 loss to Orlando City in Orlando on Friday, June 30th. That gives them a disadvantage in terms of traveling distance, and an advantage in terms of days of rest. But surely they'd rather be playing this game at home.
They have a road record of 1-8-1 with their only victory coming against Colorado on April 15th and only one other result away from home – a 0-0 draw with the New York Red Bulls.
With a minus 21 goal differential, an 11th place standing in the conference, and a dead last ranking in the supporters shield standings, RSL will need to vastly improve on their current form in order to find any success against the Galaxy.
But with the Galaxy still unable to do anything positive at home, perhaps these two teams are made for each other. And while there's no guarantee these teams will produce on the field, at least everyone in attendance gets to see fireworks – just probably after the whistle instead of on the field.