Just when you thought the LA Galaxy would somehow escape the annual tradition of sending players to the Major League Soccer All-Star Game, it all falls apart.
Today, Chicago Fire head coach Veljko Paunović rounded out his gameday roster by adding Galaxy Forward Giovani Dos Santos and Galaxy Defender Jelle Van Damme to the fan selected roster. The two players were among 11 additions made by Paunović all in an effort to fill out a roster that will be capable of competing with Real Madrid at Soldier Field in Chicago on Wednesday, August 2 at 5:30 p.m. PT (Live on FS1, and Univision).
The annual MLS All-Star game pits a fan-voted roster — with certain coaches and commissioner picks – to compete against an international club team, year, Madrid has that honor.
Van Damme has started and played in 15 games in 2017. He's scored one goal, assisted on another, and has over 1200 minutes in central defense for the Galaxy.
Dos Santos has appeared and started in 12 games for the Galaxy this year and has six goals, one assist, and over 1,000 minutes for the club.
Both players are making their second-straight appearance in the game, after being selected for the 2016 version of the game as well.
2017 MLS ALL-STAR FAN XI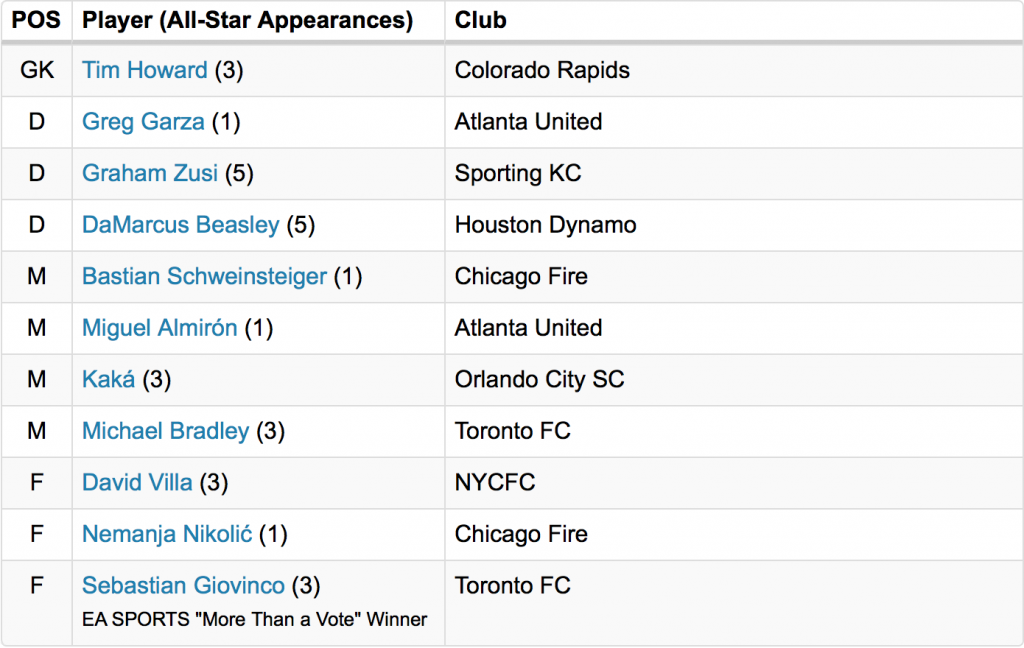 2017 MLS ALL-STARS ADDED BY PAUNOVIĆ
GOALKEEPER (1): Stefan Frei (Seattle Sounders FC)
DEFENDERS (5): Greg Garza (Atlanta United), Hernán Grana (FC Dallas), Matt Hedges (FC Dallas), Johan Kappelhof (Chicago Fire), Jelle Van Damme (LA Galaxy)
MIDFIELDERS (4): Giovani dos Santos (LA Galaxy), Dax McCarty (Chicago Fire), Ignacio Piatti (Montreal Impact), Diego Valeri (Portland Timbers)
FORWARDS (1): Jozy Altidore (Toronto FC)
INTERESTING CHOICES
However, both of the players wouldn't be considered the best on the team in terms of their play this season.
Overall, Van Damme has been very hit and miss so far this season. Earning a behavior based benching against the Chicago Fire earlier this year and having already received two red cards while leading the league in yellow cards.
His overall defensive ability this year has been eclipsed by a standout performance, from his partner, Ashley Cole. Cole has been solid defensively and has really taken over the leadership role somewhat vacated by Van Damme's lack of continual focus. But at age 36, a rest for the weary legs of Cole is probably more important.
Dos Santos is also a man who has been eclipsed by someone else on his team. Designated Player Romain Alessandrini has been the lifeblood of an anemic Galaxy offense. He's scored eight goals and added seven assists in his first season with the Galaxy. He's been the single greatest addition to the squad in the offseason and he, more than anyone on this Galaxy squad, should've seen the All-Star game.
But injuries have been nagging the Frenchman, and probably out of respect for that, Alessandrini has been kept away from this game. Otherwise, fans would clearly characterize this as the biggest snub.
For the Galaxy, who are still trying to get 100% healthy, it's a blessing that more players weren't selected. And their play on the field in 2017 might lead some to believe there were no worthy candidates. But a rest over the All-Star break for both Cole and Alessandrini will be more helpful than a call-up.
So for now, Galaxy supporters will watch the All-Star game much like they watched the mid-season friendly with Manchester United. They will watch hoping no one gets injured and that both Dos Santos and Van Damme return unscathed and ready to play games that matter.
COG: FROM THE BOX PODCAST