With more than half the season gone, the 2017 LA Galaxy are looking to get themselves on track for a much better second half. They'll start the near-impossible task of climbing their way up the Western Conference by hosting the Vancouver Whitecaps on Wednesday night at StubHub Center.
The Whitecaps are 7-7-3 on the season for 24 points from 17 games played. They currently sit in 6th place in the Western Conference – two spots above the Galaxy (6-8-4, 22 pts, 18 GP) – and they're coming off a 3-2 win over New York City FC on July 5, 2017.
GAME INFO: LA Galaxy vs Vancouver Whitecaps, 7:30 p.m., Wednesday, July 18, 2017
TV INFO: SpectrumSN, SpectrumDeportes
Unlike the Galaxy, the Whitecaps have been observing the Gold Cup break, having nearly two weeks off, and are looking to get their second ever win against LA at StubHub Center.
Currently, the Galaxy holds a 7-1-1 record when hosting the Whitecaps and a 9-4-4 record overall since the two teams first started playing each other.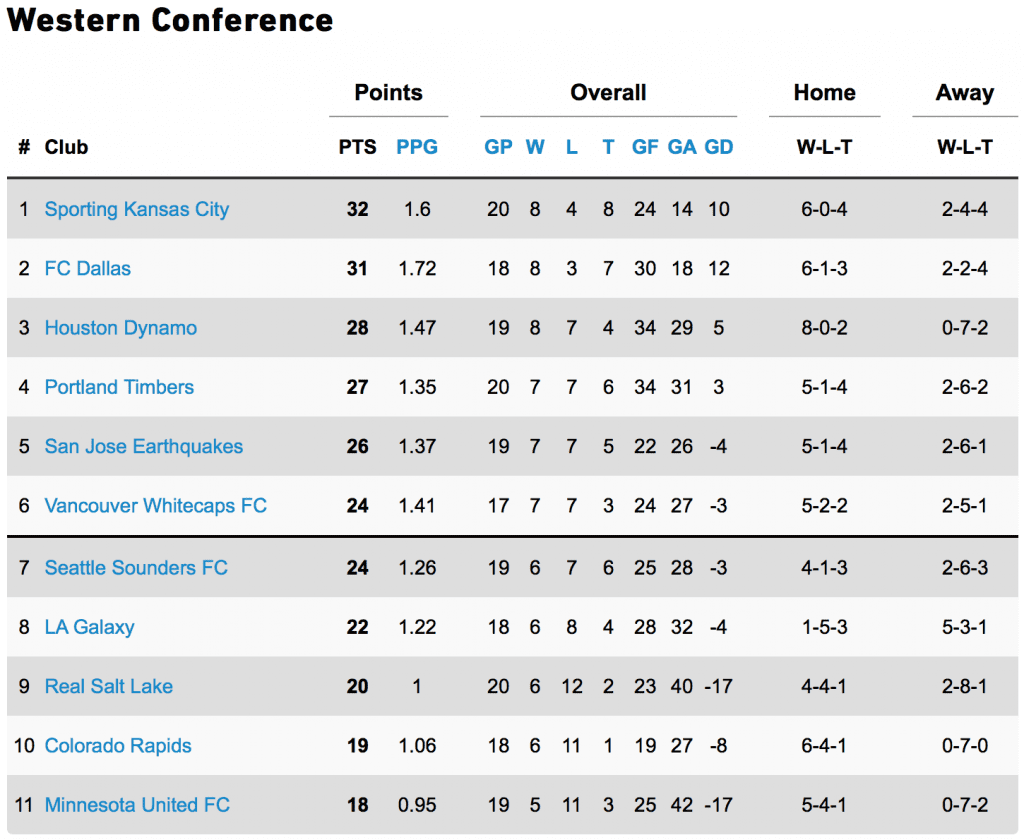 The Whitecaps are winners in two of their last six games. While the Galaxy are one game worse having won just once in their last six matches.
More surprisingly, the Galaxy have won just a single home game in nine games this season (1-5-3) and will host a Whitecaps team that has only won on the road twice (2-5-1).
INJURIES
The Galaxy seems to be getting healthier as both Daniel Steres and Jermaine Jones should be available for selection after lengthy injury absences.
Jones hasn't played since the Galaxy's 2-2 draw with the Chicago Fire on May 6, 2017 – that's a 75-day absence. Steres hasn't played in an MLS match since the 4-2 win over the San Jose Earthquakes on May 27, 2017. He's been gone a total of 54 days.
It's probably still too early to see Steres go 90-minutes, but his 45-minutes he got vs Manchester United did help him close the gap on the difference between being fit enough to practice and being fit enough to get a full game.
Jones may be more useful off the bench on Wednesday night as he struggled in his half of work on Saturday and will probably need to play himself back into a starting role.
The Galaxy should also see goalkeeper Brian Rowe in Goal as Clement Diop is out with a hand injury. Rowe was able to play the second half of the United friendly on Saturday and played all 90-minutes in the club's US Open Cup loss on July 10.
Diop isn't the only player with an injury. Although, in general terms, the Galaxy are getting healthier.
Jose Villarreal will likely miss this game due to a leg injury while Baggio Husidic – who just returned to training but isn't close to match-fit yet – and Sebastian Lletget continue their lengthy rehab.
LA Galaxy Injuries – Baggio Husidic (Broken Leg – Back to training), Sebastian Lletget (Broken Foot), Clement Diop (Hand), Jose Villarreal (Leg)
And Gyasi Zardes remains on US Men's National Team duty throughout the remainder of the Gold Cup. He's not expected back for another 10 days.
The Whitecaps are also missing players due to the Gold Cup. Marcel de Jong, Russell Teiber, Alphonso Davies, and Sam Adekugbe are all gone with Canada, while defender Kendall Waston is with Costa Rica.
The Galaxy will have to travel across the country for a weekend match against the New England Revolution on Saturday and that might inform some of the choices, Galaxy head coach Curt Onalfo makes for this game.
EXPECTED LINEUP
It's expected we'll see Jack McBean pair with Giovani dos Santos at the top of the formation, and Emmanuel Boateng, Rafa Garcia, João Pedro, and Romain Alessandrini all get starts.
The backline should consist of Bradley Diallo, Dave Romney, Jelle Van Damme, and Ashley Cole with Rowe in the net.
But expect that Jones will be available for some minutes in the second half. And also expect that Pele van Anholt, the Galaxy's newest acquisition, could make the bench. It's likely that the Galaxy thinks it's one game too early to start Van Anholt. But he could start against New England this weekend.
Both Van Damme and Pedro are on yellow card watch. If either of the players pick up another card they would be suspended for this weekend's matchup with the Revolution.
But regardless of the lineup, the Galaxy needs to start winning games and do it quickly. They're running out of games to play and running out of patience from their supporters.
COG: FROM THE BOX PODCAST