Carson, CA – As the LA Galaxy get ready to face the San Jose Earthquakes on Sunday afternoon, two players, Dave Romney and Daniel Steres, are quietly building a partnership in the center of defense that could have some long-term positive results for a team that is deep within a rebuilding year, while doing its best to totally avoid the word.
Romney and Steres have already played many games together this year, and that understanding, that started when they were both LA Galaxy II players, is just starting to show some real dividends on a team that seems to be in the endless process of replacing injured players and changing formations.
"I'm really comfortable with Dan [Steres]," Romney told CoG after training on Saturday. "We have pretty similar playing styles. We played with G2 [LA Galaxy II] – we had 25 games with G2 and we had the least goals against in the league, I think. So it's just kind of getting used to playing with each other again."
For Romney, who's reached career highs in games played (19), starts (13), minutes played (1,349), and goals (2), it's been a sharp rise. He'll double most of 2016's stats when he starts against the Earthquakes and the Galaxy still has 10 games remaining to really make 2017 stand out.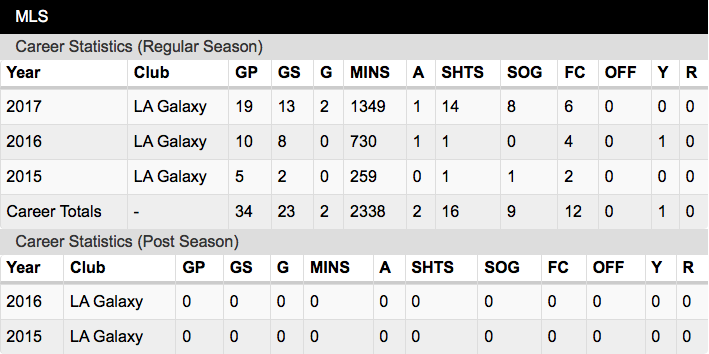 Romney has started or appeared in 15 of the last 16 games for the Galaxy, and only had that streak snapped when he didn't appear in the Galaxy's 0-0 draw with the Seattle Sounders on July 29th of this year.
While Romney has had a breakout season, Steres is attempting to build off a 2016 season that saw him play in 31 games and amass more than 2,600 minutes. Currently, in his 2017 season, he's started 18-games of the 24 the club has played and he's just 47-minutes shy of playing in every single minute of every game he's appeared in.
He's tied for third on the club in scoring with three goals and is the Galaxy's leading scorer since July 22nd when he put two goals in the back of the net against New England – a distinction that probably says more about the Galaxy's anemic offense then it does about a defender who's tripled his all-time MLS goal scoring this year.
"We've known each other for awhile so I think we're ready to step in and do a job," Steres explained. "Last game was a tough one to really break down because of what happened [Ashley Cole red card]. And you know, I thought the game before that we did well – a couple unlucky goals – so we're just building off those performances."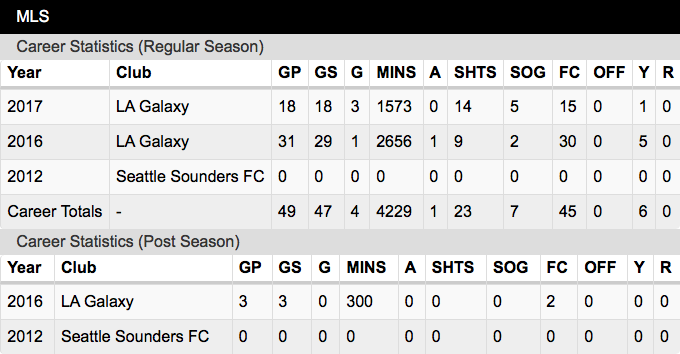 But both Romney and Steres will need to contend with the constantly rotating cast around them and criticism that the defense has switched off at key moments throughout the season – although much of that criticism was focused at Jelle Van Damme who is no longer with the team.
With Ashley Cole out of the game due to a red card suspension, it's expected that Bradley Diallo will fill in at left back to allow Steres and Romney to continue their partnership. Keeping things as unchanged as possible.
Romney says that works just fine with him.
"I played left back in college but I'd say my physicality and athleticism is more suited for a center back. I'm not as technical as a winger who goes forward or kind of when they put a left winger to left back and he goes forward all the time, so [I'm] definitely a center back."
But the challenge will still remain when Jermaine Jones, who spent some time sitting in front of both of the defenders in previous games, is once again out with an injury.
"The whole year we've had guys in and out fo the lineup – different spots. It's been weird," Steres confessed. "We really haven't had a set team and it hasn't changed in the last few weeks. But it's not really an excuse we just have to go out and win."
The task against the Earthquakes is a simple one for both guys. They'll attempt to anchor a defense that is missing one of the best left-backs in Major League Soccer while trying to integrate with a box-to-box midfielder – Jonathan dos Santos – who hasn't been training with the club since the loss to Columbus due to an eye infection. And if they're successful they might just get only the second win at home for the club all year and put an end to a nine-game winless streak.
And if they're successful they might just get only the second win at home for the club all year and put an end to a nine-game winless streak.
So maybe not so simple after all?
"I think we know what we're going to do now," Steres told CoG. "More than maybe we have in the last few games where we've been changing a few things up. And even though guys around us are changing, we know what sort of shape we want to have and I think we're confident we'll go out and get a win against our rival."
With only 10-games remaining, a win against anyone would be cause for celebration. But the bigger picture shows the beginnings of a strong partnership at center back for 2018 and beyond.