Carson, CA – In the 1993 movie Groundhog Day, one man is caught in an endless 24-hour loop trying to right his wrongs in order to improve himself. The LA Galaxy must feel like they are caught in some punishing loop, with their second consecutive game receiving a questionable red card and yet another Video Assistant Referee (VAR) review taking a penalty kick away.
The 3-0 loss to the San Jose Earthquakes almost seems secondary to the overall feeling that there's no escaping the "bad luck" and continuous injuries that surround the club. The fact they just fell to their most hated rivals only adds to the sting of a season in full collapse. Even if some players aren't quite ready to admit it.
"We're not completely out of it I know that for a fact," Steres told the scrum of reporters after the game. "We can still win each game and that's all we're trying to do right now. So I'm not paying attention to any of that. We just come out each game and try to win it."
The Galaxy started the game with an inconvenient timing issue as Romain Alessandrini was a late pregame scratch after his girlfriend went into labor which necessitated Bradford Jamieson's second consecutive start.
The club was already without suspended-defender Ashley Cole, after last week's red card, and was fortunate enough to get Giovani dos Santos back after a hamstring injury and inserted into the starting lineup.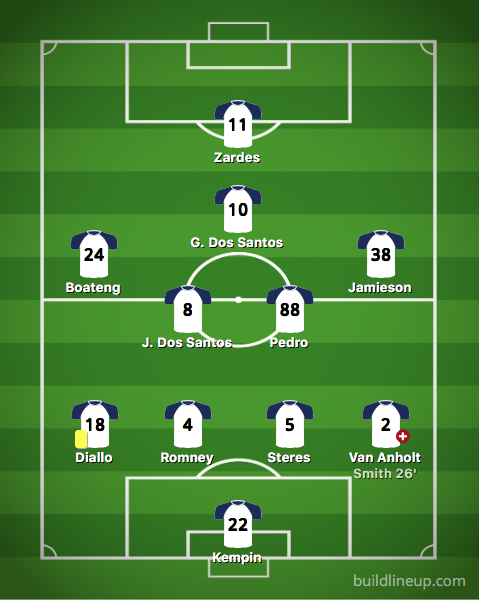 But any good fortune Galaxy fans thought might be going their way disappeared when, in the 26th-minute, Pele van Anholt went down with a serious right knee injury. Galaxy Head Coach, Sigi Schmidt said that Van Anholt would undergo an MRI on Monday to determine the injury but that it could be serious.
Nathan Smith came off the bench to replace Van Anholt but he wouldn't see the end of the game.
Smith was red carded for "violent conduct" in the 57th-minute when the referee, Chris Penso, made the determination that his foul on the Earthquakes' Andrés Imperiale endangered the safety of his opponent. It was a questionable call that was absolutely reviewed by VAR – all red cards are reviewed – but to no avail.
"There's no chance that's a red card," Steres told reporters. "I don't know how they looked at that afterward and decided that was a red card.
"I don't know what they're doing with this VAR. Last week, it obviously didn't help us either. I saw Pedro's penalty call…I'll give it to them if he wants to say that he started pulling him when he was outside and let him go when he was inside, but just once again not something going our way. The ref called it on the field as a penalty and of course, it gets changed. But on Nathan Smith, there's no way it's a red card."
Penso never took a second look at it on the TV monitor and he must have been reassured by Baldomero Toledo (the VAR official) that his call didn't break the threshold of a "clear and obvious error."
This was after Penso had been instructed that a foul on João Pedro, that happened on the edge of the box, was not a penalty kick after originally signally to the spot, as Steres indicated above. It was clearly a foul, and the contact from the Earthquakes' Darwin Cerén definitely held Pedro back from advancing quickly into the box. But it was correctly pulled outside the box and given to the Galaxy as a free kick.
But nothing found the net for the home team. Not even a 45th-minute strike from Jonathan dos Santos, that clearly had goalkeeper Andrew Tarbell beaten, would find the back of the net. The shot pinged the crossbar and bounced back into Galaxy traffic, with no one able to finish it off.
Seconds later the Earthquakes would get their first goal as a corner kick from Shea Salinas found its way through the box untouched until it fell to the foot of Valeri Qazaishvili who blistered a shot toward the near post. It grazed Dave Romney as he made an attempted stop on it and redirected past Galaxy 'keeper Jon Kempin as the final play of the first half.
"Every week we end up having to play a different lineup. We train and we prepare. You prepare for Alessandrini playing…OK, we've got to change that, we'll have Bradford Jamieson IV play there. Pele van Anholt gets hurt, let's put Bradley Diallo at left back where he hasn't played in a while so let's see if we can find a right back if his knee is serious. It's like we're always robbing Peter to play Paul." Sigi Schmidt, LA Galaxy Head Coach
The other two goals (in the 80th and 90th minute) came after Smith's ejection and were more representative of a Galaxy team, who was playing from behind for the 17th time this season, that was pressing for an equalizer despite being down a man.
Kempin was forced to make eight saves on the night and did his best to keep the Galaxy in the game, but the second half was too much risk and not enough scoring.
"Anytime you give up three goals, you're unhappy, right," Kempin said after the game. "Anytime you lose you're unhappy. My job as a goalkeeper is to make saves and keep us in it."
But the Galaxy haven't been "in" a game for a while now, regardless of what heroics Kempin pulls off in trying to keep the club within striking distance.
They are now on a 355-minute scoreless streak, haven't scored a goal at home since July 4th (a 6-2 loss), and are winless in their last ten-games (0-9-1). And for the first time in club history, they've been shutout in four consecutive home games.
They sit tenth out of 11 teams in the Western Conference and 21st out of 22 teams in the league. And they'll face the only team keeping them from being the worst team in MLS on September 2, 2017 – the Colorado Rapids.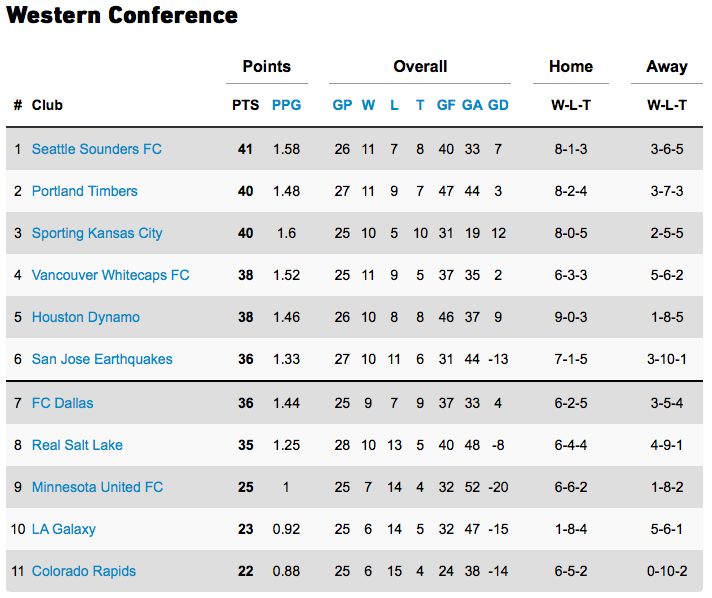 If the alarm bells aren't ringing in the Galaxy's front office, in the midst of season ticket renewals, and a club that has only has a single victory all year in front of their home fans, then something is wrong.
But for now, until they're mathematically eliminated – something that is sure to happen soon – the players will put on a brave face and do their best to not see the tidal wave of an off-season that is quickly bearing down on them.
If it's sink or swim, the Galaxy are drowning. And if this is Groundhog Day, the club better hope they're figuring out a way to right their wrongs and move past this endless loop of disappointment.