The LA Galaxy haven't been labeled favorites for many games this year. But that will change on Saturday when they host the Colorado Rapids, and currently, the only team keeping the Galaxy from being the worst in the league, at StubHub Center.
The Rapids (6-15-4; 22 points) enter the game in the midst of an eight-game winless streak (0-5-3) in league play and continue to stretch a 13-game winless streak (0-11-2) on the road that stretches back to 2016. Their last game, also on the road, was a 4-1 loss to Real Salt Lake that saw both teams finish with 10-men and saw former Galaxy super-sub Alan Gordon earn two yellow cards and an ejection. Gordon will not be available for this game.
GAME INFO: LA Galaxy vs Colorado Rapids, Saturday, September 2, 2017, 8 p.m.
TV INFO: Spectrum SportsNet, Spectrum Deportes
But when you talk about winless streaks, the Galaxy are quickly on their way to setting some new lows for the club. They're currently on a ten-game winless streak where they've gained just a single point during that stretch (0-9-1).
In 2008 the club went 12-games without a win, but still managed six points from that long stretch (0-6-6) and if a win doesn't come against the Rapids, this 2017 version could set new records in futility.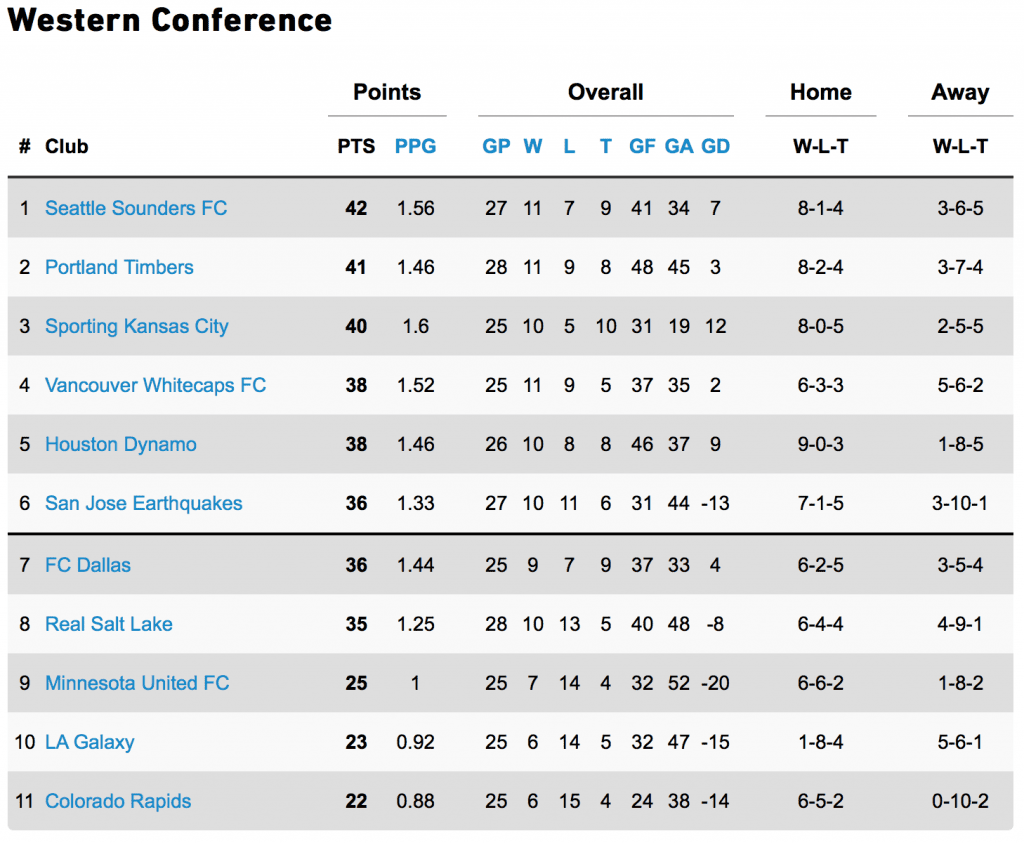 The Galaxy (will be without Jonathan and Giovanni dos Santos as both have been called up to the Mexican National Team for world cup qualifiers. Clement Diop is also away on national team duty with Senegal and Nathan Smith will be serving his one-game suspension for the red card he earned against the San Jose Earthquakes.
But the Galaxy will also get back Romain Alessandrini (birth of his daughter), Jermaine Jones (recovered from toe injury) and Ashley Cole (return from red card suspension).
With Smith out, Bradley Diallo is likely to swap sides and fill in for Pele Van Anholt (Torn ACL and meniscus) at right-back. Daniel Steres, Dave Romney, and Ashley Cole will fill out the rest of the back-line.
In the midfield, the Galaxy will have more questions to answer. If Jones is healthy enough to start he'll be matched in the midfield with João Pedro. If he's not, expect Rafa Garcia to play there. Emmanuel Boateng will play on the left-hand side and Alessandrini on the right-hand side of the midfield – those are almost a lock.
Gyasi Zardes will take his position at the point and Jose Villarreal may get a shot at playing underneath Zardes.
Although, there are a bunch of question marks in this lineup. Perhaps Ariel Lassiter gets a shot to play side by side with Zardes? Or maybe Jack McBean plays above Zardes? Maybe, if Sigi Schmid is feeling particularly adventurous they put Boateng in the striker position and slot Zardes back into midfield. And don't forget that Alessandrini could slot in under a striker allowing Zardes to play on the right side of midfield. Just plug and move pieces, there's a fit in there and I'm not sure there's a "best fit" for this particular team.
| DATE | TIME (PT) | OPPONENT | VENUE |
| --- | --- | --- | --- |
| Wednesday, September 27, 2017 | 5:30 PM | Houston Dynamo | BBVA Compass Stadium |
| Saturday, September 30, 2017 | 7:30 PM | Real Salt Lake | StubHub Center |
| Sunday, October 15, 2017 | 4:30 PM | Minnesota United FC | StubHub Center |
| Sunday, October 22, 2017 | 1 PM | FC Dallas | Toyota Stadium |
And that seems to be the story of this season – there is no "best fit." The Galaxy are composed of many different puzzle pieces – all to different puzzles – and someone lost the picture they are trying to construct.
Make no mistake, this game against the Rapids is one of the few remaining chances for this team to get a win at home. Their schedule is packed with good teams and road games throughout the next nine games. And a three-game road trip during a seven-game September isn't going to do this struggling team any favors.
The end is near, for the 2017 Galaxy, and Saturday's matchup with the Rapids is as good a time as any to break the winless streak and briefly give some confidence to a team that is lacking almost everything else.