Carson, CA – The LA Galaxy (7-14-5) scored three times to beat the Colorado Rapids (6-16-4) 3-0 and put an end to a ten-game winless streak on Saturday night at a hot and muggy StubHub Center.
Goalscorers Romain Alessandrini, Emmanuel Boateng, and Gyasi Zardes all shined on the night and the Galaxy were able to put their 149-day home winless streak out of commission. Their last home win came on April 7 against ten-man Montreal, almost five months earlier.
The Galaxy looked flowing and dangerous against a Rapids team that was winless in their last 13-games played on the road and sits at the very bottom of the league table — 22 out of 22 teams.
They opened the scoring when Alessandrini converted a 18th-minute penalty kick that was created after Gyasi Zardes was purposefully taken out by Rapids goalkeeper Zac MacMath after a scramble inside the box.
"He looked at me and threw his body at me and I think that's what got the PK," Zardes told reporters after the Game. "He was looking at me and not the ball. It was for sure a PK."
Alessandrini scored for the first time since June 21 – a 3-1 win over the Rapids in Colorado – and it was the first goal for the Galaxy at home since a 6-2 beating from Real Salt Lake on July 4.
Boateng would score five minutes later on a left-footed laser after Zardes won a header directing the ball back and across the goal. The score was his fourth on the year and he's now doubled his offensive output from 2016 (2 goals).
But the player who was able to put to rest a serious scoring drought was Zardes. He entered the game on a 1,529-minute scoreless streak, hadn't scored since August 24, 2016, and had played in 18-games until tonight.
Galaxy Head Coach Sigi Schmid paired him with Bradford Jamieson in a dual striker formation and the result was a much more dangerous Zardes. In fact, the Galaxy are probably unlucky to not have had one or more additional goals but poor first touches and bad passes ruined scoring chances.
But Zardes made a perfectly timed run in the 56th-minute when Alessandrini crossed a ball that was just barely within his reach. The Galaxy Homegrown player was able to stab it into the back of the net to stop his scoreless streak at a total of 1,584 minutes.
"Anytime a goalscorer gets a goal it takes this huge – whatever you want to call it – off your back," Schmid explained to reporters after the game. "Now you can walk a little bit prouder, you can be a little more relaxed, and you're a little more confident the next time you get there. For him, it was a very important goal."
The Galaxy defense also held a shutout for just the fifth time this season and Jon Kempin collected his second shutout in four starts. And defenders Bradley Diallo, Daniel Steres, Dave Romney, and Ashley Cole were solid on the night and played more conservative than in previous matches.
Jermaine Jones was also asked to sit deeper and protect the backline as he reprised his holding defensive midfielder role.
"We did a better job of dropping our line," Schmid explained in his post-game press conference. "When we hold our line we're closer to the 18-yard box so you saw Jon Kempin come off his line and collect four or five balls."
On the night, the Galaxy were the more aggressive team. But no one should be fooled, the Rapids are downright horrible. To give the Galaxy too much credit would be to dismiss all the problems they still have with their current team and to gloss over the Rapids' ridiculous road record (0-11-2).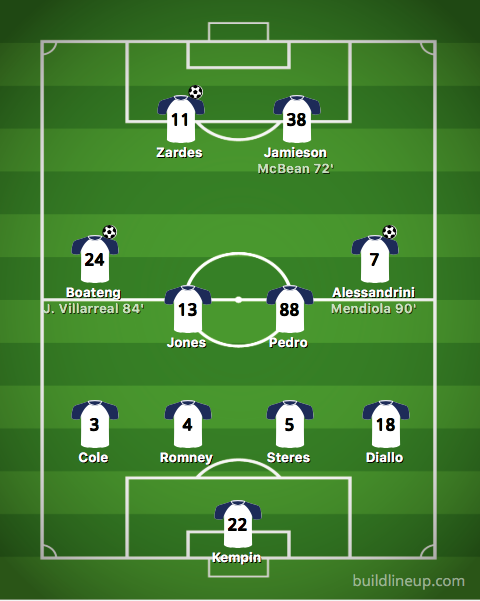 But for a club that hasn't won a game in a long time, the result was important. If only to show that soccer can be fun, even when the season has been anything but.
"It's definitely a lot more fun," Romney laughed after the game. "I mean we've still kept positive around training staff and there have been moments, but you do feel bad… It's nice to finally be able to let loose and not feel bad about it."
The Galaxy will look to carry their momentum into next week's matchup with the Seattle Sounders in Seattle. A game that will see Schmid return to play his former team in their first meeting in the Pacific Northwest since he agreed to a mutual contract termination with the Sounders.  That game is September 10 and will be broadcast on FS1 at 6 p.m. Pacific Time.