Ending twin ten-game winless streaks can do a lot for the confidence of a team. Add to it the fact that the LA Galaxy also ended twin scoreless streaks, won in front of their home crowd for the first time in nearly five months, and scored three goals after being shut out in their previous four home games, and you can understand why they might be feeling just a little better about a weekend match to take on the Seattle Sounders (Sunday, September 10, 2017, 6 p.m., TV: FS1).
The Galaxy (7-14-5) are coming off a 3-0 home win over the Colorado Rapids, and just their second win at StubHub Center all year. In that game, they scored three goals for the fourth time in 2017 and earned their fifth shutout on the season.
But when they head to Seattle (11-7-9) to take on a team that is on a nine-game undefeated streak at home (3rd longest in club history), is also on an eleven-game undefeated streak overall (they last lost to NYCFC on June 17), and a team that is leading the Western Conference, they know they'll be entering a whole different level of competition.
This will be the third meeting between these two clubs this season with the Galaxy securing a 0-0 draw in their most recent tie and falling flat in a 3-0 loss earlier in the season. However, this will be the first time in 2017 that they'll play in the unfriendly confines of Centurylink Field and the difficult turf surface that players and manager generally dislike.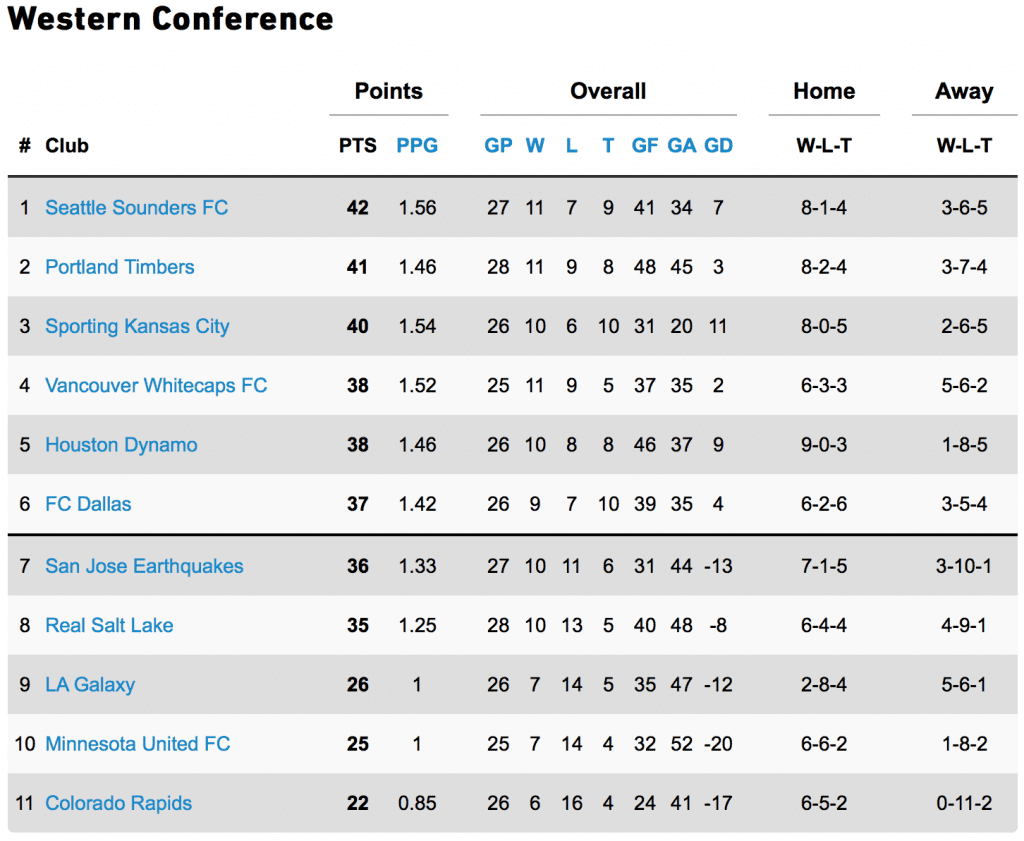 It will also be the first time Galaxy Head Coach Sigi Schmid will return to play in Seattle since the Sounders and Schmid parted ways in July of 2016. Schmid spent seven and a half years in the city and is likely to receive a warm welcome upon his return.
The Galaxy have had success over the years against the Sounders even when playing away from StubHub Center. Overall the club is 9-6-8 when facing their Pacific Northwest rivals and are 4-3-4 when the game is in Seattle.
The Sounders are coming off a 1-1 draw with the Portland Timbers back on August 27. They were off during the international break while the Galaxy played the game against the Rapids.
They boast a very stout lineup as they attempt to defend their 2016 MLS Cup and will see a chance to play the ninth place Galaxy as a perfect opportunity to pull away from the rest of the Western Conference.
The Sounders will see Clint Dempsey and Jordan Morris return from U.S. Men's National Team duty and they'll join Will Bruin, Nicolás Lodeiro, Cristian Roldan, and Osvaldo Alonso. In the previous game, defender Nouhou Tolo was given a red card in the closing seconds of the match. He'll be unavailable for this game.
The Galaxy will also be getting their international players back for the game. Jonathan and Giovani dos Santos have returned from their time with the Mexico National Team, and goalkeeper Clement Diop will also be available after returning from his time with the Senegal National Team.
This means the Galaxy will be at or near full-strength – missing only the long term injuries of Sebastian Lletget, Baggio Husidic, and Pele Van Anholt. Although, both Husidic and Lletget are nearing the end of their recovery times.
Sebastian Lletget (Lisfranc Injury) – is out of a walking boot but is unlikely to return in 2017. Could return to training before season's end.
Baggio Husidic (Broken Leg) – is nearing a return to full training. Could make it back to the lineup in two to three weeks.
Pele van Anholt (Torn ACL & MCL) – underwent successful surgery to repair his ACL & MCL on September 6. Expected to miss six to nine months. Placed on the Season Ending Injury list.
As far as starting lineups go, it will be interesting to see how Schmid fits the healthy and available bodies back onto the field.
The easiest decisions put Jon Kempin back in goal and reprise the performances of Bradley Diallo, Daniel Steres, Dave Romney, and Ashley Cole onto the back line.
But as Schmid moves into midfield and striker he'll have some tougher decisions. Does Emmanuel Boateng see the bench after scoring last week? Or does someone like João Pedro ride the pine so that Jermaine Jones and Jonathan dos Santos can patrol the midfield? Perhaps Schmid could go with a three-man backline in order to keep all of his midfielders on the field?
The options are almost limtiless and goes to show how deep the Galaxy are in the midfield position — with two more midfielders almost ready to return from injury. Why so many midfielders?
For the Galaxy, this game will be a chance to steal points from a rival who is dead set on beating them, and in turn, boost their ridiculous chances of getting to the playoffs – currently hovering around a 1% chance.
If a predicted point total of 48 will see the Western Conference sixth place team get in, the Galaxy would need to get 22 points from a possible 24 remaining. And their strength of schedule, the most difficult down the stretch for any team in MLS, will surely make that task near impossible.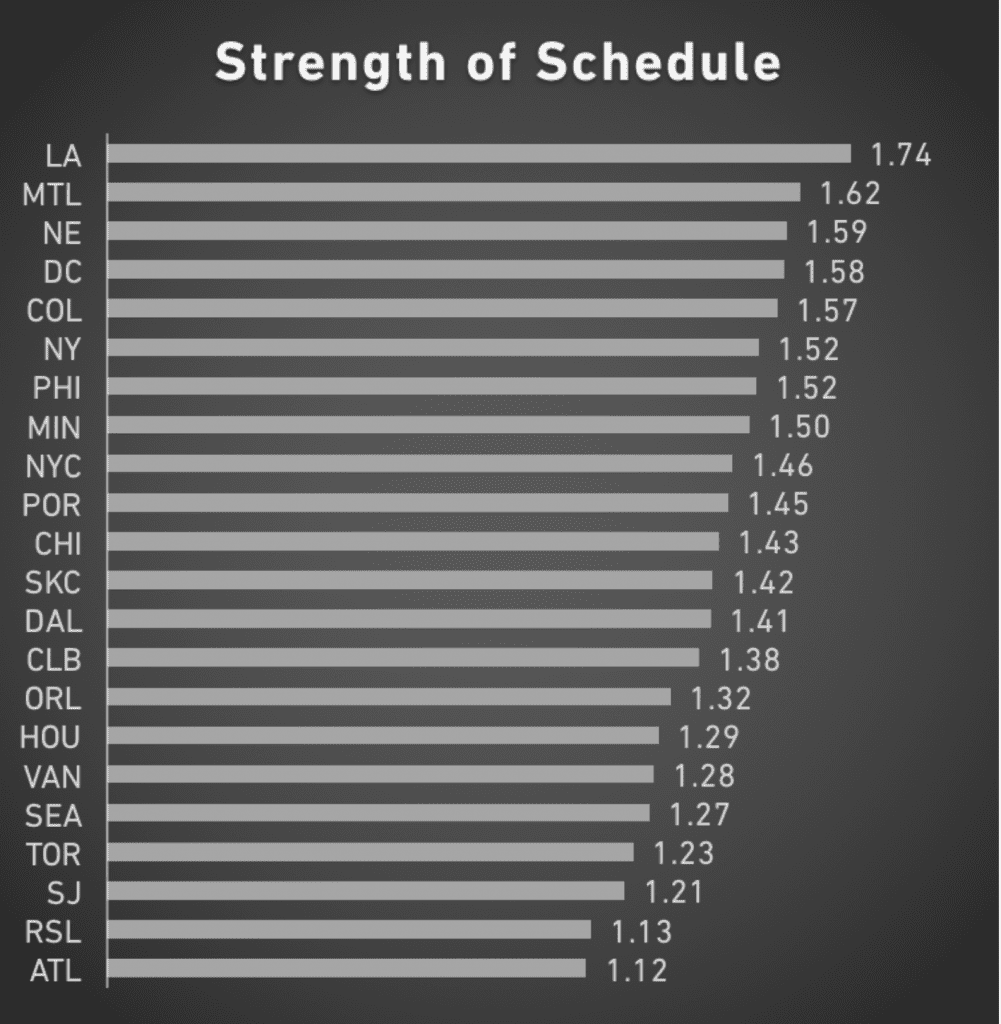 As Dave Romney correctly pointed out after last week's win over the Rapids, "One win in the grand scheme doesn't mean a lot. It does help the confidence. Unfortunately, playoffs are out of our hands. We can do as well as we can, but if other teams get results then it doesn't mean anything. Just play for pride and next season."
Pride will most definitely be on the line this Sunday, and for the Galaxy, every game until the end of this very miserable season.